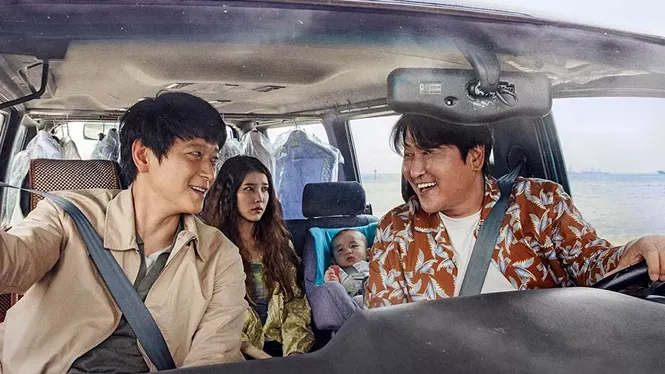 Neon Films
Gang Dong-won, Lee Ji-eun Lee and Song Kang-ho in Broker
Broker ***

Hirokazu Kore-eda has often applied his brand of sentimental humanism to the nature of family and the bonds that tie us to one another, which places this drama squarely in his sweet spot. It opens in the South Korean city of Busan, where single mother So-young (Lee Ji-eun) leaves her infant son outside a church, unaware that part-time church employee Dong-soo (Gang Dong-won) and his partner Sang-hyeon (Song Kang-ho) are using it as a front to sell babies on the black market. When So-young returns to retrieve her son, they all end up on the road together—eventually accompanied by a stowaway orphan (Im Seung-soo)—while pursued by a pair of police investigators (Bae Doona and Lee Joo-young) trying to catch the baby brokers in the act. That has the makings for an extremely busy plot, and Kore-eda complicates things even further with the inclusion of loan sharks, a murder investigation and a wealthy widow trying to locate So-young's baby. But ultimately he finds focus in his favored milieu of makeshift family, and the emotional wounds that afflict all of his principal characters, like Sang-hyeon's estrangement from his daughter and Dong-soo's own history as an orphan. The performances all find their emotion in a low-key register, bringing compassion to Kore-eda's tale of how they're all searching for understanding of what makes for a parent "worthy" of caring for a child.
Available Jan. 13 at Broadway Centre Cinemas.
(R)
Holy Spider **1/2

What do you get when you cross a fact-based social-consciousness drama with an early-2000s Hollywood psychological sex thriller? In the case of Ali Abbasi's film, something that doesn't work quite well enough as either one. In the Iranian holy city of Mashhad, a serial killer has been murdering sex workers, and Tehran-based female journalist Arezoo Rahimi (Zar Amir-Abrahimi) comes to pursue the story. And in a wee bit of a twist, the identity of the killer is no mystery to viewers: We follow Saeed Azimi (Mehdi Bajestani)—husband, father, military veteran and religious zealot—as he attempts to eradicate "unclean" women from Mashhad. Rahimi's back-story as a big-city woman slut-shamed for the behavior of her former editor folds into a larger exploration of the status of women in Iranian society, while the response of authorities and the public to Saeed's killings indicates how he's viewed by many as heroic. But while Holy Spider's ideas are potentially compelling, Abbasi gets caught up in genre contrivances, a mixed message about whether Saeed is uniquely mentally ill or a typical Iranian man, and a resolution that feels deeply confused in what it's trying to say about Iran's justice system. The unsettling final scene, capturing toxic gender ideas being passed down through generations, belongs in a movie as committed to a cohesive message as to the more lurid details.
Available Jan. 13 at Broadway Centre Cinemas.
(NR)
Skinamarink **1/2
As
The Blair Witch Project
proved more than 20 years ago, one person's "scariest movie ever" is another person's "okay, I guess." Writer/director Kyle Edward Ball draws his premise straight out of childhood nightmares: Two young children, Kaylee (Dali Rose Tetreault) and Kevin (Lucas Paul), find themselves alone in their home circa 1995, their parents seemingly gone, and all the windows and doors to the outside world vanished. Aesthetically, Ball's style is boldly unconventional, mixing a "distressed film" look with the impenetrable pixelation of early consumer-grade video, resulting in something where the contents of a shot are unsettlingly hard to distinguish. He combines that sensibility with a decision to shoot from odd, often floor-level angles with the children rarely in the frame, emphasizing the point-of-view of frightened kids for whom a doorknob looms above their heads. But as effectively as Ball builds a mounting sense of dread, both visually and in a sound design where whispered voices need to be subtitled,
Skinamarink
spends a
lot
of time on slow burn that feels frustratingly abstract, and keeps the young protagonists so removed from us that they barely register as people. It's the kind of intriguing experiment in cinematic horror that you can admire the hell out of conceptually, even if you feel it doesn't entirely pay off.
Available Jan. 13 at Broadway Centre Cinemas.
(NR)
Women Talking ***1/2

See
feature review
.
Available Jan. 13 at theaters valleywide.
(PG-13)