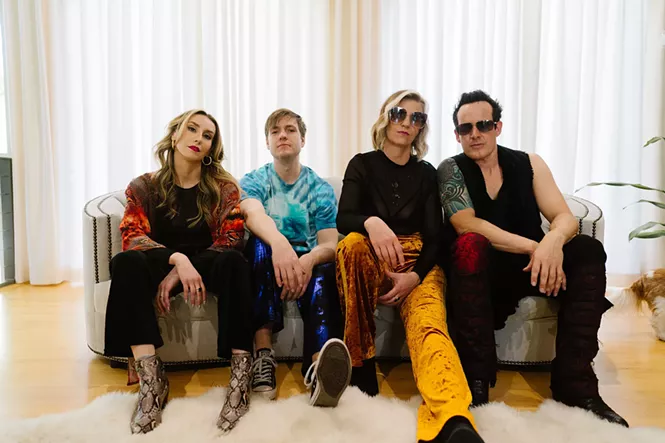 Amber Lynne Photo
Soulfang
Hello music lovers, hope your January has been going well. Here's a few extra bits of music news you'll want to check out.
Soulfang: Debut single "Chemical Meditation" out Jan 30
Up-and-coming group Soulfang are ready to share their unique brand of "sex metal" with the world. Exactly one year ago, the quartet met and became friends, instantly clicking on a personal level. According to the group, their sound "blends slow dancing with headbanging, jazz clubs with mosh pits, tenderness with shredding." Their first creative effort to be shared with the world, "Chemical Meditation," began as a conversation about the benefits of therapeutic ketamine and enthusiasm for psychedelic therapy. "Chemical Meditation" will truly take you on a trippy adventure. It starts with addicting punchy bass before singer Liz Seibert's enchanting vocals come in. The song will have you in a trance, wondering what's coming until it eventually swells into a ripping guitar solo before mellowing back down. This song is easy to have on repeat, each time hearing a different element that fascinates and surprises. "Chemical Meditation is a perfect way for Soulfang to make their debut. Journey down the rabbit hole with this new epic debut from Soulfang,
online everywhere Monday, Jan 30
. You can also catch them
at Piper Down Pub
in SLC Friday, Jan 27 at 9 p.m.
The Proper Way: new EP Our Damned Selves out now
When thinking of bluegrass bands in the area, The Proper Way might be one of the first to come to mind. This trio of multi-instrumentalist singer-songwriters are constantly bringing their flair to venues across the state. They go from quiet and soft acoustic dinner music, to explosions of energy, which fans of the group come to see in droves. Their latest EP,
Our Damned Selves,
starts out showcasing this quiet yet detailed sound that's heartbreaking and relatable. The first track "Burn the Whole Thing Down" is a great opener, showcasing the delicate instrumentation from talented musicians while vocalist Carrie Myers' voice poignantly hits you as she sings, "I'm sick of walking this tight rope / One end to the other / One foot then another / There and back again / Don't know how much longer I can make this one way wander." The exasperation and sadness coming through is palpable, because who hasn't felt stuck in this way?
Our Damned Selves
is an emotional and dynamic ride, a must listen from the trio. The EP is
streaming everywhere now
, and you can also catch The Proper Way
on YouTube
on their show
Ogden City Limits
, where they invite friends to create music, talk music and jam together.