Derek Carlisle/Sarah Arnoff
The smell of fresh paint and warning beeps from construction vehicles fill the air as several women around the corner lie on their backs stretching. Nearby, workers raise and lower construction lifts as they add some finishing touches to the building's interior walls. Orange cones block a set of stairs.
A row of lights on the far end of the field isn't operational yet, either. Or maybe it was—but not on this particular day.
"I need to go find out why they're not plugged in," a staff member tells others.
This beehive of activity was centered at a brand-new, multi-million dollar soccer training center at the southern end of Salt Lake County. Nearly a foot of snow had fallen the previous February night around the valley. Thanks to the indoor facility, though, kinks and all, members of Utah's newest professional team were getting to know each other out of the elements.
The snow day marked the first practice of preseason camp for the Utah Royals FC, the latest member of the Chicago-headquartered National Women's Soccer League. Partly because of the cold and snow, the team opened its camp at the indoor location a week before Real Salt Lake brass and Major League Soccer Commissioner Don Garber visited to officially unveil the place. On this day, a group of more than two dozen women were working to build something new. Something different and perhaps, something sustainable in the up-and-down world of women's professional soccer.
Everything is a first for the club—from the locker rooms, jerseys and players to the Herriman facility that also houses the minor league Real Monarchs and Real Salt Lake Academy High School. City Weekly spent some time with the team during its preseason camp, before its maiden season gets underway on Saturday, March 24, to catch a glimpse of what it's like getting a new franchise off the ground.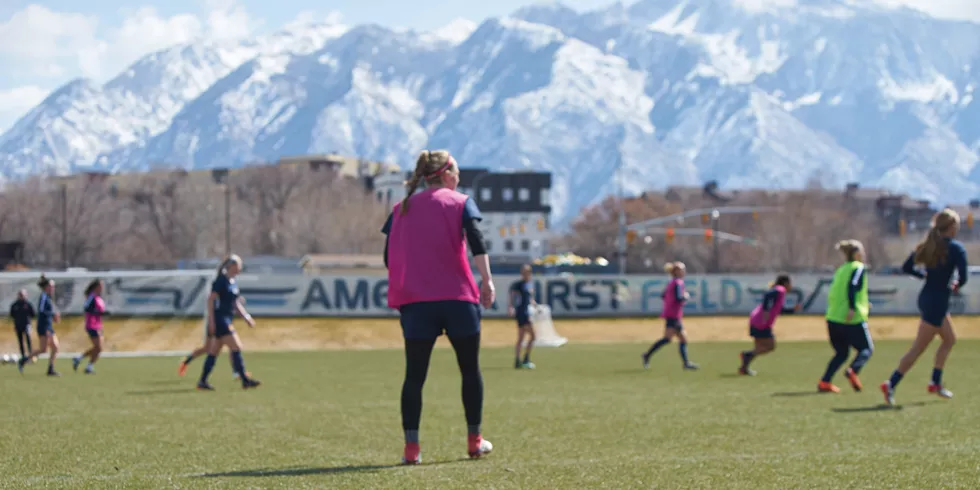 A NEW MODEL
The NWSL already hit a milestone in 2016. That year, the league entered its fourth season—an unprecedented feat for top-tier women's professional soccer in the U.S. The two previous professional leagues—the Women's United Soccer Association and Women's Professional Soccer—folded following their third seasons because of overspending and infrastructure problems, according to a report in The Oregonian.
Now entering its sixth season, the NWSL seems like it might be around to stay, something that hasn't happened without casualties. The Royals join the league one season after two franchises—FC Kansas City and the Boston Breakers—ceased operations in 2017.
Following a similar model that has helped other franchises, Real Salt Lake owner Dell Loy Hansen started the club as a partner with RSL. Like the men's team, the Royals will play at Rio Tinto Stadium and use the same practice facilities. However, Hansen has added a few wrinkles of his own he hopes will help the players and the franchise succeed.
Many of the players will live in apartments in Sandy owned and paid for by Hansen. In addition, a local dealership donated six cars for the team to share. Players also received refillable gas cards. By having living and transportation expenses covered, Hansen is banking on the chance that making the players' lives easier in general will enable them to focus more on their careers.
Rebecca Moros, most recently with now defunct FC Kansas City, says those kind of amenities will go a long way toward the club's success.
"I think this is an entrepreneurial endeavor, and I think you need people who are caught with a fire," says Moros, who has been with professional teams around the country in some form since 2006. "I don't think anybody has been successful going sort of half-steam into an endeavor like that ... This club has that entrepreneurial spirit—it has that willingness to turn over every stone ... and people are creative and looking for solutions to things."
In general, the salaries for players in the NWSL are far below those on the men's side in Major League Soccer. The pay ceiling per player is around $40,000. Some players in the MLS, meanwhile, make millions. Only a handful of stars in the NWSL, Alex Morgan for example, rake in the top dollars. It's that kind of disparity that made headlines following the U.S. Women's National Team World Cup championship in 2015 that included calls for equal pay.
While the NWSL might be far from pay equity, having transportation and living costs covered are one way Hansen says will help the sustain the team.
"I've always been a true, true believer in equal rights, equal pay, equal respect," Hansen says in a video interview shared on the team's Twitter page. "When we took this challenge on, the RSL men and the Royals women, in my mind, are absolutely equal and given equal treatment, equal field and equal respect.
"While I don't control the salary cap, I can do everything up to that to make sure they know we've done everything possible to create that equality."
One model of success is the NWSL's team in Portland—the Portland Thorns FC. In 2017, the club drew an average of 17,653 fans—more than 15 NBA teams, 13 NHL teams and one MLB team, according to The New York Times. On average, the league attracted 5,061 people per game during last season. Hansen told The Salt Lake Tribune he expects the Royals to have around 12,000 fans per game.
Another good sign for the Royals could be in Portland's sports scene. The city has just one major professional franchise, the NBA's Portland Trailblazers, to go along with its MLS squad, the Portland Timbers. Salt Lake City has the NBA's Utah Jazz and RSL. The Thorns, like the Royals, are also associated with the MLS team.
"We get treated as equals to the Timbers," Thorns Captain Christine Sinclair told The New York Times. "I don't think many female athletes can say that. I wish every player was able to experience this day in and day out—world-class training facilities and an organization that makes sure everything we could ever want, we have."
Locally, that sentiment has permeated.
"You feel so appreciated here," declares Royals player Gunnhildur Yrsa Jónsdóttir. "They've taken it to such a professional level, which I've never been a part of anything like this, so I know I will put the extra work on the field to show my appreciation to everything [Hansen's] done for us."
Becky Sauerbrunn, a popular national team player, felt the same after the first practice.
"It was world class," Sauerbrunn says. "I have played in a lot of places and I haven't seen locker rooms that look like that, and it's got everything we could possible need ... there's really no excuse, so we should perform well because we have all these resources available."
If the Royals can match the two-time NWSL champion Thorns, packed bleachers and a rowdy atmosphere might well follow.
"The product here is going to be different than what it is from anywhere else," Moros says. "It will be neat to sort of challenge Portland for the best environment and fans every week.
"If we can compete with them and give them a run for their money, it would be super awesome."
BREAKING THE TURF ICE
The team started its first practice with a few laughs, jumping on each other's backs. No better way to get to know each other quickly than invading another player's personal space, right? To break the ice, Coach Laura Harvey had the players stand in a circle and pass a soccer ball before finding a partner to jump on.
Silly exercises like that, Harvey says, are meant to get everyone familiar with each other. With only a month before the team's first game, the players need to get comfortable fast, she adds.
"It's just a stupid game I tend to do with teams I work with," she says, chuckling a bit after the team's first practice. "It's light-hearted, a bit of fun, the girls have been around each other a bit now, but just to break the ice pretty much on the field is what I use it for."
While the Royals are new to the league, the players aren't entirely unfamiliar with each other. A number of players came over from the Kansas City and Boston clubs. In a league with only nine teams, player familiarity is more common than in larger organizations.
The Royals' roster is also dotted with well-known names such as Sauerbrunn, Amy Rodriguez, and Kelley O'Hara, all of whom have played with the U.S. Women's National Team. Along with Jónsdóttir, Harvey who hails from the U.K. and Australia native Katrina Gorry bring with them an international flare.
During practice, Harvey is hard to miss. Her British accent stands apart from Utah's, let's say, less-colorful dialect. And during drills, Harvey is sometimes right in the middle, coaching players on positioning.
Her coaching career bodes well for the Royals. She was hired in November after coaching the Seattle Reign since its inaugural 2013 season. The following year, she was named the league's Coach of the Year and lead the team to two straight runner-up finishes. She stepped down as the Reign's coach and general manager 20 days before being named to the Royals' top position.
"Visiting with Dell Loy Hansen, [general manager] Craig Waibel, [RSL coach] Mike Petke and others and having the chance to see their vision for the club locally and the sport nationally and internationally, it was impossible not to get excited about what RSL looks to do for women's soccer," Harvey said in a video posted on the team's website shortly after she was hired.
Harvey, though, aims to put her own stamp on the team. Some players were called away for two weeks for national team duties in early March, which made establishing the team's identity difficult at times. Regardless, she has the team spend as much time together as possible, emphasizing a possession-oriented style.
"I've always said I want my teams to be hard to beat, both with and without the ball," Harvey tells City Weekly. "When we don't have it, we've got to work hard to get it and when we have it, we've got to make sure the opposition works really hard to win it back off us. We need to be good on both sides of the ball."
Sarah Arnoff
Laura Harvey
While all-business during practice, Harvey occasionally has some fun with the players afterward.
Just don't call her "coach."
"Hey, what do you guys call me?" she asks some nearby players following one practice.
"Harvs," one player responds.
"Harvey," says another.
Finally, one player shouts "gaffa," and chuckles a bit. The term, a British one spelled "gaffer," is a colloquial word for "boss" or "old man."
"If they call me 'coach,' I'll punch 'em in the head," Harvey jokes.
Preseason camp has featured all types of players trying to make the team—some like Jónsdóttir and the U.S. Women's National Team players are a given to make the cut. But that didn't stop them from showing coaches why they were brought in initially.
At the end of the first week of preseason camp, Jónsdóttir was still hustling. During drills, she was noticeably one of the fastest on the field. She was also the one taking the shots. During a 3-on-3 drill, Jónsdóttir dribbled to the right and drilled a shot past the goalie in the left corner. Next shot: goal. Third shot: off the crossbar. She let out a loud groan after the near miss. For anyone watching, the moment was a sign she will likely make headlines come game days. Her spot on the Royals is her first stint stateside after playing for a number of clubs overseas as well as Iceland's national team.
"I've been playing in Europe and in Iceland and this is like a whole other situation, it's been wonderful" Jónsdóttir says. "They [ownership] make us feel right at home from the start and what Dell Loy has put into this is amazing ... it's great to be a part of something like this."
Jónsdóttir's play has also rubbed off on younger players such as BYU graduate and Royals draft pick Taylor Isom.
"She's amazing and there's a lot of amazing players who have been in the league for a long time so I'm just trying to soak in what they're doing and try to emulate what they're doing on and off the field," Isom says. "On the pitch, they're doing things that I'm like, 'Oh, I probably should be doing that, too,' and just try to follow their examples because obviously they're successful at what they're doing."
The team finally moved to its outdoor facility in Sandy a few weeks into camp. The team was about to embark on its week-long trip to Southern California to practice and scrimmage against UCLA—a trip Harvey expects will build the team's camaraderie on and off the field.
"Ultimately, we don't need to be best friends, but we need to respect each other when we're around the field and know what each other's job is," Harvey says. "I'm a big believer that if you can get that right, then you have a good chance of being successful."
However, by the time final cuts came March 19, Isom was not included in the 24-player roster.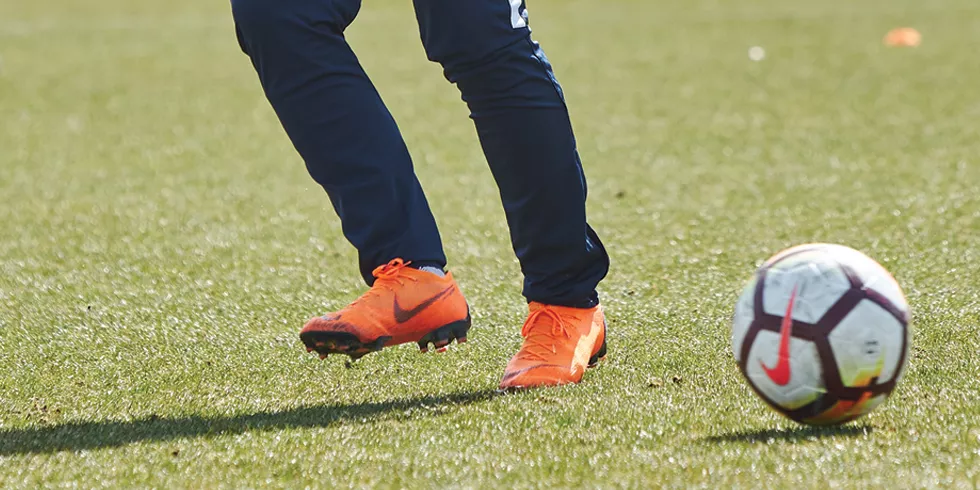 SUPER EXCITED
Following the U.S. Women's National Team's World Cup victory in 1999, the Women's United Soccer Association was started with hopes of capitalizing on a potential market for women's professional soccer. Three years later, it folded. Although it lacked in long-term success, it at least marked a significant step in growing the women's game.
On the men's side, RSL started playing in 2005. It's growth was validation for many regarding the enthusiasm for men's soccer in Utah. The women's game, though, still had catching up to do.
More than a dozen years later, Utah residents are finally getting a chance to see that the women's game is here to stay at the professional level.
Buzz for the team isn't hard to find, either. As of mid-March, more than 4,000 season tickets have been sold, according to the team, up from the 1,000 sold in the two weeks following the team's formation.
During one recent practice, Zoe Murphy, 14, stood on the sidelines with her mom, Cindy, decked out in a new Royals jersey and scarf. Zoe, who plays soccer and will enter high school later this year, says she and her friends are "super excited" about the Royals.
"I just started yelling and screaming," Zoe says about when she first heard the team was coming. "Coming here [to practice], I'm so happy to see the team."
Mom Cindy says her family has already purchased season tickets. They also planned to meet the team ahead of RSL's home opener on March 10. She says she's happy girls such as her daughter now have local female athletes to look up to.
"Being a female, it's more fun watching women play than men," she says.
The idea rings true for Rudy Shenk. He's been the head coach for the East High School girls soccer team for 11 years. The team is usually in the mix for a state title each year and often has girls receiving scholarship offers at schools around the western U.S., including Gonzaga, the University of Utah and BYU.
"The only option before, was to go to a college game or to go watch RSL," Shenk says. "They'd rather watch women play than men—and I can't blame them."
Shenk says girls soccer is "probably easily the No. 1 girls team sport" in the state. The chance girls coming through the program can see a path to the professional level in their own city will go a long way to the women's game's development. He says freshman girls are now coming into high school who can immediately play on the varsity level, something that wasn't as prevalent even a decade ago.
"Girls are just getting better and better," Shenk says. "When you go watch the caliber of a D-1 college team compared to even 10 years ago, you have more, really good players around now."
Standing outside of practice, Cindy Murphy points out it's more realistic to relate to the players as well, especially when it comes to topics like body image and self-confidence. She says it's a more relatable example for young girls compared to supermodels and glamorous Hollywood stars.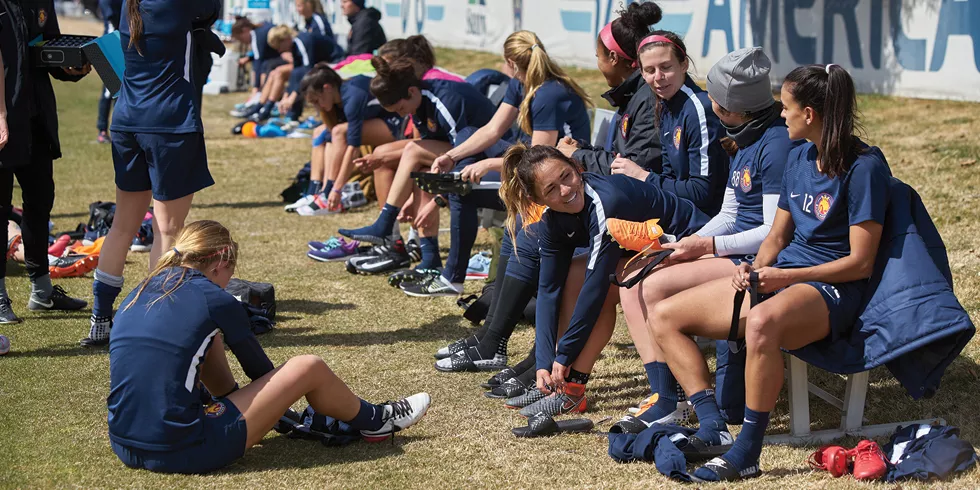 "They set a really good example for girls," Murphy says about the players. "They can't have issues like bulimia [and] anorexia—they really have to be setting a good example."
Zoe says she looks up to Royals players Mandy Ladish and EJ Proctor, another draft pick who didn't make the final roster, to name a few. She even knows Annie Hawkins. During preseason camp, Hawkins, who's been a 10-year mainstay with the RSL-sponsored pro-am Real Salt Lake Women, has played on the practice team for the Royals.
Despite not finding herself on an NWSL roster, Hawkins has had about as good of a career in women's soccer as many would hope for. The Royals, she says, is what she and others in women's soccer in the state have been trying to build. Hawkins also doesn't make her living as a soccer player. She works full time in a marketing position. Thanks to the ability to work from home, though, Hawkins is able to balance that time while still pursuing her passion on the soccer field.
"I was graduating college in '05 and just from then, it's been so amazing to see academies started, there's futsal courts everywhere that Real Salt Lake has funded, there's this amazing facility and there's a lot more teams—semi-pro, professional—so that the youth players can come through and develop," she says. "We definitely didn't have that when I was growing up."
Hawkins was invited to camp after attending the team's open tryouts in February. By March, she was no longer on the preseason roster, but might be invited back for future opportunities.
The Royals don't play their first game at Rio Tinto Stadium until April 14. The team has its first two games on the road against the Orlando Pride and Houston Dash. Royals games will be on television as well as streamed through the KSL app. Some games will also be picked up on the Lifetime network, which broadcasts its NWSL Game of the Week.
The Royals have just about everything set up for them to be successful as well as thousands of young girls and others looking up to them. So, no pressure.
"It's kind of an amazing feeling being a soccer player and a role model and I know I didn't have very many female role models as a little kid," Moros says. "To have somebody you could really want to be is a different feeling ... the game has come a long way and there's a lot of people that have put in a lot of hard work for decades."
And in 2018, women's soccer in Utah has as much momentum as it's had in, well, just about ever.
Hansen agrees. "I think these women, because of who they are and the respect they're given," he says, "will be better athletes because they have that self image that 'I am deserving and I will be what I deserve to be.'"