After weeks of social media teasing, Viet Pham's highly anticipated new venture Pretty Bird (146 S. Regent St.) has finally opened its doors. Despite the fact that a line had formed outside on opening week in the bitter February cold, the vibe surrounding Regent Street was not unlike that of a rock concert. The excitement for this new eatery—along with the buttery aroma of fried chicken—charged the crowd with palpable enthusiasm.
In an effort to save you the time of looking up what exactly sets Nashville hot chicken apart from other varieties, here's a quick primer: Legend has it that the spicy take on fried chicken originated with a man named Thornton Prince back during the Great Depression. Prince was known for being a bit of a man-slut, and when his girlfriend heard that he was fooling around with other ladies, she hatched a plan to burn sweet retribution right into his gullet. She prepared a big dish of fried chicken for dinner one night, and liberally dusted his portion with a few scoops of cayenne pepper. Thinking Prince's head would explode from the heat, she was instead surprised to see he was instantly enamored with the food. From this bit of Tennessee history, a restaurant called Prince's—which is still in operation—was born, and Nashville hot chicken was born along with it.
Having visited the Nashville favorite Hattie B's with my wife, I felt like my palate was adequately primed for Pretty Bird. When I arrived, I already had visions of crispy, pepper-powdered fried chicken dancing in my mind, and the restaurant's interior was absolutely resplendent with the smell of frying oil and hot sauce. I spotted chef Viet Pham along with his crew, manning their stations in fresh-pressed, white button-down shirts, which were as crisp as their assembly-line service. The small space was never intended to host a restaurant, but the mindfulness put into its layout—with seats for only 15 or so guests—only adds to its charm. After placing my order, I found an empty spot by the counter where I could see all of the steps my bird went through before my plate came out.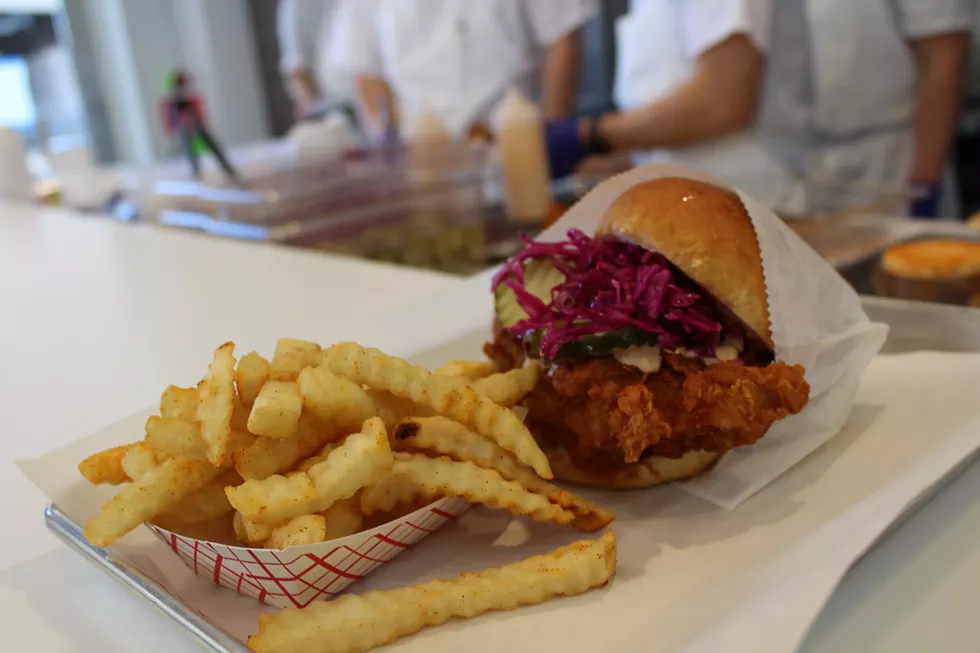 At the moment, the only two options on Pretty Bird's menu are a fried chicken sandwich ($10.50) and a quarter bird ($9.50), which can both be made into combo meals for a couple bucks more. Upon ordering, you get the choice of mild, medium, hot or "hot behind"—so named for the warning that line cooks yell when they're running behind you with something molten. I was eager to see just how spicy Pretty Bird's willing to go, so, armed with valor, I went with the hot behind fried chicken sandwich, which comes topped with cider coleslaw, pickles and Pretty Bird Sauce—a magical blend of spices and aioli.
The first thing I noticed was the complementary crunch that comes from the slaw, pickles and that oh-so-juicy fried chicken. Each bite is a glorious ode to texture, and then the nuanced spice ensemble that Pham has created starts to kick in. With every subsequent bite, the pepper flavor starts to build until it's kissing the back of your throat. Don't get me wrong, the hot behind is indeed hot, but it's that good kind of hot that doesn't exercise unrighteous dominion over the other ingredients. The balance of flavor and texture you get in this outwardly unassuming sandwich is not just pretty—it's damned near beautiful.
Regent Street just got a little bit spicier, and that's a motherclucking good thing.
<!——StartFragment——>

AT A GLANCE
Open: Monday-Saturday, 11 a.m.-9 p.m.
Can't miss: Uh … the fried chicken sandwich
Best bet: Anything served hot behind