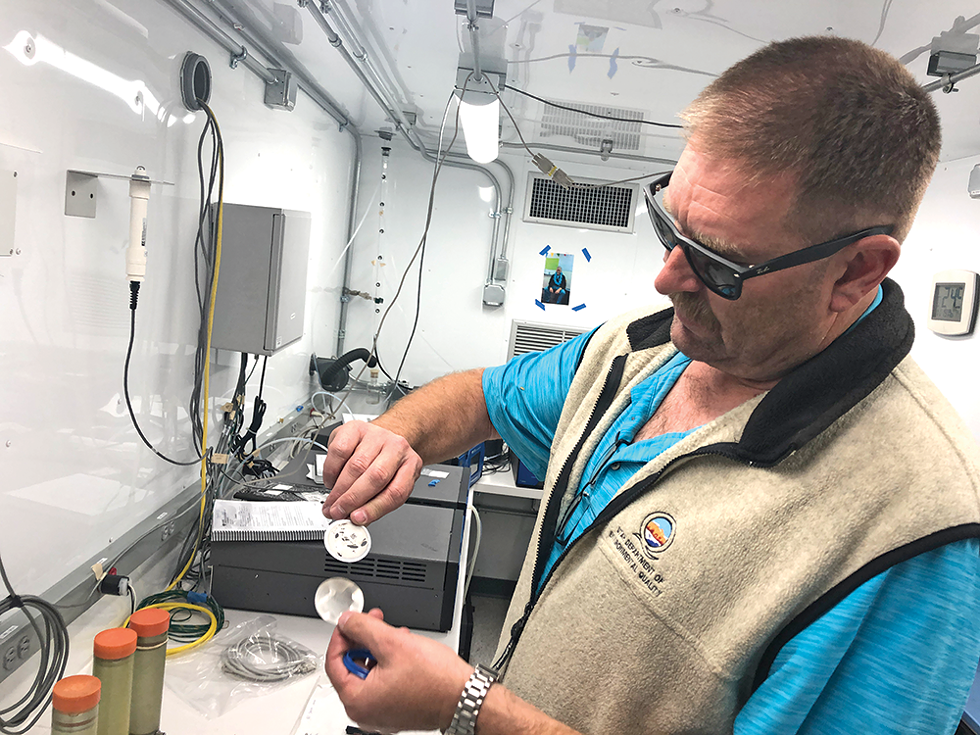 Kelan Lyons
Bo Call shows off a filter from one of the state's machines. He says his monitoring devices are more precise, but, "We don't have one on every street corner. PurpleAir, you can have all over the place."
Some things in Utah are inevitable. That draught beer you ordered will be disappointingly weak, the dominant church will meddle in state affairs and the Great Salt Lake will stink up surrounding cities and towns once the rain comes. And in the winter, the air quality could be hazardous to our health.
This inversion season, tell Mother Nature to screw off, and take back control of your life! Do you plan your wintry days around whether you can safely breathe outside? Interested in helping your neighbors gauge whether they can send the kids outside? There's a product that might interest you.
Draper-based PurpleAir sells tools to monitor the air quality near people's homes, schools and parks so they don't have to depend on state-provided data. "The state sensors are few and far between," Company founder and CEO Adrian Dybwad says of the roughly two-dozen units spread throughout Utah. "Air quality can vary widely over a short distance."
Since the company's inception in 2015, some 250 people have each forked out about $250 for a sensor. The devices estimate different sizes of particulate matter in the air and upload the data to a map every 80 seconds, providing a near real-time picture of how dangerous it is to be outside. "The goal is to enable private citizens to take part in monitoring air quality and to enable them to share the data," Dybwad says. "Anyone can get involved. They just get a sensor and they put it on their house."
The PurpleAir device could be helpful over the next couple months, but it's important to understand the limitations of the data the devices gather, and how it compares to the state's monitors.
Our old friend inversion occurs when cold air gets trapped under warm air, ensnaring pollutants closer to the ground's surface—where city residents live and breathe. Harmful chemicals emitted from cars, fireplaces and industrial plants get caught under the warm layer, making the air quality worse. "When it gets really cold, and there's snow on the ground, and there's no storms in sight, inversion is going to start to build," Utah Department of Environmental Quality spokesperson Donna Kemp Spangler says.
The phenomenon is particularly problematic in the Salt Lake Valley in winter months, thanks to the mountain ranges that require cities and suburbs be built within its bowl-like shape. More people are also moving to the Wasatch Front, further exacerbating air quality issues. "Utah has a growing population," Spangler says. "Each year we get more people here, more people driving, and that creates a challenge."
Especially worrisome in inversion season is Particulate Matter 2.5 (PM 2.5), inhalable particles about 30 times smaller than the width of a piece of human hair. "Even a small amount of this particulate pollution is harmful for your health," Spangler says.
That's where the monitoring devices come in.
Standing on the roof of a monitoring station at a school in Salt Lake City's Rose Park neighborhood, Bo Call points at different pieces of state-used equipment and estimates its cost. "This instrument right here, this is $17,000," the monitoring manager for the Utah Division of Air Quality says. "We have a filter robot that was a quarter-million [dollars] that weighs these things, and a guy whose full-time job is to just weigh filters."
His point is that the state's equipment comes with a hefty price tag for both the technology and the infrastructure required to support it. The instruments Call and his team use are certified by the Environmental Protection Agency. Data can be gleaned from the state systems that show whether Utah is in compliance with EPA regulatory standards. "These aren't designed to have in everybody's house or everybody's backyard," Call says, explaining there are 10 such stations in the Salt Lake Valley, from Ogden to Brigham City and Bountiful to Midvale. "In that same space, there's probably hundreds of PurpleAir monitors."
But the privately owned monitors do have some drawbacks, according to Kerry Kelly, an assistant professor of chemical engineering at the University of Utah. To correctly calculate the pollution concentration using them, Kelly says citizen scientists need to apply a "correction factor" that varies by location and season. "They're a good relative measure in the winter, but they tend to overestimate particle concentrations," she adds.
Plus, Call says the citizen and state monitors score their readings differently. The numbers on the PurpleAir map are based on the Air Quality Index, while the state reports the concentration of PM 2.5 in the air. "The biggest problem falls in that we report in the actual measurement, and other people get reports of AQI, but they leave off the units," Call says. That discrepancy can make things perplexing for lay people who aren't aware there's a distinction between the way the numbers are packaged.
PurpleAir users can toggle the data representation on the map between the PM concentration measurements and the AQI scale, but Call says many people don't know about that function. "The confusing thing is mostly that people get used to hearing the data in one way or the other."
Call sees this is a marketing strategy to package data in a way that differentiates sensor manufacturers from their competition. "It's not providing scientific data. It's a business model to sell stuff," he says. "Ours is a scientific model to provide data to the public and the regulatory, regulated community."
On a recent November afternoon, PurpleAir's AQI measured in the Greater Avenues was between 61 and 72. Converting the same data to raw PM 2.5, the numbers read between 17 and 20 micrograms per cubic meter of air.
In other words, there are multiple ways to measure air quality, leading to some in the tinfoil hat-wearing community to think there's funniness afoot. "There was some belief there was some vast conspiracy where the state was lying about the data," Kelly says. "That was not true."
But that doesn't mean mass market monitors are junk. "The measurements are imperfect, but they're good relative measurements," Kelly says. "If your monitor says that PM levels are going up, they're going up. If it says they're going down, they're going down."
Dybwad stands by his product. He says employees with the state's Division of Air Quality will look at PurpleAir data from time to time, and fire departments and school districts in California use the monitors to gauge when they should close schools. "It seems to be useful to a whole lot of people."
That data gives Utahns an idea of where they should run or cycle during stretches of bad air quality. The monitors could even be helpful to school teachers weighing whether to send students outside for recess, or for policymakers looking to gauge air quality in their neighborhoods and parks. "If you're the mayor of a city, and you want to know where the high spots are in your city, it doesn't matter what the actual number is," Call says. "You just want to know that it's relatively higher here, as opposed to over here."
Call says the state's tried and true monitoring systems can peacefully coexist alongside direct-market sensors. In fact, they could help Call and his peers if a large number of them picked up out-of-the-ordinary readings in a location that doesn't have an official monitoring station nearby. "And the air isn't the same everywhere, so it's useful to have them," he says. "I think having some information is better than no information. That said, I think you have to be careful, that some information doesn't always equate to excellent information."