Page 2 of 7

Salt Lake City has slowly become "the place" Brigham Young declared it was in 1847. It's the shizzle, the bomb and the mecca—not just for Mormons, but the world. In 2015, Forbes rated Utah's capital city No. 7 in the country as the best place for business and careers and No. 23 for job growth.
In 2012, LGBT magazine the Advocate dubbed Salt Lake the "gayest city" in the United States, the National Security Agency moved its spy center to the suburbs in Bluffdale and the state's job growth means Utah boasts an uber-low unemployment rate. We locals are reminded time and time again that we're living the good life, especially when we travel to other big cities and can't find parking places or experience hourslong commuter nightmares on outdated freeways.
If there's not enough to do locally, our status as a Delta Airlines hub means we can be anywhere on the West Coast in 90 minutes' flying time and with reasonable air fares. If you prefer the East Coast, Jet Blue offers red-eye flights to New York City. There's even a nonstop to Paris (and soon even one to Amsterdam), thanks to the demand by Mormon missionaries to get to their destinations more affordably and more quickly.
In less than five hours by car, we can be in the red rocks of Moab, on the shore of Lake Powell, skiing in Jackson Hole or watching bears in West Yellowstone. It's a 10- to 12-hour drive to Los Angeles, Denver, Phoenix or Burning Man in the Nevada desert.
As I like to say, it's 90 miles to "sin" in three directions: west to Wendover, Nev., to casinos and gambling; north to Malad, Idaho, to purchase Powerball lottery tickets, and east to Evanston, Wyo., to bet on the ponies.
We're at the crossroads of the West, and our secret's been getting out ever since we hosted the 2002 Winter Olympics and people realized we have seven world-class ski resorts within an hour's drive of the airport.
The capital city is the largest city in the state, both in terms of population and area. The 2013 population within the actual city boundaries was estimated at 191,180 in 2013, but the greater Salt Lake City metropolitan area, or what is known as Salt Lake Valley is estimated to have 1,153,340 residents in 2014. The majority of those who live within Salt Lake City limits are non-Mormon, and many are transplants like myself. We came here for school or skiing (or both) and stayed. Some left, and after facing the harsh reality of high housing prices and the cost of living elsewhere, they boomeranged back.
Now, this place that Mormon pioneers carved out of the desert is a regional center for government, health care and technology. It now has enough food trucks and local gastropubs to sate an army of foodies seven days a week. Read on to discover our town and why we love it here.
DOWNTOWN
The boundaries of downtown generally are regarded as North Temple to 600 South and Interstate 15 to 500 East. This was the first commercial area in the state and features many of the oldest homes and buildings—from the Lion House where Brigham Young kept 27 wives, all of Temple Square, and multi-billion-dollar City Creek Center (50 S. Main, 801-521-2012,
ShopCityCreekCenter.com
). Pioneers set up irrigation ditches from City Creek Canyon (just east of the Capitol) and began farming where the mall now stands.
In modern times, the creek was buried under concrete and asphalt, and a faux creek now runs through the mall and Temple Square. Someday, City Creek will be daylighted again and run above ground to the Jordan River.
Downtown life has changed considerably in the past decade. For instance, Goldman Sachs employees have moved into offices at one of the city's newest office towers on Main Street, 222 Main, and will expand into yet another project, 111 Main, when it's complete this year. These employees come from all over the world and, as a result, food trucks, beer bars, bodegas and hipster places to shop and eat have begun to locate downtown to cater to their tastes.
Salt Lake City has blocks and blocks of old and new offerings for locals and transplants, from the reasonably priced Siegfried's Delicatessen (20 W. 200 South, 801-355-3891, SiegfriedsDelicatessen.com), From Scratch (62 Gallivan Ave., 801-961-9000, FromScratchSLC.com), and Tin Angel (365 W. 400 South, 801-328-4155, TheTinAngel.com) to the higher-end "take-your-client-to-lunch" Current Fish & Oyster (279 E. 300 South, 801-326-3474, CurrentFishAndOyster.com), Takashi (18 W. Market St., 801-519-9595) and Martine Cafe (169 S. Main, 801-365-9328, MartineCafe.com).
There's beer and booze aplenty now with mock- and cocktails at Bar-X (155 E. 200 South, 801-355-2287), Whiskey Street (323 S. Main, 801-433-1371, WhiskeyStreet.com), BTG Wine Bar (63 W. 100 South, 801-359-2814, BTGWineBar.com), Bodega (331 S. Main, 801-532-4042, Bodega331.com) and the Beer Hive Pub (128 S. Main, 801-364-4268).
If craft beer is your thing, check out breweries such as Epic Brewing Co. (825 S. State, 801-906-0123, EpicBrewing.com), Squatters/Wasatch (147 W. 300 South, 801-363-2739, Squatters.com) and Red Rock Brewing Co. (254 S. 200 West, 801-521-7446, RedRockBrewing.com).
The Gallivan Center (239 S. Main, 801-535-6110, TheGallivanCenter.com) hosts "Food Truck Thursdays" for lunch and makes for a great place to meet friends and fill up.
Want to find more nightlife? Visit the nightlife guide on page 62. My favorite is Poplar Street Pub (242 S. 200 West, 801-532-2715, PoplarStreetPub.com), for cheap beer and fabulous burgers.
Summer/Winter Downtown Activities
The Gallivan Center is a year-round concert and event venue that operates the city's outdoor ice-skating rink in the winter. Winter is especially fun downtown. Seeing the thousands of holiday lights at Temple Square (50 E. North Temple, 801-240-4872,
TempleSquare.com
) is a must beginning the day after Thanksgiving through New Year's as is visiting the windows at Macy's at City Creek that showcase ornaments nine feet in diameter and made of candy. Check on Facebook for various Santa pub crawls the week before Christmas. The Winter Market is held Saturdays at the historic Rio Grande Depot (300 S. Rio Grande, 801-533-3500). Capping off the holidays is the EVE WinterFest (
EveSLC.com
)—three days of downtown concerts, DJs and activities for kids and families, culminating with a countdown and giant disco-ball drop outdoors to ring in the new year.
In summer months, from May through October, the Downtown Farmers Market is held at Pioneer Park (350 S. 300 West, 801-972-7800), on Saturdays, 8 a.m.-2 p.m. Also at Pioneer Park, music fans revel at the Twilight Concert Series (TwilightConcerts.com) on Thursday nights July 21 through Sept. 1, 2016, featuring acts like Erykah Badu or Death Cab for Cutie, all for a truly nominal price.
Over at Washington Square, from May 20-22, 2016, celebrate the city's amazingly diverse ethnic communities by partaking in the music, dance, crafts and foods of more than 50 cultures at the three-day Living Traditions Festival (LivingTraditionsFestival.com), produced by the Salt Lake City Arts Council. Admission is free for all attendees.
The Urban Flea Market (600 S. Main, FleaMarketSLC.com) is a free hipster swap meet held on Sundays monthly, May through October, complete with buskers, food trucks and DIY crafts and treasures.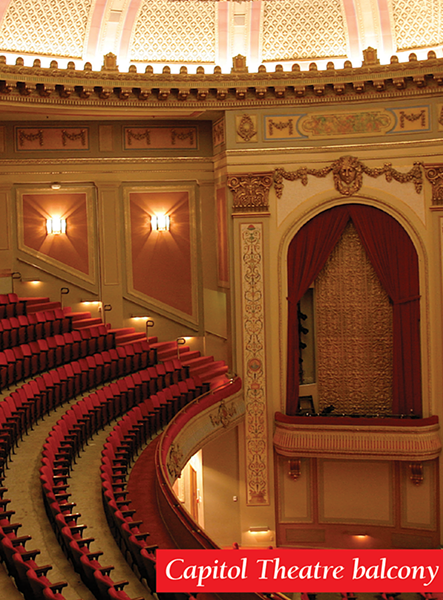 Got Culture?
Downtown is home to Abravanel Hall (123 W. South Temple, 385-468-1010,
Abravanel.Box-OfficeTickets.com
), where you'll see the Utah Symphony perform.
In the Gateway mall area, the Vivint Smart Home Arena (301 W. South Temple, 801-325-2000, VivintArena.com), is home to the city's NBA team, the Utah Jazz, and serves as a venue for pop concerts and rodeos. For smaller shows, check out concert venues The Depot (400 W. South Temple, 801-355-5522, Depot.SLC.com) and The Complex (536 W. 100 South, 801-528-9197, TheComplexSLC.com).
Other must-see downtown cultural gems include architectural wonder of Salt Lake City Main Library (210 E. 400 South, 801-524-8200, SLCPL.org), Capitol Theatre (50 W. 200 South, 801-355-2787, CapitolUT.TicketOfficeSales.com)—home to Ballet West and Utah Opera—and Rose Wagner Performing Arts Center (138 W. 300 South, 801-355-2787, SLCCFA.org), where you'll often see Repertory Dance Theatre and Ririe-Woodbury Dance Co. stage modern-dance performances.
Opening in fall 2016 is the new 2,600-seat Eccles Performing Arts Center on Main Street, the city's premier venue for touring Broadway shows. The Salt Lake Gallery Stroll takes place at various downtown galleries on the third Friday of the month. (Read more about the city's museums on p. 24 and arts & culture on p. 54.)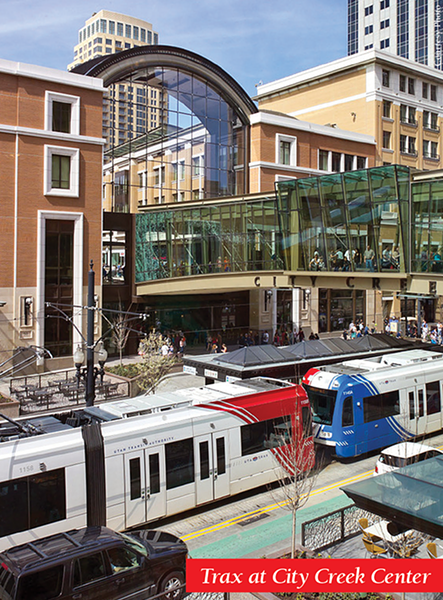 Getting Around Downtown
In addition to
Trax
light rail and
Utah Transit Authority
buses (
RideUTA.com
) that allow visitors and residents to travel free in the downtown "free-fare" zone,
GREENbike
(
GreenbikeSLC.org
) has been happily moving folks around downtown for four years.
Some 20-plus stations are strategically located every few blocks with 150 green-colored bikes (with baskets) ready to go. The bikes are installed in March or April and go back to storage during the snowy season.
It's not a bike-rental but a bike-sharing system, and it's designed for one purpose: taking short trips around town. It's for people wearing regular clothes and carrying ordinary items (hence the basket). Annual-membership holders get unlimited one-hour rides.
Members can take any bike, from any station, as many times as they like, and they can use GREENbike in 14-plus cities throughout the country. They also can pay for a 24-hour Access Pass and a four-day pass that provides unlimited 30 minute trips.
Salt Lake City also has offers Lyft (Lyft.com/Cities/Salt-Lake-City), Uber (Uber.com) and taxi services to and from the ski resorts.
And finally, the city's colorful pedicabs offer rides and tour all around downtown, making bar-hopping that much more fun.
Rose Park
This neighborhood is quickly becoming the hottest place to find affordable housing. Why? Builders downtown are putting up high-rise apartments wherever they can find land to develop, and homeowners seldom sell in neighborhoods like 9th and 9th or Sugar House.
Only five minutes from downtown, Rose Park was developed in the 1940s to house the GIs coming home after World War II. The developer mapped out the area's streets into the shape of roses. The main road (American Beauty) is the stem, the streets were named after rose varieties and the roof shingles on homes in the neighborhood were either green or red. The veterans are now aging out and first-time buyers and flippers are discovering gold in them thar ramblers.
Close by is the Rose Park Golf Course (1386 N. Redwood Road, 801-596-5030, SLC-Golf.com), a flat, cheap and challenging course. There's a Frisbee golf course, too. The Northwest Multi-Purpose Center (1255 Clark Ave., 385-468-1305, SLCO.org/Recreation/Northwest) is state-of-the-art and open seven days a week for indoor aquatics, fitness and classes.
With the 2-year-old Trax line abutting Rose Park, commuters love the close proximity to Salt Lake City International Airport and points in all directions.
The biggest news in Rose Park was the 2015 grand opening of the Salt Lake City Regional Athletic Complex (2280 N. Rose Park Lane, 801-535-7116, SLCGov.com/RAC) which features 16 soccer and multi-purpose fields with an additional main stadium with bleachers, scoreboard and concessions.
MARMALADE & CAPITOL HILL
When the Mormon pioneers settled downtown, they brought fruit seeds and trees from back home. They planted apricots, quince, peaches and much more. Once the fruit ripened, they picked and preserved it (hence the "marmalade" moniker) and sold it on Saturdays at the bottom/west side of Capitol Hill. The area's homes are wonderfully rich in history but there hasn't been much commercial investment until recently. Now, the new
Salt Lake City Library Marmalade Branch
(280 W. 500 North,
SLCPL.org
) is preparing to open on Feb. 27, and new businesses are popping up all around 600 North and 300 West. At the top of the hill sits the majestic
Utah Capitol
(350 N. State, 801-538-3000,
UtahStateCapitol.Utah.Gov
) surrounded by stunning views of the valley. The Legislature meets here beginning on the fourth Monday of January for 45 days.
Memory Grove
(300 N. Canyon Road,
SLCGov.Com/CityParks/Parks
) is a wonderful public park east of the Capitol and worth a stroll (it's pet friendly with a pond for dogs to swim in). Favorite eateries on the Hill besides the cafeteria at the Capitol building is
Em's Restaurant
(271 N. Center St., 801-596-0566,
EmsRestaurant.com
) in an old grocery store as well as
Alchemy Coffee
(271 N. Center
St., 801-403-6157,
AlchemyCoffee.com
).
Beer & Booze
Don't miss the Garage on Beck (1199 N. Beck St., 801-521-3904, GarageOnBeck.com) at the north end of the Marmalade in the remnants of old Swede Town. Emigrants from the 1800s lived in this area and resisted integration with the non-Swedes. All that's left are a few homes and rusty, smelly industrial buildings. The Garage is a pub with a variety of live music. In good weather, the crowd moves to the patio twice the size of the bar after rolling up the big garage door out back. It's probably the only place in the world where you can order Utah's famous Mormon Funeral Potatoes deep fried! Just north on the same street is one of Utah's damned good strip clubs, Northern Exposure (1737 Beck St., 801-355-1488.)
Warm Springs Park
The most underutilized public park in this neighborhood is this 9-acre gem at 800 North and 300 West. There's a nature walk, picnic tables and a nice place to take the kids and dogs (although it's not an off-leash park). At one time, five hot springs bubbled up in this area where railroad workers and families would bathe. The modern streets and highways moved in and filled in all but one of the hot springs—but it's not a bathing destination anymore.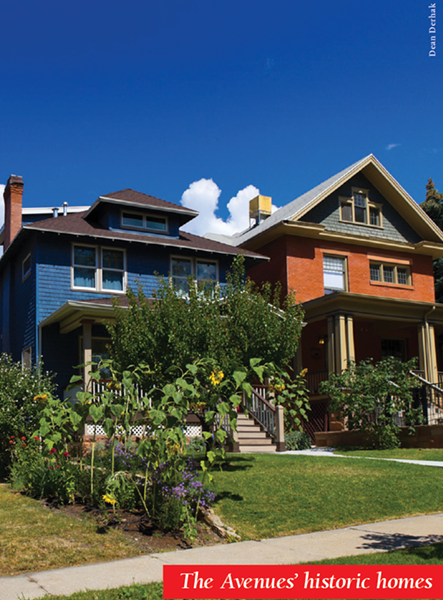 THE AVENUES
Laid out in a perfect grid of avenues (First through 18th) and alphabet streets (A-V), the Avenues (or "Aves") comprise Salt Lake City's first neighborhood. The hills, or benches, are the present-day bastion of Democrats, 100-plus-year-old homes and mid-mod masterpieces. Mule trolleys used to haul folks up the hills, but now longboard skaters tear up the streets after midnight. There's not much commercial business in the Avenues but you will find
LDS Hospital
(Eighth Avenue & C Street, 801-408-1100,
IntermountainHealthCare.org
) and
Shriners Hospitals for Children
(1275 E. Fairfax Road, 801-536-3500,
ShrinersHospitalsForChildren.org
). The city's
really
expensive homes are at the top of the hill or farther east in Federal Heights.
The Salt Lake City Cemetery—the state's largest—is located here (200 N St., 801-596-5020, ci.slc.ut.us/cemetery) on 120 acres, with 9.5 miles of roads and numerous religious/ethnic sections in which 125,000 people have been laid to rest.
Little People Chocolates
Hatch Family Chocolates (376 Eighth Ave., 801-532-4912, HatchFamilyChocolates.com) is old-school hand-dipped candy heaven. It's owned by Kate and Steve Hatch, the little people known for their reality TV show, The Little Chocolatiers, on TLC. Yeah, they are master dippers, but oy vey, try their hot chocolate on a winter's afternoon. They sell ice cream year-round, too.
Eat Up!
Seek out spicy fare at Café Shambala's Tibetan buffet (382 Fourth Ave., 801-364-8558) and Saffron Valley Café (26 E St., 801-203-3325, SaffronValley.com) or the poutine and craft beer made on site at Avenues Proper (376 Eighth Ave., 385-227-8628, AvenuesProper.com)—next door to Hatch Family Chocolates. Or enjoy tapas at Cucina Deli (1026 Second Ave., 801-322-3055, CucinaDeli.com) or yum sandwiches with local foods at the Avenues Bistro on Third (564 Third Ave., 801-831-5409, AvenuesBistroOnThird.com) and Straw Market (390 Fourth Ave., 801-935-4420, Straw-Market.com).
Coffee snobs hang at Jack Mormon Coffee (82 E St., 801-359-2979, JackMormonCoffee.com), Café on First (39 I St., 801-532-8488, CafeOnFirst.com) or they drive through Java Jo's (401 First Ave., 801-532-2899). The Avenues also has a Smith's grocery store (402 Sixth Ave., 801-328-1683, SmithsFoodAndDrug.com) and the only state liquor store on the hill (under Smith's).
Pickleball
The newest sports craze is pickleball, also called "tennis for old people." There aren't too many courts in Salt Lake City proper. But the pickleball courts at Fifth Avenue and C Street are getting plenty of action in this sport that combines elements of badminton, tennis and table tennis. Two, three or four players use solid wood paddles to hit something like a Wiffle ball over a tennis net on a court the same size as a doubles badminton court.
UNIVERSITY of UTAH/FOOTHILL BOULEVARD
Most college towns have some groovy little 'hood near the school where you find used CD shops, dispensaries and coffee shops. The U of U has one block of commercial offerings, between 200 South and 300 South/1300 East and 1400 East. Luck has it that you can get stellar local foods in that small area: over-the-top shakes at B&D Burgers (222 S. 1300 East, 801-582-7200, BandDBurgers.com), some of Utah's finest pizza at The Pie (273 S. 1300 East, 801-582-5700, ThePie.com), veggie burgers at Big Ed's (210 University St., 801-582-9045) and $2 micro brews at the Porcupine Pub & Grille (258 S. 1300 East, 801-582-5555, PorcupinePub.com). The larger retail hub is just south of the university at Foothill Village (1400 S. Foothill Drive, 385-232-5527, FoothillVillage.com), where you'll find a Dan's grocery store (1360 S. Foothill Drive, 801-583-3267, DansFoods.com), high-end fashion stores and killer clothing deals at Stein Mart (1400 S. Foothill Drive, No. 130, 801-583-6800, SteinMart.com) and numerous eateries including MacCool's Public House (1400 S. Foothill Drive, No. 166, 801- 582-3111, MacCoolsRestaurant.com).
The U of U is its own city with 30,000-plus students and is one of the largest employers in Utah. The U is home to four hospitals, both a law and medical school and offers more than 150 undergraduate and graduate programs.
It's a land unto itself to discover, with vestiges of old Fort Douglas on display, an 1800s-era graveyard with even some 1940s-era German headstones. (Nine World War II Nazi POWs killed by a mentally unstable prison guard in a Utah camp are buried here.)
Check out Red Butte Garden and Arboretum (300 Wakara Way, 801-585-0556, RedButteGarden.com) that fills the canyon above the campus, and the copper-clad Utah Museum of Natural History (301 Wakara Way, 801-581-6927, UMNH.Utah.edu). Sadly, school officials haven't made bike sharing a priority on campus, but Trax and shuttle services are available to the campus and its hospitals.
Jews in Utah?
There are five synagogues and about 6,000 Jews who reside in Utah. The I.J. & Jeanné Wagner Jewish Community Center (2 N. Medical Drive, 801-581-0098, SLCJCC.org), located at the north end of the U of U campus, is on the site of the old Fort Douglas Country Club.. Ironically, the country club didn't allow any Jewish members for decades. The JCC has more non-Jewish than Jewish members using its gorgeous facility mainly because it has an open membership and locals in the neighborhood utilize the large swimming pool and gym. The McGillis School (668 S. 1300 East, 801-583-0094, McGillisSchool.org) is a private school based on Jewish values for pre-schoolers through the eighth grade and is nestled just below the university campus across from First Unitarian Church.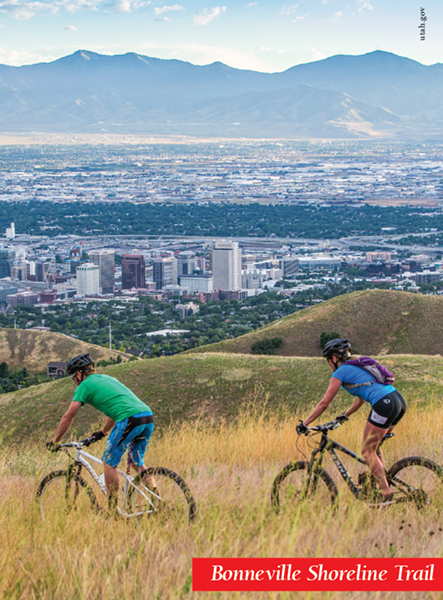 This IS the Place
Next to the University of Utah is This Is the Place Heritage Park (2601 E. Sunnyside Ave., 801-582-1847, ThisIsThePlace.org). Historic buildings that would have been torn down have found a home on 42 acres across from Hogle Zoo (2600 E. Sunnyside Ave., 801-582-1631, HogleZoo.org). The park's namesake was a phrase spoken by Mormon leader Brigham Young who was leading his flock in 1847 to find a new home out West. His scouts came across Salt Lake Valley and galloped back to him. Young reportedly was sick with Rocky Mountain Spotted Fever, but they propped him to see the valley view and he said, "It is enough. This is the right place. Drive on." The living history park also features a Mormon monument open to the public. Just up the road in Emigration Canyon is Ruth's Diner (4160 Emigration Canyon Road, 801-582-5807, RuthsDiner.com), famous for its Mile-High Biscuits and for the late Ruth Evans, the original curmudgeon of an owner who cooked out of a trolley car that she had hauled up the canyon.
Biker Heaven
The ancient Lake Bonneville, of which the Great Salt Lake is a remnant, once filled present-day Salt Lake Valley. If you look up on the valley's foothills, you can see the old shoreline that is in fact full of trilobites and fossils from that era. In the past couple of decades, bikers have clamored to ride north to south along our glorious mountains hoping to avoid freeway or street traffic. The Bonneville Shoreline Trail (BonnevilleShorelineTrail.org) is a safe path for amateur and serious bikers to pedal south from Brigham City to Provo through Salt Lake Valley. It's Utah's second-best bicyclist offering—next to the red rocks of Moab. Bikers can access the trail on the foothills. Within the city itself, Salt Lake City has been installing dedicated bike lanes for several years and has plans for more in the years ahead.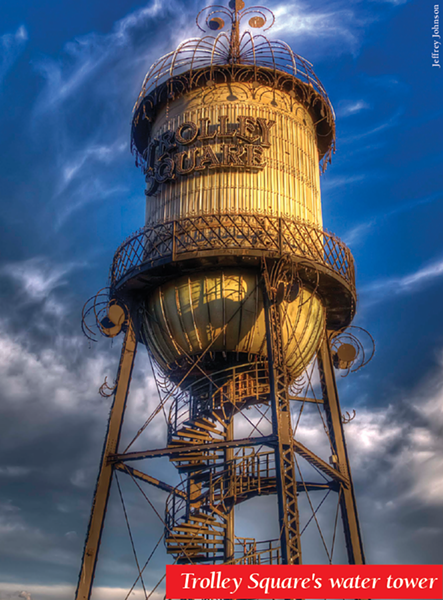 LIBERTY PARK/TROLLEY SQUARE
The 110 acres of
Liberty Park
(600 E. 900 South, 801-972-7800,
SLCGov.com/CityParks/Parks-Liberty-Park
) become the first major public park in Salt Lake City in 1882. Much of the land was purchased from the estate of Brigham Young. As one of the most utilized green spaces by locals, it features a 1.5-mile jogging path, year-round tennis courts, a public swimming pool, basketball and volleyball courts, bocce ball, picnic areas and concessions. The
Isaac Chase Mill
in the middle of the park is the oldest commercial building still standing in Utah. It houses a museum of folk arts and is used for music and dance programs throughout the year.
The park was also the site of the city's first zoo, but the elephant kept getting loose and tangled in neighbor's laundry lines, and so the animals had to move. In its place is Tracy Aviary (589 E. 1300 South, 801-596-8500, TracyAviary.org) which is the country's oldest bird park. A $20 annual pass gives you unlimited visits.
Trolley Square
We humans are dumb. We build a mass-transportation system, tear it down and rebuild it a century later.
While today we have have Trax and Frontrunner, back in the day, we had a citywide trolley system. At night, those trolley cars came home to their "barn," now known as Trolley Square (600 S. 700 East, 801-521-9877, TrolleySquare.com).
Natives love the illuminated water tower above the shopping mall as a landmark that adds a nice touch on the skyline. Locals also love that the old trolley barns with their Mission-style façades that are home to restaurants, shopping and a Whole Foods store.
There are national chains like Pottery Barn (Ste. B102, 801-322-4050, PotteryBarn.com), the Old Spaghetti Factory (Ste. 189, 801-521-0424, OSF.com) and Williams Sonoma (Ste. 312, 801-359-0459, Williams-Sonoma.com), and local gems like Tabula Rasa (Ste. 330, 801-575-5043), Weller Book Works (Ste. 607, 801-328-2586, WellerBookWorks.com) and the silly card shop, Cabin Fever (Ste. 330, 801-363-0828, CabinFever.com).
For those who love meat on a stick and eat-until-you-pop, the Brazilian-themed Rodizio Grill (second floor, 801-220-0500, RodizioGrill.com) is a must-try. The Desert Edge Brewery at The Pub (Ste. 273, 801-521-8917, DesertEdgeBrewery.com) was one of the first retail craft beer restaurants in Utah, but locals know the restaurant as "The Pub."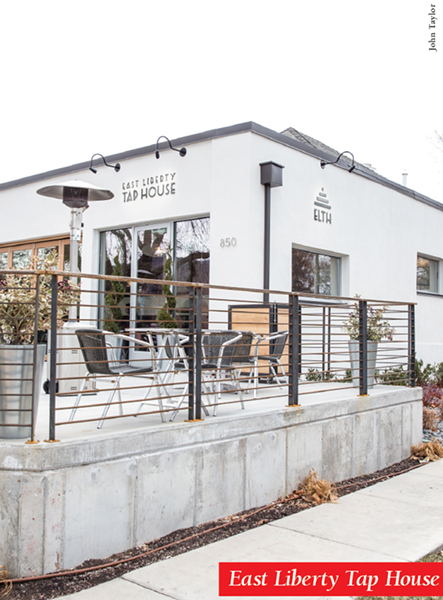 9th & 9th
If you were kidnapped by aliens, blindfolded and teleported to the 9th & 9th neighborhood, you'd think you were in the Hawthorn District of Portland, Ore. (sans marijuana dispensaries). It's been called "the gayborhood" by some and is one of the most walkable 'hoods in the Salt Lake Valley. On summer evenings, you can practice your fly-fishing skills on the lawn of
Western Rivers Flyfisher
(1071 E. 900 South, 801-521-6424,
WesternRiversFlyFisher.com
). You can do your stretches at
9th & 9th Pilates
(854 E. 900 South, 801-410-4180,
9thand9thPilates.com
), mosey around the naughty greeting-card store
Cahoots (
878 E. 900 South, 801-538-0606,
CahootsSaltLake.com
) and grab some Middle Eastern small plates at
Mazza's
(912 E. 900 South, 801-521-4572,
MazzaCafe.com
). It's one of the hippest places in town to live, even with only one neighborhood bar: the recently opened
East Liberty Tap House
(850 E. 900 South, 801-441-2845,
EastLibertyTapHouse.com
). That there are so few places to imbibe in this area is just silly.
For the Fur Bodies
It's obvious this neighborhood loves its pets. The University Veterinary Clinic & Diagnostic Center (952 E. 900 South, 801-596-9005, UVHDC.com) has been seeing dogs and cats and their humans for 20 years and offers not only vet meds and animal surgery but wellness care and dentistry. Posh Paws Small Pet Boutique (1005 E. 900 South, 801-671-6020, PoshPawsSLC.com), just a few doors away, is the go-to groomer. You'll often meet Patty the Pet Psychic (PattyPetPsychic.com) who comes in to talk "bark" with your dogs. The nearby off-leash Herman Franks Dog Park at 1371 S. 700 East is one of the few places downtown where you can let your four-legged friends wear a fancy jacket, prance and play.
The 9 Muses
At the very intersection of 900 East and 900 South are nine 12-foot-tall kinetic sculptures created in 2007 by Seattle sculptor Troy Pillow, inspired by the nine muses of Greek mythology. When the breezes hit them, they spin gently—or swirl madly in the strong winds.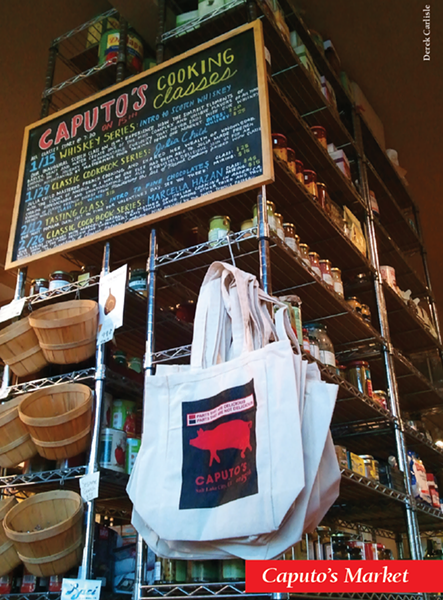 15th & 15th
It's said that if you are lucky enough to live in this east-side neighborhood, you're either a dean at Westminster College, an LDS general authority or you inherited your parents' home. The neighborhood is both stunning and pricey. But this is the place for anyone who loves arts and crafts, Tudor and Federalist architecture and wants to live on streets named after Ivy League schools—Harvard, Yale, Princeton, etc. The highest number of Utah's period cottages are on less than a dozen streets. Originally, the area was home to a dairy farm and mulberry orchards. As a secondary source of income, Pioneers grew silkworms in their attics on the leaves of their fruit trees. Many of the trees still flourish.
The 15th & 15th (1500 E. 1500 South) neighborhood was up a steep grade from downtown, above the pollution of the coal-burning furnaces, fireplaces and stoves. At the turn of the 20th century, after a streetcar began running along 1500 East, developers saw the potential to build homes for residents wanting to escape the bad air below. And so a housing boom was born.
Charm, She Wrote
If you thought independent bookstores and reading were out, you haven't been to The King's English Bookshop (1511 S. 1500 East, 801-484-9100, KingsEnglish.com). Known as one of the finest destinations for mystery-book lovers, this funky store in an old home shares its cozy space with the intimate Italian restaurant, Fresco Italian Cafe (1513 S. 1500 East, 801-486-1300, FrescoItalianCafe.com). Betsy Burton, co-founder and co-owner started The King's English in 1977 in a Tudor house in the small commercial district of the neighborhood. She is often at the store recommending good reads, in between writing books and blogs herself. After you find a good book, walk across the street to Caputo's Deli (1516 S. 1500 East, 801-486-6615, CaputosDeli.com), Einstein Bros Bagels (1520 S. 1500 East, 801-466-8669, EinsteinBrosBagles.com), or sit on the patio of the The Paris Bistro (1500 S. 1500 East, 801-486-5585, TheParis.com) for romance and mussels.
Miller Park
Red Butte Creek runs through this lovely part of town, starting high in the mountains above the University of Utah, running down the hill through Liberty Park, then on to the Jordan River and finally ending up in Great Salt Lake. Miller Bird Refuge & Nature Park (1726 E. 900 South, SLCGov.com/CityParks/Parks-Miller-Park) runs between 1500 East and 1700 East, and follows the course of the creek on both sides of its ravine. The hidden gem was named after the Millers who lived at 1607 Yalecrest Ave. and who donated land to the city to protect the greenspace. In 2010, 33,000 gallons of crude oil gushed from a hole in the Chevron pipeline above Red Butte Creek and flowed into the creek. Chevron was required to restore the waterway to federal standards. About $1 million of restoration funds from the oil giant have been spent on a quarter-mile stretch of the waterway, helping to stabilize the stream bed, establish native trees and plants and improve the trail and signage.
SUGAR HOOD TO BALLPARK
If you can't afford Harvard/Yale homes, you can find more affordable versions of the same era construction west of 700 East. Locals say if you live below 700 East, you live in "Sugar Hood." The area is popular among folks who work or attend classes at the south campus of
Salt Lake Community College
(1575 S. State, 801-957-4868,
SLCC.edu/South-City-Campus.com
). The former South High School campus boasts more than 6,000 students crammed into 100 classrooms, labs and student facilities. Coffee shops, vape stores, pawn shops, tattoo parlors, ethnic restaurants and fast-food chains are clustered close to the college. Farther west is the
Smith's Ballpark
(77 W. 1300 South, 801-350-6900,
MiLB.com
), the stadium for the local minor-league baseball team,
The Bees
, the Triple-A affiliate for the Los Angeles Angels of Anaheim. For $5 on Monday nights, you can get a great seat and a pretty darned good hotdog if you buy your ticket in advance at a Smith's grocery store.
Horizonte
In the 1970s, a long-haired hippie basketball star from Westminster College got a teaching degree. At his first job at Horace Mann Middle School, he began teaching the "troublemakers." He found that with a little different teaching style, and a lot of respect, these students could thrive. James Anderson, now retired, was a visionary who created a Horizonte Instruction and Training Center (1234 S. Main, 801-578-8574, Horizonte.SLCSchools.org) out of nothing. It educates grades 7-12 as well as adults in a special atmosphere where the students come first and learning is revered and honored. Students speak more than 30 languages and come from refugee families all over the world as well as from families who just want a different experience for their student.
Grinders, Not Subs
If you haven't been back East, then you might not know that there's no such thing as a submarine sandwich there. You order a "grinder," like a Philly steak "cheese bomb." Although other authentic cheesesteak shops have come to town, Grinders 13 (1618 S. State, 801-467-3676) was the first to offer a good long sandwich here. Since 1973, they've been piling on the peppers and cheese.
Pet Mortuary
For so many of us, losing a pet can be just as traumatic as losing a child. Thank goodness for Major Street Pet Services (1727 E. Major St., 801-487-2814, MajorStreetPetServices.com) and its sensitive, fairly priced cremation and burial services. When it attempted to become the first mortuary of its kind in Utah, neighbors complained. So instead, the owners took a dilapidated historic Victorian-era home, updated it and installed state-of-the-art cremation facilities. Your vet may put your animal down, but Major Street will give it the burial it deserves.
SUGAR HOUSE
This Old House magazine calls Sugar House "one of the best old-home neighborhoods in the U.S.A." Surrounded by large and small parks and conveniently located off Interstate 80, Sugar House is a mere 17-minute drive to Park City. Sugar House has a colorful history: In the 1850s, Brigham Young tried to start a sugar mill here, but it didn't pan out. It was also the site for the Utah Territorial Penitentiary. When the prison was relocated to Draper in 1951, the land then became a 110-acre park and high school campus. It became known as the furniture-store capital of the West in the 1950s because of the preponderance of retail furniture stores located along 1100 East and 2100 South. Now, it's hipster heaven with a great walkable nightlife featuring brew pubs, local restaurants and kitschy clothing stores, along with a few chain stores and a Whole Foods. It's the stomping ground for the 3,500 students from nearby Westminster College (1840 S.1300 East, 801-484-7651, WestminsterCollege.edu), a private liberal-arts college founded in 1875, the same year that Brigham Young University opened in Provo. With 70 majors and 13 graduate programs, the college is rated one of the top five of its size in the country.
Booze & Bars
Sports fans in Sugar House love Fiddler's Elbow (1063 E. 2100 South, 801-463-9393, FiddlersElbowSLC.com), SugarHouse Pub (1992 S. 1100 East, 801-413-2857) and the tiniest bar of all, The Bar in Sugarhouse (2168 E. Highland Drive, 801-485-1232). For more serious gastropub snobs, there's the 260-seat Wasatch Brew Pub (2110 E. Highland Drive, 801-783-1127, WasatchBeers.com) and The Annex by Epic Brewing (1048 E. 2100 South, 801-742-5490, TheAnnexByEpicBrewing.com). Wasatch is famous for Polygamy Porter "nitro in a bottle," while Epic's 36 craft beers offer something for every taste. Dress casual and hit the Campfire Lounge (837 E. 2100 South, 801-467-3325, CampfireLounge.com) with a dog-friendly patio. Local spirit connoisseurs recently have discovered a small-batch distillery on the west end of Sugar House. The Sugar House Distillery (2212 S. West Temple, 801-726-0403, SugarHouseDistillery.net) can sell directly to customers at its packaging store—a first since the days of Prohibition. The distillery is known for both vodka made from Utah water and its honey whiskey. There are only 44 liquor stores in Utah and none are open on Sundays.
The Country Club/Parleys
Incorporated in 1899 and charging a $25 membership fee, the Salt Lake Country Club (2400 Country Club Drive, 801-466-8751, SaltLakeCountryClub.com) is one of the oldest private clubs in the country. The original golf course and clubhouse were located in the Gilmer Park area of 9th & 9th; the club moved to its more exclusive location and opened for play in 1921. The 175 acres of rolling links and club house offer fewer than 1,000 golf and social members a stunning setting if you can pony up the more than $100,000 in fees to join.
If that's beyond your budget, the public course, Bonneville Golf Course (954 Connor St., 801-583-9513, SaltLakeCountryClub.com), just a short jaunt further north, is one of the best public courses in the West. Those who don't swing clubs can enjoy jogging or biking around the public course.
The area of 21st & 21st is undergoing gentrification and revitalization. 2100 South is the main drag that runs east and west through all of Sugar House, and it gets you onto Interstate 80 to Parleys Canyon, Park City and the wilds of Wyoming.
Hey Punks!
Still have that shredded T-shirt with the safety pins all over it? Collect 7-inch vinyl records? Looking for those hard-to-find Sex Pistols or Black Flag records? Raunch Records (1119 E. 2100 South, 801-467-6077) is the granddaddy of odd and angry as the city's first punk-music store. Audiophiles can still find the choicest '80s music they've missed and talk to the guy who helped propagate the alt music scene behind this Zion curtain. The store, owned by Brad Collins, sits across the street from big box Barnes & Noble and sells magazines, books, mostly vinyl, CDs and stickers that chains would never stock on their shelves.
Parley P. Pratt
Precocious people prying into the past might notice the name of ol' Parley P. on street signs around Salt Lake Valley. There's even a bronze statue of Parley P. Pratt at the Fresh Market on Parleys Way and 2300 South. The LDS polygamist explored and surveyed the canyon area just east of his statue and helped build and maintain the first public road though that mountainous pass. Sadly, he was murdered by his estranged 12th wife's ex-husband in 1857. As a member of the original LDS Quorum of the Twelve Apostles, the prolific Parley Pratt had 30 children, 266 grandkids and more than 50,000 descendants, including former presidential candidate Mitt Romney and Jon Huntsman Jr., former Utah governor and ambassador to China.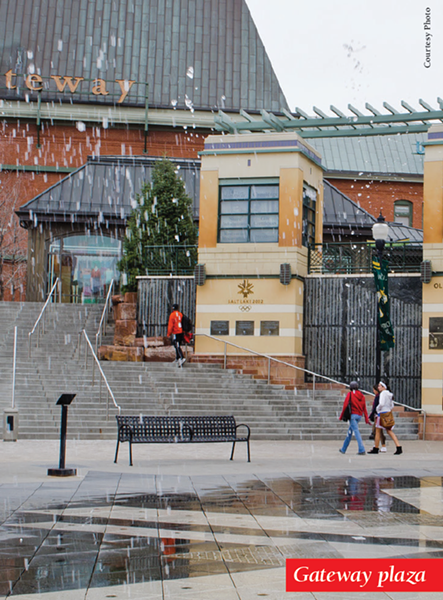 THE DEPOT/GRANARY DISTRICT
Until recently, when mentioning the area west of Pioneer Park, most locals thought of the homeless population since several shelters are located in the area. But after The Gateway mall (18 North Rio Grande St., 801-456-0000, ShopTheGateway.com), was built in 2001, things changed. Residents and business people began seeing the potential of an area that previously had been railroad tracks and aging industrial buildings. West downtown's Depot District (so named for the Rio Grande and Union Pacific depots just a few blocks apart) as well as the Granary District are now getting the attention they deserve. They represent downtown's last bastions of land and buildings that can be cleaned up and rebuilt, but kept affordable for both housing and businesses.
Shelter From the Storm
The nonprofit Volunteers of America is building a youth center (888 S. 400 West, 801-355-1528, VOAUT.org/Volunteer-At-The-Homeless-Youth-Resource-Center) to provide emergency housing for 30 homeless youth between the ages of 15-22. The new building will have 20,000 square feet of housing, 24/7 services, classrooms and computer stations and an interior courtyard.
The Artspace Influence
Founded in 1980, Artspace is best known for reclaiming blighted buildings, especially with its first project. Pierpont Avenue warehouses were repurposed into groovy live/work spaces on the south side of the street between 300 and 400 West. In 1995, Artspace made the California Tire & Rubber Co. Building (353 W. 200 South, 801-303-1221, ArtspaceUtah.org/Spaces/Artspace-Rubber-Company) located above Uptown Cheapskate (353 W. 200 South, 801-931-3388, UptownCheapskate.com) and the Jade Market (353 W. 200 South, 801-521-2106). In 2001, Artspace built 62 rentals from scratch for its Bridge property that houses the studios for Spyhop (511 W. 200 South, 801-532-7500), where students learn filmmaking and recording.
Trains used to pull into Artspace City Center (511 W. 200 South, 801-364-1019), a former ZCMI warehouse, to unload their goods. It was redesigned to allow an interior courtyard for 18 live/work townhomes. It also houses the Utah Arts Festival and Art Access groups.
Artspace then bought land in the Granary District and cleaned up the brownfield on the Utah Barrel & Scrape site before erecting new housing known as Artspace Commons (423 W. 800 South & 824 S. 400 West, 801-310-9324), which opened in 2010. Next door to the Commons, developers opened Artspace Solar Gardens (850 S. 400 West, 801-310-9324, ArtspaceUtah.org/spaces/Artspace-Solar-Gardens) in 2013 with enough solar photovoltaic panels to power the entire building.
Now Artspace is rehabbing the long-abandoned Beehive Building next to City Center; called Macaroni Flats, it is slated to open next year.
Another Artful Space
Frida Bistro (545 W. 700 South, 801-983-6692, FridaBistro.com) is a surprising find on the west side. Don't go here expecting standard Mexican fare. Named after Mexican artist Frida Kahlo, here you'll find food to match Kahlo's passion for art. It's innovative and sophisticated Mexican cuisine served in a eclectic art-rich setting.
RIVER DISTRICT
The Salt Lake Valley is cut in half by the meandering Jordan River which flows north from Provo to the Great Salt Lake. Salt Lake City leaders have pretty much ignored the west side of town for half a century or more and recently poured millions of dollars into a light rail extension to the east side in Sugar House. Now, it's time for Glendale and Poplar Grove to get their due. Parts of town known as Glendale, Poplar Grove, Euclid, Fairpark and Jackson are now being repackaged in the city's new west side master plan as "The River District." The International Peace Gardens and Jordan Park take up the south end of the area, and the Utah State Fairpark takes up the north side. Among Utah's most well-known restaurants, Red Iguana (736 W. North Temple, 801-322-1489, RedIguana.com) and Red Iguana 2 (866 W. South Temple, 801-214-6050, RedIguana.com), are located here. In and around the freeway and train tracks are a slew of other local delights: Hook & Ladder Co. (1313 California Ave., 801-972-2336), Mestizo Coffeehouse & Art Gallery (641 N. West Temple, 801-596-0500, MestizoCoffeehouse.com) and other Latin delights like El Asadero Mexican Food (1011 W. North Temple, 801-328-4747), Sonsonateco Restaurant (1264 W. 500 North, 801-596-3596), Taqueria El Rey De Oros (157 S. 900 West, 801-322-3176) and Julias Mexican Food (51 S. 1000 West, 801-521-4228).
Red Iguana Too Full?
Every town has that one local restaurant where people will wait in line for an hour to eat. Red Iguana's moles are so delicious that its two locations are often full. Visitors tend to hover at North Temple, and a block away, the locals hang out at the South Temple location. Here are a few tips to get your Iguana on: 1. Go earlier: Both open at 10 a.m. on Saturdays and Sundays, with a full complement of Mexi-breakfast items; 2. call in your order for pick up; or 3. consider eating at the third Red Iguana location in City Creek mall's food court. Or just head on over to Chunga's (180 S. 900 West, 801-953-1840, ChungasMexican.com) for the best tacos pastor in town. They have a rare outside patio, too.
Sugar Space
Salt Lake City's west side recently got a great, but hidden, dance and events center known as Sugar Space (132 S. 800 West, Salt Lake City, 888-300-7898, SugarSpace.com). The facility is privately owned but can be rented by any group, for performances or private celebrations. Not only can you attend award-winning plays but events like the Ethiopian New Year's party and dance recitals and classes because, well, it's owned by dancers.
West Side Pyramid
Brigham Young operated the first winery in Utah, but then God told the Mormons that alcohol should be banned in sacramental worship. About 150 years later, people following the Summum philosophy built a pyramid (707 Genesee Ave., 801-355-0137, Summum.US/Pyramid) for their temple mediations and to make sacred wine. The State of Utah found out and forced the group to become a licensed winery because of its "Nectar Publications" made there. The publications (aka wines) have their own unique message to carry to the brain. The public is welcome to attend services and find out more about Summum.
Read more about the city's restaurants, nightlife, museums, arts and more in other sections of this guide. CW
Babs De Lay is owner/broker of Urban Utah Homes & Estates and serves on the Utah Transit Authority board. She pens the Urban Living column for City Weekly.