Page 5 of 7
Three Squares A Day
The city's finest enclaves for breakfast, lunch and dinner (and more)
Creatures of habit, most of us tend to divide up our days and nights marking them by meals: breakfast, lunch and dinner being the traditional "three squares per day." Occasionally, we might also indulge in a weekend brunch, visit that unique special-occasion restaurant or seek a late-night nosh. With that in mind, I've selected sets of five can't-miss eateries to recommend for your daily meals, ranging from delis to hotel restaurants.
This was not easy. As a professional food and wine writer and restaurant critic, I am well aware that there are dozens and dozens—probably hundreds—of local restaurants that are worthy of being included in these lists. The problem is, including them all would turn this City Guide into a phone book. So, I had to dig deep and, unfortunately, do the hard work of not including many restaurants that are every bit as worthy as these ones: You know who you are.
What follows is a limited selection of restaurants for breakfast, lunch, dinner, special occasions and late-night meals that I think have wide appeal and good value, and upon which I'd bet money you'll enjoy. As for all the others that didn't make it onto these pages, I'd invite you to read my restaurant reviews in City Weekly, take a look at the articles in Devour Utah and visit the restaurant and bar listings at CityWeekly.net. You'll find a culinary treasure trove there.
I do hope you'll try some of these excellent, independent eateries. And when you do, I also hope you'll walk away not only with enthusiasm for their food, drink, service and ambiance, but also with enthusiasm for our ever-evolving restaurant scene. We've come a long way, baby!
BREAKFAST/BRUNCH
Some say that breakfast is the most important meal of the day. So, why settle for an Egg McMuffin when you can load up on eggs Benedict, chicken-fried steak, hot cakes, fried scones and other bodacious breakfast and brunch fare at these terrific restaurants.
The Grand America
The sprawling, multi-station Sunday brunch at The Grand America is nothing if not opulent. I tend to skip the eggs Benedict, crêpe and omelet stations, and head straight for the seafood and sushi stands to load up on chilled King crab legs and jumbo shrimp, ceviche, nigiri, hosomaki, futomaki, spring rolls and pot stickers. Only after that do I hit the carving station and warm buffet area for pasta carbonara, Angus short ribs, cedar plank salmon, raclette, paella, mascarpone whipped potatoes, beef tenderloin carpaccio ... I could go on. The buffet selection changes from week to week, but there's always the easy-to-reach, pint-sized station for the little ones with kid-friendly foods like mac & cheese and pizza. 555 S. Main, Salt Lake City, 801-258-6708, GrandAmerica.com
Lamb's Grill Greek immigrant George P. Lamb opened Lamb's Grill on George Washington's birthday, Feb. 22, 1919, in Logan. In 1939, Lamb's relocated to its current location in the Herald Building in downtown Salt Lake City where the eatery has remained largely unchanged since. Lamb's has always been a popular breakfast gathering spot, and although some of the old-school items like finnan haddie have fallen off the menu, there's still a nice mix of old, such as chicken-fried steak and eggs and corned beef hash, along with the new, like grapefruit brûlée and organic granola. 169 S. Main, Salt Lake City, 801-364-7166, LambsGrill.com
Penny Ann's Café
Known for its Pac-12 Omelets—a dozen omelets named for schools from Arizona to Wisconsin State—Penny Ann's Café is a breakfast-lover's bonanza. The sour-cream pancakes at Penny Ann's are so light and airy they've been trademarked as Heavenly Hot Cakes. And you can even get them in sandwich form: two eggs and three bacon strips sandwiched between two hot cakes. Other breakfast delights include the pork chile-verde skillet, fried scones, homestyle corned-beef hash, biscuits and gravy, chicken fried steak, and for those looking to eat healthy, there's even an eggplant omelet. 1810 S. Main, Salt Lake City, 801-935-4760, PennyAnnsCafe.com
Tupelo
In Park City, weekend brunch is surprisingly hard to come by. So Tupelo owners Matt Harris and Maggie Alvarez decided to fill that hole with a Saturday and Sunday brunch menu that combines classics with more contemporary offerings. Traditionalists might opt for breakfast potatoes, creamy grits, eggs to-order or thick-cut Niman Ranch bacon. Experimentalists, on the other hand, might try out the silky house-made ricotta with olive-oil bread, the winter kale salad, grilled Wagyu burger or maybe the outstanding homemade pappardelle with braised rabbit, fried ham, Brussels sprouts and Pecorino cheese. 508 Main, Park City, 435-615-7700, TupeloParkCity.com
Oasis Café
Aptly named, Oasis Café is an urban oasis in the heart of the city. In warm weather, the flower-strewn patio beckons at breakfast time with options somewhat decadent, like huevos rancheros and the fresh-baked croissant breakfast sandwich, to lighter fare such as multigrain waffles with fruit, or veggie-potato hash and hickory-smoked tomato sauce. Tea aficionados can enjoy their Oasis breakfast with a wide selection of loose-leaf teas, green teas, black teas and organic teas to choose from, while others will appreciate the wide ranging beverage selection, from lattes and fruit spritzers to organic juices and rosemary lemonade. 151 S. 500 East, Salt Lake City, 801-322-0404, OasisCafeSLC.com
LUNCH
If you're spending your hard-earned coin at chain restaurants for lunch, you're doing it wrong. The difference between, say, a sandwich made at a franchise sub shop and one from Feldman's Deli is like the difference between Donald Trump and Gandhi. So, here's where you really want to head at lunchtime.
Feldman's Deli
Yes, we are aware that Feldman's serves ham. Nonetheless, it's easily the most authentic Jewish-style deli in our state. Where else will you find a beef-tongue sandwich? Overstuffed corned beef and pastrami sandwiches get most of the accolades, but the messy Sloppy Joe is like none other: corned beef, pastrami, Thousand Island dressing and coleslaw on Jewish rye bread. Yum! But Feldman's is more than just deli sandwiches. The deli also makes the best bagels in town and hard to find noshes like matzo-ball soup, kishka, gefilte fish, chopped-liver, knishes, potato pancakesand some of the best french fries around, to boot. 2005 E. 2700 South, Salt Lake City, 801-906-0369, FeldmansDeli.com
From Scratch
Tucked in behind the Wells Fargo Building and Gallivan Center is From Scratch restaurant, a hidden gem where, not surprisingly, virtually everything on the menu is made from-scratch, including dough milled in-house, homemade ketchup and mustard, hand-pulled mozzarella and much more. The Scratch Burger on a brioche bun is second to none and the risotto cakes with wild arugula and roasted bell pepper sauce are irresistible. The Margherita pizza, however, is the main draw—and, quite simply, the best in town. Bonus: There's a nice little beer and wine selection, too. 62 E. Gallivan Ave., Salt Lake City, 801-961-9000, FromScratchSLC.com
Judge Café
Located in the historic 1906 Judge Building in downtown Salt Lake City, Judge Café is a perennially popular spot for breakfast and dinner, but especially lunch. There's a slew of salads to savor, including Cobb, chicken Caesar, shrimp and avocado, smoked trout, sesame chicken and more. For heartier appetites, Judge Café's lunch menu includes homemade meatloaf and mashers and gravy, delicious chicken enchiladas and both hot and cold sandwiches—from turkey-cranberry with Swiss and the delectable Angus roast beef to grilled Portobello, salmon BLT, Maui chicken wrap and barbecued pulled pork. Don't forget to check out the soup and quiche of the day. 8 E. Broadway, Salt Lake City, 801-531-0917, JudgeCafe.com
Tosh's Ramen
The namesake restaurant of affable owner/chef Toshio Sekikawa, Tosh's Ramen has quickly become Salt Lake City's reigning ramen retreat, and is especially bustling at lunchtime. Tosh makes his broth from scratch, simmering meat bones overnight, and the best way to experience the rich-yet-subtle ramen is to order tonkatsu ramen. The glistening broth is served in a huge ramen bowl with a very generous helping of excellent wheat and egg noodles, adorned with crunchy bean sprouts, thin-sliced pork belly, half a hard-cooked egg and minced scallions. This is real ramen. 1465 S. State, Salt Lake City, 801-466-7000, ToshsRamen.com
Siegfried's Delicatessen
When I'm too busy to sit down for a leisurely, full-service lunch, I just get in line with all the other hungry Siegfried's patrons for cafeteria-style bratwurst,weisswurst, sauerkraut, roasted chicken, spaetzle, the best Reuben sandwich in town and, of course, German chocolate cake. Got a hankering to try schweinshaxen and britchen? You can when you visit Siegfried's, where those in the know go to shop for hard-to-find sausages, wursts, bacon, ham, wieners, sauerkraut and many imported foods and trinkets from Europe. Plus, there is cold beer and wine to sip alongside your Bavarian feast. 20 W. 200 South, Salt Lake City, 801-355-3891, SiegfriedsDelicatessen.com
DINNER
Dining out can be an expensive proposition, so you want to choose carefully. In my opinion, these fine establishments are all great bangs-for-the-buck when it comes to flavorful cuisine, impeccable service, alluring ambiance and well-rounded beverage selections.
The Copper Onion
Since opening in 2010, The Copper Onion has seen few slow evenings. An instant hit, Ryan Lowder's restaurant attracts both visitors and loyal locals by the throngs. Whatever else you enjoy at The Copper Onion, be certain to include a side of scorched shishito peppers and the signature ricotta dumplings made with ricotta produced in-house. Veggie lovers will appreciate the luscious vegetable cassoulet, while carnivores might zero in on a Ballard Farm griddled pork chop to braised fennel broth, cabbage and apple. A terrific bar and excellent service just adds to the appeal. 111 E. 300 South, Salt Lake City, 801-355-3282, TheCopperOnion.com
Fresco Italian Café
Situated in a small house with an ivy-covered garden patio for seating in warm weather, Fresco Italian Café offers an upscale Italian-inspired menu featuring fresh, local and seasonal ingredients in dishes such as eggplant polpette with creamy vodka sauce, a mushroom and Crescenza cheese torta with Brussels sprouts, prosciutto and pomegranate-vinegar reduction, nightly risotto and delectable pastas like braised pork agnolotti, potato tortellini and veal Bolognese. Enjoy also digging into Fresco's nice selection of Italian wines. 1513 S. 1500 East, Salt Lake City, 801-486-1300, FrescoItalianCafe.com
Bambara
Located downtown in Salt Lake City's boutique Hotel Monaco, Bambara is a terrific option for any meal, but it especially shines at dinnertime. Executive chef Nathan Powers' inspired bistro menu merges classic with contemporary flavors in dishes such as cast iron-roasted mussels with charred tomatoes, Creminelli salami, garlic and saffron-basil fume. If you're up for something more decadent, turn to the seared Sonoma foie gras with whiskey-apple butter or perhaps roasted marrow bones served with tomato-short rib marmalade and garlic toast. A terrific wine and cocktail selection and top-notch service to match make Bambara a no-brainer. 202 S. Main, Salt Lake City, 801-363-5454, Bambara-SLC.com
Mazza Middle Eastern Cuisine
Whether you choose to dine at the original 15th & 15th Mazza or the newer one in the 9th & 9th neighborhood, Mazza will satisfy your Middle Eastern food cravings. Ali Sabbah's restaurants offer a wide selection of dishes than span the entire Middle East, from Lebanese salad and labneh, to Jordanian-Palestinian musaskhan and an Arabian Gulf dish of chicken and cauliflower kabseh. Mazza's falafel and kebabs are the best around, but don't overlook the complex flavors of a dish like dolaa: lamb braised in nine spices with rice cooked in lamb broth, garnished with pine nuts and almonds. You can also try out a Lebanese wine while you're there. 1515 S. 1500 East, Salt Lake City, 801-484-9259; 912 E. 900 South, Salt Lake City, 801-521-4572, MazzaCafe.com
Takashi
For many dedicated diners, myself included, Takashi isn't just the best Japanese restaurant in Salt Lake City, it's the best restaurant, period. The restaurant doesn't take reservations and a line forms promptly at 5:30 each evening as patrons await their turn for Takashi's superb sushi, sashimi, nigiri and cooked dishes such as azekura—stacked steak on vegetable tempura. So, plan accordingly. Named for owners Takashi and Tamara Gibo, the T&T roll is a perennial favorite, and I can never resist ankimo—monkfish liver. Your best bet, though, is to simply put yourself in Takashi's talented hands and dine omakase style. 18 W. Market St., Salt Lake City, 801-519-9595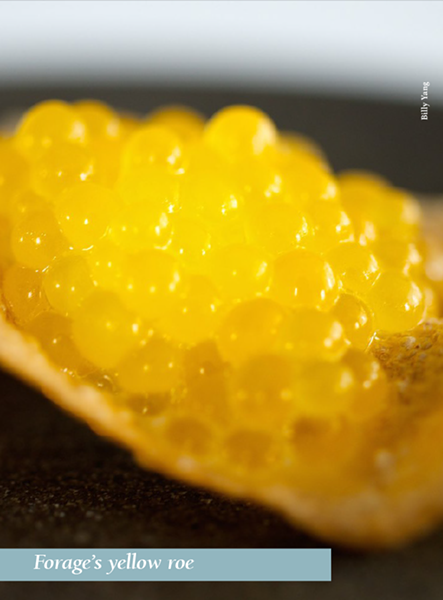 SPECIAL OCCASION
If I've learned anything during my decades of food writing and dining in restaurants, it is this: When choosing to dine out for a special occasion, don't blow it. I think you understand the consequences. So, here are a handful of can't-miss dining destinations for a special night out.
Forage
Forage is a "special occasion" restaurant unlike any other in Utah. It's not necessarily a place where you'd wear your Sunday best, although you certainly could. Forage is not about formality, it's about creativity. Chef/owner Bowman Brown's cuisine is completely distinctive; much of it literally foraged locally from the land that surrounds us. Dinner at Forage isn't an à la carte affair: It consists of a leisurely, multi-course tasting menu with dishes that can range—depending on what's freshest—from something called simply "crispy shallot" or "tomato and nasturtium" to Bowman's delicious duck egg pierogi and dessert of "plums with plum kernel." Every meal at Forage is a special occasion. 370 E. 900 South, Salt Lake City, 801-708-7834, ForageRestaurant.com
La Caille
One of Utah's most unique dining destinations is cleverly secluded smack dab in the suburbs of Sandy. Originally opened in 1975, La Caille is an iconic restaurant and special-event venue, styled as an 18th-century French chateau with 20 acres of gardens, streams, ponds, peacocks, vineyards and more. The food is influenced by classic French cuisine, with menu items such as escargot à la Bourguignonne, pepper-seared beef tenderloin with truffled pommes frites and a wild mushroom tart with tome de Bordeaux. Brunch on the patio in warm weather is an extra special treat in the luxurious confines of La Caille. 9565 S. Wasatch Boulevard, Sandy, 801-942-1751, LaCaille.com
Log Haven
For 21 years, the venerable log mansion in Millcreek Canyon that is Log Haven restaurant has been the home to thousands of special events and occasions, ranging from weddings and marriage proposals to memorable first dates and 50th anniversaries. The restaurant's bucolic natural setting and scenery is a big draw. But what really keeps customers returning repeatedly to Log Haven is chef Dave Jones' inspired cuisine, with flavors ranging from juniper-smoked elk carpaccio to cast iron-cooked Arctic char with cauliflower puree and Meyer lemon-dill crème fraîche. An excellent wine selection created by manager Ian Campbell beautifully compliments Jones' cooking. 6451 E. Millcreek Canyon Road, Salt Lake City, 801-272-8255, Log-Haven.com
The New Yorker
Originally opened in 1978 with a 1940s art-deco ambiance, The New Yorker is one of Salt Lake City's most enduring and venerable fine-dining establishments. It's the kind of place that makes you want to don your best suit or party gown as you enjoy classic cocktails or a glass of Champagne alongside chef Will Pliler's impeccable combination of classic and contemporary cuisine. Be sure not to miss the Venetian-style veal liver with creamy polenta or the rustic fisherman's stew, chock full of shellfish in a spicy tomato-harissa broth. 60 W. Market St., Salt Lake City, 801-363-0166, NewYorkerSLC.com
Valter's Osteria
Thanks to owner Valter Nassi's outgoing personality and warm hospitality, every meal at his namesake Valter's Osteria is a special dining occasion. Valter warmly greets patrons old and new like family and then treats them as royalty. From the first taste of antipasti—carpaccio, perhaps—to the last sip of after-dinner grappa, dining at Valter's is a unique and memorable experience. The menu is extensive, ranging from classics like spaghetti carbonara and daily risotto, to tagliata di bue Piemontese: grilled salt and pepper-crusted Piedmont-style strip loin with lemon and olive oil. All of it is simply delicious. 173 W. 300 South, Salt Lake City, 801-521-4563, ValtersOsteria.com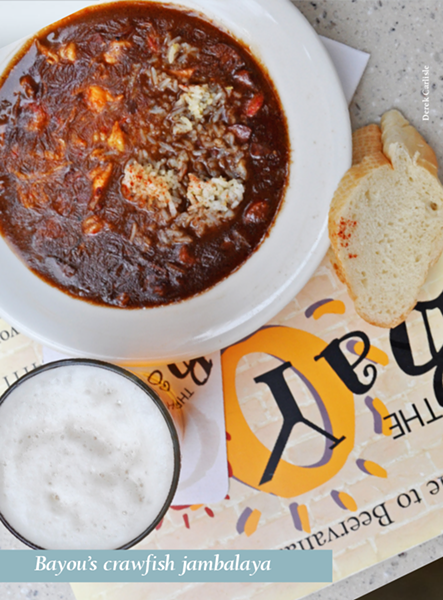 LATE NIGHT
Independent, non-franchise restaurants serving food late at night are a rarity here in the Beehive State. Thankfully, there are a few intrepid folks in town who keep their kitchens open long enough for us to enjoy a near-midnight snack.
The Bayou
Not only does The Bayou (aka "Beervana") offer up the largest selection of beers in Utah, with around 300 different selections available, but the kitchen stays open until 12:30 a.m. nightly to provide Cajun-Creole style food to help soak up all of that brew. For under $2, you can nibble on deep-fried, Cajun-spiced chick peas—a very tasty bar snack. Other tasty bar bites include fried ravioli, popcorn crawfish & shrimp, sweet potato fries and chipotle hummus. For bigger late-night appetites, there's fried catfish, crawfish etouffee, jambalaya, red beans & rice, pizzas and even deep-fried Twinkies. Add frequent live music to the mix and you've found your after-midnight destination. 645 S. State, Salt Lake City, 801-961-8400, UtahBayou.com
Eva
At Eva—a charming downtown restaurant specializing in tapas-type dining—customers can enjoy food from the kitchen that stays open until midnight. Any time of day or night, I love the delicious simplicity of chef Charlie Perry's grilled asparagus with jalapeño aioli, Romano cheese, prosciutto and poached egg. And, who could possibly step away from Alaskan king crab legs roasted in the brick-fired oven, accompanied by green papaya slaw and spicy tobiko aioli? Shrimp and grits, grilled frenched lamb chops, seafood risotto, organic chicken "lollipops" ... those are just a smattering of the enticing small plates on Eva's large late-night menu. 317 S. Main, Salt Lake City, 801-359-8447, EvaSLC.com
Pie Hole
The funky, friendly Pie Hole has the stuff to make folks who long for New York City-style pizza giddy. Beginning with hand-thrown pizza dough, this is the type of pizza you purchase in the Big Apple by the slice, fold and eat. It's cooked in a standard deck pizza oven, and although the crust might be just a smidgeon thinner and crispier than most of the street slices in New York City, it's close enough to the real deal to pass muster. Best of all, you can satisfy your late-night pizza cravings at the Pie Hole until 2 a.m. nightly and until 3 a.m. on Friday and Saturdays. 344 S. State, Salt Lake City, 801-359-4653, PieHoleUtah.com
Poplar Street Pub
There are lots of reasons locals love Poplar Street Pub, including its Sunday brunch and karaoke on Mondays. Another reason for the popularity of Poplar is that its extensive food menu—the whole thing—is served until 1 a.m. And, this isn't standard bar food; dishes range from Poplar's famous Scotch eggs and habit-forming battered-and-fried green beans, to salads, burgers, tacos and entrées like slow-simmered chile verde, which really hits the spot around midnight. This is also the place to get a late-night certified Angus steak with garlic butter, veggies and a salad for a mere $15. The friendly service is free. 242 S. 200 West, Salt Lake City, 801-532-2715, PoplarStreetPub.com
Rye
Conveniently located adjacent to Urban Lounge (and with the same owners), Rye is the perfect spot for a pre- or even post-show nosh, since it's open until midnight. The Bites menu at Rye has a terrifically eclectic selection of small-plate choices including pickled quail eggs, kimchi quesadilla, Ballard pork belly lettuce wraps, mussels in white wine broth with ginger, togarashi and frites, and scrumptious street-style dumplings stuffed with shrimp and pork and drizzled with soy vinaigrette. While you're enjoying your late-night nibbles, why not also try one of Rye's unique cocktails like the Cat on a Hot Tin Roof, Dynamite Donkey or the Fifth Ward. 239 S. 500 East, Salt Lake City, 801-364-4655, RyeSLC.com