Page 6 of 7
RAISING THE BAR
When the sun goes down, the city's nightlife kicks into high gear. Take heart, newbies: The bar scene in Salt Lake City does exist! Don't let the misguided Utah stereotypes fool you. Do we have a "Zion Curtain," a barrier in newer restaurants that hides the work of the bartender from youngsters' eyes? Yes. Do we have a state Legislature that micromanages the state Alcoholic Beverage Control? Yes. Do you have to plan to order food at a restaurant when you put in your drink order? Yes!
But that doesn't mean that our streets roll up at night. Quite the contrary: We have a thriving watering holes, pubs, live music haunts, dance clubs, dives, sports bars and more, sure to suit the expectations and taste of practically any drinker wishing to imbibe. City bars tend to be somewhat spread out but each venue is killing it to ensure you have a good time in a quirky state like Utah.
We've culled a list of bars across the Salt Lake Valley and compiled what amounts to a great starting point. Bars are listed by category, so depending on your mood, you can find the scene you're looking for. Want to hear the latest bands coming through town? Looking for a LGBT-friendly hangout? A place to watch the game with fellow sports fans? A pub where you can sip and eat? Peruse our list and find your place to experience Salt Lake City's ever-expanding after-dark universe.
COCKTAILS & MARTINIS

For those who desire a well-crafted beverage, here are places that know how to mix it up.
Bar-X With an illuminated backdrop to showcase the hundreds of bottles on hand, Bar-X is where you'll find some of the most original and creative mixed drinks in the valley. The place is often packed, but you'll see why when you sample what the highly skilled staff of mixologists have in store for your taste buds. Take a moment on the patio to immerse yourself in conversations that transpire there every night. 155 E. 200 South, Salt Lake City, 801-355-2287, BarXSaltLake.com
Bourbon House Located in the basement of the Walker Center, Bourbon House is like your uncle's cozy den. There's sports on the monitors, beer in the fridge, a broad selection of liquor displayed in illuminated wall cabinets and a selection of pub-tastic small plates. Its hip, cool ambience and large bourbon offerings are just the way to start off an evening of downtown entertainment. 19 E. 200 South, Salt Lake City, 801-746-1005, BourbonHouseSLC.com
The Cliff House
A gastropub that's home to Vida Tequila, here the drinks are sublime and served with tasty lunch and dinner offerings as well as sushi made to order at the sushi bar. The atmosphere is super cozy and makes for great dinner dates, after-work drinks or pre-concert beverages. You can also sneak in a game of billiards while sipping one of their select wines. Don't miss the Sunday brunch and mimosas. 12234 Draper Gate Drive, Draper, 801-617-8600, CliffHouseGP.com
Elixir Lounge
This is a cocktail lover's retreat away from the city—a neighborhood martini bar for Holladay and Cottonwood Heights. Not only are the cocktails well crafted, the bar is located right next door to Cafe Trio, meaning patrons can order off Trio's full menu of delectable Italian dishes, which will be delivered to the bar piping hot. With its prime location near the Cottonwood canyons, it's a perfect gathering spot for the apres-ski crowd who clamor for the large selection of microbrews and Trio appetizers. 6405 S. 3000 East, Holladay, 801-943-1696, ElixirLoungeSLC.com
Kristauf's Martini Bar
This hip and elegant hideaway bar right off Main Street is where many a patron finds him- or herself in hanging out as they wait for a table at Takashi next door. That convenience makes every evening at the bar an opportunity to converse with a rotating cast of characters over a couple of dry martinis. The martinis themselves are made to perfection and served by an attentive staff. 16 W. Market St., Salt Lake City, 801-366-9490, MartiniBarSLC.com
The Red Door
After winning awards and continually giving every mixologist in town a run for the money, it's safe to say that The Red Door knows how to shake and stir a martini. An intimate, classy place to meet a friend for a drink before a show at nearby Capitol Theatre, the bar features live music or DJs playing jams on weekends. You could spend many a night sipping every drink combination offered and never tire of the selection. 57 W. 200 South, Salt Lake City, 801-363-6030, TheRedDoorSLC.com
Whiskey Street
A whiskey drinker's paradise located right downtown on Main Street, Whiskey Street is a visual stunner that must be seen. The eclectic décor feels both vintage and modern, and the bar's clientele is every bit as diverse. The Bourbon-influenced food menu comes with suggested whiskey, beer and wine pairings. Sip a shot poured over ice from a perch that overlooks Main Street, or kick back inside the bar and enjoy the long look of things. 323 S. Main, Salt Lake City, 801-433-1371, WhiskeyStreet.com
Zest Kitchen & Bar
Like to drink but want to be healthy about it? Zest has become the bar for health-conscious bar patrons. Here, you can order fresh juice cocktails like berry-patch margaritas and cranbeet mimosas The cocktail bar uses organic spirits, wines and brews, which pair nicely with pizza, baked zuc & cheese and all the other awesome locally sourced, organic, gluten-free, vegan and/or vegetarian dishes you can order. Come the weekend, you can imbibe cruelty-free, all while listening to live music and DJs get their jam on. 275 S. 200 West, Salt Lake City, 801-433-0589, ZestSLC.com
BAR HOPPING

Looking for some place cool and different? Try these bars when you're skipping around town looking for a change of scenery.
Beer Bar
Beer Bar has become Salt Lake City's hipster-central. That's not a knock against the place. Hipsters gravitate toward well-honed food and beverage offerings, and this Bavarian beer garden delivers the goods. Beer Bar offers extensive beer offerings along with a menu of tantalizing brats, inspired by local celebrity chef Viet Pham and artisan butcher Frody Volgger. And with any luck, you might bump into co-owner/actor Ty Burrell, of Modern Family fame. 161 E. 200 South, Salt Lake City, 801-355-3618, BeerBarSLC.com
Beerhive Pub
The brainchild of Bayou co-founder Del Vance, the Beerhive Pub is a relaxed bar in the heart of downtown. Offering a wide selection of beers from local breweries and national independent labels, the Beerhive's bar features a long ice strip to help keep your brews cold. The vintage decor and tasty pub food of this place makes it a favorite downtown hangout. Get a drink, watch a game, and enjoy sipping suds a block from Temple Square. 128 S. Main, Salt Lake City, 801-364-4268
Bodega / The rest Originally designed to be a fully functional bodega selling convenience-store items, Bodega went through a face-lift and transformed itself into a cool rest stop for those looking to bar-hop or order a quick and easy drink. Grab yourself one of Bodega's fine mixed-beer drinks and hammer it home with a tasty street tacos. While you're there, put your name on the waiting list and then head down to The Rest, an intimate speakeasy in the basement. Dim lights, craft cocktails and curious oddities line the walls to make you feel like you found the hidden trove of drunken wonders. 31 S. Main, Salt Lake City, 801-532-4042, Bodega331.com
BTG Wine Bar
This upscale wine bar is a stone's throw from the Salt Palace Convention Center and features a dynamite selection of dinner wines, champagnes, cocktails and dessert wines. And yes, they can be poured "by the glass," hence the acronym. In fact, you can try any of their 75 different wines by the taste, by the glass, or even snag the whole bottle if you find it to your liking. Your libations can be paired with a full menu of northern Italian cuisine prepared by its neighbor next door, Caffe Molise. 63 W. 100 South, Salt Lake city, 801-359-2814, BTGWineBar.com
Devil's Daughter
Located just off the Interstate 15 freeway ramp, Devil's Daughter is an easy stop coming into or going out of the city. It's a charming bar and hangout, but its food specials often receive more of the acclaim, especially if you ask starving college students. The drinks are great, the service is solid, but how can you go wrong with $1.50 Taco Tuesday or Sunday steak & eggs for only $6.50. You'll also find billiards, darts and foosball in the game room, along with the recently returned karaoke nights during the week. 533 S. 500 West, Salt Lake City, 801-532-1610, DevilsDaughterSLC.com
Dick N' Dixie's
Dick N' Dixie, just a few blocks east of the city center, is the essence of a downtown neighborhood bar. The college students and young adults who live nearby find the bar's low-key atmosphere and a great beer selection to their liking. Sports-watching is a big draw here, especially soccer: Dick N' Dixie's is an official watch party location for Real Salt Lake. 479 E. 300 South, Salt Lake City, 801-521-3556
Poplar Street Pub
With its large sections that can hold many parties at once and a staff that knows how to make it work, Poplar has earned a reputation for being a place to party unabashedly with a big group or to celebrate in your own little universe. The pub's fantastic menu pairs well with one of the city's best selections of local beers. A gathering here can quickly turn into a special occasion—even if it's just you and a couple of friends looking for a quiet place to talk. 242 S. 200 West, Salt Lake City, 801-532-2715, PoplarStreetPub.com
Twist
One of the newer bars to appear on this list, Twist is an industrial bar/bistro located in Exchange Place right around the corner from the Green Pig. The revamped 19th-century boiler room is now a gastropub on multiple levels serving signature cocktails, more than 40 local and craft brews and a robust pub menu. In warm weather, plan to hang out on the patio and enjoy live music and people watching. 32 Exchange Place, Salt Lake City, 801-322-3200, TwistSLC.com
MUSIC VENUES

Talk about music to your ears. The city features numerous local clubs that are geared toward great music, both of the local variety and acts passing through town. These places let you enjoy a cold one while you get your groove on to some live tunes.
Club X
Taking up residence in the former home of Club Vegas, Club X is a happening music venue in an industrial setting, catering to the alternative, indie & electronic beats dance crowd, with a splash of touring rock acts thrown in. The bar is a standard mix of classic liquors and bottled beers, served by bartenders who've been known to show off their fire-breathing skills from time to time. 445 S. 400 West, Salt Lake City, 801-935-4267, ClubXSLC.com
The Complex
Affectionately named "The Black Box" by locals, The Complex is a warehouse concert hall with one large 42,000-square-foot building housing four venues. It's able to host up to four shows on the same night—from hip hop and EDM, to hardcore and indie—at the same time. Drink and food offerings vary depending on which room the concert is in, as there are two all-ages halls (Grand and Rockwell) and two (Vibe and Vertical) for the 21+ crowd. 536 W. 100 South, 888-316-5387, TheComplexSLC.com
The Depot
Located in The Gateway's historic Union Pacific building, the Depot holds up to 1,200 fans on two levels and features state-of-the-art sound. Here, you'll catch touring acts like The Black Keys, Macklemore and Grace Potter as well as DJs, local bands and community events. With some of the friendliest bartenders you'll find at any concert hall, the Depot goes out of its way to make sure you enjoy the show. 400 W. South Temple, Salt Lake City, 801-456-2800, DepotSLC.com
In the Venue/Bricks
In The Venue serves as one of the city's longtime concert halls, where artists like the Deftones, Ingrid Michaelson, Katy Perry, The Shins and Pendulum have performed. The midsize venue is all ages, but there is an upstairs bar for the 21+ crowd where you can enjoy the show with an adult beverage. Downstairs, what was Club Sound is now Bricks, an arcade bar where you can play games between bands or blow off steam before heading home. 219 S. 600 West, Salt Lake City, 801-359-3219, InTheVenueSLC.com
Liquid Joe's
Just south of Sugar House, Liquid Joe's is one of the longest-running music venues in the city. Featuring the Spazmatics on Saturday nights, on other nights, you can snag a cold one and check out local and touring acts, catch a cover band to hear rock metal classics or '80s nostalgia, or just socialize at the bar and get to know your fellow music lovers. 1249 E. 3300 South, Salt Lake City, 801-467-5637, LiquidJoes.net
The Loading Dock
The Loading Dock is an all-ages venue that's literally a converted loading dock showcasing touring rock, metal and alternative acts from across the country. It's a smaller space where you can be up close and personal with the performers. The bar is pretty decent with national and local bottled brews, but the real selling point is the music. 445 S. 400 West, Salt Lake City, 385-229-4493, all ages, LoadingDockSLC.com
The Royal
Founded by members of local band Royal Bliss, the Royal is a spacious concert venue and sports pub just off Van Winkle Expressway. Seems there is always something going on, be it tied to watching football, belting out karaoke, getting your groove on, or simply listening to blues musicians play a set. Check The Royal's calendar for live performances on the weekend, and grab a burger or sandwich while you take it all in. 4760 S. 900 East, Salt Lake City, 801-590-9940, TheRoyalSLC.com
The State Room
The former children's theater-turned-concert hall features one of the best sound systems in the state, with church pews and bucket seats for relaxed viewing and two bars on different levels where you can sip any one of a dozen local beers. The venue is open only for shows, but when it's open, expect a packed crowd who enjoy a first-class drink with their first-class entertainment, from touring bands to local special events. 638 S. State, Salt Lake City, 801-596-3560, TheStateRoom.com
The Urban Lounge
The Urban is the city's premiere 21-and-up music venue for exciting new bands from the alternative, indie and hip-hop scenes. Artists like St. Vincent, Little Dragon, Deafheaven have performed here in addition to local artists and DJs. While you're here, check out portraits of former Utah Jazz coach Jerry Sloan and point guard John Stockton, converse with music snobs, then rock on, as bands blow your eardrums out of your head! 241 S. 500 East, Salt Lake City, 801-746-0557, TheUrbanLoungeSLC.com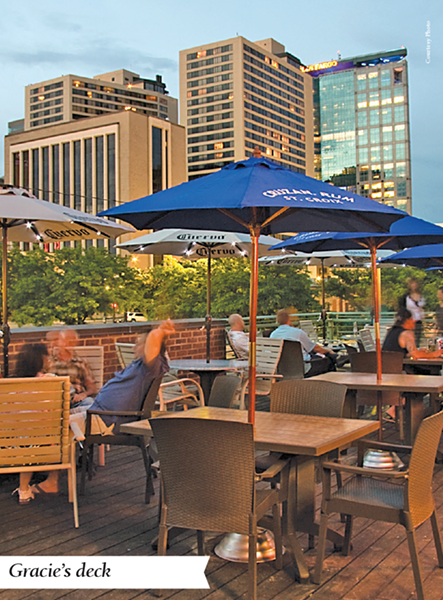 GASTROPUBS & TAVERNS

If you like some mighty fine vittles to go down with the brews, here's a mix of gastropub and roadhouse eating establishments where you can wet your whistle.
The Bayou
As the central hub for Salt Lake City's widest beer selection—on tap and bottled—this is a beer connoisseur's favorite hangout. The Bayou has even developed an app to help you sample untried beers. "Beervana"it may be, but that's not all it is. With a full liquor selection, a Cajun-inspired menu and jazz musicians playing throughout the week, The Bayou is just a great place to meet up with friends and socialize. 645 S. State, Salt Lake City, 801-961-8400, UtahBayou.com
Fiddler's Elbow
A Sugar House staple, Fiddler's Elbow is both a sports bar and traditional pub, a watering hole for Sugar House locals and those who love the 'hood. The bar carries a wide selection of local beers on tap, even snagging ales from Moab and Park City, all chilled to perfection. A menu of sumptuous pub food fills the bill while you hunker down in front of a screen to watch whatever game you're dying to see. 1063 E. 2100 South, Salt Lake City, 801-463-9393, FiddlersElbowSLC.com The Garage on Beck The Garage on Beck has come a long way from its days as a refinery-workers bar. Today, it's an off-the-beaten-path roadhouse diner serving some of the best fried chicken in town and three varieties of fried (yes, fried) Mormon funeral potatoes. The Garage features a regular lineup of local and national blues and rock bands. Its huge back patio even has a stream. With over 100 different liquors and dozens of local brews and traditional beers, it truly is an one-of-a-kind oasis in the city. 1199 N. Beck Street, Salt Lake City, 801-521-3904, GarageOnBeck.com
Gracie's
A gastropub where downtowners gather by the droves, Gracie's has earned a reputation for its friendly service and satisfying menu. In addition to a large selection of local bottled beers, Gracie's offers a decent wine list and all manner of specialty drinks. It's also one of the few venues to offer acoustic entertainment from both singer/songwriters and jazz musicians. On a warm summer's night, nothing beats a brew on Gracie's patio. 326 S. West Temple, Salt Lake City, 801-819-7565, GraciesSLC.com
The Green Pig Pub
This downtown sports bar is a crowd-pleaser in Exchange Place. Whether you come for lunch or dinner, it's hard not to love the daily food and drink specials. Not only is food here reasonably priced, but items like the Cuban pork sandwich, the Kobe burger and house-cut fries are just plain good eatin'. Add to that live music, trivia nights and an upstairs patio with a commanding view of 400 South, and you'll be the piggie that goes Whee! all the way home. 31 E. 400 South, Salt Lake City, 801-532-7441, TheGreenPigPub.com
Hog Wallow Pub
One of the best-kept secrets in Cottonwood Heights, Hog Wallow is a hangout for locals wanting to eat generous portions of pub food, sip cocktails on the patio and listen to live music ranging from Americana to reggae, blues, funk, soul and jazz. With its proximity to the Cottonwood canyons, Hog Wallow also attracts skiers, bikers and outdoor enthusiasts who've just conquered the mountain. 3200 E. Big Cottonwood Canyon Road, Cottonwood Heights, 801-733-5567, TheHogWallow.com
The Ice Haüs
The Ice Haüs recently made its appearance in Murray, taking over the 5 Monkeys space and transforming it into a beer-and-brats-style pub that features live music, karaoke, poker nights, bingo and trivia. It's a fun spot after work but at lunchtime, food is the star: The brats, burgers, hot dogs, wraps and appetizers are not only easy on the wallet, they're perfectly tailored to be washed down with a variety of beer, wine and spirits. 7 E. 4800 South, Murray, 801-266-1885, IceHausBar.com
Lucky 13
Close to the Smith's Ballpark and Bee's baseball, Lucky 13 offers a fine array of liquor, wine and beer to pair with its legendary burgers. Not only will you feel lucky to sample the cuisine, but the bar has among the most attentive servers in town. Be sure to pop in Wednesday nights to test your trivia knowledge at the award-winning Big Shiny Geek Show Pub Quiz. 135 W. 1300 South, Salt Lake City, 801-487-4418, Lucky13SLC.com
Maxwell's East Coast Eatery
Yes, it's known for pizza with some of the best pies and Italian food around, but this place is a bar first and foremost, with a lively atmosphere at that. After work, the place fills up with stockbrokers and business folks from nearby Exchange Place, stopping by for a cold one, some great eats and the chance to see a game. Later at night and on weekends, people show up for the nightclub vibe. 357 S. Main, Salt Lake City, 801-328-0304, MaxwellsECE.com
Murphy's Bar & Grill
Murphy's is a true pub that has weathered many a Main Street update over the years. It's a place where bar hopping is not just accepted, but encouraged as the staff and patrons know you'll be back sooner than you think. And when you do come back, you'll be there for at least two pints, some fish & chips or poutine fries, the low prices and the camaraderie of a downtown social pub. 160 S. Main, Salt Lake City, 801-359-7271, MurphysBarAndGrillUT.com
Piper Down Pub
Piper Down goes to great effort to offer Irish hospitality by offering killer food, hearty brews, live music (that include Irish jams and bagpipes) as well as poker and trivia nights. The place feels lived in, with drinks just waiting for you to come drink them, dishes like Irish nachos to comfort to the soul and friendly company behind the bar ready to welcome you back anytime. 1492 S. State, Salt Lake City, 801-468-1492, PiperDownPub.com
Sugar House Pub
One of the more interesting hangouts in Sugar House, this place comes with two different personalities. The left side caters to the beer-drinking crowd checking out the game or making a quick stop on the way home, while the right side is more laid back and comfortable for liquor lovers. Either way, this is a casual drinker's bar with a neighborhood feel. 1992 S. 1100 East, Salt Lake City, 801-413-2857, Facebook.com/SugarHousePub
DIVES & HANGOUTS

When it's been one of those days, you need a dive to wallow in and think about your next move.
Barbary Coast
A Murray stalwart, Barbary Coast serves as a neighborhood bar, diner, music venue and tavern. It offers a fine assortment of food and beers, and hosts live music on weekends. A favorite watering hole among the local biker community, Barbary Coast offers a welcoming vibe that invites patrons to pop in, watch a game and disappear for a few hours. 4242 S. State, Murray, 801-265-9889
Jackalope Lounge
The Jackalope Lounge is a dark and inviting little State Street bar, serving up a great beer selection and inexpensive shots. The walls are covered in skateboards and the namesake Jackalopes, distinctive little touches that set this dive bar apart. You're bound to enjoy the atmosphere and the awesome company behind the bar. Hit the nearby Pie Hole on the way home and buy a slice or two to soak up the suds. 372 S. State, Salt Lake City, 801-359-8054
The Dawg Pound
The Dawg Pound takes pride in being a dive bar. Expect your classic beers and local brews to be served in mason jars. In addition to hosting poker tournaments and billiards, the bar books the occasional live show, from '80s-style punk bands to groups of hip-hop artists. The bartenders are friendly and keep the place real. 3350 S. State, Salt Lake City, 801-261- 2337, Facebook.com/DawgPoundSLC
Duffy's Tavern
Duffy's is more of a dive-grill, serving up bodacious comfort food along with beers and cocktails. It's the kind of place your dad may have visited and said to himself, "My son will dig this place when he grows up." Grab yourself one of their fantastic sandwiches and kick back in a booth, or belly up to the bar and get a cold one while the game plays in the background. Its downtown location off 900 South means is only a short walk to a Trax station, making for a trouble-free ride home. 932 S. Main, Salt Lake City, 801-355-6401, DuffysTavernSLC.com
Bongo Lounge
Established in 1952, Bongo Lounge is one of the few remaining cash bars around these days. But the drinks are so cheap, you won't mind hitting the ATM before you arrive. Here, in the grand tradition of dive bars, the lights are dim and it's easy to blend in, meaning you can drink and tell secrets all night long. It's a chill environment with a friendly and attentive bar staff. Experience the proud tradition of a real dive bar while you still can. 2965 S. Highland Drive, Salt Lake City, 801-466-1577
Johnny's on Second
The former home of Poolhall Junkies, Johnny's is now a miniature venue that serves up cheap drinks and pizzas made from scratch. Snag a couple rounds of Pabst, enjoy a game of pool, listen to some of the latest bands coming up through the music scene, and maybe get in a game of Jenga before you head home for the night. 165 E. 200 South, Salt Lake City, 801-746-3334, JohnnysOnSecond.com
Junior's Tavern
Just off Main Street, Junior's is often the starting and ending point for those out bar-hopping on any given night. Sidle up to the bar for a shot or to sample any number of local beers or beer on tap, then hit the sidewalk patio for animated conversation with patrons and even passers-by who may join you for a drink. Junior's is often a who's who of the city's local characters. 30 E. 300 South, Salt Lake City, 801-322-0318, JuniorsTavern.com
Scallywags
Looking for a bar with a pirate theme? Aside from the pirate flags on the wall, Scallywags is just a fun little bar. You'll likely not see eyepatches on the bartenders. Instead, on weekends, look for U92's DJ Latu, and DJ Poetik C to spin hip hop, R&B and Old School while you order your favorite drinks and puff on a hookah. With no cover, free pool, cheap drinks and a stripper pole, there's the potential for this place to quickly become too much fun. 3040 S. State, Salt Lake City, 801-604-0869, Facebook.com/ScallywagsSLC
The Tap Room
The Tap Room is a hidden gem in Sugar House. The bar's motto? "Making hangovers since 1947," which is no surprise given its great beer and whiskey selection. The no-frills bar sponsors a number of charity events and books the occasional band. But it's foremost a neighborhood dive. All you need to do is pull up a chair at a bar. 2021 S. Windsor St., Salt Lake City, 801-484-6692, SLCTapRoom.com
Trails Gentlemen's Club
Whether or not you like "gentlemen's clubs," it's hard not to like Trails. Who can disagree with a cheap dinner and even cheaper drinks followed by an evening's worth of entertainment from some of the most skilled dancers in Utah? And let's give strip clubs their due: I don't see you scaling a pole with grace wearing a G-string. 921 S. 300 West, Salt Lake City, 801-363-2871, TrailsClub.com
Twilite Lounge
One of Salt Lake City's few remaining cash-only bars, Twilite is a throwback to a bygone era. Cold beer is served by the pitcher, there is a pool table in the back and chess pieces adorn the walls. There's even a fireplace and free jukebox. It's an affordable bar frequented by old timers, college students and hipsters. 347 E. 200 South, Salt Lake City, 801-532-9400, TwiliteLounge.com
Willie's Lounge
Willie's is said to be Salt Lake's oldest continually operating bar (since 1948). To celebrate, they offer $2 daily drink specials. Every day! They also have 40 beers and 15 on draft, plus have The Safety Stop food truck parked at the back of the bar, serving up fresh 100 percent Piedmontese beef burgers and tacos. DJs and karaoke nights fill the dance floor on weekdays, and any time there's a ballgame at Smith's ballpark, you're sure to find Bees fans celebrating or drinking the loss away. 1716 S. Main, Salt Lake City, 801-487-9578, WilliesLounge.com
LGBT FRIENDLY

Salt Lake City's nightclubs tend to be inclusive, but when you want to party down, here are places to meet and mingle with members of the LGBT community.
Club Jam
A crown jewel of the Marmalade District, Jam is a hot spot for LGBT folk to not only be themselves, but go all out and meet others. Featuring some of the hottest and most skilled bartenders in the valley, you're sure to find a martini or mixed drink you'll adore. Jam also features drag shows, karaoke and one of the most active dance floors in all of Salt Lake City. 751 N. 300 West, Salt Lake City, 801-382-8567, JamSLC.com
Metro Bar
In recent years The Metro has partnered with several concert promoters to become a hub for rock music, and turned what used to be strictly a gay bar into an alternative hub across the street from The Complex. You can find aerial shows, artistic exhibitions, touring acts and LGBT-friendly dance nights all in one place, complete with a knowledgeable bar staff that can serve drinks in style. 615 W. 100 South, Salt Lake City, 801-520-6067, Facebook.com/MetroBarSLC
Club Try-Angles
Try-Angles is a neighborhood gay bar attacting an attitude-free crowd varying in age and interest. Try-Angles is a full service bar with a small dance floor, pool tables, darts, a jukebox and arcade games. Drinks are cheap and are served in a huge steins; there are summer barbecues on the patio as well as underwear and gear nights. The friendly bartenders make it easy for first-timers to settle in. 251 W. 900 South, Salt Lake City, 801-364-3203, ClubTry-Angles.com
Sun Trapp
Just west of The Gateway, the Sun Trapp takes its name from two bars that are no more: The Trapp Door, which occupied the space for years, and The Sun, one of the city's oldest LGBT bars, which was destroyed in the tornado of '99. Today's Sun Trapp maintains the look of a Western-themed bar, where mixed drinks are served out of mason jars, and combines it with a dance hall and one of the nicest outdoor patios you can find downtown to chill on. This friendly LGBT-owned and -operated social club shows it cares about its patrons by hosting community events. 102 S. 600 West, Salt Lake City, 385-235-6786, SunTrapp.com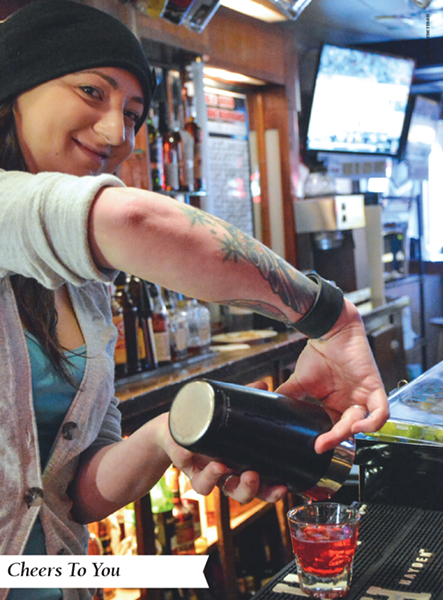 SPORTS

Whether you're an armchair quarterback or a rabid sports fan who screams at the ref on TV, here some cool spots where you can enjoy watching your favorite teams.
A Bar Named Sue
The two Sues each have a separate look and but they both have it covered when it comes to catering to sports fans. With more than 60 whiskeys and 40 beers on tap, both are great places to watch your game while feasting on mouthwatering bar food, including monster bacon cheeseburgers, pulled pork sandwiches and "whiskey" chips sprinkled with whiskey prior to being served. They also offer free billiards, darts, shuffleboard and video games plus live music four nights a week. 3928 S. Highland Drive, Salt Lake City, 801-274-5578; 8136 S. State, Midvale, 801-566-3222, ABarNamedSue.net
The Break
Who says downtowners get to have all the great nightlife? The Break is Daybreak's new neighborhood sports bar. Grab a pitcher of beer, pair it with a monster pastrami burger or one of the fancier wraps and then kick back to watch your college kick the crap out of every other college in their league. Or not. The place also offers up live music, poker nights and karaoke, so there's potential to celebrate in other ways after the game. 11274 S. Kestrel Rise Road, South Jordan, 801-987-3354, TheBreakGrill.com
Cheers to You
Coming up on 19 years at its downtown location, this family-owned bar has long been a go-to spot for sports fans to watch the games. The drinks and food provide the perfect alchemy to get your "rowdy" on. Cheers to You also serves as home to a plethora of memorabilia on the walls and stories galore the owners love to share. CheersToYou has a second location in Midvale, every bit the dive as its downtown sibling, and just as friendly. 315 S. Main, Salt Lake City, 801-575-6400; 642 S. State, Midvale, 801-566-0871, CheersToYouSLC.com
Legends
Legends is one of those rare family-friendly sports bars that isn't a corporate-run restaurant chain. Here, you can order food for the whole family at reasonable prices, from appetizers, steaks, burgers to sandwiches, salads and pizzas—all made with fresh, wholesome ingredients. Choose beverages from among Legends' full bar and more than 20 beers on tap and 30 craft and local beers. No food purchase is necessary in to order alcohol, and minors can come in when accompanied by an adult. It surely gives you a reason to cheer. 677 S. 200 West, Salt Lake City, 801-355-3598, WhyLegends.com
Lumpys Downtown
A sports bar above all else, the downtown Lumpys is a great gathering spot during the week during the lunch hour or after work. Order some awesome food from their kitchen and pair it up with one of many bottled beers from around the state. Then kick back and watch the Jazz work the court just a few blocks away. Uptown, Lumpys has a more homey feel, and the wings are to die for. But come game day, it's all about sports. 145 W. Pierpont Ave., Salt Lake City, 801-883-8714; 3000 S. Highland Drive, Salt Lake City, 801-484-5597; LumpysBar.com
The Republican
The unofficial home for Real support club, Salt City United, The Republican is a one-stop bar for Real Salt Lake fandom. Grab a pint of Guinness (or whatever beer or shot you love), settled in on a wooden chair and cheer along with the city's most ardent soccer fans. Or pop in Monday nights for what is considered one of the hardest trivia nights in the valley. 917 S. State, Salt Lake City, 801-595-1916
Scofy's
A neighborhood bar in a part of town that could use a few more such watering holes, Scofy's is a social club and sports bar that hosts live music on occasion. Dart games are serious business here with a row of electronic dart boards beckoning all levels of players. Enjoy local beers on draft, an array of mixed drinks and a decently priced menu featuring bar plates such as steak dinners and killer wings, all served in an atmosphere that feels welcoming and friendly. Scofy's makes for a great after-work hideaway to kick back in for an hour. 7176 S. 900 East, Midvale, 801-938-4505, Scofys.com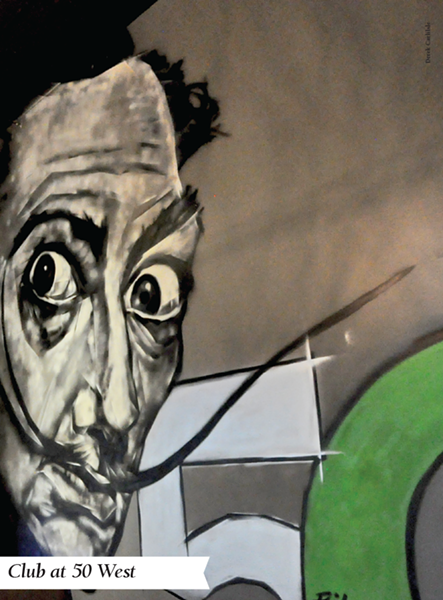 ENTERTAINMENT

So you're not into dancing and not looking for a live show—but you still want to have fun? That's cool, because we have options!
Club at 50 West
Club at 50 West and adjoining 50 West Cafe serve as both a nightclub and restaurant at Broadway Media's corporate headquarters on 300 South. The club provides a stage for stand-up comedians, live music acts as well as podcasts, lectures and special events. Food is provided by 50 West Cafe. Be sure to snag a shot from the fully stocked bar and kick back for a night of entertainment. 50 W. 300 South, Salt Lake City, 801-961-1033, Club.50WestSLC.com
Cruzrs Saloon
Cruzrs has lately emerged as one of Salt Lake Valley's most popular karaoke venues. If you've the got the pipes, Cruzrs should be on your weekend singalong circuit, if it isn't already. No need to fear if you're a newbie, as there are singers who will join you and give you courage. Add to that free poker and pool nights, awesome pub food and a bar staff skilled in making a variety of mixed drinks, and you've got a bar destination that's just waiting for you to come and make beautiful music. 3943 S. Highland Drive, Salt Lake City, 801-272-1903, Cruzrs.com
Donkey Tails Cantina
Located next to Guadalahonky's Mexican food, Donkey Tails is a place in Draper where you can dig into tasty Mexican appetizers and entrees including nachos, enchiladas, hot wings and more, all while catching a live show. Pop by every Tuesday, Thursday and Friday for an array of solo acoustic performers from various genres, with DJs on Saturday night. Or sign up for karaoke on Wednesday nights and belt out your favorite ballads. Wash down the primo food fare and soothe your pipes with round of margaritas or Corona on tap. 136 E. 12300 South, Draper, 801-571-8134, Facebook.com/DonkeyTails
Keys on Main
Keys on Main's interactive Dueling Piano Show is a crowd-pleaser. For that reason, you'll need to reserve a table in advance on weekends. The way it works is this: two piano players play audience requests. The duel comes when an audience member doesn't like a particular song and stops it by requesting a better song and giving a bigger tip. That's when audience members try to outbid each other. Much clapping, singing and tipping ensue. 242 S. Main, Salt Lake City, 801-363-3638, KeysOnMain.com
Sandy Station
The Station is a comedy hub at the south end of the valley, hosting multiple open-mic nights throughout the week in its back bar. The venue also hosts unique entertainment, such as midget pro-wrestling and beer pong tournaments. The bar has all your favorite drinks but the shows make this place worth visiting. 8925 S. 255 West, Sandy, 801-255-2078, SandyStation.com
The Tavernacle Social Club
The pianos at the Tavernacle east of downtown have been dueling it out for 14 years, where they call what they do "the craziest sing-a-long party in Utah." They've even created Bingo Karaoke, five hours of musical numbers in between calling numbers. Add a few fancy cocktails to the mix, and who knows what's going on. That's half the fun. 201 E. 300 South, Salt Lake City, 801-519-8900, Tavernacle.com
DANCE CLUBS

Need a spot to imbibe in and party the night away? Hit up one of these joints and find others offering a smooth drink and a groove to go with it.
The Fallout
Off the beaten path in the Granary District, The Fallout is ideal for party goers who prefer to be off the radar. Club events range from minimalist shows that offer plenty of room on the dance floor to big-ticket concerts where large crowds make it hard to move. Depending on the event, the bar can stock everything you need for a party or the latest DJ to rock the house. 625 S. 600 West, Salt Lake City, 801- 953-6374, TheFalloutSLC.com
The HoteL Upstairs & Club Elevate
Night club, dance venue and event center—the Hotel Upstairs and adjoining Club Elevate are party central. It's a great spot for special occasions as you can reserve VIP tables and order bottle service. The Thursday night Recess Club brings the newest sounds from the electronic world. Some love Elevate's dance club with its massive bar, while others are all about the Hotel's three different themed floors. 155 W. 200 South, Salt Lake City, 801-478-4310, TheHotelElevate.com
Sky
Almost like an overnight success, Sky has become one of the city's premier dance clubs. Inspired by the owner's 2013 trip to Burning Man, the 15,000-square-foot club has three floors available that can be used for special events, parties and concerts. The open-air building features a glass retractable roof, VIP suites, and cool lighting and state-of-the-art sound. Sky books some awesome touring acts and gives local DJs a new place to hone their craft. Check out the shows here, and you'll feel like you've chanced upon some swanky hush-hush party where are the people in the know go. 149 W. Pierpont Ave., Salt Lake City, 801-883-8714, SkySLC.com
Club 90
Club 90 continues its decades-long reign over Sandy's adult entertainment. The club is huge: it's on two floors, and features a stage, dance floor, a 150-seat patio, and a game room with pool tables. This lively nightclub serves classic cocktails and pub grub; offers bingo, trivia and karaoke, and it hosts live music on the weekends. It's the place where Sandy-ites come to bust a move. 9065 S. Monroe St. (150 West), Sandy, 801-566-3254, Club90SLC.com
Habits
Every city should have a club that takes things up a notch. Catch this midtown gem with a sunken dance floor, multiple bars and state-of-the-art sound, video and lighting while you still can. From catering and VIP services to a full lunch and dinner menu that include sushi, salmon and steak, Club Habits, with its 250 person capacity and weekend dress code, is a class act. 832 E. 3900 South, Salt Lake City, 801-268-2228, ClubHabits.com
The Westerner
It wouldn't be Utah if we didn't have a proper country bar, and The Westerner fits that bill nicely. Head out for a night of line dancing with your friends, jump on the mechanical bull and try beating the record, and order some of their deep-fried goodies. You can wash it all down with one of a dozen beers on tap or several bottled brews ... then do it all again wearing a cowboy hat and boots. 3360 S. Redwood Road, 801-972-5447, WesternerSLC.com
Area 51
A staple of the downtown dance scene for more than 15 years, Area 51 is the center for industrial, goth, synthpop and EBM music. Stop at one of the bars on each floor for a mixed drink, then hit the dance floor to burn it off with music from the '80s until now. As an added bonus, see the occasional live touring acts on Area 51's second floor. 451 S. 400 West, Salt Lake City, 801-534-0819, Area51SLC.com
Circle Lounge
The Circle Lounge has undergone changes over the years, becoming a bar with a restaurant on the south side and a dance club on the north side with local DJs mixing their jams all night long. It's become a garden of earthly delights with sushi, hookahs, and the sounds of EDM and hip hop converging under one roof. The outside patio ignites during the summer months, as it fills up with people wanting a locale in which to the dance the night away. 328 S. State, Salt Lake City, 801-531-5400, Facebook.com/CircleLoungeSLC