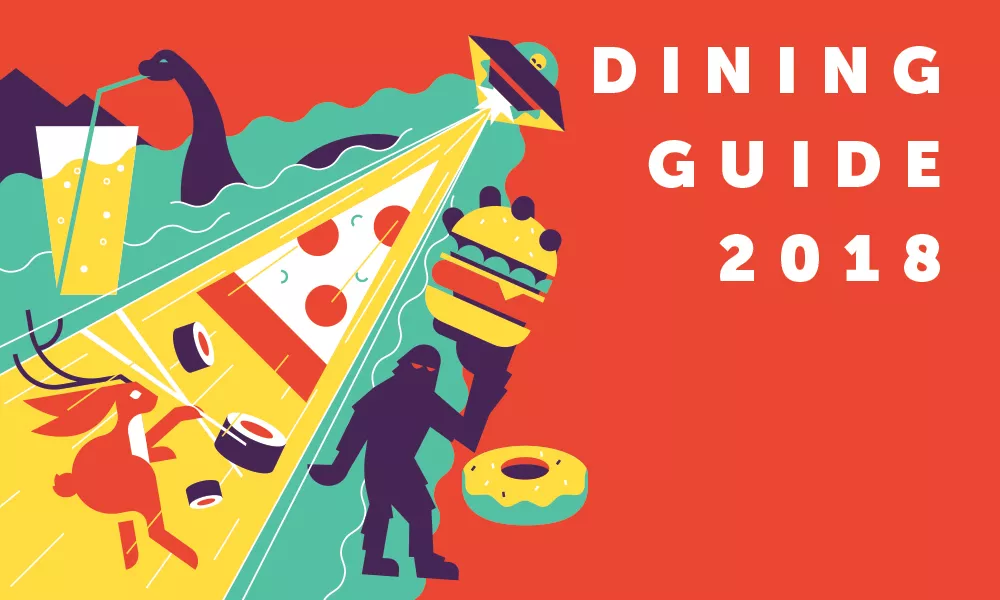 Fry sauce so tangy, you'll want to bathe in it. Onion rings so crispy, they'll make you consider swearing off french fries for good. Locally made barbecue that forces even a persnickety Texan to sing its praises. They all sound like tall tales, but they're not.
When it came to assembling a sampler plate of some of the best representatives of Salt Lake City's culinary landscape, City Weekly contributors jumped at the opportunity. The question was: Where to start? Influenced by its healthy immigrant influx and informed by tradition and comfort, SLC's food scene is continuously expanding—and ever delectable.
In this guide, you'll find everything from a roundup of restaurants that have opened and flourished over the past year to a spotlight on an outside the brick-and-mortar mobile food park and catering options sure to transform your next office meeting from drab to fab. Added to the mix are vegan eateries that force you to leave your bland expectations at the door and desserts that are spicing up last courses throughout the land.
Far from mythical, each entrée, snack and drink featured in our pages is quite real and made with love right here on the Wasatch Front. Hopefully, our descriptions and first-hand sighting (and tasting) accounts are enough to inspire you to go on a delicious expedition to find them.
—Enrique Limón,
Editor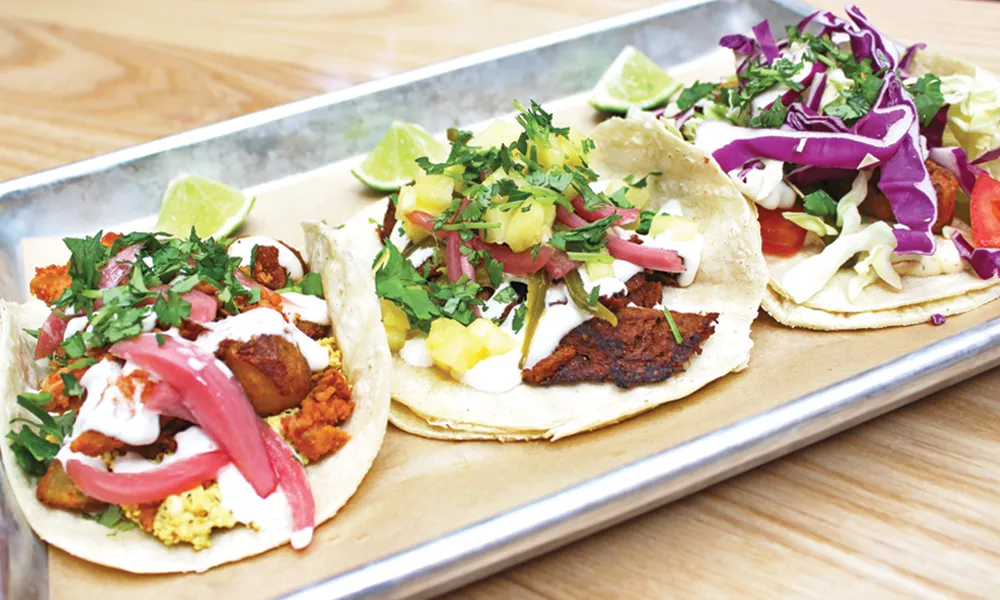 Enrique Limón
Boltcutter
Rookies of the Year
Many great restaurants have popped up in the past 365-ish days—here are some standouts.
By Alex Springer
During my time as City Weekly's food dude, I'm quickly learning that the local food scene has set the bar pretty high for newcomers. Utah diners have come to expect newbies to be well-oiled machines by the time they first open their doors. Given the fact that new restaurants tend to need some time to develop their sea legs, I've been impressed with the number of eateries that, despite being only open for around a year, have hit the ground running. Here are a few new kids on the block who are poised to start dominating Utah's food sphere.
Boltcutter
As a guy who grew up on burritos that were little more than meat-and-cheese delivery systems, it was quite a shock to my system when I found some plant-based Mexican food that presses all the right buttons. The team at Boltcutter has developed meatless versions of classic burrito and taco fillings like carne asada, barbacoa and fried fish. Where some plant-based eateries feel an obligation to make their meatless "meat" taste like the original, Boltcutter lets the natural flavor of jackfruit, tempeh and seitan meld with their house blend of seasonings to create something new, yet bracingly familiar. For a maiden voyage, consider trying the delectable tacos al pastor ($8), the sin carne burrito ($8) and the nachos ($10). 57 E. Gallivan Ave., bit.ly/2GLpiQy
Laziz Kitchen
With its solid menu of Middle Eastern cuisine and preternatural intuition regarding the way food can knit a community together, Laziz Kitchen has established itself as a warm and welcoming spot since its opening day. Its location within the Central Ninth neighborhood that contains a slew of other local and community-focused businesses only serves to cement its presence as one of the city's most hospitable restaurants. The ever-changing stew menu, which comes in both vegan and non-vegan varieties, is always a good bet, as are the fried cauliflower florets ($8) and life-affirming shakshouka ($14). 912 S. Jefferson St., 801-441-1228, lazizkitchen.com
MakanMakan
At first glance, it might be easy to dismiss MakanMakan as yet another Asian-inspired joint in a market that already has a lot of Asian-inspired joints. While MakanMakan's foundation is indeed steeped in regional noodle soup and curry, it pulls menu items from all over the Eastern continent. Diners can sample cuisine from Indonesia and Malaysia, which are two criminally underrepresented cultures in the vast universe of Asian cuisine. Start the meal off with an order of roti canai ($4.75), a tasty pan-fried flatbread, and some martabak telor ($6.95), which is essentially a crisp crêpe stuffed with meat and scrambled eggs. I hesitate to offer any guidance with the entrée section since it's so fun to explore, but for those in need of a tiny push in the right direction, both the spicy laksa noodle soup ($10.55) and the meaty, goat-filled curry gulai kambing ($11.25) are great places to start. 33 E. 11400 South, Sandy, 801-251-0967, makanmakansandy.com
Pizza Nono
When American wood-fired pizza joints became less gimmicky and started to take the art of rustic pizza making more seriously, pizza lovers all over the country heaved a well-earned sigh of relief. Pizza Nono has doubled down by creating a space where passionate pizza fans can gather for authentic, wood-fired pies without buttoning up the atmosphere too much. The interior evokes a casual-but-hip setting, and the giant communal table dominating the space makes diners remember why pizza was invented in the first place—to unite all walks of life in warm, cheesy harmony. For simple perfection, go for the margherita ($10); for a bit of spice, gravitate toward the sausage pepper ($13). 925 E. 900 South, 385-444-3530, pizzanono-slc.com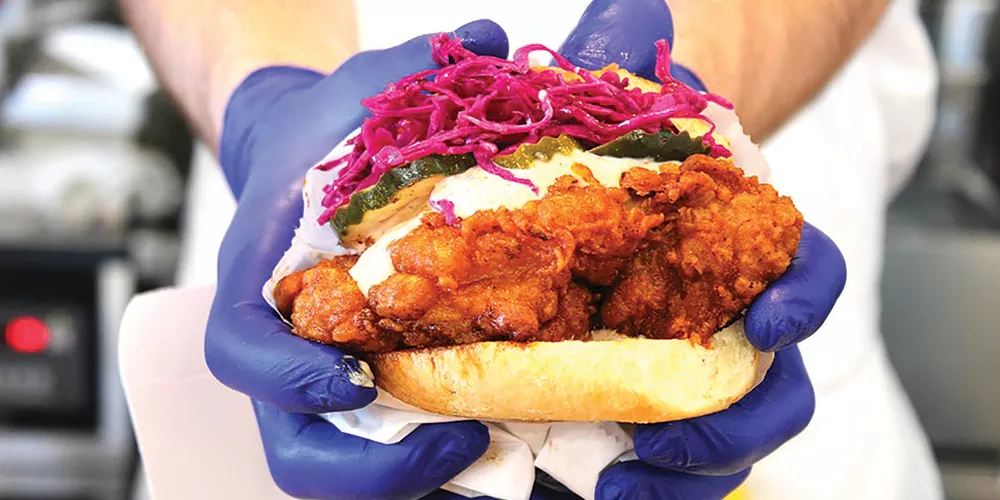 Enrique Limón
Pretty Bird
Pretty Bird
Never have I Instagram-stalked a restaurant's progress as much as I did Pretty Bird's. The hype behind this place alone was pure social media fodder: Extremely talented—dare I say, celebrity—chef Viet Pham leaves the sommeliers and white tablecloths of his fine-dining past behind to open a Nashville-inspired hot-chicken joint. I had the opportunity to visit on Day 1, and the place was up and running as if it had been in its Regent Street digs for years. Nary a condiment was misplaced, and the fried chicken was just shy of revelatory. Their sparse menu offers fried chicken quarters and sandwiches, which can be ordered in four degrees of spicy, but the fried chicken sandwich ($10.50) with the acidic bite of pickles and slaw is my current obsession. 146 S. Regent St., facebook.com/prettybirdchicken
Seasons Plant Based Bistro
French and Italian cuisine earned their reputation by truly exploring the depths of how butter, cream and dairy can enhance the flavors of pretty much everything they touch. What makes Seasons so spectacular is that it captures all of this rich decadence without using a modicum of dairy. I have yet to figure out exactly how these warlocks have managed such a feat, but when food tastes this good, it doesn't really matter. This is a place that, according to the world of classic culinary technique, should not be able to exist. Yet, it does—and does so very well. The crudité board ($13) is an excellent starter to either the gnocchi alla vodka ($15) or the short-rib ($16), both of which are meditative studies in umami goodness. 1370 S. State, 385-267-1922, seasonsslc.com


Sarah Arnoff
Block Restaurant
Edit Eats
Here's where your favorite team of editorial misfits finds food and drink solace.
By CW Staff
Between creative highs and demanding deadlines, the scrappy staff at City Weekly has a main stress-reliever that bonds us together: eating and drinking our worries away. There's only so much the downstairs Afghani market can supply (though we are extremely thankful for its existence), so often times we find ourselves venturing out for that really-hits-the-sweet-spot dish. In a pinch, here are some of our staff's favorites: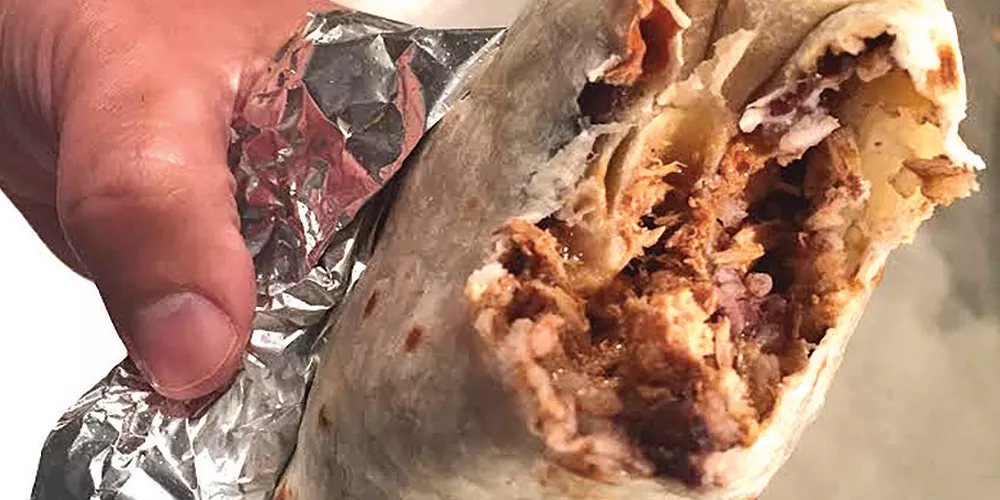 Enrique Limón, editor
1. Chicken mole negro burrito at Taco Taco ($8.75)
Stickers depicting a luchador drop-kicking Donald Trump against his "big, beautiful wall" are enough to get folks through the door, but it's Taco Taco's menu that seals the deal. Here you'll find tasty variations of the classics—tacos, burritos and quesadillas—but it's the house mole negro burrito that takes the (tres leches) cake. This bad boy will take care of your grumble and leave you ready to rumble. Never mind a baby's arm; stuffed with rice beans and mole-soaked chicken, this burro is thicker than most newborns. 208 E. 500 South, 801-428-2704, tacotacoslc.com
2. The Saltas at Whiskey Street ($12)
You know you've made it when a local watering hole names a drink after you. Enter The Saltas. Sweet and packing a punch, this Knob Creek, Lillet, Amaro Averna and honey simple syrup concoction on Whiskey Street's seasonal menu is summer breeze embodied. The question is: Just which Saltas is it named after? Mikey, the younger of the brood claims it was for him, in celebration of his 21st birthday. "This will be contentious—it was legit named after me," Pete, the eldest, says. The jury is still out. Perhaps it's an ode to OG and City Weekly big kahuna John? We simple sippers may never know. My money, however, is on matriarch Paula as the man of any Greek house might be the head, but the woman is the neck—and she can turn the head any way she wants. 323 S. Main, 801-433-1371, whiskeystreet.com
Scott Renshaw, A&E editor
Mihami Vice at Even Stevens ($9.25)
I've always been a sucker for a great Cubano sandwich, with its irresistible combination of succulent roast pork and smoky ham, so I'm disappointed in myself that it took until only recently to discover Even Stevens' splendid version. The clever name (and its play on the ingredients, the recipe's origin in the South Florida Cuban expat community and its sinful flavors) notwithstanding, this is a fairly traditional incarnation, adding melted Swiss cheese, pickle spears and mustard to the hoagie-wrapped pork and ham. But it's still a delicious mix, adding that acidic pickle snap and creamy cheese to the flavorful meats so that the whole overflowing concoction ends up dribbling down your chin. And the fact that every Even Stevens sandwich purchase means a donation to a worthy cause makes it feel like more of a virtue than a vice. Multiple locations, evenstevens.com
3. Wasatch Brewery Apricot Hefeweizen
As a guy who has reached a certain age, I'm far more likely to enjoy an adult beverage from the comfort of my living room armchair than I am in a public place. That means I appreciate something I can pick up in a local grocery store, where I might even be tempted to try something off the beaten path. That's how I discovered Wasatch's apricot hefeweizen, a sweet fruit-bomb of a wheat beer that smells like a walk through an apricot orchard. It also doesn't pack a big alcohol punch. That way, I don't have to feel guilty about opening up a second, or on special occasions, even a third. After all, I don't have to worry about driving home. wasatchbeers.com
Ray Howze, editorial assistant
Chicken Curry Koko Kitchen ($6.25-$9.45)
Koko Kitchen has a great selection of sushi and other Asian dishes, but its not-so-secret favorite selection for me is the curry. Served over rice, the housemade curry comes with your choice of vegetables, chicken, tofu, beef or tonkatsu, and is a go-to when I visit. When I first stopped by, I thought I'd be interested in their teriyaki bowls, soups or donburi, but the curry has stuck with me. The chicken is served tender and covered in a savory and well-spiced curry. Mix it with the rice and the dish gives other curries a run for their money. Don't be afraid to venture out and order something else from the handwritten whiteboard menu, but feel confident you won't go wrong with the curry. 702 S. 300 East, 801-364-4888
Moonless Night at Quarters ($9)
New downtown Salt Lake City bar Quarters is all about nostalgia, nerdiness and gaming culture. But it also hasn't forgotten about the drinks. The hip, boozy menu themed after various games like Crash Bandicoot and Hulk includes a few other specialties such as my new favorite, Moonless Night. I first ordered this drink because I enjoy a Fernet and cola just about anytime and when I saw this drink includes it—as well as rye, sugar, lime and oatmeal stout—I had to give it a try. Unlike the somewhat fizzy Fernet and cola, this version with the oatmeal stout makes for a smooth cocktail with a bit of tang from the lime and rye. Sometimes, a slight change from a classic is all you need. 5 E. 400 South, quartersslc.com
Sarah Arnoff, Dining Guide copy editor
4. Brunch at Block Restaurant featured image
Yes, Sunday brunch exists south of Salt Lake County. I've found that an excellent place to take my Utah County-residing parents is Provo's new Block Restaurant to indulge in chef Adam Cold's delectable yet reasonably priced dishes. Starting with the perfectly shareable fig tapenade ($12) gets our bellies in gear with its three crostinis heaped with a fig purée and balsamic reduction mix, goat cheese and toasted walnuts. The heartier-than-it-looks avocado Benedict ($14) is two poached eggs resting on a throne of avocados and toasted English muffins smothered in hollandaise, and served with seasoned potato wedges on the side. It leaves me brunched out every time. 3330 N. University Ave., Provo, 801-885-7558, blockrestaurantgroup.com
5. Manmosa at Block Restaurant ($10)
Another reason to head south for brunch? There's alcohol. Well, there is at Block. Their menu of craft cocktails includes a traditional mimosa, but head for the Manmosa for a refreshing twist on the brunch-friendly sipper. Coming in a number of flavors including orange and hibiscus, the Manmosa adds a shot of Sugar House vodka to the mix of juice and Champagne. It's a delicious (and somewhat dangerous) way to wash down your late-morning meal. 3330 N. University Ave., Provo, 801-885-7558, blockrestaurantgroup.com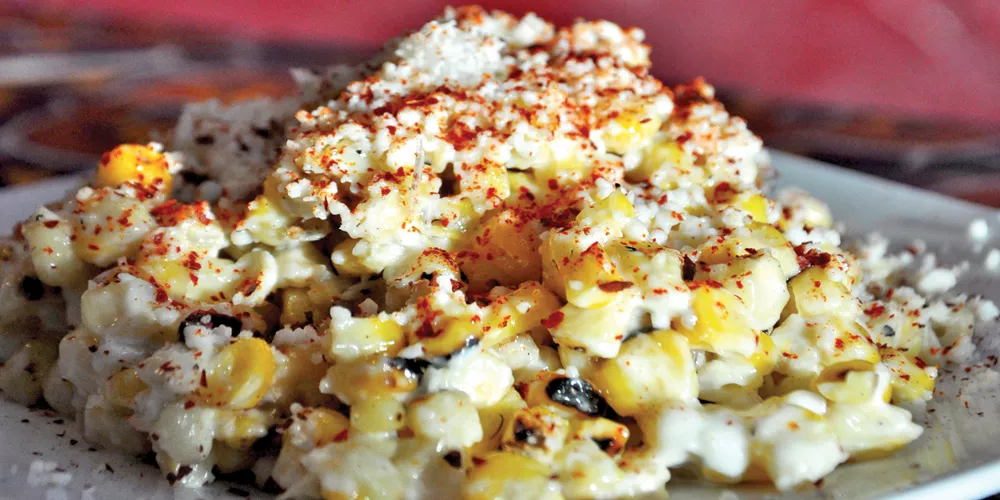 Darby Doyle, drinks writer extraordinaire
6. Elotes de la calle at Alamexo Cantina ($3.95)
With just one bite, this dish brought my taste buds right back to my years of living in southern Arizona and New Mexico. We'd buy smoky ears of corn fresh off the grill at grocery store parking lots, soccer matches and pretty much every festival. Hell, I even bought elotes from an enterprising guy who set up his cart right on I-10 between Deming and Las Cruces when we were stuck in traffic for over two hours. The Mexican street corn's husk was supposed to work as both a handle and to catch all its drippy goodness of queso fresco, mayo and lime juice, but it'd invariably ooze down from the cob. Ever tried to lick your own elbow? Not pretty. Fortunately for our fellow diners at Alamexo Cantina, Chef Matthew Lake's version hits all the same sweet, smoky and savory buttons, but with more approachable (and dignified) off-the-cob eating. Served with a generous mix of lime aioli, queso fresco and a nice hit of chile molido this side is a must-order. Elbow lickin' optional. 1059 E. 900 South, 801-658-5859, alamexocantina.com
Woodland Sold Fashion at Firewood on Main ($14)
ACT 1, SCENE 1, FADE IN: A cozy, intimate bar on a dark and stormy night.
ACTION: A couple sits in silence, clearly irritated with each other, at a low table flanked by deep leather chairs downstairs from the bustling Main Street level in the romantically low-lit bar.
SERVER: "Good evening. What can I get you from the bar?"
WOMAN: "I'd like the Woodland, please."
MAN: "Same for me, thanks."
SERVER: "Excellent. The raw sugar is smoked over cherry wood, giving it a nice subtle depth."
The server delivers their drinks a few minutes later with a smile.
WOMAN: "Wow. This is lovely. Good hit from the Buffalo Trace bourbon, nice aromatic fragrance from orange bitters. I'm liking this Luxardo, too."
MAN: Nods. "Every old fashioned should be served with big-ass ice rock." He moves his chair closer to hers so that their arms are now touching from shoulder to wrist. She interlocks her fingers with his. With their free hands they continue to sip their drinks, and smile with obvious satisfaction. 306 Main, Park City, 435-252-9900, firewoodonmain.com
Lance Gudmundsen, proofreader
Kolossal Burger at Ice Haüs ($13)
I'm a literalist—and usually don't eat when a joint has a front-door sign proclaiming: "This premises is licensed as a bar." I drink instead. So when the assignment came down to pick a favorite bar food, I cornered avuncular Ice Haüs chef Paul Zissi, a fourth-generation hospitality industry veteran. "Well, if you're really hungry, I'd say the Kolossal Burger ($13). We use every meat we carry here—except bratwurst." Having just proofread this dining guide on an empty stomach, I was really hungry, so I took the plunge. Zissi hadn't exaggerated. The Kolossal Burger is huge—a gastronomic Godzilla. At 6-plus inches high, it's arguably the Everest of Wasatch Front eateries. Between the buttery brioche bun slices are—get this—bacon, pork shoulder, pastrami, corned beef, a wagyu beef patty, cheddar and provolone cheeses, plus red onions, pickle, mixed greens and aioli. Oh, it's served with a side of sauerkraut or fries. How does it taste? Substantially sumptuous. Better yet, ask me tomorrow when I relish the contents of my take-out box at lunch—and dinner. 7 E. 4800 South, Murray, 801-266-2127, icehausbar.com
7. Vodka tonic at anywhere
A simple vodka and tonic with a squeeze of lime. It's served most anywhere—except places where the tonic spigot is clogged or a frazzle-assed barkeep substitutes soda for the tonic water or (worse yet) gin for the vodka. This libation is more healthy than a Vitamix veggie smoothie because: The tonic water contains quinine, an age-old prophylactic against malaria. And the lime is rich in vitamin C, a sure-fire cure for scurvy, the scourge of 18th century sailors. Finally, the vodka (and I prefer Tito's) banishes one of mankind's oldest afflictions: inhibition.
Samantha Herzog, editorial intern
8. Waffle Monster at Bruges Waffles & Frites ($9)
I've always loved a good monster and it turns out dessert monsters are no exception. We've all got an inner craving creature, and The Waffle Monster from Bruges Waffles & Frites is sure to satisfy even the most insidious of munchie mutants. It's is a light Liege-style Belgian waffle with an adorably monstrous face of crispy Speculoos cookie spread, tangy strawberries and satisfying vanilla bean ice cream that can be just as satisfyingly substituted with creme fraîche. Bruges also offers a diverse blend of zesty dipping sauces, mayos and aioli, so I recommend adding a side of their Belgian-style fries, or frites, to fully entertain your sweet-and-salty hunger spectrum. Who knew that a little piece of Belgium in Utah would be home to the friendliest little troll around? Multiple locations, brugeswaffles.com
Lime Pilsner at Uinta Brewing Co. ($4)
My favorite adult beverage activity is sampling new releases and seasonal blends from local breweries, and since April was just named Craft Beer Month by Mayor Jackie Biskupski in honor of our successful Utah beer brewers, what could be a better focus? At the top of my Utah craft-breweries list is Uinta Brewing Co., producers of last year's zinger of a lime Pilsner. With its fruity bite and drinkable freshness, this verified piece of summer has kept me smiling all year long. The lager carries a tart citrus crispness while still keeping the malty center of the Pilsner present. Uinta just added a mango version to their lineup for the season and I can't wait to try the tropical twist on this already lively Venn diagram of flavor profiles. 1722 S. Fremont Drive, 801-467-0228, uintabrewing.com
Sally Hummings
Even Stevens
Crave-worthy Catering
These six mobile caterers are guaranteed to spice up your next drab office meeting.
By Amanda Rock
Being a secretary is not a bad gig; I get weekends off and the first pick of office supplies. I'm also tasked with ordering catering for meetings, which—as an also intrepid food writer—is a welcome assignment. The result? On my watch, there are no humdrum boxed lunches or depressing buffets. The following caterers have earned a permanent place in my Rolodex by providing excellent customer service and serving delicious, fresh fare at a reasonable price. Go ahead and give 'em a go next time you're looking to spice up an office gathering.
Urban Pioneer Foods
When you spot your favorite caterer at the farmers market shopping for ingredients, you know she's legit. Over the past few years, ordering from Urban Pioneer has elevated my status at the office as someone who really knows good food. Sure, I take the credit but it's really Brooke Woffinden, owner and chef of Urban Pioneer, who is brilliant. (But also, I am brilliant by association for ordering from her.) Instead of perusing a menu, I simply email Woffinden, tell her how much I can spend and who I'm feeding, and she sends back wonderful menus to choose from—all made with seasonal and local ingredients. Her attention to detail and commitment to buying local makes Urban Pioneer unique. Looking for the royal treatment at home? She also offers take-and-bake meals from her retail spot two days a week. Sign up for her email list to see what's cooking. 389 W. 1700 South, 801-598-7702, urbanpioneerfoods.com
Zao Asian Café
If you're looking to bring something fresh to the conference room table, look no further than Zao. You can choose between rice bowls or tacos, then select two protein options (chicken, steak, meatballs or Thai-spiced tofu). Each buffet comes also comes with flavorful additions like pickled carrots and daikon, wok-seared veggies, ginger-doused scallions, toasted peanuts, crunchy onions and cilantro. Rest assured that everyone will construct a good, healthy meal to their liking. Each ingredient is neatly labeled for vegan, vegetarian and gluten-free options. The best part? This meal can hang out in the heating pans for three hours, so you don't have to stress out about a meeting running late and food getting cold. There's a $100 minimum and it costs $10 per person with a reasonable delivery fee. Multiple locations, zaoasiancafe.com
Even Stevens Sandwiches
Everyone likes sandwiches and everyone likes being nice. Ordering from Even Stevens takes care of both and is always a hit, whether your guests are vegetarian, vegan or gluten-free eaters. Or even if they like a good, old-fashioned meaty sandwich like the Do Gouda, made with shaved New York steak and smoked Gouda. With each sandwich purchased, one is donated to a local nonprofit. They provide you with a card, proclaiming the number of sandwiches donated with each order, so you can feel good while you're eating good food. Besides stellar sandwiches, Even Stevens offers cravable salads and sides—like fresh vegetable platters, cheesy mac and cheese and delicious cookies. Good stuff all around. Multiple locations, evenstevens.com
Red Iguana
When you can order catering from one of Salt Lake City's most popular restaurants, why wouldn't you? Red Iguana offers a vast menu of possibilities, but I've found the Numero Uno Chicken Fajitas, served with refried beans, Spanish rice, chips, housemade salsa and topped with pico de gallo and fresh guacamole is an inexpensive way to feed a diverse crowd. Those who avoid meat and/or dairy simply leave it off the plate, assembling a tasty and filling meal around the rice and beans, both made without animal products. Gluten-free folks, meanwhile, can opt for warm corn tortillas instead of their floury counterpart. This is easily one of the most requested meals from my co-workers. The price point is $12.60 per person and delivery is offered on orders of $150 or more with an 18 percent service fee. Portions are generous and there are plenty of leftovers to take home. 801-300-4214, rediguana.com
Treats and Trends
Instead of buying groceries and stressing out about assembling meat and cheese platters in the break room, I just call on Treats and Trends to cater meeting snacks. They're highly creative and come up with delicious options to keep people engaged in the meeting. I've mostly ordered gorgeous cheese platters, with fruit, crackers and nice array of cheeses. T&T also caters full meals for all sorts of events. Judging by the quality of the snacks I've ordered and the presentation, Treats and Trends can work magic on a budget. 801-410-3682, treatsandtrendscatering.com
Kneaders Bakery & Café
Skip the pastries and crappy bagels from Costco, unless you hate your co-workers. My morning meeting go-to is the continental breakfast from Kneaders Bakery & Café. For $124.99, you will wake up 25 people and make them happy with delectable pastries (I always snag a chocolate croissant for myself), a beautiful fresh fruit platter and freshly squeezed orange juice and coffee. Kneaders is also a solid choice for lunch with options ranging from sandwiches made with freshly made bread, soups and crisp salads. You can even order online. Multiple locations, kneaders.com
Derek Carlisle
SugarHouse Barbecue
Texan-Approved Barbecue, Perfection in a Bowl and Crack Nachos
A trio of local bakers reveal their favorite comfort foods—and where you can go try 'em.
By Alex Springer
Those of us who savor the doughy delights provided by professional bakers seldom take the time to think about all the hard work that goes into producing some of SLC's finest pastries, cakes and other baked goods. Notwithstanding the sheer physical strength required to beat dough into submission; the mental discipline that it takes to resist simply eating everything that comes out of the oven is equally worthy of respect.
While creamy éclairs, buttery cookies and thick wedges of chocolate cake come to mind when many of us think of the term "comfort food," bakers who are around sugary treats all day tend to pursue more savory options. With that in mind, I met with some of Salt Lake's finest bakers and pastry chefs to discuss their go-to lunch and dinner spots.
Elisa Barber of The Baking Hive
One thing we tend to forget about professional bakers is that many of them have also trained as culinary chefs. Such is the case with Elisa Barber of The Baking Hive. Before opening her Holladay bake shop, she studied at the Ballymaloe Cookery School in the Irish village of Shanagarry. "I trained in pastry and savory cooking," she says. "I knew my passion was with pastry and baking, but you don't know until you try something else."
In an effort to truly discover her culinary destiny, Barber moved to London where she split her time between working as a line cook in the Michelin star-rated Petersham Nurseries Café and whipping up pastries at the legendary London bakery Konditor & Cook. After earning her MBA at the University of Edinburgh in Scotland, Barber decided to pack her bags and bring her expertise home. "I actually had a visa to stay in Scotland and open The Baking Hive there, but I felt strongly that I should come back home," she says. "I love my community, my family and friends are here, and it would be a shame to create this thing from my heart and not be able to share it with them."
When Barber wraps up a hard day's work baking luscious cakes and bars or teaching a group of local kids how to properly ice a cake, there are a few places near and far that serve up her preferred brand of comfort. "I love Chunga's [180 S. 900 West, 801-953-1840, chungasmexican.com]—their al pastor nachos are like crack," she says. "I also love Layla Grill [4751 S. Holladay Blvd., 801-272-9111, laylagrill.com] because I'm in that area. My favorite is their lamb meatballs when they're on the menu."
Though she's always passionate about baking and running one of the warmest and most inviting bakeries in town, working with sugar and spice makes savory food taste all the more satisfying. "Being around sweet stuff all day makes you crave that salty, cheesy decadent kind of food," Barber admits. "Indulgent savory food rejuvenates me, especially after working so hard all day. I feel like I deserve it."
Romina Rasmussen of Les Madeleines
Arguably one of the pioneers of Utah's now flourishing baking scene, Romina Rasmussen's Les Madeleines has been in business since 2003. Rasmussen was one of the first pastry chefs to replicate the now-ubiquitous kouign amann in the United States—and this was three years before Food & Wine Magazine named the buttery miracle Pastry of the Year.
Rasmussen's love of baking blossomed when she first started to share her tasty talents with friends and coworkers. "I think I enjoy sharing stuff that I make with others more than eating it myself," she says. Regardless of where she worked or lived, she always found herself baking something delicious and sharing it with coworkers and neighbors. She embraced the fact that owning and operating a pastry shop was her ideal vocation, and Les Madeleines was the result.
On the occasions when Rasmussen is in need of a culinary recharge, there's only one place that she trusts. "I'm a creature of habit, so I always go to The Copper Onion [111 E. 300 South, 801-355-3282, thecopperonion.com] to get their stroganoff," she says. "There's the pasta, the little kick from the crème fraiche and then the mushrooms are nice and meaty. My mouth is actually watering right now—it's perfection in a bowl."
Cory Hruska of Hruska's Kolaches
When Texas siblings Cory, Ross and Devin Hruska moved to the Beehive State, they discovered a land that was curiously devoid of kolaches. "We grew up eating kolaches down in Houston," Cory says. "Originally, they're a Czech pastry, but in Texas they took that idea and started stuffing the bread with breakfast food and other savory items." Armed with a recipe passed down from their grandmother, the Hruskas got to work mixing dough and taking names. They opened their first location in Provo in 2014, and expanded their operation to Sugar House a few years later.
As Hruska's does a damned fine job of making all the sausage, pulled pork and brisket that they subsequently stuff into buttery pastry dough in-house, it's a safe bet to trust Cory's judgment when it comes to lunch spots. "My go-tos are Even Stevens [multiple locations, evenstevens.com] for the pot roast dip, and SugarHouse Barbeque [880 E. 2100 South, 801-463-4800, sugarhousebbq.com] for their smoked chicken wings," he says.
Cory is also a fan of Eva [317 S. Main, 801-359-8447, evaslc.com], whose experimental menu approach is enough to keep diners on their toes. "I like Eva's because they try to do something different," he says. "They embrace the fact that they're experimenting so much, and they love hearing critiques; it's like a constant work in progress."
If you've never tried a kolache before, you're in luck—Hruska's annual Kolache Fest is scheduled to take place Saturday, May 5 at their Sugar House location.
Niki Chan
Veggie House
Salt Lake City: Your Vegan Destination
Leave your bland food expectations at the door at these six eateries.
By Amanda Rock
Salt Lake is known as a vegan-friendly city, but now we're a full-on vegan destination. There's been a boom of vegan restaurants opening this past year (check out dining critic Alex Springer's recent takes on Boltcutter and Seasons Plant-Based Bistro), and it seems that everyone—vegans and omnivores alike—has been digging the animal-friendly fare.
Cinnaholic
Salt Lake City has been blessed with its own Cinnaholic. This national chain is famous for over-the-top gourmet cinnamon rolls that just happen to be vegan. Here, you can choose from a staggering amount of frosting flavors and delectable toppings like fresh fruit, marshmallows and cookie dough. I was a certified Cinnaholic after my first bite of a warm cinnamon roll with lemon frosting topped with juicy, tart raspberries. See what flavor combinations you can come up with, or order from the menu. 358 S. 700 East, Ste. D, 385-415-2744, cinnaholic.com
Veggie House
Veggie House will blow your mind. The menu is the definition of diverse—with everything from stir frys to pad thai you can mix and match with soy-based chicken, beef, shrimp and/or tofu for protein. You could probably eat at Veggie House once a day for a year and never eat the same dish twice. Whether you're craving something light and healthy, like pho, or you're in the mood for deep fried "chicken" in sticky, sweet orange sauce—you'll leave satisfied. Besides having excellent food, Veggie House is quick, inexpensive and has friendly customer service, to boot. 52 E. 1700 South, 801-282-8686, veggiehouseut.com
Lil Lotus
A casual eatery with a fun menu, Lil Lotus is a perfect spot for an inexpensive meal. Serving crowd-pleasing dishes like late-night Navajo tacos made with either chickpea chorizo or barbecue jackfruit and Southwest green chile mac and cheese, Lil Lotus appeals to every palate. Grownups eat for $9.95 and vegan-minded kiddos get to choose from a pared-down menu costing only $5.95. 2223 S. Highland Drive, 801-906-0637, lil-lotus.business.site
Vegan Bowl
West Jordan got a little cooler this year with the opening of Vegan Bowl, its first vegan restaurant. A spinoff of North Salt Lake's famous All Chay, they offer mouthwatering Vietnamese fare at a reasonable price. You gotta try the spring rolls, the pho and anything with their fried shrimp. Trust me when I say it's realistically shrimpy. 8672 S. Redwood Road, West Jordan, 801-692-7237, facebook.com/vietnameseveganbowl
The Pie Pizzeria
The Pie Pizzeria is the oldest, most beloved pizza place in town. So why are they on this list? They've updated their already awesome animal-friendly menu. You can build your own pie with tasty options like shredded seitan chick'n, vegan fennel sausage and ground "beef," or order a specialty pie like the vegan chicken ranch. Make sure to also order some toothsome meatless buffalo wings and pull-a-parts loaded with dairy-free cheese, dipped in pizza sauce, dairy-free ranch or both. Multiple locations, thepie.com
Vegan Agenda
Utah's first vegan convenience store/deli opened in the location that housed Frisch Compassionate Eatery and Cakewalk Vegan Baking Co. Since the owners of each business still run the place, you'll find a pastry case full of goodies baked by Cakewalk, and favorites from Frisch like tubs of eggless and tuno salad, freshly made soups, frozen handmade burritos and bags of their popular vegan jerky. They also have vegan soft serve. Think of it as a welcoming one-stop vegan shop that might change your perception on what's for dinner. 145 E. 1300 South, facebook.com/veganagendaslc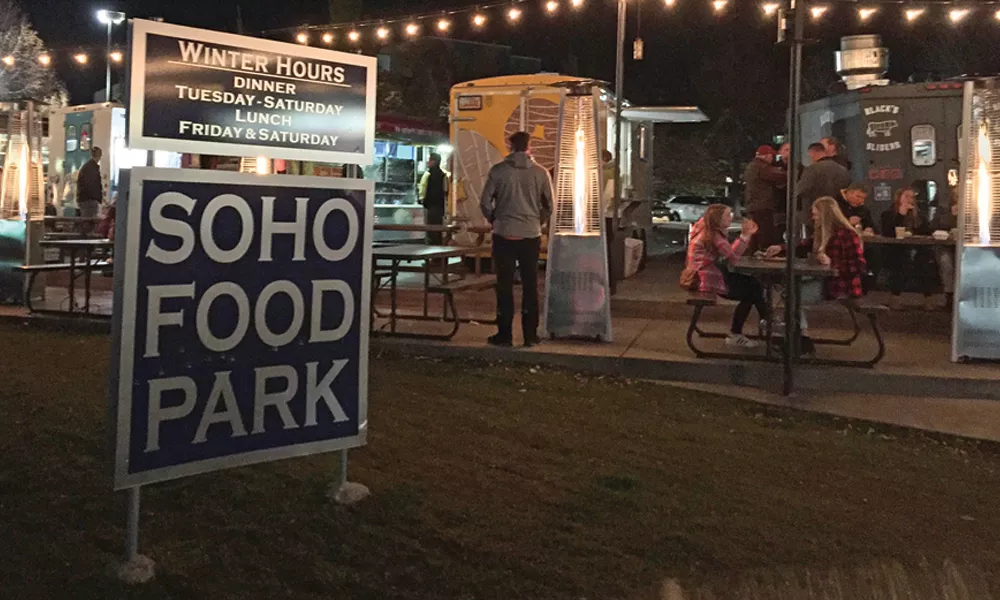 Curation, Not Chaos
In its third season, Soho Food Park sets a high bar for food-truck excellence.
By Alex Springer
My first food-truck roundup devolved into one of the most miserable nights of my life. The small parking lot became a vast tangle of people as the lines at each truck chaotically meshed into one another. A variety of food was available—but each queue was so enormous that I had to commit to visiting just one truck. For the 90 minutes I spent enduring the blacktop-amplified summer heat and inhaling generator exhaust while waiting for a burger, I couldn't help but feel like a chump. Here I was, waiting 1½ hours for a dish that I could have gotten two blocks away—inside a building with air conditioning, no less—because it was coming to me from a grill on wheels.
While this experience was enough to turn me off of the whole food-truck roundup craze, it wasn't long after that I discovered the Soho Food Park (4747 Holladay Blvd., facebook.com/sohofoodpark). The brainchild of Holladay residents Shelly and Mark Olson, the park is the blessed antithesis of the garden-variety food truck roundup. The Olsons provide a spacious location, picnic tables, power and, perhaps the most important aspect, they curate each truck. "We try to be the filter so you don't pick a bad truck when you come to the park," Mark says. "We make sure the trucks are all clean and fresh, and it's something that we continually work on."
During Soho's three years, the Olsons have become experts in identifying a good truck. If a vehicle has been invited to join the park roster, it's been evaluated and approved by some industry insiders. "We have enough core trucks, so we're much more selective about who [can] fit in to our rotation," Shelly says. "We need a truck that cares a lot," Mark adds. "You've got to have a truck operator with some soul and passion for what they're doing."
This year's lineup brings back some regulars, along with a few new additions. World's Best Corn Dogs is joining the roster, commuting all the way from Kaysville to bring park attendees, well, the planet's best corn dogs. Park City's Freshies Lobster Co. will be slinging Maine lobster rolls. Suzy Thai and Fiore Pizza will also be on hand to serve up some delicious curry and wood-fired pizza, respectively. "We want people to come here and not have to pick just one kind of food for dinner," Shelly says. "We have six spots, and we need to make sure they're uniquely different."
The park is ideal for those who have been burned by a lackluster food-truck roundup, but still dig the idea of sampling a wide variety of mobile cuisine. The park is open from Thursday to Saturday, 5 p.m.-8:30 p.m. Check out their Facebook page for a full, tasty lineup.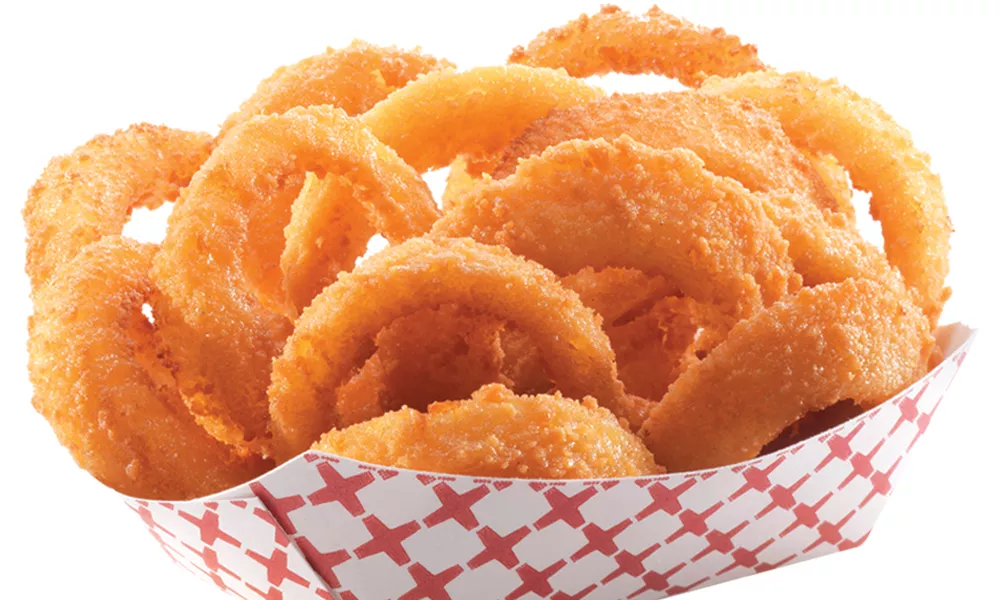 Derek Carlisle
Hires Big H
Ultimate Side Showdown
Fries vs. onion rings edition.
By Amanda Rock
Do you want fries with that? Maybe you don't. Maybe you just want onion rings. I visited six local burger chains, did all the dirty work and ranked some of SLC's best fried sides to help you decide.
Apollo Burger
Apollo Burger fries are consistently fresh and delicious, and my go-to when I'm having a bad day. The duality of the fried, crunchy exterior with fluffy potato-y insides is delightful. Is it only the Apollo Burger near my work that has life-changing french fries? To find out for yourself, visit the location at 148 N. Redwood Road. Their onion rings are pretty decent, too. Multiple locations, apolloburgers.com
Crown Burgers
"That's it?!" the voice on the other end of the speaker asks accusingly. "Yes, one order of fries and an order of onion rings," I reply. What? Like that's weird? The smell is intoxicating as I rush home to share with my husband. If I was judging by quantity alone, Crown Burger would be the clear winner. I've never seen so many onion rings and french fries in an order. With a thin, light batter coating a thin strip of onion, these rings are pretty typical. The fries are just fine, too. My husband and I declared this a tie—both are adequate, but neither really stands out. Next time, maybe I'll order the fried mushrooms or sweet potato fries. Multiple locations, crown-burgers.com
Hires Big H
The hand-cut fries are delectable, but the housemade Golden Onion Rings are even better. Hand dipped and deep fried to a golden hue, these onion rings are thick and ultra crispy, accented by a tender slice of fresh onion. With that first crunch, you can tell what's up. You can even get these first-class onion rings on your burger, which I highly suggest. Multiple locations, hiresbigh.com
Arctic Circle
Long, spindly, salty, with crisp edges and pleasantly soggy middles: That's how I like my fast-food fries. Also, in 1950, Arctic Circle freaking invented fry sauce—that ubiquitous tangy concoction Utah is famous for. I didn't try the rings, because I am committed to these french fries, dipped in the original fry sauce. These are the fries I grew up eating and I will defend them until I die. Don't @ me. Multiple locations, acburger.com
Iceberg Drive Inn
Through my delicious and important research, Iceberg Drive Inn offers the best tasting fries and onion rings. But, oh man, their onion rings are a revelation. First of all, they are gigantic at about an inch wide. There's no stingy strip of onion here: You get a fat slice of fresh onion, hand breaded and deep fried. I relished folding them in half, dipping them in fry sauce (that Iceberg totally did not invent) and cramming them into my mouth. Four onion rings come in an order, but they are perfection. Do not pass them up. Multiple locations, icebergdriveinn.com
East Coast Subs
The obvious answer, of course, is to order both fries and onion rings. And you can do exactly that at Murray's East Coast Subs. Order Frings, a clever combination of fries and onion rings, and your heart will sing. (Feel free to use that as a slogan, East Coast Subs). No hard decisions are necessary here, plus "Frings" is fun to say. 6056 S. State, Murray, 801-262-7827, eastcoastsubsmurray.com
Off the Eaten Path
Indulge your spirit of adventure with these innovative desserts.
By Alex Springer
We end this guide with something sweet. From cruffins, to Japanese-inspired ice cream-stuffed crêpes, these five eateries are sure to fill your sugar cravings in inventive ways.
Snow Cream at Shirokuma
While the snow cream at Shirokuma shares the spiral, ribbon-like presentation of the rolled ice cream trend sweeping the state, the similarities end right there. Snow cream is a bit like the frozen equivalent of cotton candy—the smooth texture of the icy treat melts as soon as it makes contact with your tongue, imparting the subtle flavors of chocolate, honeydew, matcha or taro as it disappears. Snow cream is available solo or with a wide variety of rarely used toppings like Pocky sticks, sweet red beans and lychee. If that's still not gangster enough for you, the whole thing can be wrapped inside one of their housemade bubble waffles, creating a dessert that looks like a tasty neon space alien. 2843 S. 5600 West, Ste. 120, 801-251-0134, shirokumaslc.com
Cruffins at Fillings and Emulsions
Though they will always be delicious, the Cronut trend is little more than a novel memory. That hasn't deterred the folks at Fillings and Emulsions from trying to meld doughnuts with other pastries, however. Their most recent foray into the field of fried dough is called a cruffin, which, exactly as it sounds, is a glorious union between a doughnut and a muffin. These crispy, sugar-coated pastries come stuffed with several types of filling depending on the day, but the dulce de leche remains the undisputed ruler of the cruffin empire. The outer layer inevitably gives way to the thick dulce de leche filling, creating a truly caramelicious bit of pastry. 1475 S. Main, 385-229-4228, fillingsandemulsions.com
Japanese Crêpes at Doki Doki
While Doki Doki is one of Salt Lake's finest purveyors of rolled ice cream, the thing that puts them on the map is their use of Japanese-style crêpes. Served slightly thicker than their French counterparts, they make for a chewier alternative to the traditional ice cream cone. Not sure where to begin? DD has a few excellent pre-constructed options—the Pink Blush is a strawberry cheesecake rockstar—but I suggest trying out their roulette system. This lets you cede control of your order to the behind-the-counter experts, who'll whip up something creative for you off the top of their head. It's the perfect out if you can't decide which of their delicious crêpe/ice cream combos to sink your teeth into. 249 E. 400 South, 385-229-4339, facebook.com/dokidessert
Cookie Dough Cannolis at Dough Co.
Sometimes, an idea is so revolutionary that it causes us to wonder why someone didn't think of it earlier. Such is the case for Dough Co. in Sugar House. Think of an ice cream shop. Now, replace the ice cream with gobs of multi-flavored cookie dough. That, my friends, is Dough Co. The idea of scooping up gooey chunks of red velvet, chocolate chip and salted caramel pretzel cookie dough is innovative on its own, but Dough Co. doesn't stop there. They've perfected a cannoli filled with cookie dough icing, thus bringing true harmony to the dessert universe. 2121 S. McClelland St., Ste. 105, 385-258-3111, dessertwithoutrules.com
Bananas Foster Taco at Last Course
Ever since I first tried a Choco Taco, I thought it was a shame that more places didn't do dessert tacos. Perhaps this was why I made a beeline to Last Course when I learned that they had combined bananas foster with cinnamon sugar-coated shells to create their Foster's Banana Taco. Like any taco joint worth its stripes, Last Course serves these indulgent, caramel-coated tacos three at a time. Instead of savory condiments, the tacos come with a giant scoop of vanilla ice cream. As fun as these are to pick up and eat by hand, I recommend breaking the shell into smaller pieces and mixing them with the smooth ice cream and cooked bananas. Multiple Locations, lastcourse.com