Page 2 of 8
Sarah Arnoff
Block Restaurant
Edit Eats
Here's where your favorite team of editorial misfits finds food and drink solace.
By CW Staff
Between creative highs and demanding deadlines, the scrappy staff at City Weekly has a main stress-reliever that bonds us together: eating and drinking our worries away. There's only so much the downstairs Afghani market can supply (though we are extremely thankful for its existence), so often times we find ourselves venturing out for that really-hits-the-sweet-spot dish. In a pinch, here are some of our staff's favorites: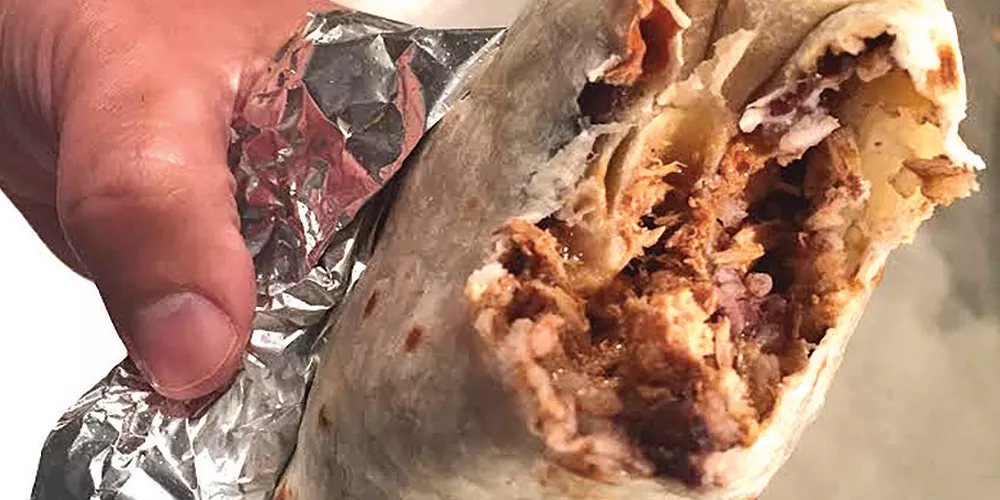 Enrique Limón, editor
1. Chicken mole negro burrito at Taco Taco ($8.75)
Stickers depicting a luchador drop-kicking Donald Trump against his "big, beautiful wall" are enough to get folks through the door, but it's Taco Taco's menu that seals the deal. Here you'll find tasty variations of the classics—tacos, burritos and quesadillas—but it's the house mole negro burrito that takes the (tres leches) cake. This bad boy will take care of your grumble and leave you ready to rumble. Never mind a baby's arm; stuffed with rice beans and mole-soaked chicken, this burro is thicker than most newborns. 208 E. 500 South, 801-428-2704, tacotacoslc.com
2. The Saltas at Whiskey Street ($12)
You know you've made it when a local watering hole names a drink after you. Enter The Saltas. Sweet and packing a punch, this Knob Creek, Lillet, Amaro Averna and honey simple syrup concoction on Whiskey Street's seasonal menu is summer breeze embodied. The question is: Just which Saltas is it named after? Mikey, the younger of the brood claims it was for him, in celebration of his 21st birthday. "This will be contentious—it was legit named after me," Pete, the eldest, says. The jury is still out. Perhaps it's an ode to OG and City Weekly big kahuna John? We simple sippers may never know. My money, however, is on matriarch Paula as the man of any Greek house might be the head, but the woman is the neck—and she can turn the head any way she wants. 323 S. Main, 801-433-1371, whiskeystreet.com
Scott Renshaw, A&E editor
Mihami Vice at Even Stevens ($9.25)
I've always been a sucker for a great Cubano sandwich, with its irresistible combination of succulent roast pork and smoky ham, so I'm disappointed in myself that it took until only recently to discover Even Stevens' splendid version. The clever name (and its play on the ingredients, the recipe's origin in the South Florida Cuban expat community and its sinful flavors) notwithstanding, this is a fairly traditional incarnation, adding melted Swiss cheese, pickle spears and mustard to the hoagie-wrapped pork and ham. But it's still a delicious mix, adding that acidic pickle snap and creamy cheese to the flavorful meats so that the whole overflowing concoction ends up dribbling down your chin. And the fact that every Even Stevens sandwich purchase means a donation to a worthy cause makes it feel like more of a virtue than a vice. Multiple locations, evenstevens.com
3. Wasatch Brewery Apricot Hefeweizen
As a guy who has reached a certain age, I'm far more likely to enjoy an adult beverage from the comfort of my living room armchair than I am in a public place. That means I appreciate something I can pick up in a local grocery store, where I might even be tempted to try something off the beaten path. That's how I discovered Wasatch's apricot hefeweizen, a sweet fruit-bomb of a wheat beer that smells like a walk through an apricot orchard. It also doesn't pack a big alcohol punch. That way, I don't have to feel guilty about opening up a second, or on special occasions, even a third. After all, I don't have to worry about driving home. wasatchbeers.com
Ray Howze, editorial assistant
Chicken Curry Koko Kitchen ($6.25-$9.45)
Koko Kitchen has a great selection of sushi and other Asian dishes, but its not-so-secret favorite selection for me is the curry. Served over rice, the housemade curry comes with your choice of vegetables, chicken, tofu, beef or tonkatsu, and is a go-to when I visit. When I first stopped by, I thought I'd be interested in their teriyaki bowls, soups or donburi, but the curry has stuck with me. The chicken is served tender and covered in a savory and well-spiced curry. Mix it with the rice and the dish gives other curries a run for their money. Don't be afraid to venture out and order something else from the handwritten whiteboard menu, but feel confident you won't go wrong with the curry. 702 S. 300 East, 801-364-4888
Moonless Night at Quarters ($9)
New downtown Salt Lake City bar Quarters is all about nostalgia, nerdiness and gaming culture. But it also hasn't forgotten about the drinks. The hip, boozy menu themed after various games like Crash Bandicoot and Hulk includes a few other specialties such as my new favorite, Moonless Night. I first ordered this drink because I enjoy a Fernet and cola just about anytime and when I saw this drink includes it—as well as rye, sugar, lime and oatmeal stout—I had to give it a try. Unlike the somewhat fizzy Fernet and cola, this version with the oatmeal stout makes for a smooth cocktail with a bit of tang from the lime and rye. Sometimes, a slight change from a classic is all you need. 5 E. 400 South, quartersslc.com
Sarah Arnoff, Dining Guide copy editor
4. Brunch at Block Restaurant featured image
Yes, Sunday brunch exists south of Salt Lake County. I've found that an excellent place to take my Utah County-residing parents is Provo's new Block Restaurant to indulge in chef Adam Cold's delectable yet reasonably priced dishes. Starting with the perfectly shareable fig tapenade ($12) gets our bellies in gear with its three crostinis heaped with a fig purée and balsamic reduction mix, goat cheese and toasted walnuts. The heartier-than-it-looks avocado Benedict ($14) is two poached eggs resting on a throne of avocados and toasted English muffins smothered in hollandaise, and served with seasoned potato wedges on the side. It leaves me brunched out every time. 3330 N. University Ave., Provo, 801-885-7558, blockrestaurantgroup.com
5. Manmosa at Block Restaurant ($10)
Another reason to head south for brunch? There's alcohol. Well, there is at Block. Their menu of craft cocktails includes a traditional mimosa, but head for the Manmosa for a refreshing twist on the brunch-friendly sipper. Coming in a number of flavors including orange and hibiscus, the Manmosa adds a shot of Sugar House vodka to the mix of juice and Champagne. It's a delicious (and somewhat dangerous) way to wash down your late-morning meal. 3330 N. University Ave., Provo, 801-885-7558, blockrestaurantgroup.com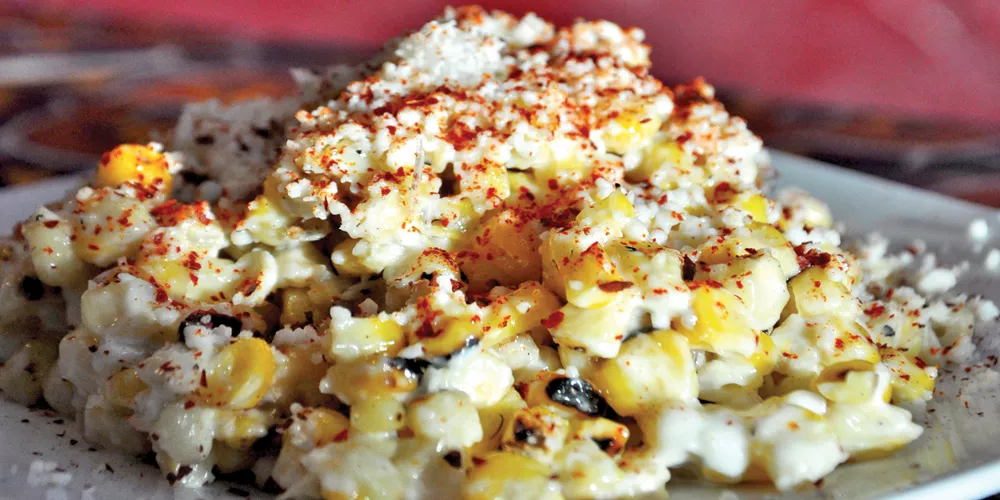 Darby Doyle, drinks writer extraordinaire
6. Elotes de la calle at Alamexo Cantina ($3.95)
With just one bite, this dish brought my taste buds right back to my years of living in southern Arizona and New Mexico. We'd buy smoky ears of corn fresh off the grill at grocery store parking lots, soccer matches and pretty much every festival. Hell, I even bought elotes from an enterprising guy who set up his cart right on I-10 between Deming and Las Cruces when we were stuck in traffic for over two hours. The Mexican street corn's husk was supposed to work as both a handle and to catch all its drippy goodness of queso fresco, mayo and lime juice, but it'd invariably ooze down from the cob. Ever tried to lick your own elbow? Not pretty. Fortunately for our fellow diners at Alamexo Cantina, Chef Matthew Lake's version hits all the same sweet, smoky and savory buttons, but with more approachable (and dignified) off-the-cob eating. Served with a generous mix of lime aioli, queso fresco and a nice hit of chile molido this side is a must-order. Elbow lickin' optional. 1059 E. 900 South, 801-658-5859, alamexocantina.com
Woodland Sold Fashion at Firewood on Main ($14)
ACT 1, SCENE 1, FADE IN: A cozy, intimate bar on a dark and stormy night.
ACTION: A couple sits in silence, clearly irritated with each other, at a low table flanked by deep leather chairs downstairs from the bustling Main Street level in the romantically low-lit bar.
SERVER: "Good evening. What can I get you from the bar?"
WOMAN: "I'd like the Woodland, please."
MAN: "Same for me, thanks."
SERVER: "Excellent. The raw sugar is smoked over cherry wood, giving it a nice subtle depth."
The server delivers their drinks a few minutes later with a smile.
WOMAN: "Wow. This is lovely. Good hit from the Buffalo Trace bourbon, nice aromatic fragrance from orange bitters. I'm liking this Luxardo, too."
MAN: Nods. "Every old fashioned should be served with big-ass ice rock." He moves his chair closer to hers so that their arms are now touching from shoulder to wrist. She interlocks her fingers with his. With their free hands they continue to sip their drinks, and smile with obvious satisfaction. 306 Main, Park City, 435-252-9900, firewoodonmain.com
Lance Gudmundsen, proofreader
Kolossal Burger at Ice Haüs ($13)
I'm a literalist—and usually don't eat when a joint has a front-door sign proclaiming: "This premises is licensed as a bar." I drink instead. So when the assignment came down to pick a favorite bar food, I cornered avuncular Ice Haüs chef Paul Zissi, a fourth-generation hospitality industry veteran. "Well, if you're really hungry, I'd say the Kolossal Burger ($13). We use every meat we carry here—except bratwurst." Having just proofread this dining guide on an empty stomach, I was really hungry, so I took the plunge. Zissi hadn't exaggerated. The Kolossal Burger is huge—a gastronomic Godzilla. At 6-plus inches high, it's arguably the Everest of Wasatch Front eateries. Between the buttery brioche bun slices are—get this—bacon, pork shoulder, pastrami, corned beef, a wagyu beef patty, cheddar and provolone cheeses, plus red onions, pickle, mixed greens and aioli. Oh, it's served with a side of sauerkraut or fries. How does it taste? Substantially sumptuous. Better yet, ask me tomorrow when I relish the contents of my take-out box at lunch—and dinner. 7 E. 4800 South, Murray, 801-266-2127, icehausbar.com
7. Vodka tonic at anywhere
A simple vodka and tonic with a squeeze of lime. It's served most anywhere—except places where the tonic spigot is clogged or a frazzle-assed barkeep substitutes soda for the tonic water or (worse yet) gin for the vodka. This libation is more healthy than a Vitamix veggie smoothie because: The tonic water contains quinine, an age-old prophylactic against malaria. And the lime is rich in vitamin C, a sure-fire cure for scurvy, the scourge of 18th century sailors. Finally, the vodka (and I prefer Tito's) banishes one of mankind's oldest afflictions: inhibition.
Samantha Herzog, editorial intern
8. Waffle Monster at Bruges Waffles & Frites ($9)
I've always loved a good monster and it turns out dessert monsters are no exception. We've all got an inner craving creature, and The Waffle Monster from Bruges Waffles & Frites is sure to satisfy even the most insidious of munchie mutants. It's is a light Liege-style Belgian waffle with an adorably monstrous face of crispy Speculoos cookie spread, tangy strawberries and satisfying vanilla bean ice cream that can be just as satisfyingly substituted with creme fraîche. Bruges also offers a diverse blend of zesty dipping sauces, mayos and aioli, so I recommend adding a side of their Belgian-style fries, or frites, to fully entertain your sweet-and-salty hunger spectrum. Who knew that a little piece of Belgium in Utah would be home to the friendliest little troll around? Multiple locations, brugeswaffles.com
Lime Pilsner at Uinta Brewing Co. ($4)
My favorite adult beverage activity is sampling new releases and seasonal blends from local breweries, and since April was just named Craft Beer Month by Mayor Jackie Biskupski in honor of our successful Utah beer brewers, what could be a better focus? At the top of my Utah craft-breweries list is Uinta Brewing Co., producers of last year's zinger of a lime Pilsner. With its fruity bite and drinkable freshness, this verified piece of summer has kept me smiling all year long. The lager carries a tart citrus crispness while still keeping the malty center of the Pilsner present. Uinta just added a mango version to their lineup for the season and I can't wait to try the tropical twist on this already lively Venn diagram of flavor profiles. 1722 S. Fremont Drive, 801-467-0228, uintabrewing.com