About a week after splayed jack-o'-lantern debris has been cleaned from the curbside, and sweat-stained Halloween costumes have been tossed to the wayside, things will finally start to get spooky. In case you've just emerged from a dank cave: Some time after dusk settles on Nov. 8, America might very well ring in the news of a new president-elect by freaking out.
Short a Floridian hanging-chad debacle, the marathon slugfest that is the presidential race will be called that evening. We'll know which man or woman will take up residence in the White House for at least the next four years.
Not to be buried in the bedlam, hundreds more political races will be won. Each helps mold our nation and state. In Utah, voters have a spate of choices comprising congressional leaders, statewide offices, legislators and council seats, depending on the district. Further down the ballot, voters will be asked whether they wish numerous judges remain on the bench or get booted off.
Many candidates and their campaign staff have worked tirelessly to court voters or add their voices to the political conversations. City Weekly chatted with a glut of local candidates, watched hours of debate and inspected carefully curated press releases for this election guide. We sought to understand why so many incumbents breeze into office and examined the floundering Utah campaign of Republican presidential nominee Donald Trump. Finally, while we don't have the pages or resources to elucidate all the races, we profiled a few noteworthy ones.
Remember, there's still time to let your voice be heard. Residents can register online or in person until Nov. 1. Statewide, early voting began Oct. 25 and will continue through Nov. 4. And Cache, Davis, Kane, Millard, San Juan, Sanpete, Weber and Salt Lake counties are participating in a same-day-registration pilot program. Or don't vote ... it's your nightmare.
—Dylan Woolf Harris
---



Lyle Hillyard, Utah's senior-most state senator from Cache County, probably wasn't sweating too much when he won his seat back in 1984 with 62 percent of the vote over Democrat Omar Bunnell.
Seven elections and 32 years later, Hillyard still doesn't have much to fret about. His run for the state's 25th Senate District in 2012 went uncontested, as are his efforts this year. In 2008, he won with 73 percent of the vote; in 2004, 77 percent, etc., etc.
When voters go to the polls on Nov. 8, Hillyard certainly won't be the only legislative candidate who failed to garner an opponent: 27 other legislators are going unchallenged—a full quarter of the state's most high-profile lawmaking body.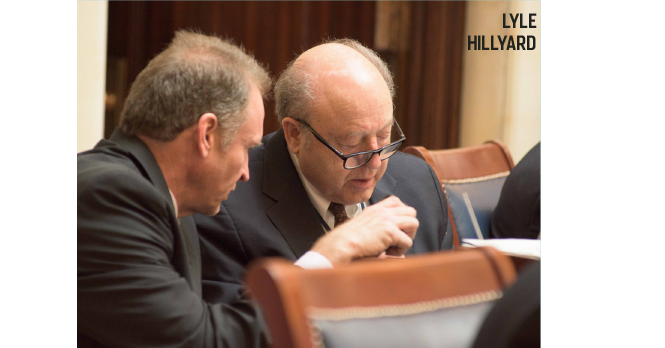 The frictionless path that many Utah lawmakers travel on their way to public office can be traced, in part, to the state's polarized voting base, which nearly everywhere except in Salt Lake City, is awash with Republican voters. Another element is Utah's convention system, by which Republican and Democratic candidates alike are picked to appear on general election ballots by delegates, rather than by voters in an open primary.
These uncontested races, of course, do not take into account the many lawmakers who will most likely win their seats in a landslide, as Hillyard does whenever anyone dares to take him on.
This lack of contention, says Mark Thomas, the state's director of elections, has a tendency to stifle voter turnout and, potentially, fuel voter apathy.
"I think generally, it is an interesting dynamic that Utah faces with a high number of uncontested races that we have," Thomas says. "That has an effect on the way voters look at elections. I think that that draws into the voter apathy that we hear oftentimes from voters, and from candidates as well."
In an effort to spur more political competition and encourage voter participation, the Count My Vote initiative from 2014 aimed to torpedo the state's convention system and create the sort of open primaries favored by most states.
Fearful that voters would indeed turn out to end the convention system if the initiative made it onto the ballot, lawmakers struck a compromise with Count My Vote organizers. The convention system would be preserved, but candidates wishing to circumvent appealing to party delegates could instead gather signatures and force a primary election.
Taylor Morgan, executive director of Count My Vote, says that the creation of a signature-gathering path to the ballot was an important step in making elections more vital and competitive in Utah. But with the convention system intact, he says most voters remain frozen out of the process that often ends up being the most important: picking a candidate to appear on the ballot.
By avoiding direct primaries and appealing to a relatively small number of delegates, a candidate like Hillyard, who did not draw a competitor during the Republican Party's convention, and also failed to provoke a Democrat to run against him, was effectively elected by the delegates in April. His name, and the names of several of his colleagues who slid through the process in similar fashion, will appear on the general election ballot only as a formality. The outcome has already been decided, and whether one person or 10,000 people cast ballots for Hillyard, he will receive 100 percent of the votes.
"A lot of times in Utah, the most pivotal decisions are made in the party nomination process," Morgan says. "Just a very tiny number of party delegates in both parties are making that decision on behalf of hundreds of thousands of voters."
While this system has been lampooned by voting-rights activists and Count My Vote organizers, it has been staunchly defended by the Utah Republican Party, which has sued, but seen its legal endeavors wither, in an attempt to undo the compromise that allowed signature-gathering.
Phill Wright, co-chairman of the Utah GOP, says that the convention system is the single best way to vet candidates before they traipse out before the public. He says it's important for the party to maintain this level of control in order to ensure that candidates claiming to represent Republicans truly do have Republican values.
And far from stifling participation, Wright believes that the convention system allows more Utahns to become involved with the political process by participating in neighborhood caucuses and helping to select the party's delegates.
When it comes to Utah's lowly voter-turnout rates, which are perennially among the lowest in the country, Wright says he believes this speaks more to the fact that the state's politicians are doing a fine job than it does to voter apathy.
"I think what leads to low voter turnout in any state, or any city for that matter, is when residents feel like things are OK," Wright says. "If people feel like things are functioning properly, they don't get involved."
Morgan of Count My Vote says that when he cast his first ballot as a voter in Utah County, the fact that almost all of the seats up for grabs had only a single name running did not make him feel as though everything was great, just that voting was pointless.
But the convention system isn't entirely to blame, Morgan says. The simple fact that Utah boasts 713,248 registered Republicans to 172,542 registered Democrats, means that challenges from minority party candidates in many pockets of the state are frivolous endeavors.
And if politics is little more than a big game of numbers, it seems unlikely that competitive races could unfold in many counties, including in Cache County, where the majority of Hillyard's voting base lives. In this county, there are 4,225 Democrats, or roughly 7.7 percent, compared to 34,270 Republicans, which makes up 55.8 percent of the voting base. The numbers are similar in Utah County, where 15,500 registered Democrats reside, compared to 159,897 Republicans.
"If I were professionally advising a candidate there, I would say, 'You don't have a path to win this election because elections come down to numbers,'" Morgan says. "The unfortunate reality is that right now we have a two-party system. The math simply doesn't add up to provide a pathway to win the election."
Another hurdle exists for candidates hoping to take on perennial favorites like Hillyard: straight-ticket voting. No matter how enticing a candidate might be with a "D" next to his or her name, the simple fact that it's not an "R" is a massive hurdle.
During the 2014 general election, 193,828 Utah voters simply checked the single-party voting option on the top of their ballots. The vast majority of these, 122,298, were cast by Republicans. This number accounted for a full 63.1 percent of all Republican ballots cast in the state.
While Wright says the Republican Party will continue to defend its right to vet candidates and fight efforts to circumvent the convention process, he says that Utah's system of close vetting before the public gets its say could have been useful during this year's presidential race, which saw the businessman Donald Trump crowned the party's nominee.
By letting people choose, rather than passionate Republican delegates, Wright says, "That's why we have someone like Donald Trump as our nominee."
Stumping in Florida last August, Donald Trump curiously inquired whether any Utahns were in the crowd, perhaps to ask for tips to win over a state he had moments before deemed a "tremendous problem."
These are strange times. Crimson-red Utah has been casting its electoral votes for Republicans every general election since 1968, and only opted for the Democrat choice once in more than half a century—Lyndon B. Johnson in a 1964 landslide victory over Barry Goldwater. No modern presidential nominee has tested that streak to the degree that Trump has. Campaigns have set up shop here and dumped ad money across the airwaves. Pundits are pegging Utah as a toss-up.
Matthew Burbank, a political science professor at the University of Utah, says the amount of presidential attention this state is receiving is unusual. Trump bills himself as an unconventional candidate. He seems to put little preparation in his public remarks, his social-media exchanges are routinely criticized as inflammatory and he has no experience in the political arena. For people dissatisfied with Washington, the idea of sending an unfiltered tough-talker to shake up the system is appealing.
But fewer Utah voters seem won over by the bravado.
"Contrast that with [2012 presidential runner-up] Mitt Romney, who was very smooth, very polished," Burbank says. "Even when he's attacking, it's not bold or brash or outspoken."
Not only do those Utah Republicans consider Trump's bombastic persona off-putting, Burbank explains, but they also find it difficult to stomach the substance of his positions. He's proposed draconian immigration laws, suggesting a ban on Muslims from entering the country. Sen. Mike Lee, R-Utah, condemned the proposed religious entrance exam. As a member of the once-persecuted LDS faith, Lee alluded that such a requisite would be hypocritical.
Plenty of Republicans have openly supported Trump. A sizable number, though, have been unsure about the choice of their party, while others have occupied a nebulous space between a hearty endorsement and begrudgingly giving him their votes.
Before the release of a now-infamous video that captured Trump lecherously gloating about his unsolicited sexual advances, Gov. Gary Herbert was among the GOP that reservedly admitted he'd be voting for Trump.
At an October town hall forum, days before the video leaked, the incumbent governor waxed on about his disapproval of Democratic nominee Hillary Clinton when asked about the presidential race. Absent from Herbert's entire two-minute explanation was the name topping the Republican ticket. At that time, he still committed to voting for Trump.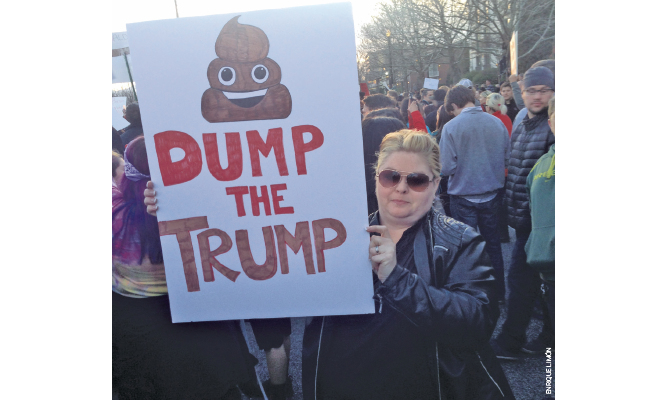 "My loyalty really goes to policy and principle, and see what will help us turn Washington, D.C., around," he said. "The process is what the process is. My concern is that really practically speaking, it's a binary choice, and I cannot see myself supporting Hillary Clinton."
But Herbert changed his tune quickly once the tape caught in the news cycle, and he pulled his endorsement. At the second presidential debate, Trump apologized for the 11-year-old remarks, rationalizing his behavior as "locker room talk." By that time, a wave of Republicans had already bailed.
The Utah Republican party is resolute, however. While admonishing Trump's misgivings, the party is holding him up as a serviceable alternative to Clinton, who it characterizes as a shill for the establishment. Her presidency, a release states, would change the makeup of the U.S. Supreme Court, damage the domestic economy and leave the country vulnerable to attack.
Trump opponents find his apology disingenuous, particularly in light of numerous women who came forward and described Trump's predatory advances. Democrats used his most outlandish messages—at times racist, misogynistic or Islamophobic—as campaign fodder. Pro-Mike Weinholtz attack ads linked Herbert and Trump.
Peter Corroon, chairman of the Utah Democratic Party, says that although Clinton is not a perfect candidate, her values are more closely aligned with Utahns' than Trump's are. These include Clinton's longtime advocacy for expanding health-care coverage to children and families.
"In the big picture, Hillary Clinton more represents the issues that are important to Utahns," Corroon says.
He and Burbank believe Clinton is in play because two outsider candidates, Gary Johnson and Evan McMullin, are expected to siphon away Republican votes. The Utah Democratic Party is primarily focused on local races, however.
Many who have repudiated Trump are quick to correct those who might muddle their words as support for Clinton. A widely shared Deseret News op-ed that panned Trump and called for his resignation also quibbled with Clinton's positions. Burbank says she also lacks a ringing endorsement in the state.
At the recent debate between Mia Love and Doug Owens, moderator KUED-TV's Ken Verdoia exclaimed disbelief at both congressional candidates' glaring refusal to publicly endorse their party's nominee.
"Apparently, I missed the distribution of 10-foot-poles," he joked.

Binging on your kid's Halloween stash is risk-free—even the bad candy is pretty good. Politicians, on the other hand, should be scrutinized before selection. Here is a primer for several ballot races.
---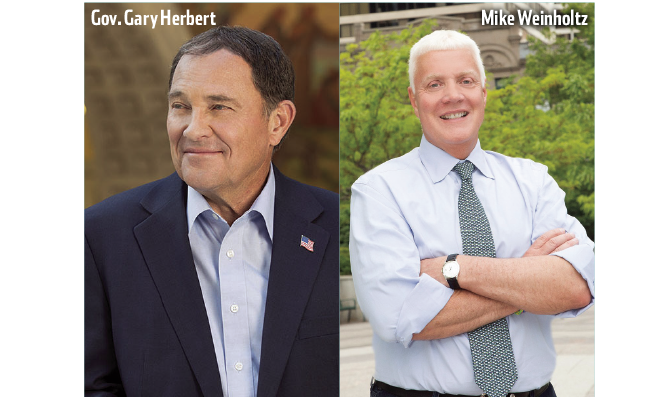 GOVERNOR
Times were bleaker in 2009 when Gov. Gary Herbert was handed the keys to Utah's top executive office. Toward the end of the Great Recession, amid stagnant economic growth and shrunk budgets, then-Gov. Jon Huntsman Jr. headed off to Beijing to serve as the American ambassador. Herbert stepped in to fill his shoes while Utah, like most of the country, was still reeling. Weakened but not broken, the economy slowly rebounded. All was well.
But in the eyes of some, Utah's downtrodden are being whitewashed by the prosperous sheen. The gubernatorial candidates paint two competing pictures of the state. Voters will decide at the ballot box whether they agree more with Herbert's sunny vision or Democratic challenger Mike Weinholtz' darker one.
Governors can play highly influential roles in state policy, both as leaders but also as the ones wielding the pen that signs into law or vetoes any measure passed by the Legislature. The winner of this election can push vastly different agendas.
The state's prosperity is a sign, Herbert argues, that his strategies work. These days, Herbert holds up Utah's business-friendly environment as a coveted gem that has lured companies to open shop in the Beehive State. And while the governor acknowledges room for improvement, he emphasizes that an imperfect state shouldn't be confused with one that isn't progressing.
"We ought to be humbled, and we ought to be grateful for the great successes we are having," he told a debate audience recently at Utah State University. "The data doesn't lie," Herbert continued, insisting that fostering a pro-business atmosphere has expanded the tax base and allowed the state to invest $1 billion into education.
Weinholtz, however, argues that Herbert's rosy outlook is a stunning example of how out-of-touch the governor is with everyday Utahns. Weinholtz lists his opponent's failings: toxic air, crammed classrooms and hundreds of thousands left uninsured. These unresolved problems, he says, indicate the governor is ignoring an enormous chunk of the populus.
"What I'm hearing over and over again is that people feel they don't have a voice. If you're not a big corporation that can write a big campaign check or afford an expensive lobbyist, that your voice is not heard on Capitol Hill," Weinholtz tells City Weekly. "I'm running to give all those people who don't have a lobbyist a voice."
Herbert says education is his No. 1 priority. Weinholtz calls that claim lip service: The state, he reasons, isn't funding education at pre-recession levels, and Utah remains dead last in the nation in per-pupil spending.
Herbert asked voters to evaluate Utah's education system by its results, pointing to climbing graduation rates and test scores. Eighth-graders, for example, ranked 16 in average math scores and 10 in reading, according to a National Center for Educational Statistics 2015 report.
"The outcomes we're getting in our state are actually very good; our teachers are doing great things, our principals, our local school boards members, our superintendents," he said. "All those stakeholders go to getting a good education."
Weinholtz hammered the state for declining federal dollars for Medicaid expansion, calling it morally bankrupt and fiscally irresponsible. Herbert says his proposed alternative, Healthy Utah, would have closed the coverage gap, but that measure didn't make it through the Legislature.
Both candidates support a federal reclassification of marijuana, currently a Schedule 1 drug lumped with other narcotics deemed to have no medical use, such as heroin. Their stances on medical marijuana differ, however. Weinholtz, whose wife was under investigation for using marijuana to alleviate arthritis pain, says lawmakers should have passed a medical cannabis bill last session. Herbert is more tepid: He says the medicinal properties need to be studied further to test whether research confirms anecdotal evidence. Weinholtz agrees that recreational pot is "a step too far for Utah."
Herbert supports transferring federal land to the state in order to facilitate more grazing and energy extraction. Weinholtz claims the state would sell parcels of the land, thereby cutting off access to those who enjoy those spaces.
What's Weinholtz' biggest fear?
"Right now, what frightens me the most is a possible Donald Trump presidency. I think that Donald Trump would be the most dangerous president that we've ever had. He has no knowledge of the issues, he's divisive and he's made racist and bigoted statements—statements about women that are deplorable, statements about minorities that are deplorable. The prospect of him being the leader of the free world is one of the scariest things I've ever seen."
---
ATTORNEY GENERAL
Utah Attorney General Sean Reyes appeared poised, ready for an exchange of ideas at a debate podium last September. But the podium opposite him was empty. Democratic challenger Jon Harper withdrew from the race less than 24 hours prior to the debate, so Reyes spent the remaining 55 minutes fielding questions by himself.
Reyes did not rule out the possibility of filing lawsuits to block a potential Bears Ears national monument designation from President Barack Obama.
Harper tells City Weekly that he suspended his campaign on advice from his doctor after he suffered a "neurological episode," but he deliberately remained on the ballot to give voters another choice. Libertarian candidate Andrew McCullough and American Independent Party candidate Michael IsBell are also running.
Harper says he is now doing well.
Reyes did not respond to interview requests.
Harper's biggest fear?
"Donald Trump."
---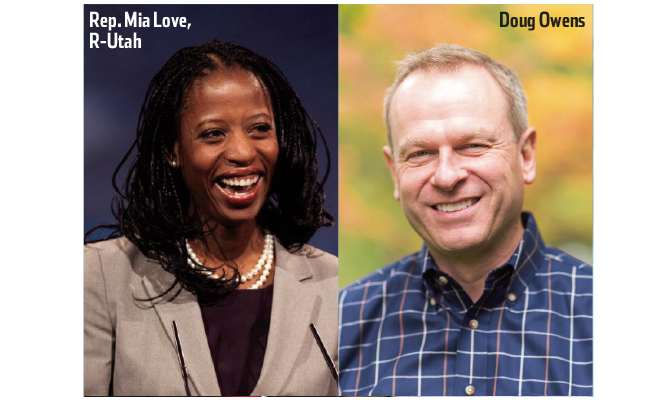 U.S. HOUSE
With drawn-out election cycles, the respite between winning a race and gearing up for the next campaign can be fleeting. This is most pronounced in the U.S. House, where terms last a brief two years, opening up seats every midterm and general election. Utah's four representative offices are held by Republicans—Mia Love, Jason Chaffetz, Chris Stewart and Rob Bishop, all of whom are seeking re-election. Each faces a Democratic opponent with third-party candidates also vying for votes in all races except in House District 3, currently held by Chaffetz.
Of the congressional races, District 4 is expected to be the most competitive, a rematch of the 2014 midterm between Love and Democratic candidate Doug Owens. That year, Love topped Owens, garnering about 51 percent of the vote to about 46 percent received by Owens. Early poll numbers for this election indicated an upset by the Democratic challenger. More recent polling, however, predicts a Love victory.
In the almost hour-long exchange this month, the two were asked to address terrorism, poverty, tuition costs, climate change, gender pay-gap, the economy, mass shootings and a distrust of the federal government.
Although the debate seemed, at times, to be an exercise in regurgitating platitudes and talking points, and although it devolved into a back-and-forth tiff over mailed fliers (Owens says Love sent out taxpayer-funded, self-promotional waste; Love says she, like many in Congress, dispatch informational material to keep constituents in the know), the candidates were able to share their stances.
Love opposes raising the federal minimum wage, which has remained at $7.25 an hour since 2009. She expects the backlash would result in a big hit on local economies because companies could no longer afford their lowest-earning employees. "Often, people get fired," she said. "Often, people lose their jobs."
The nation has seen movements recently to more than double that amount to $15 an hour, and several cities, including Washington, D.C., have enacted their own minimum-wage increases.
Invoking former presidential candidate Mitt Romney, Owens said he backs a minimum-wage increase, just as Romney did. He did not say where the floor should be.
The two candidates offer differing solutions to rising tuition costs and the staggering debt many graduates carry with them into the job market. Owens argued that the government should offer student loans without interest. He also encourages a crackdown on predatory private colleges. Love says she would change the government's student loan "monopoly." She also argued that if families retain more of their tax dollars, they will be better set to pay for college.
Tackling climate change will come from technology and education, Love said, but it shouldn't come at the cost of the coal industry. "This is a false choice when you say you have to have one or the other," she said. In Owens' estimation, America should bank on renewable energy to cut its carbon output and to bolster the economy.
---
U.S. SENATE
FiveThirtyEight, an analytics site run by stats-guru Nate Silver, recently calculated that Democratic Senate challenger Misty Snow posed a dismal 0.2 percent chance to wrest the seat from Sen. Mike Lee, R-Utah. Nevertheless, the race has received broader national attention despite the incumbent's near-certain victory. Snow is one of two transgender women running for Congress. Along with Colorado House candidate Misty Plowright, Snow's rise to compete for a national office as an open transgender woman is unprecedented.
But rather than bask in history, Snow centered her campaign against income inequality. Politicians should no longer be afforded the luxury of overlooking Utah's working class and millennial voters, she believes, and as a 31-year-old grocery store clerk, she is an apt representative.
Lee, a staunch Conservative who in 2010 ran right of Sen. Bob Bennett, R-Utah, says he will continue to fight against "Washington's status quo." He believes he's kept his promise to oppose bad ideas and offer better ones.
Skeptical of federal regulations, Lee believes action to curb the heating planet—a phenomenon he admits is happening—brings economic damage that vastly outweighs any benefits. He adds the caveat that climates are cyclical. Lee argues regulations such as cap-and-trade result in energy price spikes that disproportionately harm poorer families.
Snow says a real shift to cleaner energy sources, such as solar and wind, would not only slow the effects of climate change but also clear up Utah's polluted air. A minimal gasoline tax, she says, could help fund alternative-energy investments.
Considered by some a partisan, Lee cites his partnership with Sen. Pat Leahy, D-Vt., in a fight against the NSA's secret phone-record surveillance as an example of his willingness to work across the aisle.
---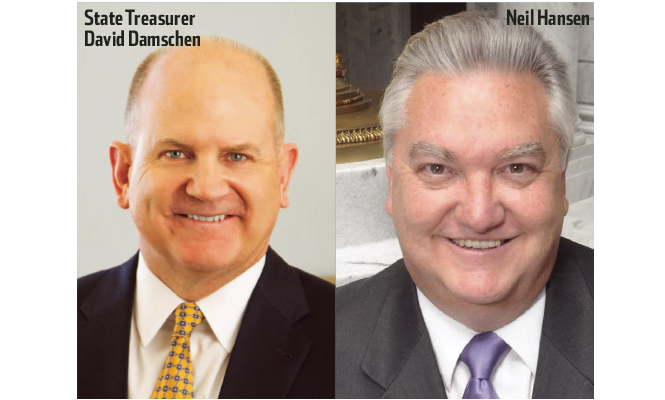 UTAH STATE TREASURER
Overseeing money coming into the state coffers and allocating dollars to the appropriate avenues, the Utah State Treasurer serves as a chief financial officer. The treasurer invests for the state and sits on various state committees, as well.
Sitting State Treasurer David Damschen says the office requires an extensive knowledge of bank regulations, the financial operations of the state, investments and financial markets—knowledge he has in spades.
Damschen worked in banking for nearly 20 years, and a large chunk of that time was devoted to institutional investments and treasury technology. Work, he argues, that largely overlaps with the duties required at the Utah State Treasurer's Office. In his banking days, one of Damschen's clients was the Treasurer's Office, which asked him to implement electronic payables and check-imaging technology.
"You deal with policy issues, but it's a very technical and professional office and function," he says. "And that's really where I've spent my entire career."
After forging a relationship with former treasurer Richard Ellis, Damschen was hired as a deputy seven years ago. He was appointed to fill Ellis' role last year. Damschen says the office is run exceptionally well, evidenced by the state's AAA bond rating.
Damschen's biggest fear?
"My biggest fear is that we continue to see inaction at the federal level in terms of curtailing the federal government's use of debt. We have about $20 trillion in debt at the federal level. I'm very concerned about the ongoing stability of our economy, given the federal debt. Frankly, it doesn't matter who's elected president. We've seen both parties contributing to a run-up of the debt—so my greatest fear is that that trend continues, and we don't get federal spending under control."
Reared in Ogden and schooled in its classrooms, Neil Hansen seems to have the town's blood pumping through his veins. He's enrolled in courses at Weber State College, worked with Ogden City Water for 22 years and served in the Legislature from 1999-2011. Now he's ready to expand into a statewide role, running as a Democrat in the treasurer's race.
Hansen says the treasurer's office, which has been in Republican control for more than 40 years, could benefit from a fresh perspective. He also takes umbrage with the state spending more on the Legacy Highway and I-15 corridor reconstruction projects than were originally bid. He argues this oversight falls on the treasurer's shoulders and is the result of blind obedience within the party.
"Because the whole state is run by one party, it becomes a party of loyalty. And when you have a party of loyalty, integrity is lost," he says. "Because they can't stand out by themselves and do what's right. They're expected to stand together whether it's right or wrong, and that's what happens."
Hansen's biggest fear?
"My biggest fear is if Donald Trump wins the presidency, and we've got a person that has no knowledge of how government works or runs because he hasn't been in Congress. How's he going to work with Congress when he doesn't even understand the process. Also, I feel Donald Trump is going to make the U.S. military his own separate military. That if he sees something going on in the world, he's just going to send the military in and start bombing people. I think he's that reckless, and that's what really scares me, should he win."
---
SALT LAKE COUNTY MAYOR
Ben McAdams, Salt Lake County Mayor, thinks of himself as a "consensus builder," and lists among his accomplishments the unification of 911, his participation with The Mountain Accord agreement, cracking down on crime while offering services to the homeless and expanding early education opportunities for children in low-income families.
"I work across party lines and across divides to find solutions," he says. "In the state Senate, I was one of the first sponsors of LGBT nondiscrimination legislation."
Before being elected county mayor, McAdams worked for former SLC Mayor Ralph Becker and then served in the state Senate.
As for his greatest fear, he says, "A shortage of bacon."
Challenger Dave Robinson, a homebuilder focused on sustainability, says, if elected, he would shrink the county budget. In addition to his fiscal approach, Robinson says his experience in conservation and water quality would be an asset to the county. He's been involved in conservation efforts for Big and Little Cottonwood canyons.
"I also understand land use and zoning and economic development," he says. "I also have worked closely with large conventions in the downtown Salt Lake City area." Raised in a ranching family, Robinson believes his background with horses could be of use when making decisions for local equestrian facilities, such as the county fairgrounds.
What's his greatest fear?
"I don't think I have any fears."