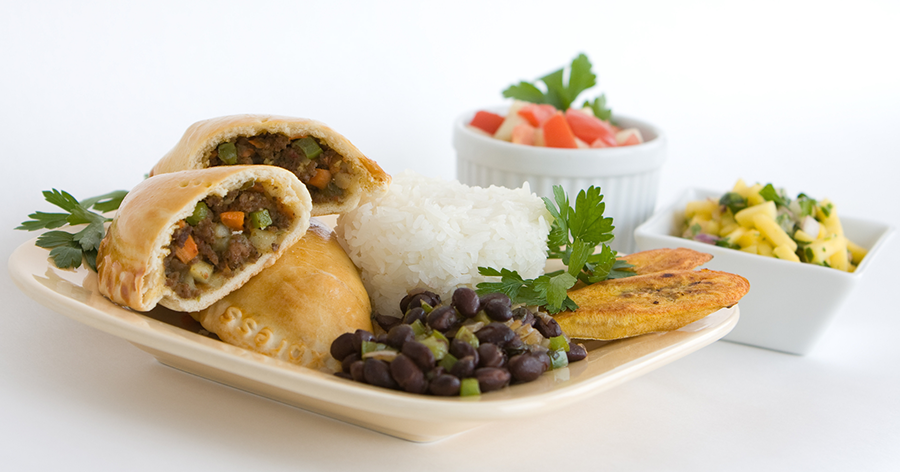 Cultural diversity was in short supply within the Riverton city limits circa 1995. In fact, my first exposure to Mexican food was a result of being in close proximity to a Taco Bell and a Taco Time. As a naïve adolescent, I figured that these two cultural appropriators were the alpha and omega of Mexican food, which creates a serious socio-cultural problem in retrospect.
While I will always have a fondness for the pumpkin empanadas that I consumed as a teenager, it's hard not to get a little pissed when you realize that the food that Taco Time calls empanadas—delicious as their stupid, lying faces are—has nothing in common with the traditional Latin American staple. Think of all the youths who, right at this moment, think an empanada is actually a fried dessert burrito. Not on my watch, dammit.
Fortunately, despite the number of Taco Time restaurants in our general area, we also have a fair amount of genuine empanaderías to help dispel this misinformation campaign. New recruits to this conflict will want to check out Empanada Express (7178 Union Park Ave., 801-998-8212) for a quick, tasty crash course in these wonderments of versatility and portability. With anywhere from 10 to 15 unique empanadas available at a time, each one representing different Central and South American flavor profiles, it's your one-stop-shop for the empanada revolución.
It all started when Venezuela native Oliver Alfaro spent quality time with his extended family creating different iterations of empanada, each one capturing specific characteristics of countries such as Argentina, Chile, Brazil and Mexico. Eventually, the rewarding experience of sharing these lovely, meat-and-cheese-filled pockets of freshly-baked dough prompted Alfaro to open Empanada Express in 2015.
Now, onto the good stuff. While I'll always support someone's decision to waltz into the restaurant and order up one of everything—I did this once, and not only is service surprisingly accommodating, but the food was ready in under 10 minutes—you might just want to try one or two. I mean, that's weird, but I don't judge.
If you're planning on being more selective about your empanada experience, allow me to assist. First of all, since each one can be served baked or fried, I strongly suggest sticking with the baked versions. Baked empanadas give the fillings center stage, which is really the point.
The most flavorful options are the Venezuelan ($3.95) and the Cuban ($3.45). I lean toward the Cuban a little bit more, but only because my heart belongs to Cubano sandwiches. The Venezuelan empanada is full of shredded steak, black beans and cooked plantains, all of which strike a glowing balance among flavors and textures. The Cuban wins because of the dill pickle—that sharp, vinegar tang of acid is a perfect contrast to the richness of the pulled pork, ham and Swiss cheese.
My affection for these two made me think that shredded or pulled meat was the key to their success, but there are a few shredded chicken options that fall a bit flat. The Argentine Chicken ($3.49) is filled with muted flavors, paling in comparison to its sibling, the Argentine Beef ($3.69), which combines smoky ground beef with green olives and a hard-boiled egg. Digging deeper into the box of empanadas I ordered, I think a clearer line could be drawn between the chicken and beef options—I get the impression that the chicken doesn't soak up the seasoning as well as the beef does, which results in a few bland bites.
Regardless of which empanada becomes your destiny, the option to add a combo of rice, beans and fried plantains is a good way to diversify your meal. I'd gladly substitute my fries for sweet and starchy plantains, so I'm always happy when I can get them. For dessert, the banana Nutella empanada ($2.99) is a no brainer—it's hard to find fault with a fried empanada full of hazelnut chocolate spread and sliced bananas. For something a bit more traditional, Mama Melba's Quesillo ($3.69) is a decadent, burnt caramel take on flan, and its flavors are much more subtle than that gooey empanada.
In the end, it's really tough to go wrong with any iteration. While the menu has a few flat notes, the price and the quality are a perfect fit. Plus, they're serving up nearly a whole continent's worth of flavors and traditions, all packaged inside a loving hug of empanada dough, which is an impressive feat in its own right. Now, go. Find those impressionable young people who have been deceived by empanada impostors and share this knowledge with them. The appetite you save might be your own.

AT A GLANCE
Open:
Monday-Friday, 11 a.m.-9 p.m.;
Saturday, 9 a.m.-9 p.m.
Best bet:
The smoky, stalwart Argentine beef
Can't miss:
The party pocket that is the Cuban