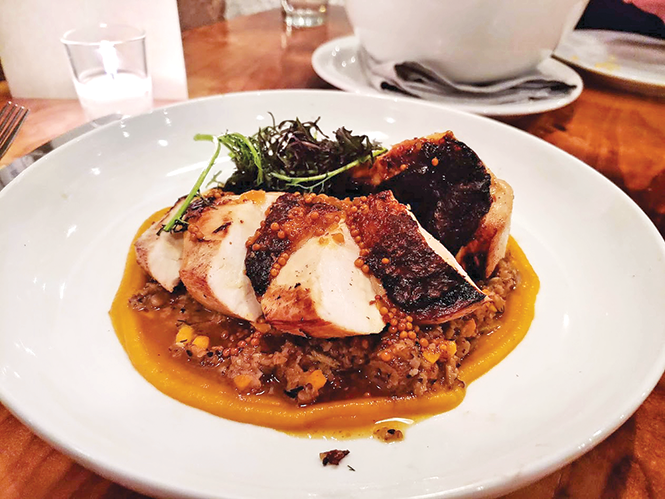 There's a reason every menu at SLC Eatery (1017 S. Main, 801-355-7952, slceatery.com) features late chef and food writer Anthony Bourdain's famous proclamation, "Your body is not a temple, it is an amusement park. Enjoy the ride." I recommend drinking deep from this axiom and letting reckless abandon be the driving force behind a trip to this hot-as-hell downtown restaurant. You will eat, drink and spend far more than you should, but letting go of that apprehension is your first step to glimpsing the myriad possibilities of what destination dining can be.
SLC Eatery began with Paul Chamberlain and Logen Crew, two local industry veterans whose résumés include stints at Log Haven, Trio, Fresca and Stanza. The pair envisioned tantalizing diners with wildly variant seasonal menu items while servers wheel dim-sum-inspired food carts from table to table for smaller—but no less tempting—offerings. It's the kind of idea that sounds fine on paper, only to be later barraged with logistical roadblocks. Regardless of the obstacles, SLC Eatery has carved out its own niche in the local food scene.
The moment you see that trademark food cart making the rounds, there's no use resisting its allure. Its menu varies quite often, so there's a good chance it's packing at least one thing that is completely new. SLC Eatery offers a traditional menu full of starters and main courses, as well as an extensive cocktail menu and wine list. No matter how decadent the mainstays are, however, there's no escaping that cart. My advice? Don't resist. Get one of everything when it stops at your table.
During a recent visit with my wife, the food cart had its share of hits and misses—honestly, the uncertainty of the experience is what makes it so entertaining. For us, the winners were dishes on the lighter side. The crisp-then-creamy avocado fries ($4) were sublime with the lemon poppy seed aioli, the beets ($4) were a cool and refreshing mix of herbaceous onion cream and nori, and the pumpkin seed cornbread ($4) topped with burrata and hazelnut salsa macha was a hearty, flavorful combination. The deviled egg tostada ($5) and the Nashville hot chicken egg roll ($5) were creative ideas, but the flavor of the tostada was a bit washed out. And though the egg roll was stuffed with juicy ground chicken, throwing a bit of cayenne pepper on the outside does not Nashville fried chicken make.
Regardless of the options on a given night, the traveling food cart has a way of prolonging the restaurant experience while you wait for your entrées. There's always something new and tempting to check out during the time it takes to prepare your order, and the gamut of reasonably-priced food is truly impressive.
Speaking of entrées, the dishes we ordered were excellent centerpieces to the whole affair, and both of them varied so wildly from the other that my wife and I had to switch plates more than once. We ordered the Dungeness crab dumplings ($29) and the brick-roasted chicken breast ($22), each dish encompassing a unique and balanced ecosystem of flavors. The dumplings used the crab filing as a slightly sweet canvas upon which the flavors of Chinese celery and dashi brown butter lilted back and forth in a graceful ballet. The chicken was a sharp contrast of cracked wheat pilaf, smoked dates and squash blended together beneath a perfectly cooked chicken breast. Chicken dishes are hard to make memorable, but this is one I felt in my bones.
The only real buzzkill came when we decided to split the chocolate cake ($9). Dessert menus in a place like this are always a bit of a gamble, but the meal we just enjoyed made me confident that we'd get something special. While the banana caramel and praline brittle were nice enough, the cake was a tad dry and over-floured. But that's the risk you run when you order dessert in a place that is minutely focused on its main courses, and the experience is just as memorable if you happen to skip the sweet stuff.
Outside of the fact that the food is spectacular and giddy fun to eat, SLC Eatery is impressive because of how its concept dodges what could be considered gimmicky in less experienced and passionate hands. If at any point during this review you rolled your eyes at the idea of a food cart that visits your table with delectable dainties, you've got to check this place out for yourself. I was right there with you before my first visit. Just take Bourdain's advice and let yourself enjoy the ride.