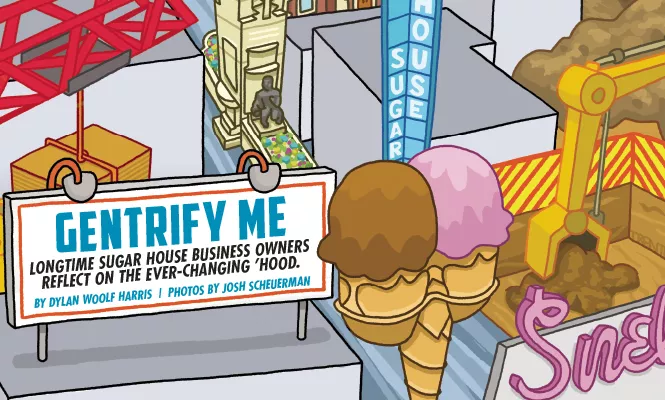 As the sun reaches its noon apex, an obnoxiously long train of northbound vehicles on 1300 East—waiting to turn into the heart of Sugar House—extends so far back that the caboose, a forest-green hatchback, can't avoid jutting into the intersection a block away. That driver will have to wait through three cycles of green arrows before he turns west at 2100 South and follows the procession through one of Salt Lake City's premier shopping and dining destinations.
Though well established, Sugar House has in the past few years seen refurbished storefronts along its main arteries. It was just two years ago when officials commemorated the Sugar House Monument Plaza, a long-anticipated renovation project, by burying a time capsule set to be unearthed in about 50 years. By then, the neighborhood might well be a forest of high-rise buildings looking down on a network of train lines.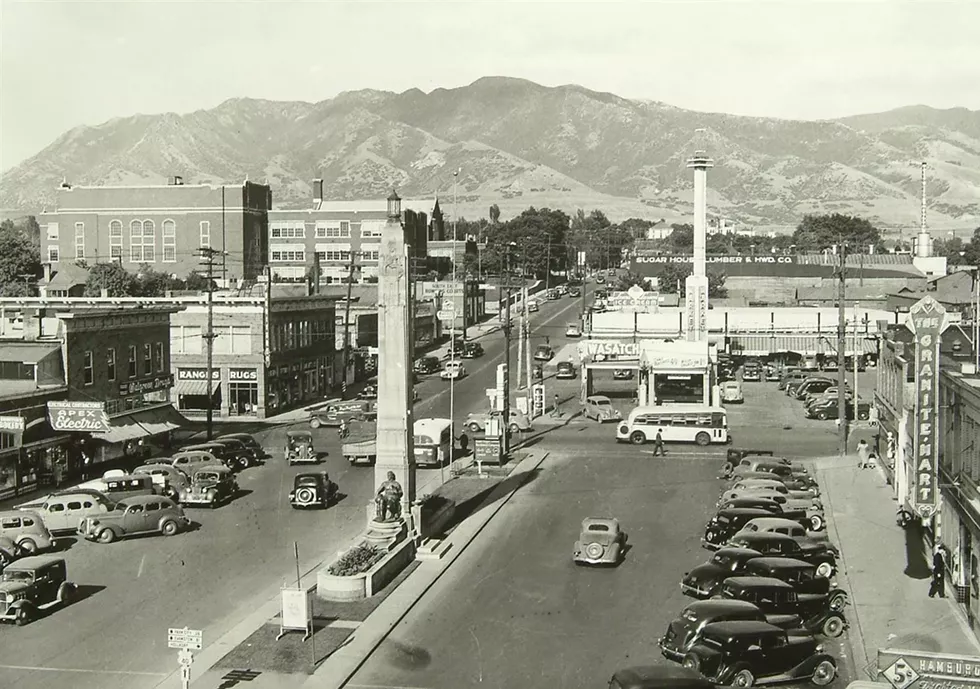 Utah Historical Society
Vintage capture of the quaint and charming 'hood.
On this day, a towering red crane points skyward, and its perpendicular arm casts a shadow inside a cordoned construction crater. Inside the hole is the thick rebar foundation of a five-story apartment complex that will soon stand where Utah Idaho Supply and a Subway sandwich shop once sat.
Traffic and construction are symptoms of the area's popularity. And in this regard, Sugar House is more than a neighborhood; it's a brand, a bankable market that has kept developers salivating as shovels move dirt.
Naturally, not everyone is as thrilled by the sleek new facades. "Some of them are shit-ugly. I mean, they're atrocious architecture," Amy Barry, a member of the Sugar House Community Council, says.
"We've added over 1,000 apartments—and there is still more coming—in the last five years," she adds. "When the business district started developing, there were no apartments in that core district like we're seeing now."
But, when assessing the character of the neighborhood, Barry says an eclectic spirit remains.
"Sugar House is made up of diverse people with diverse values and diverse ideas," she says. "I look at our ethos now, and we're a diverse community of young and old and everything in between."
No community is static, and Sugar House in particular—a favored destination generally recognized as the slice of city east of 700 East, from 1700 to 3000 South—has gone through many phases. But it's the recent influx of tall apartment buildings and subsequent traffic that has prompted many nostalgic residents to flood the inboxes of the community council.
Judi Short, the first vice-chair for the Sugar House Community Council, sees the brunt of complaints, despite the reality that the council has no power to approve or deny building permits.
"Just wait until they see the eight-story building going up back by the street car," she says, referring to the soon-to-be-erected Sugarmont Apartments on McClelland Street and Sugarmont Drive.
Emphasizing that her opinions don't always align with those she receives, Short has become familiar with the chorus of complaints: "Look at the tall buildings; the traffic is a mess; the local businesses are disappearing. Some of them find places to rent, others don't and they just go away," she says. "One thing we really need in this town is a good transportation system."
That is, of course, also a touchy subject.
Ask many of the business owners along 1100 East what they think of a proposed train line down their street from 2100 South to Westminster College, and frustration emerges in tone and word.
And finding the money to fund another Trax line is a separate headache. The city applied for federal dollars through the highly competitive Transportation Investment Generating Economic Recovery (TIGER) grant program, which would have allowed Utah Transit Authority to extend the S-Line, but the application was denied—a missed opportunity or dodged bullet, depending on who you ask.
"There are some people who love everything that's going on; there are some people who don't mind some of it, and there are people who hate all of it," Barry says. "We are across the board, a diversity of ideas, values and outputs. I don't think there is one particular voice in Sugar House about anything."
The community master plan outlines priorities for development, but those are often overlooked, according to community council members.
"We strongly advocate all the time for connectivity through the blocks, for pedestrian activation, walkability, preserving historic nature and character, local businesses," she continues.
Long-standing small businesses have ridden the waves of change. And with the most at stake, they exemplify the multiplicity of opinions. City Weekly spoke to 10 Sugar House establishments to pick their brains about the evolving neighborhood.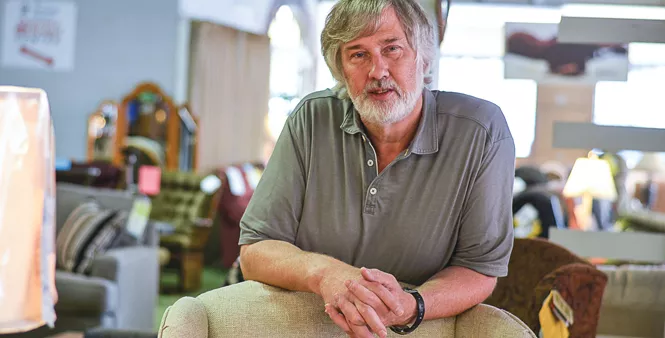 Sterling future
Older than Utah's statehood, family-operated Sterling Furniture opened up shop in downtown Salt Lake City in 1875 before moving to Sugar House in the 1940s. Now, co-manager Mark Williamson thinks of Sugar House as a bifurcated district along a south/north line.
"The challenge for Sugar House has always been whether or not people will cross 2100 South," he says. "You can have a lot of street traffic on the south side of the street and not necessarily cross over to the north side of the street."
Sterling sits on the northeast corner of 2100 South and 1100 East in a building that the store owns (in fact, the family that owns Sterling Furniture owns several buildings on the block and rents space out to local business tenants).
Furniture stores are almost always destination stores. Those who frequent them, Williamson points out, aren't typically casual shoppers who might make an impromptu purchase, and doubly so in his case because Sterling doesn't carry cheap items. "We're not in the low pricing. We're trying to give them a good quality at a reasonable price," he says. "It's not the low-end, which you see all the time. It's not the high-end. It's a good medium."
Pedestrians, he says, aren't as inclined to cross over 2100 South. And although traffic is a nuisance, and in Williamson's estimation "already maxed-out at certain times of the day," he thinks the lack of visible parking is a bigger barrier to businesses than the congestion.
In its 135-year existence, Sterling has established itself in the market, and its goods are furnishing homes along the Wasatch Front. Business is fine, Williamson says, and during that long history, he and his predecessors have seen the neighborhood evolve. "What attracted people in the first place was the small-town atmosphere of Sugar House," he says. "And that's changing."
For the books
Less than 400 feet from Central Book Exchange—a mom-and-pop book shop that has called the neighborhood home since 1968—looms the ubiquitous book chain Barnes & Noble. It might seem the behemoth has enough muscle to quash out the little guys, but according to CBE owner Pam Pedersen, having a similar store a block away is a boon for her business.
"Barnes & Noble has a whole lot of a little. We have a little bit of a lot," she says. "They can't compete with me in a lot of ways." Though not deep, her inventory is diverse enough to attract even the super-retailer's employees through her doors, she says.
Together, they draw voracious readers to the neighborhood, who, she believes, will hit up both places. These days, small bookstores are also competing with online vendors like Amazon. But, she says, the store has a loyal customer base.
Pedersen's shop sits on congested 1100 East. It's a point of concern for her, and though she's not sure how to mitigate the traffic, there's one option she rejects: "It's not a streetcar, it's not that," she says. "Stop already with that foolishness." She's concern that construction, though temporary, would ward off customers for a long enough period to cripple sales—and that the store might never recover.
It would be a mistake to assume Pedersen can't adapt, though. When she purchased the store in 2005, she switched from a loosely tracked exchange program to one that involved cash—though used books have remained a vital part of the business.
"We take books in of any kind for our point system," she says. "You don't have to have an appointment. There's no stress. There's no anxiety. You just bring them in and we'll put you in our system."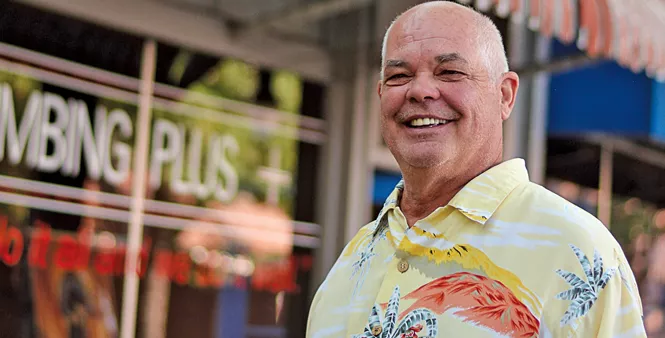 Pipe dream
Paul Schaaf, owner of Plumbing Plus, is in the minority of local business owners near the 1100 East/2100 South crossroads who eyes the morphing neighborhood with a rosier disposition. "It's a progression. It's not a regression," he says. "I think it's great." Then, without provocation, he launches into one of the area's most controversial topics—the proposed Trax line down 1100 East. "I think there should be a train that goes down the street. Everybody says it's the worst thing that could happen, but I think it's a wonderful idea."
Acknowledging the construction could be disruptive, Schaaf says it would be as temporary as it was downtown while Trax rails were laid. "I'm all for improving mass transit. Salt Lake City is becoming a little larger and busier. To me, it's an improvement."
Schaaf has been observing the city's progression for a while.
Before he was old enough to drive, he was asked by a neighbor if he'd be willing to dig trenches for around $2 per hour. "I said I'd do anything for $2.10 an hour," he remembers. This was his first foray into plumbing. Eventually, he started working for a plumber who later offered to sell him a truck and loan him the money to buy it. For a long while, he worked out of his apartment above Sterling Furniture until he was able to move into the space down the street.
The Sugar House explosion, he says, has increased foot traffic in the evenings, though not so much to his place. But he embraces the scene: customers out walking to various dining spots.
Schaaf does miss small things about Sugar House, like the "old style" Christmas lights that used to be strung across the street. "I do kind of miss the character of the old frontage," he adds, "the diversity that used to be in the store fronts."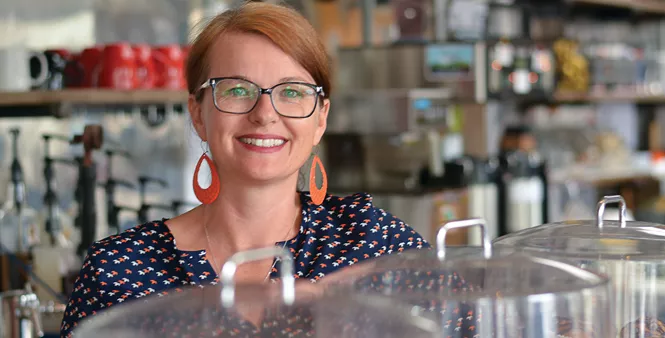 Different kind of buzz
Emily Potts, co-owner of Sugar House Coffee, established in 2002, consciously tries to foster an inviting hangout in the eatery tucked off 1100 East. "The culture at Sugar House Coffee is that we make sure that we provide the community with a safe space," she says. Open on weekdays from 6 a.m.-midnight and on weekends 7 a.m.-midnight, the clientele varies—sometimes by the hour. Regardless, the café doesn't cater to one particular type of coffee drinker. "Our demographic of customers range from young high school kids to middle-aged hipsters to older business people," she continues. "We want to attract everyone rather than one small demographic. We want everyone to be a part of our community."
Echoing that sentiment is a broad spectrum of people inside the building, but the blocks outside, Potts worries, are starting to look like a repeating loop of apartment high-rises.
"I think they need to stop building," she says. "I don't want to see Sugar House lose its charm. I think Sugar House has always been a very local community with artists and a very eclectic group of residents and businesses. It's starting to lose that with all the apartments."
Recognizing the frustrating traffic and a lack of parking, Potts understands the inclination to build rail lines, but she, like many others, says tearing up the already small road on 1100 East is a poor option. Instead, she suggests, if the city wants to run a line through the business district, a train route down 2100 South would make more sense.
While the population boom has been good for business, Potts believes it's reaching a tipping point. "It's losing too much of its charm. There are still so many high rises coming in, and Sugar House can't handle the vehicle traffic. There were some things that needed to be improved, but they've done that and now I think it's time that we make sure we stay that tight-knit, local community."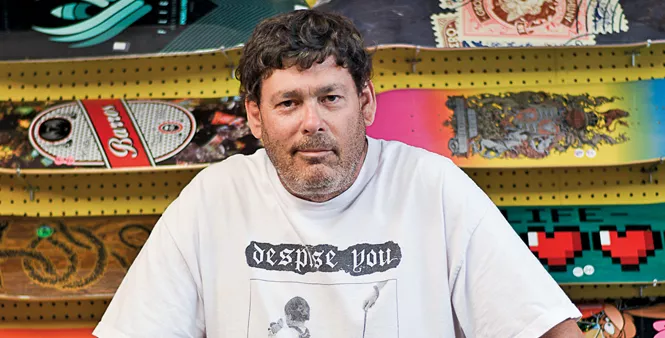 Round round, baby
Stickers plastering the front door and windows of Raunch Records fits with how owner Brad Collins sees his shop's place in the neighborhood. "We are the bad apple of Sugar House, and we're hoping to stay that way," he says. Collins ponders whether the punk-rock label is limiting. Raunch specializes in vinyl records. But it's also a skate shop and sells odd collectibles. Recently, Collins has ventured into dealing art. "We take local art on consignment and the local comic books that kids make," he says.
When reflecting Sugar House's churning business community, Collins is resigned. "For some people it's good—for developers."
Raunch opened in the '80s, relocated a few times, then closed down in the subsequent decade for 12 years because of "inconsequential stuff" that "doesn't mean anything to anybody." Collins reopened Raunch in 2009. All the while, he's witnessed the changes to Sugar House, especially the retail space south of 2100. But beyond the expensive prices, in true punk-rock fashion, Collins has resisted relocating to the newer buildings because he doesn't want to conform to the rules, such as a requirement that stores stay open till 9 p.m.
"I don't really know where I'd take the store if they decided to demolish this part of the block," he says.
And then there's the traffic. The walk-ins don't always walk out with music.
"People just get disappointed. They just want to see a Led Zeppelin record and I could give a fuck, you know? So I don't care. I don't even do that. If I get some used ones in, then whoever comes in is lucky," he says.
As far as Collins is concerned, you can't foist Trax upon a community. "It's not an integral part of our transportation, like in the Bay or New York," he says. "We're way more like L.A. than we are San Francisco."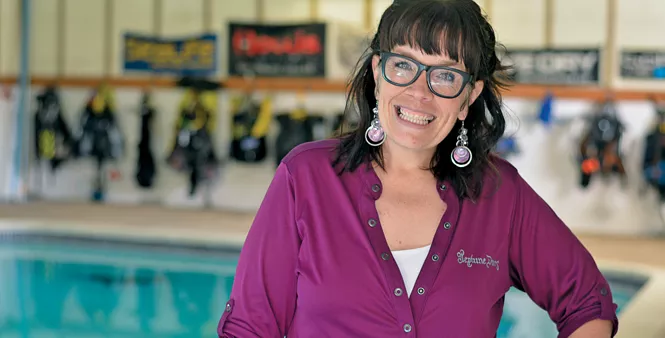 Making a splash
Lori Zoun, partner at Neptune Divers, established in 1978, views Sugar House with ambivalent eyes. The community, she says, is vastly more walkable. But the new neighborhood is losing itself in the process: "The sad part of it is how much the small mom-and-pop shops have been scooted out with all the chains that are coming in," she says.
Neptune offers swim lessons and snorkeling courses but primarily built its business on scuba training and equipment. And it has a home in Sugar House where Zoun would prefer it stay—in spite of rent prices that continue to inch up.
"Other parts of the valley are saturated with scuba shops," she says. "We need to stay here, and figure out how to make it work."
As for changes in transportation, she appreciates the push to get folks out of their cars. The corridor that follows the S-Line train is frequented by cyclists and joggers, she notices, but the train ridership seems low. And the new development isn't diversifying the local economy in a way that excites her.
"They're focusing so much on restaurants and condos," she says. If Sugar House is intended to be a contained neighborhood, she says, they're missing an all-purpose shopping destination like Target. "Since Shopko closed, we need something like that," she says. "If they're making it a community where you don't have to leave, they're missing that one store."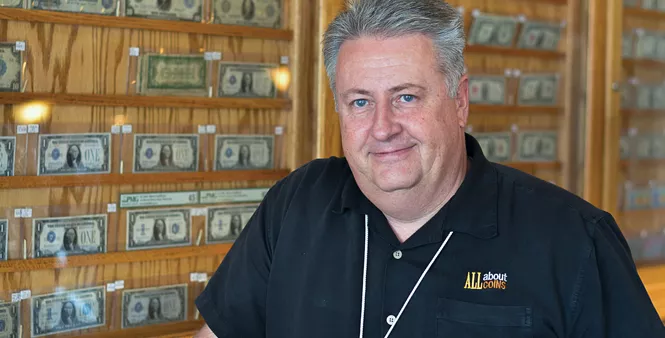 Make some coin
In his boyhood days, Bob Campbell, a precocious young Sugar House tike, used to hit up Wally's Coin Shop on 2100 South to buy or sell rare currency—earning his nickname, Bobby the Wiz Kid. Fitting trajectory then, that Campbell is now a renowned numismatist and owner of a rare-coin shop in the same spot Wally's was years ago. His store, All About Coins, has been in business for 38 years and is a one-stop shop for coins, gems and other collectible items.
Campbell sees the streets around him growing more vibrant—a network of food and shopping that can collectively lure people out of their cars and past store windows.
"We have all these fantastic new restaurants that have opened. If you don't know about it, come down during lunch time and you'll realize it by the traffic that's here because everybody else is coming here," he says. "Most people will find a place to park and they might visit a shop, get lunch, they might visit another shop.
"It doesn't happen anywhere else but [Sugar House and] downtown."
While a Trax line down 1100 East that would run from 2100 South to Westminster College could inject the neighborhood with more bustle, he doesn't welcome what he believes would result in chaos and commotion. In fact, he says, the mere proposal has sown discontent toward public officials among like-minded business owners. When the proposals were being crafted, he says, local businesses weren't at the table.
"The people here don't trust the mayor's office or city council, because they feel like their voice is not heard here, yet they're the ones who will be directly impacted," he says.
And as a Sandy resident, Campbell says he doesn't even have the option of voting out a city office holder, whose decisions can directly affect his livelihood.
Locked and loaded
Ryan Hahn, a professional locksmith at family-run Rudy's Key & Repair Service, notes that the Sugar House-based business has moved offices four times, but the most recent was to get distance from a new "gaudy monstrosity of condos." Hahn doesn't hide his displeasure that the neighborhood has been invaded by national chains and brick-and-mortar taller than the treeline.
Although Rudy's only moved a block west, the difference is noticeable, Hahn says.
"We saw how busy it was getting up there, and when the city started talking about putting the Trax on 11th East, we wanted to get out," he says. But Rudy's isn't out of the woods yet. Now situated on 1000 East and around 2000 South, the business will be down the road from another towering housing unit.
The unbridled growth, he fears, will strangle the unique local businesses that attracted people in the first place: "The ground was too fertile and now it's becoming overcrowded," he says.
And while it's true that locks and keys are necessary parts of a new living quarters, Hahn says that doesn't immediately lead to new business because the builders fit the units with in-house locks. But he's not entirely pessimistic, either.
"Regardless of all the changes, we still love Sugar House," he says. "And we're here to do what we can."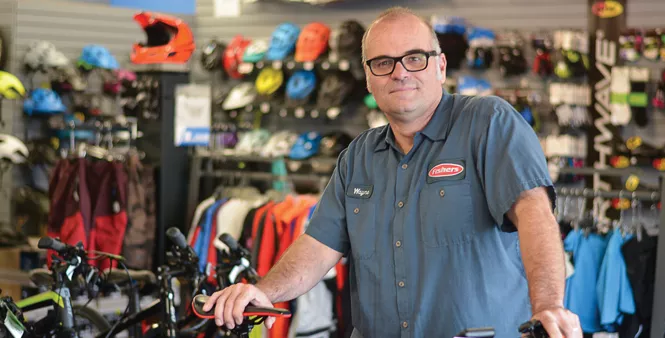 Contrarian by nature
Fishers Cyclery came into being in 1930 thanks to a cyclist name Joe Fisher—who, according to current store manager Wayne Baxter, was the "nicest human being on Earth."
"Everybody came to Joe with their Schwinn when they were a kid, and their crazy, high-end racing bike when they weren't a kid," Baxter says, while admitting that the origins of a store that opened more than 80 years ago are difficult to pin down. It might have originally been a welding garage or lawn-mower repair shop and is rumored to be one of the first concrete buildings in Utah, he says.
Although Fishers has remained a Sugar House staple, plenty of other businesses have come and gone the way of the dodo. "Progress is going to happen," Baxter reasons. "I try not to have sour grapes." The stores that have endured formed the bedrock of Sugar House's reputation—one that is known beyond the Salt Lake Valley. In fact, Baxter says he encounters visitors who, having read about the neighborhood online, say they're looking for the "funky part of Sugar House." This is especially disorienting when travelers white-knuckle their way to the center of town only to find big-box stores. "I have friends who won't come here. Go up 21st. It sucks," Baxter says of the traffic. As for the strategy to get drivers out of their vehicles, he's pessimistic.
"I don't think you force Americans very well. If you make it popular to walk, everybody will walk. If you tell them you have to walk, they'll probably buy a bigger car," Baxter says. "We're contrarian by nature."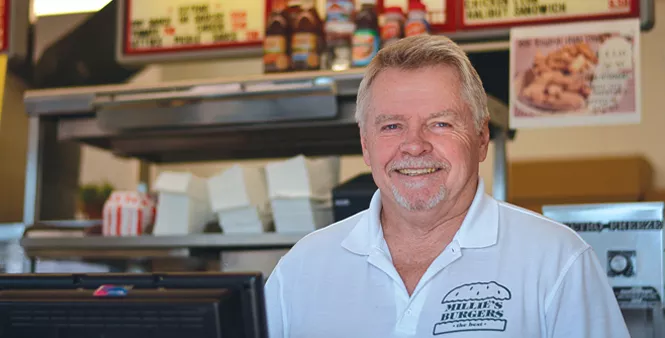 Home of the Millie burger
In its 38-year history, Millie's Burgers has managed to maintain its identity as a place that offers "good old-fashioned, cooked-to-order fast-food," owner Dan Neilson says. "It's kind of a dying art form, so to speak. We cook everything to order, use fresh ingredients." The burger joint makes its french fries and onion rings. The breaded mushrooms and zucchinis are homemade, and they don't use frozen beef on their signature burgers.
Across the street from his establishment, a new apartment complex is being erected. Although the behemoth structure will bring new patrons, Neilson says the downside is road congestion. "You can't have one without the other." But the boom has also brought in more competition. "Tons of new eating establishments around here," he says.
He says the proposed rail line is a waste of money, and he thinks the S-Line isn't utilized enough to justify its existence. "Most people, to go where they're going, they're driving," he says. "That's just the way we Americans are." He also wonders whether the apartment complexes will fill up with tenants or struggle to find renters. Before it was Millie's, the restaurant was an Arctic Circle run by Neilson's mother-in-law. He got into the burger business about the time it became Millie's. Through the restaurant window, he's seen the demolition and rebuilding of his town.
"Sugar House is a great area. It's been a great area to us all these years. Hopefully it continues to be so. Hopefully it doesn't get so crowded that nobody wants to be here anymore. Hopefully it doesn't go backward," he says.