"This place is in chaos right now," David Hampshire says. A slew of boxes are strewn across the wood floor. Pictures, art, even a pair of old ice skates hang on the wood-paneled walls. Murray, a small green and yellow bird perched in a metal enclosure, chirps as Hampshire packs up the two-bedroom house that he's called home for a dozen years. "He's not a happy camper because I usually let him fly around in here, and I've got the cage shut because I'm going to have to take him to his new owners today," Hampshire says about his winged companion, surveying what he has left to pack and accomplish before the day's end. "From the looks of this place, I'll probably be here till the wee hours of the morning."
Enrique Limón
David Hampshire outside his former Allen Park home.
Hampshire and the seven others who live in Allen Park, an eccentric hamlet located off 1300 East by Westminster College, have until the end of day today to leave their homes. The area is named after the Allen family. The patriarch, Dr. George A. Allen, a storied physician with a love of birds and exotic zoo animals, acquired the grounds in 1931. Hampshire wrote about the fabled "Hobbitville" for this week's City Weekly cover story, a yarn about the neighborhood's history and the outsized mystery it's become for Salt Lake City teenagers on the hunt for fantastical creatures.
The Allen Park exodus has already begun. Hampshire says the guy who lived next door to him moved out yesterday. Another person has yet to secure an apartment, so he's going to sleep in his truck until he finds a place to live. Someone else is moving to Grantsville to be near their family, but Hampshire isn't sure how that neighbor will fare because they don't own a car. "It's been kind of a jarring experience for some of these people," he says.
Hampshire is moving to The Avenues. He's transferred most of his stuff already, but much remains. He's been sleeping on an air mattress so as not to waste time every day driving to and from his new place. "It's a different world in here. You do not feel that you're part of the city. As soon as I come in the driveway, off of 13th East, I just feel my blood pressure drop," he says. "I've always called it my sanctuary, because you don't hear a lot of the freeway noise."
Catching a few more winks in Allen Park also gives him a bit more time in his beloved home. "It's a personal loss for me to lose this place," Hampshire says. "It's been more than just a place to sleep."
The fate of the land lies with the probate court. Several members of the Allen clan inherited the property from Dr. Allen after he died. After Amy Allen Price, one of Dr. Allen's daughters, died several years ago, the court appointed the private company Stagg Fiduciary Services to act on her behalf until the Third District Court determines who inherits what.
Randall Holmgren, an attorney for Stagg, says the fate of the land is in limbo, for now. "The people that are entitled to that property, the court's going to determine who they are," he says. "And it's a process, it just takes some time, particularly when the existence of a will is uncertain or the existence of a trust in uncertain, or the validity of either one of those is uncertain."
As for the tenants being ordered to leave their homes, Holmgren says those who lived in Allen Park did not have a lease with their landlord, and were given 40 days to vacate, 10 days longer than state law requires.
"A lot of people in this world live in homes or dwellings that aren't safe. But when somebody owns the property, they're liable if a tenant who is living there gets hurt because, let's say the roof caves in," Holmgren says. "A responsible landlord will either fix the roof and everything else that needs to be fixed, or they will take the risks that if something bad happens to the tenant, they're going to be liable for it."
Hampshire says he heard Glen Becker, a husband to one of the Allen heirs who ran the place after his wife's death, tried to get their liability insurance reinstated after she let it lapse. The insurers wouldn't give them coverage. "I don't know the reasons why, but it may partly be because the maintenance hasn't been very good in here," Hampshire says.
Shoddy dwellings or not, Hampshire and the other hobbits' fates are assured. Sometime tonight, Hampshire will get into his red truck and drive (or, more likely, slide) down the icy road, past the "No Trespassing" signs that warn visitors they're being surveilled, and turn onto 1300 East. It's a short drive out of Allen Park and into Sugar House, but Hampshire might as well be journeying to a different world. "Sugar House is developing more and more, and these quirky little areas … they're being knocked down, and condos and apartment buildings are going up in their place," Hampshire says. "They don't have the character; they don't have the soul a place like this does."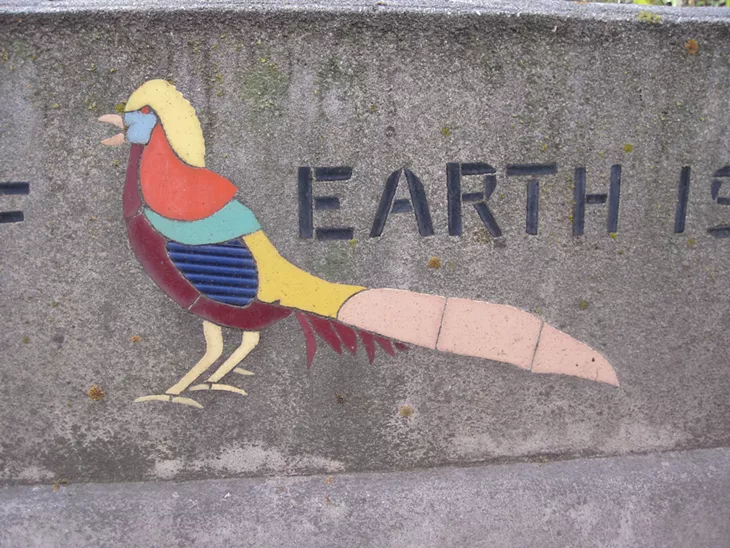 61 slides