Page 3 of 3

Insuring Utah's neediest is an issue some Utah lawmakers want to sweep under the rug.
At his 2014 State of the State address, Gov. Gary Herbert dedicated a couple of paragraphs to the uninsured Utahns who didn't qualify for coverage under the federal Affordable Care Act. Among other statements, Herbert told Utahns that "assisting the poor in our state is a moral obligation that must be addressed."
But in 2015, and after forfeiting $800 million dollars in federal funding, Utah still hasn't taken action to offer health insurance to more than 100,000 of the state's neediest souls.
To be fair, Herbert has done some leg work. He and his aides spent a fair part of 2014 in Washington, D.C., where they haggled with the Obama Administration about how best to expand medical coverage in the Beehive State, as long as it was done the "Utah way."
The Utah way, Herbert maintains, is a system that differs from the ACA's outright Medicaid expansion (an option that could have been adopted a year ago and that would have brought hundreds of millions of dollars back to Utah). The governor's Healthy Utah Plan requires recipients to pay part of their premium as well as pay increased co-payments. In addition, those who use the emergency room for non-emergency issues will be charged for it. Finally, the governor's plan requires that some recipients be working or looking for work.
When the dickering over these particulars was done, Herbert announced that he had won a majority of concessions he had sought from Washington. But alas, Herbert's plan turned out to be unpalatable to the Utah Legislature's Health Reform Task Force, led by Rep. Jim Dunnigan, R-Taylorsville, and Sen. Allen Christensen, R-North Ogden, which swatted the Healthy Utah Plan to the mat.
Many lawmakers oppose Herbert's plan because, as with Medicaid expansion, the state would accept federal cash to expand social programs some deem unsustainable. Another problem cited by those opposed to the plan are the costs to Utah, which over time, would have to fund up to 10 percent of the price tag.
Without the recommendation from the taskforce, the fate of the Healthy Utah Plan is unknown, though many people, including Herbert, hope that it rears its head one way or another during the session.
The governor, says Marty Carpenter, a spokesman for Herbert, remains "optimistic and still hopeful that we can come to some kind of agreement to have a plan in place by the end of the session."
In place of the Healthy Utah Plan, the task force recommended a pair of different options to be put before the Legislature. One would insure roughly 10,300 of the state's most frail citizens, while the other would insure 15,900 of these people.
Meanwhile, the Healthy Utah Plan, which was crafted as a way to avoid expanding the state's Medicaid rolls, would provide insurance to 146,000 people.
At the heart of the debate is whether or not the state can afford to provide this type of care. If Utah approved Herbert's plan, it would cost around $18.7 million in 2017, Carpenter says. Although this is a lot of millions, the kicker is that if the state agreed to put a program in place that would sufficiently insure the most vulnerable citizens and get a nod from the federal government, Utahns could sit back and watch $502 million of their tax money flow back to the state to cover the bulk of the costs.
By doing nothing, Utah has so far forfeited this cash—an amount that RyLee Curtis, senior policy analyst at the Utah Health Policy Project, says hovers around $800,000 per day.
This evaporating money, Carpenter says, weighs heavy on Herbert. And he notes that the hundreds of millions of dollars that Utah has so far cast aside are being used by other states to fund their health-care programs.
"[Herbert] just doesn't agree with the idea of paying for something that we're not going to get any benefit for," Carpenter says.
The inability to convince a majority of the taskforce to move the Healthy Utah Plan forward, says Sen. Gene Davis, D-Salt Lake City, who was a member of the Health Reform Task Force, shows how steeped the debate over insuring poor people is in ideology rather than straight economics.
Davis says if Utah were to simply expand Medicaid as it could have done and can still do under the Affordable Care Act (Davis has sponsored a bill, Senate Bill 83, which aims to do just this), the state would only be on the hook for 10 percent of the costs. Although this would be tens of millions of dollars, the bulk would be covered by taxes Utahns are already paying for the program. When explaining this scenario, Davis asks the question: Would you pay 10 cents if you could get 90 cents back?
The brick wall that Davis and those who support providing health insurance to low-income residents run into, then, is the swell of anti-federal government rhetoric that has enraptured Utah politics for the past several years. "It's not financial, it's not economical," Davis says of the debate surrounding health care. "Right now, the debate is all ideological. It's the idea that this is the federal government trying to take everything over."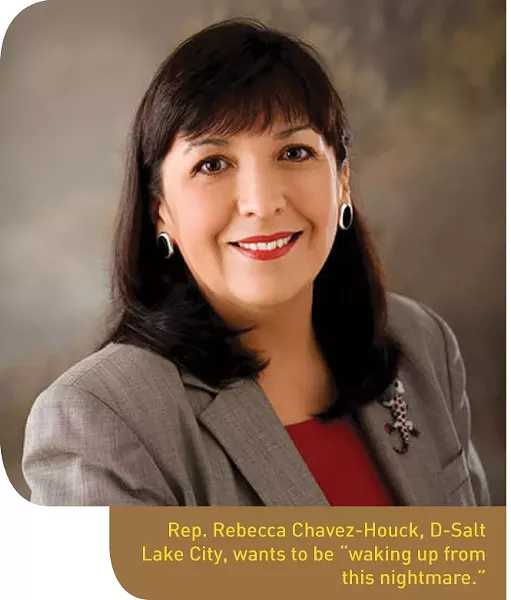 Rep. Rebecca Chavez-Houck, D-Salt Lake City, says she hopes to see something akin to the Healthy Utah Plan appear at the Legislature, but for now, she says she is "perplexed by the logic, or lack thereof, of the political paralysis that prevent us from taking care of our own."
In her years on Capitol Hill, Chavez-Houck says she doesn't recall ever seeing so much angst about spending the sum of money that would be required to take care of these Utahns. Until lawmakers can reach a consensus, Chavez-Houck says Utahns lacking insurance will "get sicker and people will die because we are stuck and we can't make a decision, and to me, it continues to be more of a political statement being made versus one that's made in the best interest of uninsured Utahns."
Though no one knows for certain what form the Healthy Utah Plan could take during the session, for those in need of health care today, there is the far-flung hope that Davis' proposal to simply expand Medicaid coverage to the uninsured could pass.
Chavez-Houck doubts it, saying such an about-face from her Republican colleagues would represent an "alternative reality."
Medicaid expansion, she says, would mean "me and the hundred-plus thousand Utahns waking up from this nightmare and realizing that their government cares about them."