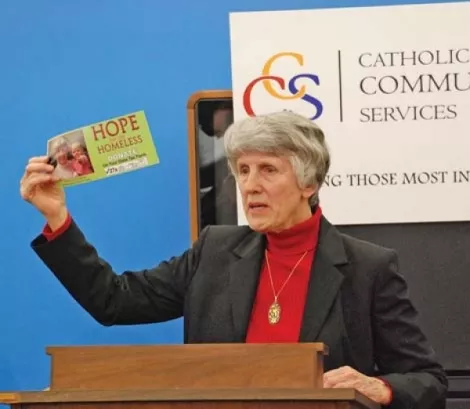 Pamela Atkinson is a leading advocate for Salt Lake City's homeless. She'll join service providers, volunteers and friends at the Homeless Persons' Memorial & Candlelight Vigil at Pioneer Park (400 S. 400 West) on Dec. 21 at 5:30 p.m. remembering those who've died living on the streets. (FourthStreetClinic.org).
On any given night, how many in Salt Lake City are left out in the cold?
This year, nobody has been refused shelter. We never turn anybody away. Some people insist on staying out, so we see that they actually have sleeping bags, gloves, and hats. If they're drinking, we caution them. With the economic downturn and job loss, people can't make their rent, and they face eviction. Federal stimulus money is going to organizations like Rapid ReHousing, Community Action and the Pathways Program. It makes sense; this way, families don't experience the trauma of homelessness.
Who are the city's homeless people?
"Homeless people" is a broad category; there is a great deal of individuality amongst them. Some are disabled, which is not always obvious, be it mentally or physical ill. They primarily look out for one another. When with them, I feel safe because they respect the people trying to help. Many families have animals, and most are unwilling to sleep in a shelter if their animal can't. A dog's unconditional love may be the only love they are getting.
Who is the most remarkable homeless person you've met?
Bill. My memories involve him being slightly inebriated and living in a camp with six other people. One day, I remember, every hand was terribly cold, so we brought some gloves. The camp disbanded, and I met Bill two years later. He had completely changed: sober, clean-shaven, sports jacket, girlfriend. He said, "You and the others did not discriminate. You gave basic items. That's what we needed. I still have those gloves." It was such a turn-around. To know that my colleagues and I played a part in this, there is nothing like it.
What's your view about the new panhandler's ordinance?
Instances of harassment to people not giving to panhandlers are what the city and the police are after. Part of the problem is that many panhandlers are not homeless. They never use the services available for homeless people; they would rather have money.
Do you feel elected officials are doing enough to counter homelessness?
Yes, many elected officials know that it is instrumental to get money to house the chronically homeless. My experience is that they listen. This year, when we kept them informed, they tried to not cut essential programs.