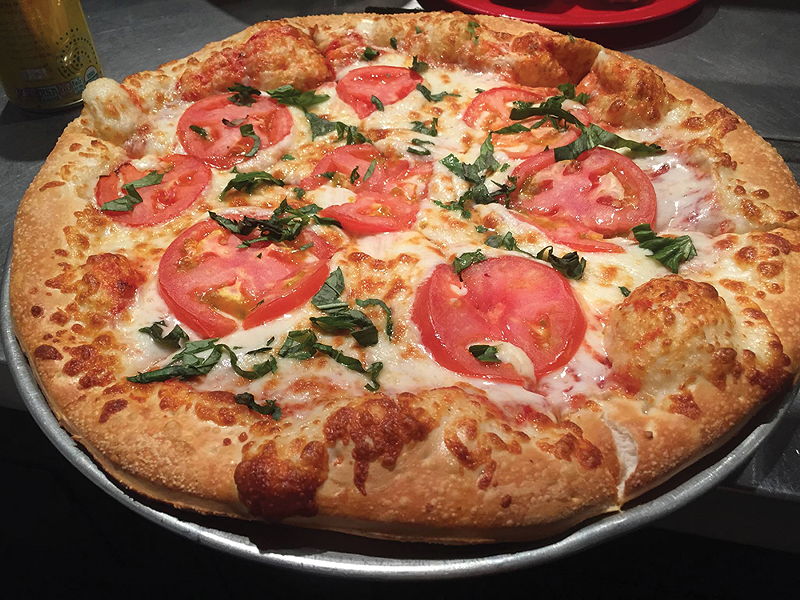 Even though we live in a state that loves thick slabs of carbs doused in heavy, cream-based substances, our roster of pizza joints mysteriously tends to veer toward the thin crust variety. With several New York-inspired pizza places nearby, you might have overlooked Spedelli's (2991 E. 3300 South, Millcreek, 385-528-0181). If that's the case, then it's time to take notice—this is a place that has risen like a pepperoni phoenix from the ashes following a forced relocation. Lesser purveyors of the planet's most perfect food might have been crippled.
I first visited Spedelli's when it was on the top level of a small, two-story business park where Foothill Drive meets I-215. It was an odd location for a dine-in pizza place, but its delivery game put it well within range of a swank, east bench clientele. Don't be fooled by the Bentleys and boob jobs—those socialites in the Harvard and Yale neighborhoods love a good slice just as much as the rest of us. They don't call them the upper crust for nothing.
A few years back, the whole business complex was demolished to make way for a new hotel, which made me think that Spedelli's had moved on to the great pizza parlor in the sky. When I realized that the place was still around, I grew curious about its survival. A relocation of that magnitude would end a local pizza joint that was even moderately successful—so what was the secret that kept Spedelli's on the radar?
Part of this magic equation is a keen eye for location. The current and previous locations are well within delivery-friendly residential areas, and neither spot had much pizza-based competition. The interior of Spedelli's Millcreek digs captures the restaurant's laid back, almost-beachy vibe. I'm a huge fan of the subway tile tables at each of Spedelli's booths, and its patio seating is great for checking out the comings and goings of downtown Millcreek—when the weather is a bit warmer.
The biggest part of Spedelli's success, is, of course, its pizza. It's as thin-crust as thin-crust pizza can get. Each slice begs to be folded in half and downed on the go. I'm always satisfied with one or two slices of the pepperoni pizza ($3). It hits all the right notes: a chewy, foldable crust that has just enough outer crunch to make me appreciate the pizza oven, layered with slightly tangy tomato sauce, melted cheese and then a hit of acidic heat from the slices of pepperoni.
Those who are feeling a bit more punk rock about their pies will want to check out a few of Spedelli's signature pizzas, the most tempting of which is a pie called the Wake'N'Bake ($19-$23). It fools you into thinking that its name is purely dedicated to the breakfast flavors of bacon and eggs—which are definitely present and accounted for—but it actually comes from the Sriracha pizza sauce and sliced jalapeño peppers that have been invited to the party. The meat has a smoky sweetness that complements the scrambled eggs, and the peppers pack just enough wallop to get you through an unforgiving workday.
It's no secret that pizza is what you should get at Spedelli's, but the fact that I can get poutine, tacos and pizza under one roof is a rarity that everyone should take advantage of. Spedelli's poutine ($6) tests the boundaries of what the dish actually is, but it's tough to care about culinary nuances when they present you with a plate of house-cut fries drowning in brown gravy and mozzarella cheese. It's good stuff—pretty hard to mess up fries, cheese and gravy—though this plate of decadent starchy gooeyness might not be the best appetizer if a hot pizza is in your future.
On the taco front, the offerings at Spedelli's are solid, but they definitely play second fiddle to the daily pizza-palooza. I went for a trio of tacos ($9)—carne asada, pulled pork and fried fish—and while I loved the fresh salsa, spinach and peppers that came stuffed inside each one, the proteins involved were a bit flat. The fish tacos were perhaps the most disappointing. Where I was expecting a juicy filet of fried fish, I was met with something dry and overly chewy. It's great that I can get tacos and pizza in one place, but when push comes to shove, it's all about the pizza. Sorry, tacos.
I'm glad that Spedelli's stuck around after the ignominious demolition of its original location. It's got a unique stable of pies that you can't really get anywhere else, it consistently cranks out picture perfect pizza by the slice, and its supporting cast of tacos, burgers and sides is versatile enough to sample when you're not in the mood for pizza. But I mean, come on. We're always in the mood for pizza, right?
AT A GLANCE
Open: Monday-Thursday, 11 a.m.-10 p.m.;
Friday-Saturday, 11 a.m.-11 p.m.; Sunday, noon-9 p.m.
Best bet:
A thin, foldable slice of pepperoni
Can't miss: Eating brunch with the Wake'N'Bake