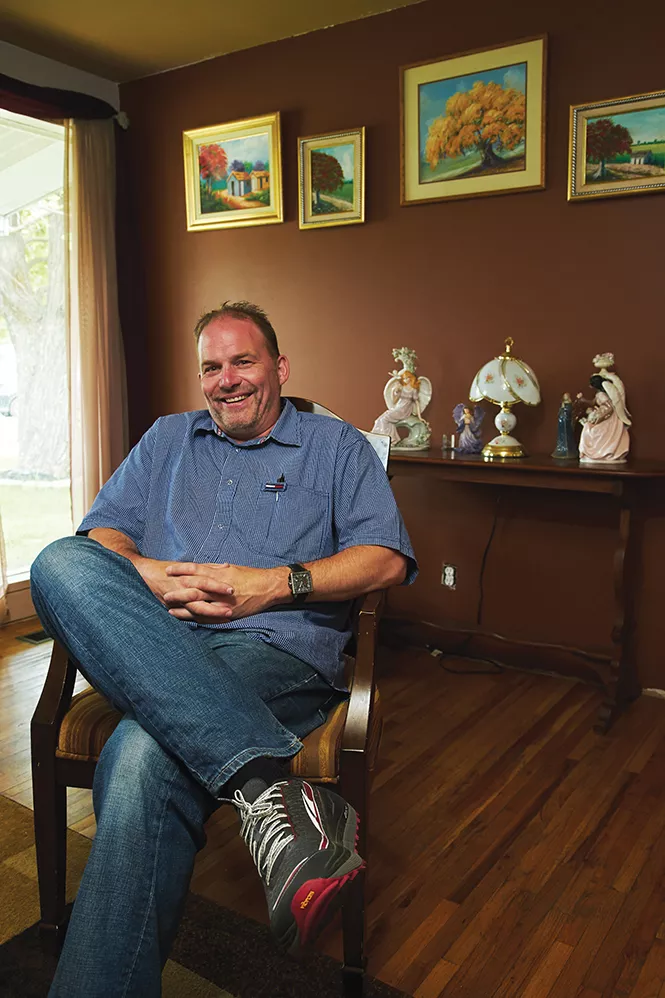 For a conspicuous beat, Russ Roesler's parents were stone silent. They'd just heard their 47-year-old son—an airport customer-service agent with minimal political background who had never run for so much as planning commissioner—confide to them that he wanted to be a U.S. congressman.
In a field of District 3 candidates that runs the gamut in experience, political ideology and electability, Roesler is an outlier—not least of which is his unconventional route to getting there: running as a write-in candidate. A representative democracy, structured so that laypersons can join in governance, requires regular folks to step up to the task. And Roesler is as salt-of-the-earth as they come.
Thus his parents' quiet disbelief. "You could hear it in the long, silent pause," he recounts to City Weekly.
Days before talking to his parents, Roesler had been at home, likely doing yard work, he says, listening to KSL's Doug Wright talk about Rep. Jason Chaffetz' decision to leave office. The conversation stuck with him.
"I couldn't get it out of my head," he says.
Roesler says he started reading up on Chaffetz and his voting record, familiarizing himself with the duties of a congressman. Then he decided serving in Washington was his next goal.
The day after Chaffetz announced that June would be his last month on Capitol Hill, Gov. Gary Herbert opened up the races. Over the next week, a flurry of candidates descended on the lieutenant governor's HQ and filed the requisite paperwork to fill the impending vacancy. By the deadline for party-affiliated candidates, 22 hopefuls from four political parties had entered the ring.
Roesler was not one of them. He had missed the deadline.
The next option, he was told by the lieutenant governor's office, was to run as an unaffiliated candidate. The move required him to gather at least 300 signatures from registered voters, and he didn't think he'd have time before the next deadline.
But there was another route, he was informed. He could run a write-in campaign as long as he was registered before the September cutoff. Roesler convinced his children to take a trip with him to the Capitol. "They watched as I did the paperwork, and the official stamped it," he says. "I looked at my oldest and I said, 'It just got real.'"
Roesler grew up a "quiet little kid" who "didn't like to cause trouble" in Ceresco, Neb., a small town north of Lincoln. He says he was "naive to the world" during his formative years. At 18, he joined the U.S. Army and moved to Fort Sill, Okla., aspiring to be a helicopter pilot. There, he befriended a family in Oklahoma who happened to be members of the Church of Jesus Christ of Latter-day Saints. Sure enough, Roesler converted.
He soon found himself deployed to Saudi Arabia as an Army specialist radio operator in Operation Desert Shield. When he returned from the Middle East and moved back home with his parents to attend the University of Nebraska, Roesler switched his focus from piloting to engineering. "I did really bad there," he says of his first semester at school. "If you checked my transcript, you'd say I was a bad kid."
One summer, he visited Utah to stay with a friend who had moved to Clinton. "I fell in love with Utah. It just felt right," he reminisces. The vacation led him to relocate to Provo. Once settled, a roommate invited Roesler to hang out with a small group of friends, one of whom was a woman "way out of [his] league" from the Dominican Republic, studying English. His Utah County love story didn't stray from the archetypal script: About a year after dating, the two were married.
Now, he and his wife live in Sandy and are the parents of three children ages 18, 16 and 11.
At the Sandy City Library on a recent morning, Roesler is clutching a manila folder stuffed with printed articles and political notes. Compared with the GOP field, he sticks out as a centrist on several key issues, including the ever-pressing health care.
"Honestly, I don't think Obamacare is a bad thing. It actually helped some people out," he says, adding, "Just because you don't like President Obama doesn't mean you have to destroy what he did." With the aid of his sons, Roesler says he plans to upload YouTube videos that further explain his stances.
As a former soldier, Roesler hopes the U.S. won't overreact to North Korea's military peacocking and get baited into striking prematurely. "Don't piss them off," he says. "Just let them flex." Though, he adds, the U.S. should keep a close eye on Kim Jong-un and his ilk.
On the Trump administration's travel ban, he says: "You're punishing many for the few, but how do you know? You don't know who the bad guys are." But he doesn't dismiss the move entirely. "If ISIS wants to come in here, they're going to find a way to do it. It's big, and not something you're going to solve in a day."
Roesler agrees with local politicians who say residents near Bears Ears should have a say in how the area should be protected—from what and to what extent.
Realistically, however, Roesler's positions are moot. Like most write-in candidates, the likelihood of garnering enough votes to register a blip on the election result radar—let alone win the seat—are next to zero.
But it happens.
Alaska Sen. Lisa Murkowski is a case in point. If you've heard Murkowski's name mentioned lately, it's probably because she has been lumped together with hold-out Republicans who haven't backed the alternative GOP health care bill. But in 2010, she made news for a different reason. That election cycle, Murkowski was primaried out by a young Tea Party candidate, Joe Miller, who ran to the right of the established senator. (Meanwhile, in Utah, the same thing was happening with incumbent Sen. Bob Bennett by to-the-right challenger Mike Lee.)
Down, but not defeated, Murkowski ran as a write-in candidate in the general election, and clobbered her ballot opponent.
The differences between Murkowski and Roesler are many, though. As are the differences between Murkowski and most write-in candidates. Her name recognition and incumbency, for starters, gave her a massive advantage.
Roesler gets it.
Even if he doesn't win over a single voter, he says this experience has been an education, and it won't quell his aspirations to run for office again. Next time, perhaps, with his name on the ballot.
"I want to try for it," he says.