Page 3 of 3
Chicks With Dicks
When Diana first arrived in Salt Lake City, friends quickly introduced her to Arano. He is the first port of call for many undocumented Latino drag queens and transgender women fleeing abusive relationships or searching for work in Utah. His journey to Salt Lake City could not have been more different from Diana's. When he was a 17-year-old acting student in Mexico, a couple asked him to accompany them across the border and care for their three babies. "They called me on the Monday, I went on the Friday."
Those who recall the humble, young man they knew 10 years ago, when he was struggling to come out of the closet do not always recognize him in the social-media savvy, Latino-night-scene star he has become.
"He's part of [the Hispanic community]," Moya says. "It's easier for us to see his defects and his virtues." While many admire his night, which at The Trapp Door enjoyed capacity crowds of 300 or more every Sunday, according to Club Edge DJ Jeff Hacker, Arano's shows and competition with other clubs "also makes him enemies," Moya says.
Whether at Karamba or his current venue, Club Edge, Nuttall, a passionate advocate for Latinos, says Arano "is providing a space where the gay Latino community can come together." That's why she and gay Latino activists like Moya and Lopez work with Arano to do outreach work. "Manuel is building his success on the shoulders of many other people who have worked very hard for the community but haven't got recognition," she adds.
Each year in March, Arano organizes the annual crowning of Miss Gay Pride Latino and the emperatriz, or empress. This year's Latina empress, whose duties include raising funds for gay Latino nonprofits, is 43-year-old dancer Lorena Escarraga. She arrived in Salt Lake City from Las Vegas only six months ago and proudly displays her American passport that says she is a woman.
"The most beautiful thing in the world is a woman," Escarraga says. "Woman is sacred, a mother, beauty." The dream to be a woman is, inevitably, an elusive one. "I am aware of who I am," she says. "I am not a woman. I want to be what I will never be in my life. But I feel good like this, to feel more woman."
Escarraga's journey toward womanhood was not without its bumps. She says she had cooking oil injected into her thighs in Mexico. Her body temperature rose dramatically, and she was forced to have it removed. "It cost me $4,000 to put in, $6,000 to get it taken out."
Transgender hair stylist and club performer Alejandra, a 43-year-old Californian émigré and one time Hollywood stripper, wasn't so lucky. She says men in Los Angeles she later learned were using fake medical credentials injected her thighs with mineral oil. After seven years, her left thigh itched painfully. She scratched it with a hairbrush, only to open the skin. She put on a large bandage, but taking it off three days later opened a hole big enough to put her fist in.
Alejandra lives in her elderly mother's basement, the sheetrock walls and floor bare, black plastic bags and a disco ball hanging from the ceiling. Juan has accompanied her to see a number of Salt Lake City doctors, who told her they can do nothing to extract the oil or stop her skin from splitting open. At the West Valley City salon where she works, her mood darkens quickly. Her leg, she says, "is killing me. I don't know if I want to live more … nobody knows the pain I go through."
Most transgender Latinas, because of lack of financial resources, "have done the transformation themselves," Juan says. "They have a dream to become someone and they are willing to do anything to reach that dream." That includes selling sex.
When Alejandra lived in Hollywood, she says "chicks with dicks" were in high demand. Her friends earned $1,000 a night after advertising the services of a "T.S." (transsexual). Clients would ask two questions, Alejandra says. "Are you functional and how many inches is it?"
Escarraga won't answer rumors of whether she still has the penis she was born with.
"Secretos, secretos," she says coyly. "Maybe yes, maybe no."
Her philosophy, she says, is to be the best transsexual she can be. If she were to be a prostitute, "you have to be one with class, not a common and vulgar one ... who does it only for drugs."

Four Beers
Transgender prostitutes seeking clients prefer straight clubs to Arano's spectacles. Partly it's because they don't consider themselves as gay, Juan says, so gay men hold no attraction. But it's also because they want straight or bisexual men—the latter known as mayetes in Mexican Spanish slang—either to pick up or to service as prostitutes and so finance their dreams of surgically completing their transformation to women.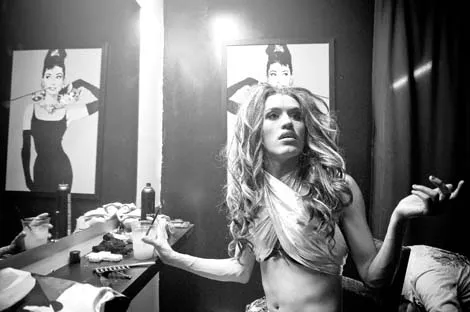 One late May Friday night, Juan, who says he works with 25 transgender sex workers, is counting out condoms into three equal piles as part of his HIV-prevention outreach efforts. "They fight, otherwise," he says with a smile, referring to the house's occupants, Karina, Amanda and "M" who requested anonymity. He's sitting on M's bed, her room shut off from the house by a makeshift curtain that a middle-age American and occasional sex partner, who M calls "el cowboy," put up for her. Lopez estimates 50 transgender women are sex workers in Salt Lake City and several are HIV-positive.
Karina insists on condoms. "Si no hay globo, no hay fiesta," she says. No condom, no party. She sits on the floor, her legs drawn behind her, and talks about how at midnight on weekends she often goes to straight Latino clubs like Mi Mexico in South Salt Lake. She stands by the bar for a few minutes, and then goes out to the parking lot to see who follows.
"What's the difference between a gay man and a straight man?" Juan jokes. "Four beers." Men start drinking or using drugs, he says, "and get so horny, they just want satisfaction. Sometimes, 10 [male clients] will take one or two of the workers, and all of them go through them."
Karina works at a West Jordan hair salon during the day and services clients who call her or whom she picks up at the clubs. She's saving for breast implants, which will cost her $5,600. Three years ago, she stopped taking hormones, and recently her hormone-generated breasts have deflated.
Before the economic crisis, prostitution was booming and she would see two or three men daily. "Now, all the world wants it free." Still, business remains brisk. While she talks, upstairs Amanda is with a client. It's her third that evening, and Lopez estimates she's already earned over $400.
More than 80 percent of her customers, Karina says, want something that ironically she is unable to provide, at least without props. "Most of my clients are gays in the closet," she says. They deny their own homosexuality, she argues, while wanting her to anally penetrate them. Since she is not sexually aroused by such an act and cannot achieve an erection with a penis already affected by hormone therapy, she uses sex toys.
When her clients, however, seek to penetrate her, she always has to manually check they are wearing condoms just before they consummate the deed. "So many of them take it off," she says.
I Am Woman
It's midnight, just hours before Utah's Gay Pride parade begins on June 6. Arano, who hopes his new Sunday night at Club Edge will forge strong links between the Latino and Anglo gay communities, and his emperatiz, Escarraga, will both take part.
Mention of the parade, however, draws blank looks from Karina and Amanda who are at home in Salt Lake City. Already tired from a long day of cutting hair, as Sunday's first minutes tick by, they are getting ready for their other job, prostitution.
Downstairs, "I'm inventing," M says, roaming around her room, trying on different pieces of fabric to create a miniskirt to go with her breast-showcasing tank top and the straggly remains of a set of fishnets. She fixes the broken high heels she plans to wear to Mi Mexico that night, then starts applying several layers of foundation makeup.
M says she isn't a sex worker, even while admitting she is dressing as a puta and will often ask men for money after sex. She brings men home and, "if they get rough, I throw them out. One guy said, 'If I discover you're not operated, I'll hit you.' I threw him out, too."
Meanwhile, Amanda and Karina, the latter wearing a black teddy, regularly descend the staircase, letting men in and out. By 2 a.m., they are still busy upstairs, the rhythmic sounds of sex audible through the thin walls.
M, still waiting for her friends to go out, stands in the doorway, looking out at the silent street. A small child in the neighboring house cries out, "Mama, mama," then sobs.
If M hears the crying child, she doesn't say. She stands still, frozen in silhouette, in the shadows at least, an alluring, statuesque woman.