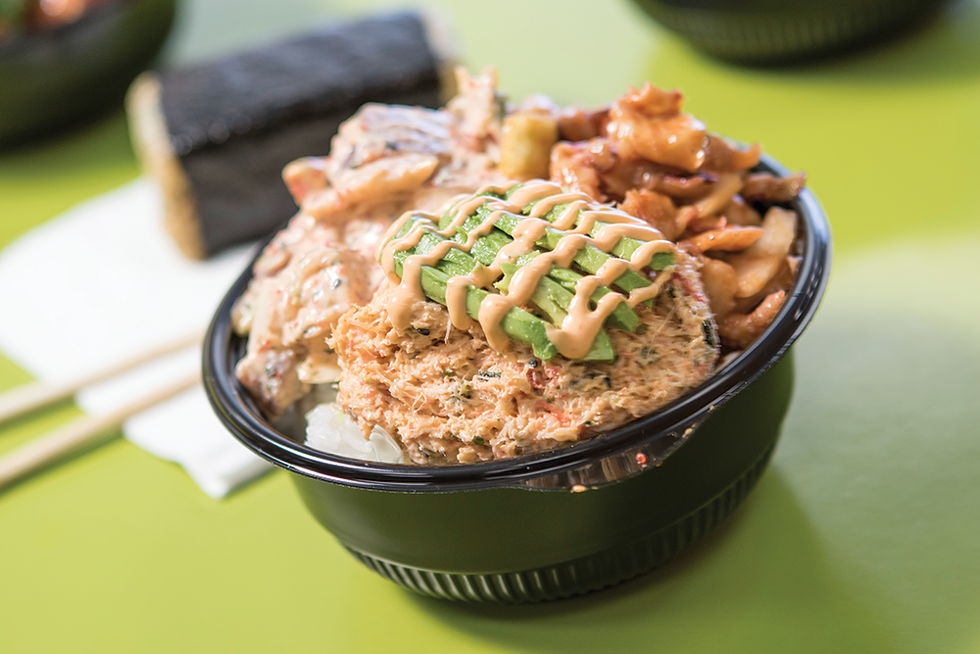 Last year, Laid Back Poke Shack (6213 S. Highland Drive, Holladay, 801-635-8190) made my Best of Utah list in a big way. It was my first exposure to the Hawaiian comfort food staple known as poke (pronounced po-keh), which spoke directly to my food-pile-loving heart. It's got the same genetic makeup as sushi—ahi tuna, rice, seaweed—but on a much more casual level. Instead of arriving at the table demurely wrapped in nori, poke is piled high on top of a bowl of rice in glorious heaps—its level of casual familiarity lends itself to large, nonjudgmental portions.
Jimmy and Deanna Zouras opened the Shack in 2015—a marked departure from their Francophile café and bakery, Gourmandise. Their interest in poke was piqued when the Zourases tried it for the first time during a trip to the islands. Their experience was so profound that they decided to dedicate their next business venture to this fresh, piscine cultural experience. And while it's hard to get fresh ahi to the middle of the desert, it would take more than that bit of geographical hardship to dissuade the Zouras family from their objective. As ambitious as this idea was, Laid Back Poke Shack's three years of business are proof that fresh ahi tuna does indeed exist in our landlocked neck of the woods—and it's pretty damned good.
The Shack's layout is consistent with its fast-casual cousins, but don't let that discourage you from taking the place seriously. When you step up to the counter to peruse all 15 seafood options, you'll likely pass a sign that proudly announces when their fish was caught, and which employee sliced it up that day. The Shack has a direct line to the Honolulu fish auction, which means they get their goods fresh three times a week. I can't even imagine the logistical obstacle course such an operation entails, but I can speak to the fact that it works.
Since the menu's variety can be incredibly daunting for a first-time visitor, I recommend trying their signature bowls ($11.49). Each is a safe bet. The Laid Back Poke Bowl is a fascinating blend of pineapple shrimp, shoyu ahi, Samoan oka ahi and Kalua pork, making for a bit of Hawaiian surf and turf. At first, I thought the addition of Kalua pork with its salty, marinated goodness would overpower the ahi, but the bowl offers up a nicely balanced mix of flavors. On the spicier side, the Lilikoi Bowl combines spicy ahi and wasabi ahi with cucumbers and Maui onions for a fresh, flavorful kick of heat. The spicy ahi prances across your tongue while the wasabi ahi wafts into the back of your throat, effectively filling your mouth with fireworks.
Creating your own bowl can be a bit of a challenge—some combos play a bit nicer than others. Luckily, the staff will let you try any one of their offerings, which I also recommend. The regular-sized build your own ($13.49) lets you choose up to three different proteins, so balance is key. Something spicy like the wasabi ahi or spicy salmon is always a good way to start things off. From there, you'll want to make sure to try something doused in the Shack's oyster sauce—it supplements the fish's natural flavor with just a hint of salty goodness.
Those looking for something less orthodox will want to check out the kimchi mussels or tako (octopus). I've never been a big fan of mussels, but the power of kimchi amplifies these bite-sized, briny nuggets, giving them enough of a punch to mingle with members of the ahi and salmon family.
Once you've decided on the proteins, you have the option to finish the bowl off with all kinds of tasty toppings at no extra charge. As poke and rice aren't the most texturally diverse duo, I suggest sticking to toppings that will add some crunch. The English cucumbers, edamame and Maui onions all are good choices, and the imitation krab can help take the bite out of some of the Shack's more fiery options while being delicious on its own.
While I fully recognize that poke has become a hot-ticket culinary trend, I'm wary to write Laid Back Poke Shack off as a one-trick pony that stumbled upon the next big thing. The Zouras family appreciates food, and their commitment to sharing this Hawaiian treasure with the rest of us reflects that appreciation. Poke places have started popping up all over the place, but the folks running Laid Back are true believers in every sense of the word.
<!—StartFragment—>
AT A GLANCE
Open: Monday-Saturday, 11 a.m.-8 p.m.
Best bet: The Laid Back Poke Bowl
Can't miss: The opportunity to try something like kimchi mussels