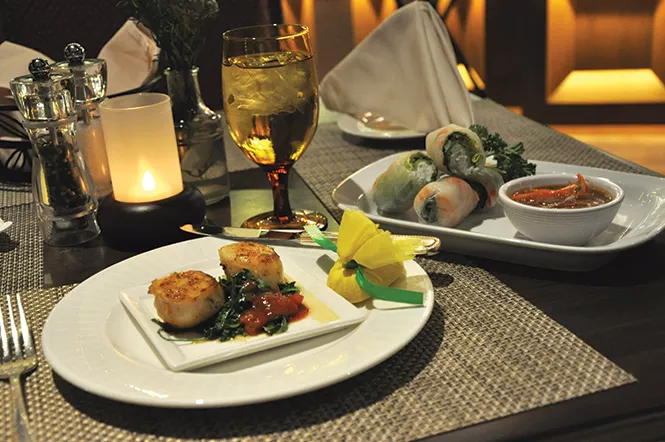 Lucky H Bar & Grill's seared scallops & Vietnamese spring rolls at Little America
The Fourth of July holiday is about nothing if not celebrating America. So with that in mind, I decided to turn my gaze this week—and my palate—toward a couple of all-American Utah institutions: Little America and the Grand America.
As many Utahns already know, Little America—a chain of four hotels—was the creation of the late Robert Earl Holding, the billionaire owner of Sinclair Oil Corporation. The first Little America, located in Wyoming on Interstate 80, began as a two-pump service station and motel with 12 rooms and a 24-seat cafe. Today, Little America Wyoming offers travelers 140 rooms and, with 55 pumps, was, at one time, the world's largest filling station.
Salt Lake City's Little America Hotel was built in 1955 and has undergone periodic renovations, including a major one in 2014, which introduced contemporary flair to the hotel, as well as its shops and restaurants. In 2002, Earl Holding's grand dream came true with the opening of his Grand America Hotel—not only the most opulent and luxurious hotel in Salt Lake City, but one of the grandest in the country.
Although I've spent quite a bit of time in the Grand America and its Garden Cafe restaurant since it opened, it occurred to me recently that in all the years I've lived in Utah and written about food, I'd never eaten at Little America. For shame! It was time to investigate.
Walking into the Lucky H Bar & Grille, I had to check myself: "This is Little America?" I thought. The newly decked-out Lucky H Bar—a place where you can actually get a cocktail, beer or glass of wine without ordering food, by the way—sports a soothing blue-and-tan color scheme, a post-modern looking circular-shaped bar, and contemporary lighting and fixings. As for the Grille—Little America's upscale restaurant—it looks like a classy steakhouse, with big, comfy chairs and banquettes, lots of soft materials to help soak up sound, and a see-in kitchen where you can watch Executive Chef Berhard Gotz and his team do their work.
During a visit to the Lucky H Grille for dinner, we had a young server from Chile named Paulina. It was one of her first days on the job, but she couldn't have been sweeter or more accommodating. Perusing the surprisingly lively wine list—with selections from around the world and more than 20 wines by the glass—we zeroed in on a reasonably priced Rosé from Italy: La Valentina Cerazuolo Rosé ($32/bottle). Even more impressive, it arrived at our table at the perfect pouring temperature: not too warm, not too cold.
The menu at Lucky H Grille is much like Little America itself: a mix of old and new. Formally trained in Germany, Chef Gotz has more than 40 years of culinary experience and joined Little America in 2004. He's been featured on PBS' Great Chefs of America TV series. His menu ranges from Continental classics like escargot with garlic butter ($11), French onion soup ($7) and homemade gravlax ($8) to more nouveau offerings such as Vietnamese spring rolls with shrimp and peanut-hoisen sauce ($8), pan-seared sea scallops with lemon mosto oil, arugula, salsa and citrus-garlic butter ($11), and sesame-seared ahi tuna cooked rare with Asian slaw and wasabi dressing ($14).
For starters, we shared the assorted appetizer platter ($15)—an artfully presented plate of one very tasty crab cake with remoulade, a single seared scallop, one jumbo shrimp on shredded lettuce with cocktail sauce, and a generous portion of homemade gravlax with capers. I'd have minced the red onion that accompanied the gravlax rather than serving it in thick slices. And, for sharing purposes, how about two scallops and two shrimp? I don't think that would tip the kitchen's food costs too much. In all, though, it's a very good appetizer to share, or better yet, to enjoy alone.
There are Mad Men-style throwbacks to a less-liberated era on the Grille menu, such as Prime Rib, which comes as a 14-ounce "Gentlemen's" cut ($34) or a more petite 10-ounce "Lady's" portion ($28). But then there are also up-to-date choices like a Mary's free-range, all-natural roasted chicken ($22). I must say, this tender, perfectly roasted half-chicken with natural garlic pan jus was one of the best things I've eaten lately. Unfortunately, it shared the plate with baby carrots straight from the bag and big, yellowish, unappealing mounds of broccoli.
A house salad (salad, veggies and a choice of potato or rice come with all Grille entrees), similarly, could have used some work, presentation-wise. A giant cucumber slice required the use of a knife and fork to eat and an equally oversized chunk of underripe tomato necessitated the same. I did appreciate the varied choice of dressings offered, however, and that they came in small bowls (but with no serving spoon), allowing customers to dress their salads the way they like.
Meanwhile, over at the Grand America's Garden Cafe, I was impressed by top-notch service and dishes like spaghetti Bolognese ($16), with an Italian sausage ragout, roasted garlic cream sauce and tossed with Gold Creek Farms parmesan. The ahi tuna tartare with green onion, pear, ponzu sauce and wasabi crème fraîche was also excellent.
Longtime local restaurateur/manager Regis Perret, formerly of the St. Regis in Deer Valley, has recently taken over the food and beverage director duties at the Grand America, and the service and menus are already showing evidence of his expertise and professionalism.
Finally, be sure to stop into the Grand America's La Bonne Vie, an eye-popping Willy Wonka-esque shop filled with world-class pastries, cookies, cakes, macarons and baguettes, prepared by the hotel's superb executive pastry chef Xavier Baudinet.
Happy Birthday, America!