"Wow, it must be fun to get paid to shop!"
That's a sentiment I hear probably once a day during the weeks I'm out and about doing Gift Guide. And it's true. Despite the somewhat-icky feeling of telling people that I've come to their stores in September to write about the holidays, doing the Gift Guide is just plain fun.
Maybe it's because I've always loved presents. As a child, I also spent many months thinking and planning for Christmas. Back then, though, it was planning for my own gifts that consumed me, and I'd spend the purgatory-like months between my February birthday and Christmas poring over catalogues, dog-earing pages and greedily circling products.
Today, I know the adage of "it's better to give than to receive" is cheesy but true, and that there's plenty of gleeful fun in finding that so perfect thing for your co-worker, significant other or parent. Doing the Gift Guide for five years means that my Christmas shopping is done by November, because there's no way not to spend money when visiting our amazing local shops. The only downside is that there are still five weeks till Christmas, but I want to see the looks of delight and excitement on my friends' and family members' faces now.
Of course, it's not all about me. This year, the Gift Guide has ideas from other City Weekly staffers, who've recommended books and albums that would be great under the tree.
The purpose of Gift Guide is twofold. By focusing solely on locally owned shops, we hope to alert you to the delightful and out-of-the-ordinary products that you can't find in a shiny mall or megastore, but can acquire when shopping local, supporting the people and places that make Salt Lake City special. And we also hope to ignite that same gift-giving excitement in you, as you flip through the pages of this guide and discover items that are just right for the people in your life—OK, and yourself, too.
Happy shopping!
—Rachel Piper, editor

Cobra Vertebrae Bracelet, $32

Help a friend conquer his fear of snakes (why'd it have to be snakes?) with this creepy bracelet, made from cobra vertebrae and stained with coffee or tea. We can't promise that the wearer of this bracelet becomes ruler over all snakes, but you never know.
Natur, 94 W. 7720 South, Salt Lake
City, 801-232-4311, NaturShowroom.com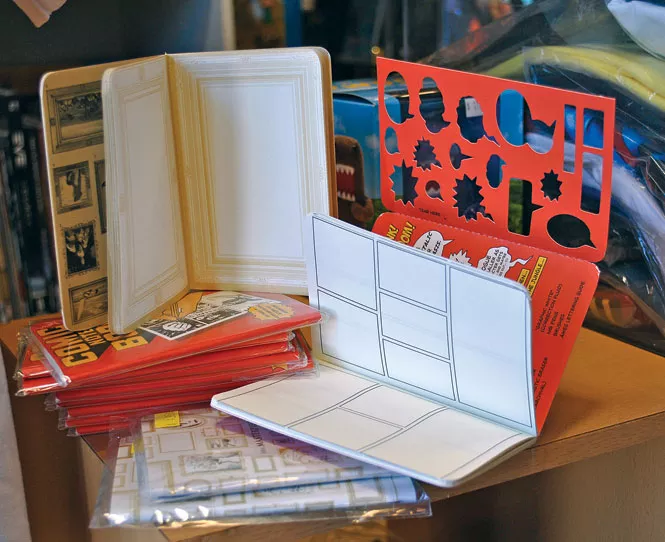 Comic Book Notebook, $4.95
Comic fans can put themselves in the story with this pocket-size notebook, which comes pre-paneled and provides word-bubble stencils for all the BIFFs, BAMs and KA-POWs anyone could ever need.
Night Flight Comics, 6222 S. State, Salt Lake City, 801-263-1940, Night-Flight.com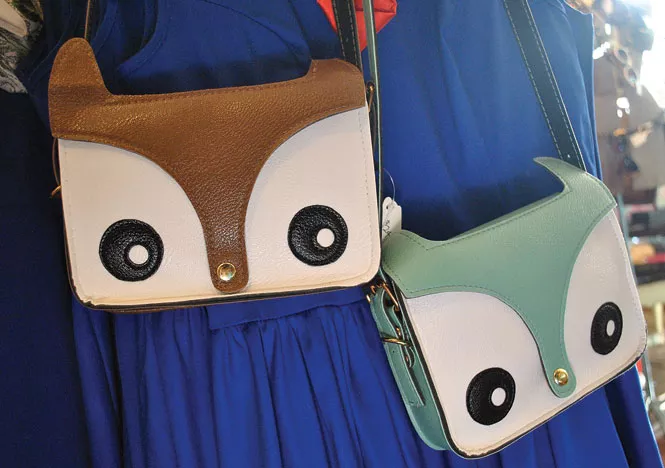 Woodland Purse, $24.99
It's a fox! It's a deer! It's a ... well, whatever adorable animal face she decides it is, this woodland creature provides plenty of space for essentials like wallet, phone and e-reader, plus a long strap that'll keep the adorable companion close by her side.
Retro Betty, 2821 S. 2300 East, Salt Lake City, 801-467-2222, Facebook.com/RetroBettySLC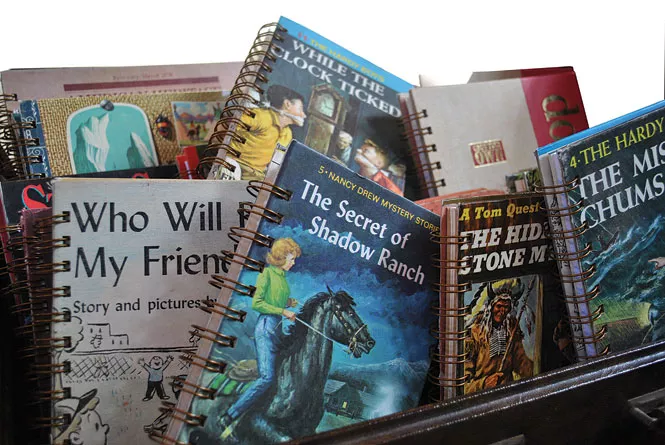 Upcycled Book Journals, $6-$20
Help her imbue her nightly journaling with a sense of nostalgia—or conceal her world-domination checklist in an unexpected place. These hardcover blank books—made by local company Red Barn Collections from the covers of used mysteries, quirky manuals and more—are spiral-bound so they lay flat, and contain a few pages of the original illustrations and text among the fresh paper.
Unhinged, 2165 S. Highland Drive, Salt Lake City, 801-467-6588; 16 W. Center St., Provo, 385-312-1268, UnhingedSLC.com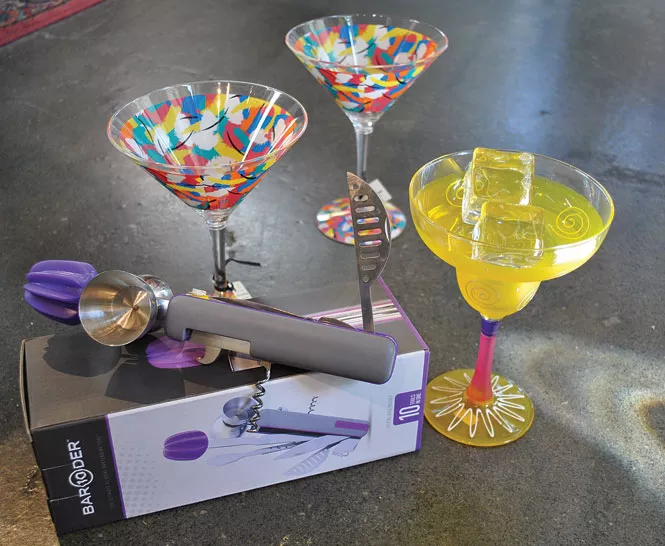 Bar10der, $50
Nothing takes the buzz out of a night of cocktails at a friend's house like the mixologist realizing she's misplaced her muddler—again. Ensure that the hand-crafted drinks will never end with a gift of the Bar10der, the Swiss Army knife of bartending. The hefty stainless-steel tool contains muddler, knives, reamer, jigger, zester, stirrer, strainer, corkscrew and bottle opener. And they're all full-size and sturdy, so she'll be able to tote the Bar10der along to the tailgate and campground without fear.
Two Dancing Cats, 1790 S. 1100 East, Salt Lake City, 801-485-0554
The Napsack, $130
You know that kind of camper: After that all-day hike, he gets dinner started and goes for a quick 10-mile run, then, while everyone else drinks beer around the fire, does 100 incline pushups on the cooler. Well, if your significant other is not this guy, then the Napsack is for him. A rugged compromise between a Snuggie, a parka and footie pajamas, the Napsack provides full-body warmth while allowing basic movements, and cinches closed at the bottom so that he can transition seamlessly from sitting by the fire to sleeping by the fire.
The Stockist, 875 E. 900 South, Salt Lake City, 801-532-3458, TheStockistByFresh.com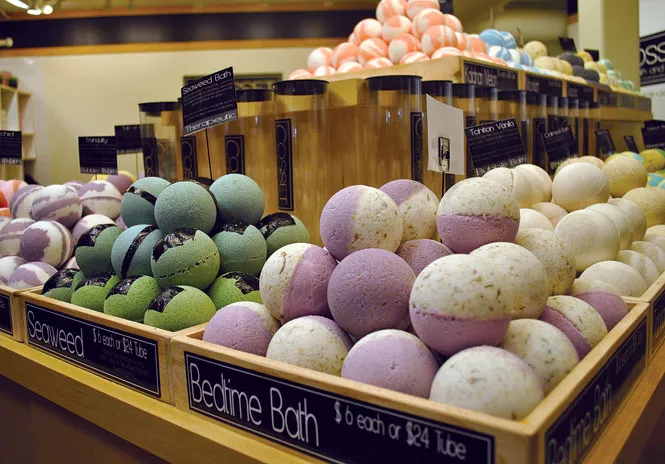 Bath Bombs, $6
The grown-up version of a hall pass, a bath bomb is basically a gift of time—even a 20-minute soak will do wonders for the body and soul, whether she's sloughing off negative energy with the black tourmaline Let It Go bomb or getting soft and sweet with Hibiscus Passion.
Cosset Bath & Body, 602 E. 500 South, Trolley Square, Salt Lake City, 801-923-4626, Facebook.com/CossetBathAndBody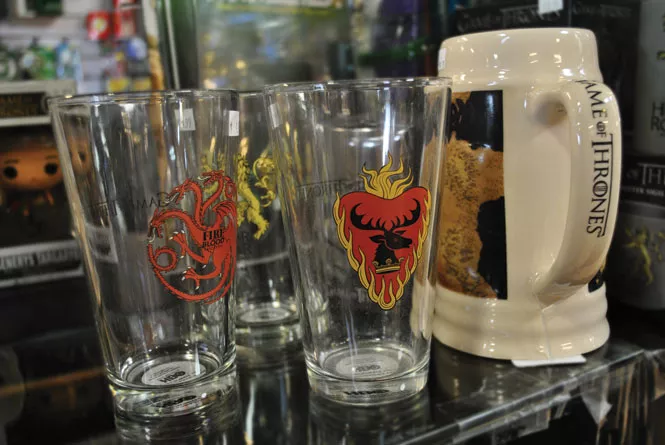 Game of Thrones Drinkware, $9.99-$22.99
Nothing goes better with
Game of Thrones
than many swigs of ale—just ask the constantly imbibing characters. And he needs a pint glass or stein by his side as he drinks away the months until HBO's series returns—and then, when it does, as he attempts to dull the pain of the latest on-screen death.
Night Flight Comics, 6222 S. State, Salt Lake City, 801-263-1940, Night-Flight.com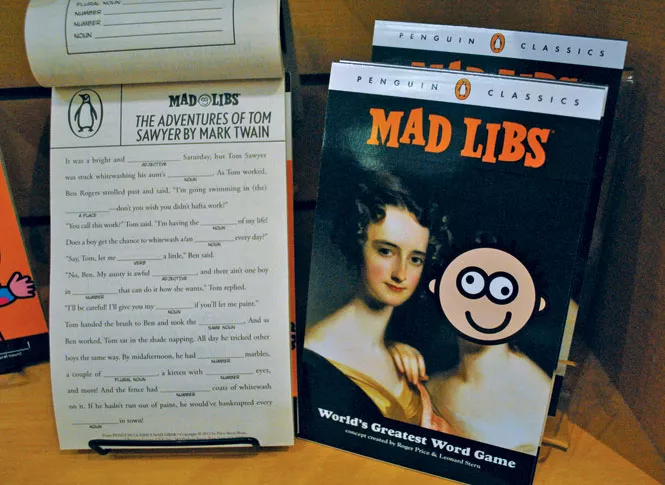 Classic Lit Mad Libs, $4
Whether she loves the classics or hates 'em, she'll never look at them the same way again after the Mad Libs word-substitution game has had its way with famous passages from
The Odyssey, Moby-Dick
and others. Even Elizabeth Bennet couldn't have taken the stuffing out of Mr. Darcy's first proposal the way random nouns and verbs can: "In vain I have
licked
. It will not do. My
zoos
will not be repressed. You must allow me to tell you how
weakly
I admire and
chop
you."
The Library Store, Salt Lake City Main Library, 210 E. 400 South, Salt Lake City, 801-524-8238, SLCPL.org
Buffalo Necklace, $34
Want to make an impression on a hard-to-please lady? Tell her you found this mysterious skull of a tiny buffalo on a recent camping trip in the desert, and instead of calling
National Geographic
, you strung it on a brass chain and gave it to her. Local tattoo artist Taylor Millet sculpts these skulls by hand and then carves intricate details with a needle, so she might believe you.
White Elephant Exchange, 1790 S. 1100 East, Salt Lake City, 801-485-0554, WhiteElephantBoutiqueSLC.com
HoodLamb Tech 4-20 Coat, $215
He'll be able to overcome even the grayest, gloomiest Utah winter day in this hemp and cotton-twill coat, which features a neck guard, detachable fake-fur-lined hood and "fur"-lined hand-warmer pockets. And if a case of mistaken identity leads him to become embroiled in foiling an international kidnapping/terrorist plot, there's a hidden document pocket inside the coat, plus several other secret pockets—even one in the hood. Headphone loops, quick-draw phone pockets and a rolling-paper dispenser will keep him thinking positive even while trudging (or fleeing) through downtown's slushy streets.
SLC Hemp, 1117 E. 2100 South, Salt Lake City, 385-229-4197, SLCHemp.com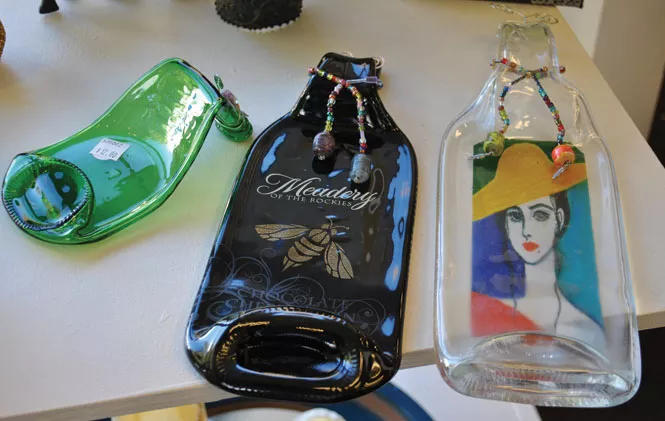 Wine Bottle Tray, $12-$24
Wine drinkers know that half the fun of drinking wine is picking out new varieties based on their labels. Local artist Liz Weller creates beautiful flattened bottles that can be used as serving trays, spoon rests and more—providing an opportunity for wine enthusiasts to break out a bottle any time of day without causing concern among family and friends.
One World Gifts & Gallery, 2166 S. Highland Drive, Salt Lake City, 801-203-0568, OneWorldGiftsAndGallery.com
Wild Wool Game Heads, $59.95
Nothing says "I admire the majesty of this rare creature" like mounting its severed head on the wall. And now even those who can't afford a safari to Africa can smugly adorn their walls with startlingly realistic big-game prizes that'll be the awe and envy of friends and family.
Evergreen Framing Co. & Gallery Inc., 3295 S. 2000 East, Salt Lake City, 801-467-8770, EvergreenGallery.com
Sparkle Jewelry, $10-$14
One never really grows out of a love of glitter, but it's hard to find glittery apparel in adult sizes—and probably even harder to truly pull off. All is not lost: The earrings and pendants made by local artist Elizabeth Q (
ElizabethQDesigns.Etsy.com
) will add just the right amount of sparkle to any outfit, without blinding passersby.
Q Clothing, 215 E. 300 South, Salt Lake City, 801-474-2000, Facebook.com/QClothing
Vaportini, $49.99
The James Bond of the future will sit down at the bar wearing a leather unitard instead of a suit, then request that his martini be vaporized, not shaken or stirred. Well, the future is here: Inside the Vaportini, liquor evaporates and fills the glass globe with vapors that are then inhaled for an immediate intoxicating effect, without the calories or the burn of bad booze.
The Boozeteaque at E3 Modern, 315 E. 300 South, Salt Lake City, 801-363-3939
Puffin in Bloom Classics, $16
Artist and stationer Anna Bond of Rifle Paper Company illustrated gorgeous covers and endpapers for the classics in the Puffin in Bloom series, giving literary heroines Heidi, Anne, Sara Crewe and the March sisters a fresh new look that'll be irresistible to women who grew up with them, and to those meeting them for the first time.
The Children's Hour, 898 S. 900 East, Salt Lake City, 801-359-4150, ChildrensHourBookstore.com
Terrariums, $13-$80
He hasn't yet attained the corner window office, but you can give him the outside world anyway, with an intricate terrarium built by local artist Jodi Mardesich. Her creations run the gamut from simple self-contained gardens to tiny mini-worlds filled with curious details that'll allow him to feel like an all-seeing overlord—even if his desk is in the company supply closet.
Iconoclad, 414 E. 300 South, Salt Lake City, 801-833-2272, Facebook.com/Iconoclad
Career Woman Accessories, $21-$24
It's impossible for her to decline when asked to take on a new task, and her fast-walking, fast-talking ways somehow aren't enough for people to get the picture that she's got places to go and people to see. Well, even though she can't tell people no, you can provide her with accessories that say it loud and clear.
Got Beauty, 900 E. 2100 South, Salt Lake City, 801-474-2090, GotBeauty.com