Page 3 of 3

By Colby Frazier
A mother of five boys, a Brigham Young University alumna, a returned missionary for The Church of Jesus Christ of Latter-day Saints with a temple-sealed marriage and a home in the heart of Utah County: not the typical résumé for a medical-marijuana advocate.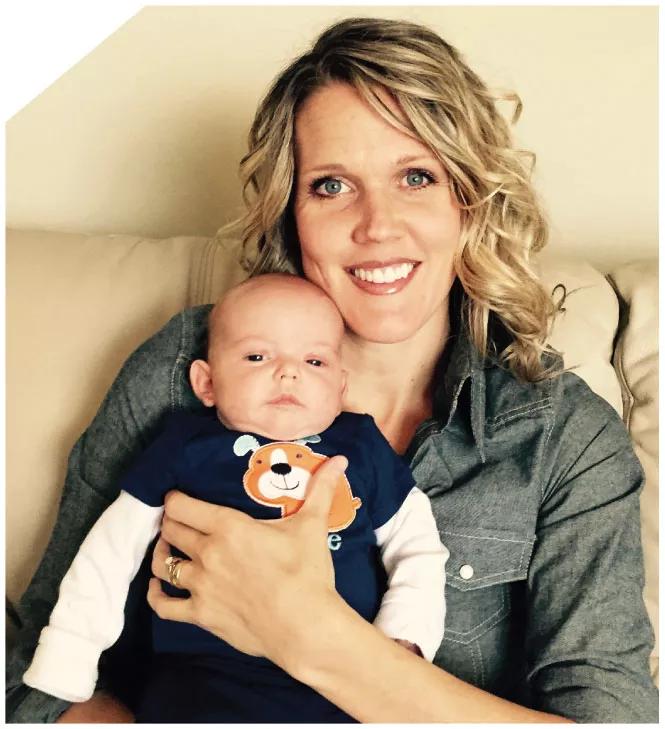 Tenille Farr with her youngest child
But Tenille Farr is all of these things. She also has Stage II lymphoma in her chest and neck—a diagnosis she received in autumn 2014 when she was 18 weeks pregnant with her fifth son.
Faced with commencing chemotherapy, a treatment that she felt put her unborn child at risk, Farr and her husband settled on a treatment that is illegal in Utah and one certainly frowned upon by many members of the LDS Church.
Farr, who spent months living in Colorado and California using cannabis oils ingested by placing drops beneath her tongue, now finds herself an unlikely spokesperson for a pioneering bill pushed by Sen. Mark Madsen, R-Saratoga Springs, to legalize medical marijuana in the state.
Farr says she hopes her story can help Utahns and lawmakers cast aside their doubts about the drug and truly examine its medicinal uses that have long been praised and accepted in other states.
Shaun & Tenille Farr hope the bill will pass.
"I honestly believe the people in Utah are good people and that they want to help people," Farr, 38, says. "For me, right now, I have lots of hope that this bill will pass. I think once people see, then their fear can leave a little bit, and they can begin to see what [cannabis] has to offer."
In 2014, lawmakers approved a bill by Rep. Gage Froerer, R-Huntsville, that made it legal to obtain cannabis extracts that provide treatment for a small spectrum of conditions, including seizures caused by epilepsy. The extracts covered under Froerer's bill do not contain any THC, the compound in marijuana that contains psychotropic qualities.
Madsen's bill would take legalizing medical marijuana a few steps further, allowing dispensaries to sell lozenges and other digestible marijuana products.
Connor Boyack, president of the Libertas Institute of Utah, called Froerer's 2014 bill "monumental." And he says the natural next step is to help a much wider swath of Utah's population that is also in need of cannabis products.
"We've had a year for these lawmakers to become comfortable with the issue," Boyack says. "We've seen that the apocalypse has not arrived with Utah legalizing some form of cannabis. Therefore, this year, it is entirely reasonable in Utah to broaden that conversation and provide this option to many other needy Utahns."
After deciding to forgo chemotherapy treatments, Farr says she connected with members of the LDS Church in Las Vegas who had also chosen marijuana as a treatment for their illnesses. A short time later, Farr found herself in an apartment building in Colorado, grinding up leaves from marijuana plants that she says lack significant psychotropic effects.
Farr says she took this approach because she was still shaking off the stigma she had for marijuana.
"I won't lie, it was really difficult for me at the beginning to say, 'Oh, my gosh, I could be using cannabis or marijuana or whatever in any form,'" she says. "I was still working through my cannabis fears."
The leaves, Farr says, did the trick. In a couple of weeks, she says her cough, caused by a growth in her lungs, was gone.
At this point, Farr went to California where she began ingesting cannabis oils, which she deposited beneath her tongue.
Before taking this leap toward becoming a bona-fide cannabis user, Farr says she, her husband and family members prayed and fasted. Fearful that she could lose her temple recommend that allowed her to attend LDS ceremonies, Farr consulted her bishop.
"He basically just told me that if I wasn't breaking the law, that this was a decision between me, my husband and the Lord," she says.
After more than a month in California, Farr says she returned to Utah, where doctors tol her the cancer had ceased growing. Then, on Jan. 4, she gave birth to her son.
Since then, Farr says she's remained in Utah. A lump in her neck, she says, seems to be growing. Farr doesn't want to do chemotherapy, and she says that cannabis is the treatment that best suits her.
"I need to get back on the oil," Farr says. "I would love to be able to stay home and be a mom to my kids and take care of my cancer at the same time the way that I choose to take care of my cancer."
The past few months has provided Farr with an education on marijuana that she didn't know was coming.
One truth she has learned is especially poignant: Lots of legal drugs are dangerous, and good and bad can come of any of them, including marijuana. This is what she tells her young children about her decision to use marijuana.
"This is a plant, an herb that God has given us," she says. "Just like anything, we teach our kids to find the good in it and stay away from the bad."