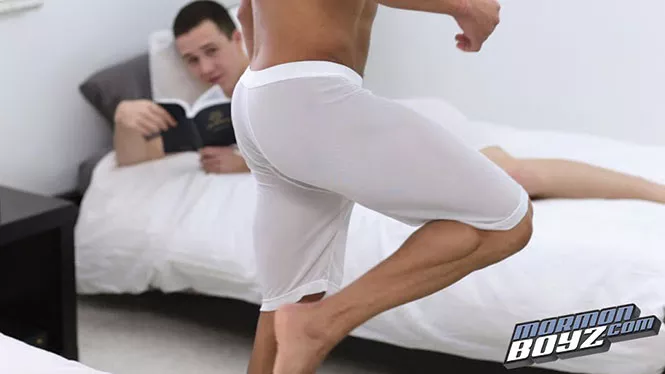 When LeGrand Wolf, the man behind Mormon-themed porn website MormonBoyz.com, applied to be a vendor at the 2016 Utah Pride Festival earlier this month, he had his eye on the prize. Wolf (not his real name) started the site as a one-off subversive experiment during the 2012 presidential election, when Mitt Romney made his way onto the national spotlight.
Clips with titles like "Elder Brown: Corrupted and Curious," "Elder Dudley's Washing & Anointing" and "Elder White's Disciplinary Action" followed.
Now established, Wolf saw in Utah Pride a chance for his site, and spinoff MormonGirlz.com, to make a splash and "celebrate being proud of being gay, being a gay business owner and celebrating the freedom of expression in our sexuality—all of the things that we've worked hard for."
Wolf got an email confirming he was in on April 2. Five days later, he got a message from vendor coordinator Mike Parsons saying the board "unanimously agreed [the website] is not something we feel comfortable having" following a special meeting. Parsons wrote that the local Pride festival has "to be aware of the community that we live in and that we are a part of." He ended telling Wolf MormonBoyz.com "does not represent part of that community."
Wolf calls the judgement "ridiculous and offensive."
"We were interested in coming in wearing suit and tie, with missionary name badges, fully clothed, not gyrating in our underwear on a flatbed truck to music and simulating sex," he says. "I don't know what anyone is so terrified of; no one was asking for an endorsement. How could it be any more perfect for the Utah Pride celebration?"
A week later, after Eric Paul Leue, executive director of the California-based Free Speech Coalition, drafted a letter to the Pride board condemning their choice of words, Carol Gnade, executive director of the Utah Pride Center—the entity that also stages the festival—sent a one-sentence-long letter apologizing to Wolf for the exclusionary comment.
"Look-up the definition of 'gay pride.' Literally just punch it into Google," Leue tells City Weekly. "Pride is there to unite, to display our diversity, creativity and to celebrate the diversity that our community is." He says that to exclude MormonBoyz.com because it's sexual in nature after the long battles to decriminalize expressions of gay conduct, "and then to impose it onto ourselves, is the saddest thing I could imagine."
Gnade, former head of the American Civil Liberties Union of Utah, says the gaffe started when a new hire approved Wolf's request. "It came in electronically, and when that person realized that it was not appropriate for the place and the event, they denied it," she says.
Currently, the electronic vendor submission form on UtahPrideFestival.org does not list any exclusions as to what type of businesses can participate. "It's just up to our discretion," she says.
"The issue is not about censorship of what they do," Gnade, who hadn't heard of the company before, says. "It's the appropriateness of it, and the kind of celebration that we have for our community, and the fact that we have such a broad spectrum of ages."
Throughout the land, it is not unusual for Pride celebrations to include and showcase adult-themed businesses. Wolf, a self–proclaimed "Salt Lake City boy" who served a mission in Eastern Europe, says some Pride organizations even seek them out.
"Other adult companies like CockyBoys in New York City and Men.com in Atlanta and others are recruited by the Pride groups to come in," he says. "In L.A., they actually have the 'Erotic City' a zoned-off section where minors can't come in."
Wolf calls the decision "provincial," one that cements Salt Lake City's reputation as "a weird animal" and puts donor interests ahead of a celebration of diversity, noting that in 2015, The Church of Jesus Christ of Latter-day Saints donated $2,500 to the Utah Pride Center—a first-of-its-kind move.
Wolf questions the moral compass by which certain love boutiques or drinking establishments do make the vendor cut. "A gay bar, until relatively recent in Utah history, was considered a really fucking adult establishment," he says. "The LDS Church really had a major problem with gay bars."
Wolf sees in his website an affront against long-standing oppression. "That's what gays, lesbians and transgender [individuals] have been discriminated against—on the basis of their sexuality. Not because they have better hairstyles than someone else, but because they put it in the wrong fucking hole."
Still, for Gnade, it comes down to taste. That and trust. "LeGrand Wolf isn't a person," she says. "That disturbs me, that we don't know who these people are and where they come from."
Wolf, whose sites get a third of their traffic from users in Utah, says the moniker is his "porn name," adding that "in the adult industry, everyone [takes on] the name that they produce by." Using real names, he says, is "a liability and kind of a faux pas."
As far as what Gnade hopes to see in the June event, she says, "that it remains the biggest festival in Salt Lake City, and is the great celebration of how far we've come in GLBTQIA rights."
A celebration that will not include MormonBoyz.com. "We are firm in our decision," she says.