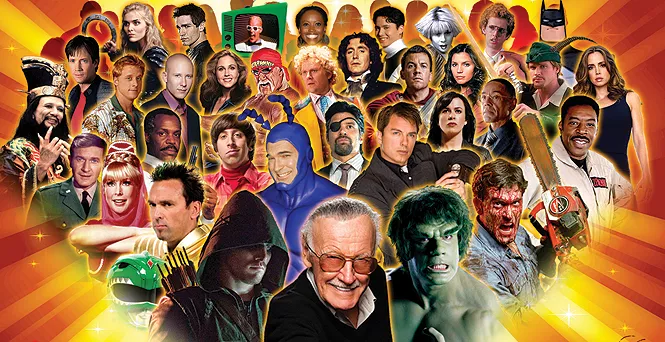 As the leaves begin to turn and fall approaches, it's time once again for Salt Lake Comic Con to invade downtown with all of its geeky goodness. This year's convention has got something for everyone, and may well be the biggest convention the Beehive State has ever seen.
Convention organizers seem to have gone out of their way to diversify the offerings this time around, giving comic-book fans as much to cheer about as anyone else. Stan Lee, perhaps the biggest name in comic books, will be making a return appearance to talk about his time in the early days of comics, as well as to sign autographs and take photos with fans. But it doesn't end there. A number of talented comic-book writers and artists will be attending the show, including Neal Adams, Art Adams, Ryan Ottley, Tyler Kirkham, Chad Hardin and too many more to list here.
The number of panels focusing on comic books has increased dramatically as well, ranging in topic from Batman's 75th anniversary to defending free speech in the comics medium.
Since comic books have expanded into other popular media, Salt Lake Comic Con is also letting us get to know some of the stars of our favorite comic-book-based shows through panels, photo ops and meet & greets. Perhaps at the top of the list is Kevin Conroy, the voice of Batman from The Animated Series (as well as every Batman video game worth playing). Then you have several members of the cast of The CW's Arrow, including Green Arrow himself, Stephen Amell, and the actor behind Deathstroke, Manu Bennet. To balance things out on the Marvel side, The Incredible Hulk's own Lou Ferrigno will be here again.
Moving on toward science fiction, Doctor Who fans have plenty to be excited about. First, two Doctors are coming to Salt Lake: Colin Baker (the sixth) and Paul McGann (the eighth). That's in addition to both lead actors from the Doctor Who spinoff Torchwood, John Barrowman and Eve Myles. Add to that a TARDIS on the grounds for guests' photo opportunities, and we'll all be clamoring to become the Doctor's companion.
And even people who aren't swayed by other geeky guests like Bruce Campbell (Army of Darkness), Alan Tudyk (Firefly), Cary Elwes (The Princess Bride) or Hulk Hogan, there's still plenty at the convention to see and do. This convention will showcase even more exhibition space than last year's, which means there will be more artists, writers and crafters peddling their goods. And that expanded space means there's also more room to show off your costume.
For those who have never been to a convention of any sort, I can't stress enough how fun these events are. Geeks of a certain generation were bullied or made fun of because we dared to like genre books and sci-fi movies. We would race home from school to watch Batman: The Animated Series and stay up to watch Doctor Who and Red Dwarf. We'd line up for Star Wars movies and spend our lunch hours on role-playing games. Many of us didn't feel like we were normal. Going to a convention like this, surrounded by several thousand people who passionately love the things you do? Well, there's no replacement for the feeling of acceptance and belonging.
Sure, there's a lot of cash flying around, but at their heart, conventions give us a place to go. Salt Lake Comic Con is no different—and a herd of wild Banthas couldn't keep me away from it.