The popular assumption is that partying in Utah just isn't done, whether due to our peculiar liquor laws, large religious population or lack of hot spots. Au contraire! There's never been a better time for Utah's party people than right now. The antiquated private-club laws are quickly becoming a distant memory, and clubs are continually stepping up their game to attract more locals, visitors and new residents. Whether you're gay or straight, a metalhead or country fan, a dance-club aficionado or dive-bar fan, there's a place for you in Salt Lake City's nightlife scene.
Neighborhood & Dive Bars
A city's bar scene can generally be divided into two camps: One is the set of bars that you only hit once in a while, for a show, a night out dancing or a karaoke excursion. And the other is the group of joints, scattered across neighborhoods, to enjoy every day of the week, that welcome regulars with a mix of gritty charm, libations and characters ranging from hipsters to suits, students to professors.
There was a time not long ago when downtown Salt Lake City wouldn't have been considered a neighborhood in any traditional sense. But a sprouting of new condos and converted historic buildings has created a downtown population full of new arrivals, young professionals and artists who mingle at area clubs with worker bees having a pop for happy hour before heading home, and visitors from the 'burbs coming downtown for a big night out.
A person can create any number of mini pub crawls with a few jumps through downtown. Here's a sampling to get you on your way:
Johnny's on Second is a fine place to start, with pool tables, occasional live tunes and a boisterous patio during warm weather. 165 E. 200 South, 801-746-3334, JohnnysOnSecond.com
Twilite Lounge is just up the block and has the lounge vibe down, complete with raging fireplace and a free jukebox. 347 E. 200 South, 801-532-9400
Dick n' Dixie's is the new kid on the block, a buzzing corner-lot bar with huge windows. 479 E. 300 South, 801-521-3556
Keys on Main is an expansive dueling-pianos bar among the high-rises on Main. 242 S. Main, 801-363-3638, KeysOnMain.com
Junior's sets the mood at one of the friendliest bars in town with quality recorded jazz, cheap drinks and a fine beer-can collection. 30 E. 300 South, 801-322-0318, JuniorsTavern.com
O'Shucks shares basement space with Ahh Sushi, so you can couple your tankard with sweet deals, subterranean-style. How many sushi joints let you throw peanuts on the floor? Or peanut joints that serve sushi, for that matter? 22 E. 100 South, 801-596-8600
Beerhive Pub has a ridiculously long list of beers available, and the grub comes from the killer German restaurant next door, Vienna Bistro. We recommend the "Farmer's Plate" of cured meats and imported cheese for a snack. 128 S. Main, 801-364-4268
The Jackalope always has a screaming deal on a drink and a snowboarding vid at the ready. 372 S. State, 801-359-8054, MySpace.com/TheJackalope
Graffiti Lounge was opened by the proprietor of the old Deseret Lounge, and the beer-only tavern took over the former Uprok hip-hop shop space, giving the spot its name in recognition of its intricately decorated walls. 342 S. State
Cheers to You is a comfy sliver of a bar in the heart of downtown, with food from small-plates fave Eva right next door. 315 S. Main, 801-575-6400, CheersToYouSLC.com
Murphy's purports to be "a step down in social clubs," but the colorful clientele and daily food specials make it a favorite at both happy hour and late night. 160 S. Main, 801-359-7271, MurphysBarandGrillUT.com
The Green Pig Pub is one of the newer downtown spots, and its brick bar with huge windows is a prime location for a pre-game drink before all the festivals and parties that fill nearby Washington Square in the summer. 31 E. 400 South, 801-532-7441, TheGreenPigPub.com
Poplar Street Pub is a large bar with one of the best warm-weather patios in town and one room dedicated completely to bar games. 242 S. 200 West, 801-532-2715, PoplarStreetPub.com
The Bayou has a huge selection of beers and tasty Southern grub, along with the frighteningly decadent deep-fried Twinkies on the menu for a closing-time bite. 645 S. State, 801-961-8400, UtahBayou.com
The Republican is a cement block of a joint with a massive bar, soccer (and only soccer) on the TV screens and a jukebox full of Irish tunes, both traditional the punk-ified. 917 S. State, 801-595-1916
Duffy's Tavern has surprisingly tasty pizza and Old Style signs in the window to let you know this is a Chicago Cubs-friendly joint. 932 S. State, 801-355-6401
Lucky 13 beckons bikers, pre-Salt Lake Bees game imbibers and burger aficionados daring to attempt to eat the joint's fiery Lucky 13 burger—two patties covered with jalapenos and habaneros, squeezed between two grilled-cheese sandwiches serving as the bun. 135 W. 1300 South, 801-487-4418
Piper Down purports to be "an olde world pub," but there's a lot new about the place, including a spacious new bar area in back and one of the most popular quiz nights in town with Geeks Who Drink every Wednesday. 1492 S. State, 801-468-1492, PiperDownPub.com
Willie's Lounge is a laid-back dive with dirt-cheap beers, karaoke, foosball and the occasional live band. 1716 S. Main, 801-612-2920, WilliesLounge.net
Manny's, TOO is another low-key joint with some tasty grub and a slew of regulars hunkered down for cheap drinks and football on the telly. 1704 S. Main, 801-467-6289
Sugar House Pub is a great starting point for a Sugar House pub crawl. It's a small place with friendly bartenders tucked in the ground level of a condo complex. 1992 S. 1100 East, 801-413-2857
Fat's Grill & Pool offers a slew of pool tables, a bevy of sandwiches and a brightly lit place where you can actually hold a conversation. 2182 S. Highland Drive, 801-484-9467
Tap Room is a cozy basement bar that somehow also manages to have a worthy patio space for the summer months. 2275 S. Highland Drive, 801-466-0974
Karamba offers a little more flavor, with touring bands and DJs from South and Central America, along with regular salsa classes, combine to give Salt Lakers a taste of south-of-the-border nightlife. 1051 E. 2100 South, 801-696-0639, MySpace.com/KlubKaramba
Live Tunes
Once upon a time, music fans in Salt Lake City would forlornly watch many of their favorite touring bands skip Utah. Thankfully, those days are long gone; in addition to a healthy club scene that supports indie-rock, folk and hip-hop, most major touring acts stop by on their jaunts across the country to play one of Utah's many music venues. Here are the spots to check for your favorite bands, both local and national:
5 Monkeys This Murray space has a little something for everyone, blending dance-oriented nights hosted by some of the valley's best DJs with live music ranging from raging rock to old-school hip-hop. 74 E. 4800 South, Murray, 801-266-1885, 5MonkeysBar.com
Avalon Theater Gone are the weekly shows featuring old movies and a live hypnotist, replaced by an all-ages rock club that hosts all manner of punk, metal, pop and folk acts booked by Salt Lake City promoter The Kollective. 3605 S. State, 801-654-6678, Facebook.com/AvalonTheaterSLC
Bar Deluxe The space has changed names many times through the years, but the vibe remains the same: neighborhood bar meets music club. Depending on what night you pop in, you can find reggae bands, psychobilly trios or touring favorites like Mike Watt or Supersuckers. A heavy dose of local talent assures a regular rotation of Salt Lake City music lovers. 666 S. State, 801-532-2914, MySpace.com/BarDeluxeShow
Burt's Tiki Lounge A Salt Lake City institution with the best wall art of flyers, graffiti and assorted flotsam to peruse over the course of a night, Burt's hosts a nonstop array of touring and local bands leaning heavily on punk, rockabilly and blues. 726 S. State, 801-521-0572, MySpace.com/BurtsTikiLounge
Club Vegas Salt Lake City's metal-friendly mecca might not look like much from the outside, but step inside the surprisingly spacious venue and you'll find a large dance floor in front of the stage, couches lining the VIP lounge and a kitchen in back to sate the munchies. You'll find everything from oldies acts to up-and-comers, and Club Vegas regularly hosts "local band recognition nights" to give Utah's homegrown talent a chance to play their big stage. 445 S. 400 West, 801-364-8347, MySpace.com/ClubVegasRocks
The Depot The space for 1,200 is one of the best live music spots around, thanks to great sound, multiple bars and bathrooms that could hold the entire populace of smaller clubs. On any given night, you might find country stars like Dwight Yoakam, hip-hop heroes like Snoop Dogg or rocking artists ranging from young (My Morning Jacket, Michael Franti) to old (Lindsay Buckingham, B.B. King). Vinyl Fridays convert the place into a spacious dance club. 400 W. South Temple, 801-355-5522, DepotSLC.com
In The Venue/Club Sound This mix of live music venue and dance club boasts an impressive flow of artists coming to grace its two stages, including the likes of Band of Horses, Atmosphere and Janelle Monae. Concerts regularly end early so the place can convert into one of Salt Lake City's most active dance spots, complete with cages. 579 W. 200 South, 801-359-3219, MySpace.com/InTheVenue
Kilby Court This all-ages venue has outlasted similar venues in far larger cities, thanks to a dedicated fan base, savvy management and a never-ending supply of young artists willing to play the garage-turned-venue. With the adjacent art gallery and outdoor fire pit giving Kilby a sense of being far more than simply a music club, the place continues to thrive and now has a record label to go with it, Kilby Records. Early showtimes mean the kids can be home by 10, as can the fans with early morning classes or jobs. 741 S. Kilby Court (330 West), 801-364-3538, KilbyCourt.com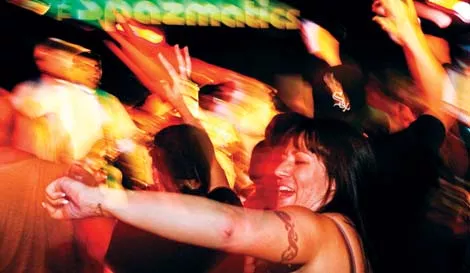 Liquid Joe's This long-running mid-valley club might not look like a music club from the outside; its round exterior hints at its former life as a sports bar. Thankfully, a heavy dose of local bands on Wednesdays and Fridays and the massively popular tribute bands that play every Thursday and Saturday keep music at the forefront at Liquid Joe's. 1249 E. 3300 South, 801-467-5637, LiquidJoes.net
The State Room This 300-seat venue in a former children's theater offers arguably the best sound of any music joint in town—all the better to hear the jazz, blues, rock and jam-band favorites that stop by on a regular basis. In its first two years in business, The State Room has hosted the diverse likes of John Hiatt, OK Go and Heartless Bastards, and the drink prices won't make you cringe, unlike far too many clubs. 638 S. State, 800-501-2885, TheStateRoomSLC.com
The Urban Lounge This hipster haven hosts live music virtually every night of the week, from touring big names to local showcases. Whatever your taste—psychedelic rock, hip-hop, acoustic folk and everything in between—you can find it at The Urban Lounge. Just be ready for a late night out; with a restaurant next door, opening acts never start before 9 p.m. 241 S. 500 East, 801-746-0557, MySpace.com/TheUrbanLounge
The Woodshed How many nightclubs host a regular book club? That's just one of the attractions that makes the Woodshed more than just another beer joint with loud guitars. The patio out back is one of the best in town, an eclectic mix of local bands and touring acts and some of the city's best street-taco vendors just steps away all make this spot a must-stop. 60 E. 800 South, 801-364-0805, MySpace.com/TheWoodshedSLC