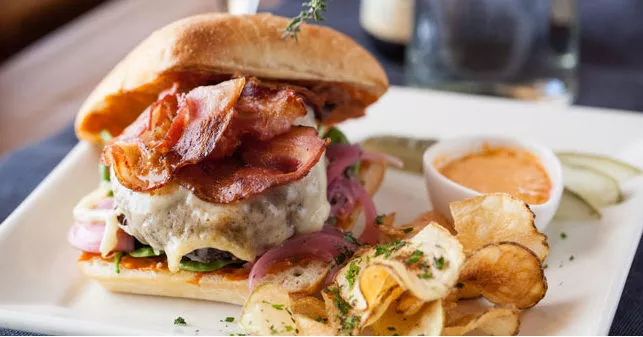 Deer Vallley Resort
Brass Tag Burger
During the remainder of the spring season - through Thursday, June 18th, 2015 - Deer Valley Resort's Brass Tag restaurant is offering customers a special, value-priced spring prix fixe menu, price at $34 per person for a three-course meal.
Located in the Lodges at Deer Valley, the Brass Tag features "brick oven cuisine," including dishes such as oven-cooked steamed clams, shrimp cooked and served in small cast-iron skillets with a choice of sauce: curry chorizo, roasted red pepper, or white wine with tarragon and Parmesan, whole quail rubbed with Indian-style tandoori spices, gourmet flatbreads, steaks and much more, including a full bar and excellent wine list.
Options on the Brass Tag spring prix fixe menu include:
Appetizer: Fire-roasted garden vegetable gazpacho
Choice of Entree: Brass Tag Burger, oven-roasted quail piccata, or the mushroom trio with summer vegetables
Dessert: Snickerdoodle cookie skillet
In addition to the special prix fixe offer, the Brass Tag will also offer its regular menu.