Page 10 of 16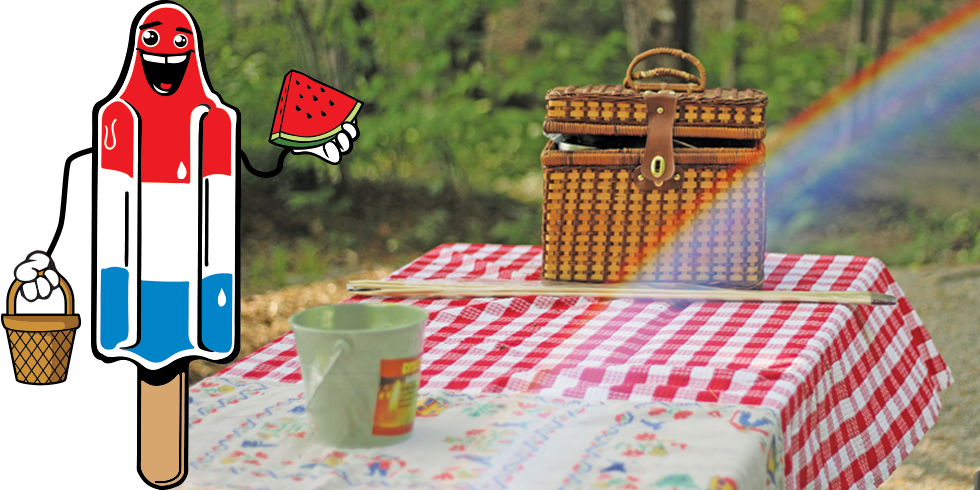 Thinking Outside the Basket
Find portable picnic food at one of our many local world markets.
By Alex Springer
When my wife and I felt that we were ready to entertain bringing a small human into the world, our conversations often veered into how we would approach food and eating with said addition. The main objective was to discern ways in which we could teach our spawn that food is fun, especially if it looks really weird. Now that we have officially brought a small human—she's 10 months old and goes by Juniper—into the world, we're starting to put our plans of expanding her culinary horizons into action. I mean, she already has six teeth. We have to get a move on.
With the weather getting warmer, the idea of summer picnics in the park or stocking up on road-trip snacks for our whole family have started to take shape in my head. Before the wife and I saw our food choices as object lessons for a tiny person, we would always opt for convenient options within our own cultural wheelhouse—deli sandwiches, pre-packaged potato salad, green Jell-O and the like. Our current goal is to spread our picnic blanket a little wider and be a bit more inclusive of other culture's answer to food that travels well. At the moment, June's still working on solid foods, but this time next year she'll be ready to eat whatever the world has to offer—which is why I scouted out some of our local and diverse ethnic food markets for on-the-go food that would continue to expand the little one's burgeoning palate.
Before I could even put my plan on paper, I knew that I would have to hit up the Chinatown Supermarket (3390 S. State, chinatownsupermarkets.com). I've been there a few times before, and the sheer volume and variety of imported products is staggering. For my purposes of quick, ready-to-eat food that can be easily packed away, I headed straight for the bakery. For a few bucks apiece, you can get sesame balls and baked pork buns, which make excellent alternatives to sandwiches. Although I didn't think about this beforehand, it turns out sesame balls are perfect for kids. If you've never tried one before, they're tennis ball-sized dough balls covered in sesame seeds and stuffed with a slightly sweet red bean paste. They're extremely portable, self-contained snacks that are sweet without being terribly messy. The same goes for the pork buns—imagine a pulled pork sandwich that doesn't goosh out all over the place when you eat it.
In the same complex, I visited Moon Bakery, a Korean pastry shop with some great ideas for portable desserts. Its shelves are stocked with pre-packaged, snack-sized buns and cakes, which offer up a worthy substitute for Twinkies or other mass-market brands. These rolls come in peanut butter, coconut and cheese to name a few, and it also has more savory items like croquettes and sausage rolls. The variety of buns available at Moon Bakery can create an entire picnic basket on their own, and the fact that they're individually wrapped makes them really easy to pack away for later.
My next stop was Qaderi Sweetz N Spicez (1785 S. State, 801-484-0265, qaderisweetzandspicez.com), a little market that's also filled to the gills with imported Indian and Middle Eastern groceries. A bag of fresh naan is a no-brainer—add a few jars of mango chutney, hummus and, for those looking for something hot, a bit of spicy lemon pickle relish. I also spotted some canned lychee that I think would be perfect for June when she gets a few more chompers. It's a fruit that is just as sweet and juicy as peaches or pears, but its alien, spiky exterior tends to bring down the curb appeal of the produce aisle—which is probably why we don't see it a lot at the mega-markets. In addition to lychee, Qaderi stocks a lot of ready-to-eat, composed canned food like peppers and cabbage leaves stuffed with rice, which would also be easy to pack up for a trip.
With a few options for portable meals out of the way, it came down to my favorite part about this excursion—packing the cooler. I tend to geek out about the different fruit drinks and sodas beyond the realm of Coca Cola, and both Chinatown Market and Qaderi have a huge variety to choose from. I bought a bottle of basil seed fruit drink from Chinatown, mainly because it looked like the lava lamp that I used to have in my room as a teenager. The herb's seeds are suspended throughout the drink, giving it a truly bizarre appearance that I think would speak to the little one when she's old enough to appreciate weird stuff like that. It tastes like of any garden-variety fruit-flavored drink, and its slightly slimy texture might be a bit odd, but it's a must for kids who will dig pretending that they're drinking a bottle full of alien eyes.
All things considered, I feel pretty confident about my ability to build a picnic basket or select road-trip snacks that extend beyond my cultural comfort zone. I'm looking forward to seeing which items resonate with June once she gets a bit older. Sure, there will be some things that she just won't like, but I feel like presenting her with food that she might not see every day will at least let her know that eating is not a static practice—food comes in many varieties, and the exploration of those varieties is one of the best parts about being alive.