Page 13 of 16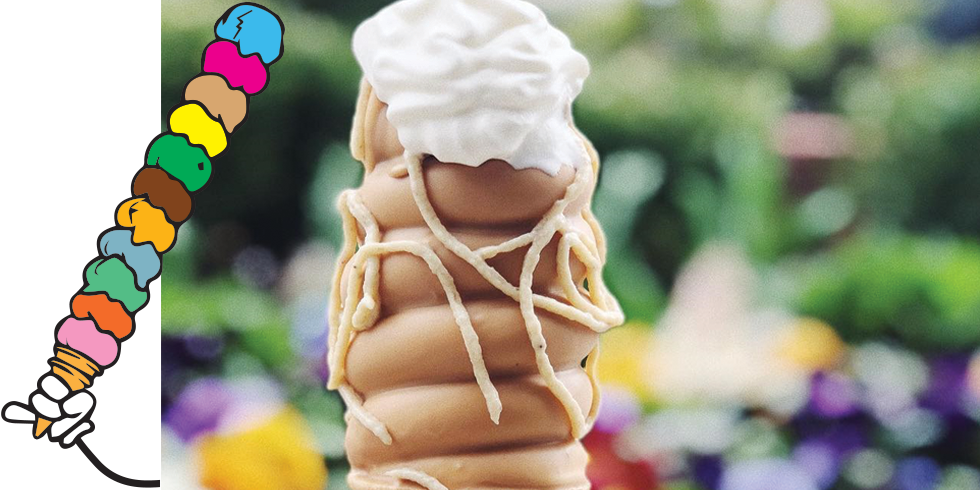 @normal.club via Instagram
Inspiration, Innovation and Ice Cream
I scream, you scream, we all scream ... you get it.
By Alex Springer
I'm lucky to live in a state that loves ice cream. There are days when it gets so hot during the summer that the only way I can muster up the will to peel myself out of bed and go about my day is to promise myself that I'll get ice cream at some point. Thanks to our local affection for frozen, creamy desserts, I can usually find a spot to cool my jets wherever my day ends up taking me.
If my daily travels happen to take me near Trolley Square (602 S. 700 East), I don't miss a visit to Normal Ice Cream (normal.club), a retro, chrome-fitted van that has taken up residence at the mall's east entrance. Classically trained pastry chef Alexa Norlin, formerly of HSL, opened the truck to explore soft serve ice cream, which has always been one of her passions. Under her creative leadership, the Normal team concocts a rotating list of different housemade soft serve options, all of which eventually end up as part of the truck's Willy Wonka-inspired composed cones.
"Soft serve is ice cream in its natural state," Norlin says as we chat over the phone before Normal opens for the day. "It's the best way to taste flavors, because you're not waiting for part of it to get to the right temperature; it's the best version of ice cream." In addition to Normal's signature cones, their standard cone can be topped with a shell of dark chocolate or dulce de leche—they call it "dulcey dip" (pictured), and it's the best thing to happen to ice cream since the banana split—and each one is a perfect marriage of texture, flavor and frozen refreshment.
Now that Normal has gained more of a following, Norlin is hatching plans to start challenging the way people think about soft serve. "This month, I have a composed cone that is olive oil ice cream, dulcey dip and dehydrated Kalamata olives," she says. "A large part of my motto is that people in the food industry have the responsibility to teach others about new flavors, concepts and textures." Norlin likes experimenting with ice cream because of its universal appeal. "You already have people hooked because it's ice cream," she says. "You just have to give people a little bit of a comfort level before you can get super weird."
With temperatures rising and the operation expanding, Norlin just secured a storefront off 100 East and 900 South, which she plans on opening soon. "Trolley Square was great for me because it proved my concept," she says. "Obviously, I always believed in it, but my belief doesn't really transfer to other people unless they see the numbers."
Normal will always have my soft-serve-craving heart, but, given the hot and sweaty months ahead, I needed to establish some ice cream safe houses for every eventuality. What if I find myself way out in West Valley and I'm in need of something chilled and delicious? What if my ice cream urge takes me when I happen to be hanging out with some vegans? These are the things that I think about when summer is inevitably upon us. Here are a few inspired ice cream choices for wherever you happen to find yourself when the temperature gets above 90.
Silvestre's Rolled Ice Cream
Next to soft serve, rolls are my favorite ice cream delivery system. Rolled ice cream places are known for their preparation method. They spread their mixture out on an exceptionally cold surface—sometimes called an anti-griddle—where they proceed to add different toppings. Once it's all nice and flat, they use these big wall-scrapers to chisel it into tightly wound rolls. At first, I thought this was a gimmick; like a twist on the Cold Stone business model. But something wonderful happens during this process, especially when the people making the stuff know that rolled ice cream is the perfect vessel to explore different textures.
It's this exploration of texture that has officially cemented Silvestre's on my radar. It's a tiny, unassuming extension of West Valley's Café Silvestre, and it's only been open only for about a year, but they're doing some crazy things over here. Their horchata ice cream comes topped with Cinnamon Toast Crunch, which is also chopped up and worked into the ice cream. Since the ice cream is so cold, it doesn't make the cereal soggy, so it's like getting a supercharged Saturday morning breakfast. The dish that'll forever be immortalized in my memory, however, is one that includes a fresh, deep-fried Twinkie. I've always considered the state fair staple to be an elevated dessert, but mixing it with some creamy vanilla ice cream just enough to let the crispy exterior come through in every bite, is enough to rest my case.
3524 S. 2200 West, West Valley City, 801-972-5582, facebook.com/silvestresrolledicecream
Monkeywrench
If I ever took the plunge into vegandom, I would most miss ice cream. While it's not extremely likely that I'll make that move any time soon, Monkeywrench is where the vegan version of myself would go to satisfy any and all ice cream cravings. They have vegan soft serve with a lovely, icy texture and comes with a hint of cinnamon. They also stock plant-based waffle cones, and they make their own vegan-friendly chocolate and caramel sauces. Their huge selection of hard-scoop ice cream is where I gravitated. It's all made from a base of coconut and cashew cream and is impeccably flavored.
I recommend both the lemon blueberry and the Black Forest. I got both of 'em in a double scoop-stravaganza, and I thought they paired well with each other. Individually, they're also just as capable. The lemon blueberry is rippled with amazing, huge frozen blueberries, and the ice cream is perfectly tart. The Black Forest is ... well, let me put it this way: Ben and Jerry ain't got shit on that scoop of frozen gold. You've got cherries, you've got nuts, you've got little vegan brownie bits—in short, you've got everything you've ever needed right there in that bowl.
53 E. Gallivan Ave., Instagram: @monkeywrench_slc
Sweet Cream Bar
If you're asking about where to get good ice cream down Provo way, and someone even mentions the BYU Creamery, then you have my permission to smack them right in their ignorant face. Nobody knows it yet, but the correct answer to that question is Sweet Cream Bar. It's hands down the best place to get ice cream in Provo, period.
The basis of their operation is housemade soft serve, and they dish it up in a few different ways, such as concretes and sundaes. But the thing to get here is one of their chimney cones. Chimneys, otherwise known as a spiral of baked pastry that is primed for all manner of fillings, take the place of traditional cones, creating a dessert that's flaky and full of flavor. Where this is enough of a concept to keep things interesting, Sweet Cream customers also get to pick a crunchy coating for their chimney—items like chopped almonds and graham cracker crumbs—along with spreads like peanut butter, Biscoff and Nutella that go inside the chimney before it gets slapped with your ice cream of choice.
Sweet Cream is a prime example of a dessert place that goes over the top while still showing some restraint, and that's what has earned it the supreme title of best ice cream in Provo.
3376 N. University Ave., Provo, 801-691-6433, thesweetcreambar.com