Page 14 of 16
Don't Eat the Worm
Ditch your Spring Break horror stories and give these upscale agave-based cocktails a go.
Words and photos by Darby Doyle
Tequila 101: More than 200 varieties of agave plants grow wild throughout Mexico and the Southwest. Alcoholic products from this species include, yes, tequila, but also mezcal, bacanora, raicilla, sotol and a lower ABV fermented agave nectar beverage called pulque. Distinctively smoky mezcal can legally be made anywhere in Mexico with a bunch of different agave options, but in practice there are only about 30 agave varieties harvested for mezcal, and almost all of the category is produced in eight of Mexico's 31 states (most U.S.-imported mezcal comes from Oaxaca). However, much like how Champagne or Cognac in France must be made in those eponymous regions with specific varietals, real tequila may only be produced in an area of Mexico centered in Jalisco and neighboring states Michoacán, Nayarit, Guanajuato and Tamaulipas. And only the Weber blue (agave tequilana) plant may be used to make tequila. Further, 100-percent agave tequila comes in various aging categories: blanco (clear, typically un-aged), reposado (aged less than one year in wood barrels or other storage, giving it a slight golden hue) and añejo (aged more than a year, and "extra añejo" tequilas have been aged more than three years).
Your Cancun hangover that lasted for three days was probably the result of overindulging in tequila labeled "gold" (or interchangeably "jóven" or "oro"). While some jóven and gold tequilas are legit quality mixes of blanco and reposado or añejo from exacting distillations, there's also a good chance that your bottom-shelf gold was bottled by distillers who cut farther into the pretty nasty acetone-heavy heads-and-tails of the distilling run (that'd be called "smearing" in distilling lingo, which happens in every spirits category, sorry to say). Or, instead of drinking quality tequila 100% puro de agave, you might have picked up a bottle of tequila mixto, which can be legally bottled with only 51 percent agave distillate. The rest can come from caramel coloring, artificial oak extract flavoring, glycerin and corn or other sugary syrups. Basically the stuff of vomit and nightmares.
TEQUILA'S BEEHIVE CONNECTIONS
Since all tequila must legally be produced and bottled in Mexico, brand owners like Lisa Barlow of Utah-based Vida Tequila (vidatequila.com) work closely with their distillers in Mexico and must follow very strict criterion for labeling, bottling and importing. Barlow recently oversaw a bottle re-branding of Vida's three flavor profiles (award-winning blanco, reposado aged six months in new white oak barrels and a rich añejo-aged in French oak for two years). "I love Mexico," Barlow says. "I wanted our tequila to represent both how modern, sophisticated and forward Mexico is as a country, and also reflect the pride that Mexican people have in their food, music, culture and tequila traditions." A huge supporter of Utah's craft cocktail and bartending scene, you'll see Vida products at events all over the region and on the top shelf of some of the state's most beloved restaurants and bars.
Even closer to home, New World Distillery (4795 E. 2600 North, Eden, 385-244-0144, newworlddistillery.com) owners Chris and Ashley Cross took on the challenge of producing agave spirits in Eden, Utah (hence their labeling "agave spirits," instead of "tequila"). After spending years traveling through Mexico and sampling the gamut of the country's booze, the Crosses set out to distill 100-percent blue Weber agave sourced from the Jalisco highlands. New World's Rabbit and Grass Agave Spirit has a similar profile to traditional Mexican blanco tequila, but by using Champagne yeasts for fermentation and bottling at 89 proof (most tequila is 80 proof), their bold blanco is a bit more agave and fruit-forward than expected. The Crosses also re-distill cuts from their Rabbit and Grass agave spirit runs to produce one of only two agave-based vodkas currently made in the U.S., and also use this base to create Wasatch Blossom Utah Tart Cherry Liqueur, sweetened with agave nectar instead of refined sugar. Head up to the distillery in Eden for a tour and tasting; Ashley would love nothing more than to help people learn more about quality agave spirits. "I really hope people can be steered away from that outdated notion that agave spirits are limited to the tequila-with-a-worm version," she says, wanting drinkers to enjoy them as they would fine wine or whiskey. Her tip? "Sip great tequila instead of throwing it back like a shot." And don't deaden your palate with the notoriously heavy wham-bam lime/salt action. "Take your time. Enjoy."
6 HOT SPOTS FOR YOUR UPSCALE AGAVE FIX:
Agave and Damiana at Alamexo Cantina
Looking to dive right in to experimenting with agave spirits? One of my favorite summertime spots for mezcal sippin' is the breezy 9th & 9th patio at Alamexo Cantina (1059 E. 900 South, 801-658-5859, alamexocantina.com). Order a generous split-able serving of house guac and start sampling from the cantina's thoughtful bar selections of blanco, reposado and añejo tequilas (including Vida's añejo, priced at $14 a pour), as well as a few nice mezcal options. All of these well-curated selections warrant sipping neat, in my estimation, maybe with a single ice cube if the day is particularly sweltering. But for those wanting their agave presented in margarita form, for an extra $1 any of the spirits listed on their menu can be mixed the traditional way with damiana leaf, which has been revered in Mexico since Mayan times as an aphrodisiac. ¡Salúd!
El Alacrán Hermoso at Water Witch
This "Handsome Scorpion" ($11), an original cocktail by Pat Harrington at Water Witch (163 W. 900 South, 801-462-0967, waterwitchbar.com) is his current homage to all things agave. "If I had to pick a spirits category that I'd have to drink for the rest of my life, it'd be agave." Harrington says. "Mezcal, and tequila in all of its blanco and aged forms—and they're all great with food, too." It's a spirit designation he believes is equally great for quick highballs or a rare añejo passed around the campfire. Harrington also opines that it's the only family of spirits that's a stimulant, rather than a depressant, recalling the Mexican proverb (loosely translated to English, here), "If you ever lose your way, drink an agave spirit and you'll find your way."
El Alacrán Hermoso
1.5 ounces Wahaka (or Espadín-style) mezcal
0.5 ounce almond orgeat
0.75 ounce fresh lemon juice
0.5 ounce Cocchi Americano
1 dash orange bitters
3-4 drops Bittermens Xocolatl mole bitters

Method: Shake all ingredients with ice. Strain into a chilled coupe. Garnish with an orange zest swath.
Aardvark at Bar X
Bar X (161 E. 200 South, 385-259-0905, beerbarslc.com) bartender Julie Tall named this $9 spicy spin on a margarita after the cult favorite Portland-produced hot sauce, which is one of her personal go-to condiments. "It's a classic margarita base with a nice agave body, rounded out with a pinch of salt, fresh grapefruit and lime juices," Tall says. A solid shake of secret Aardvark Habanero Hot Sauce later, a "Caribbean meets Tex-Mex" heat makes its entrance. It's perfect for hunkering down in the dark bar on a sweltering afternoon, or doing as I did recently—watching the people of our salty city stroll by whilst sipping this spiced up concoction street-side.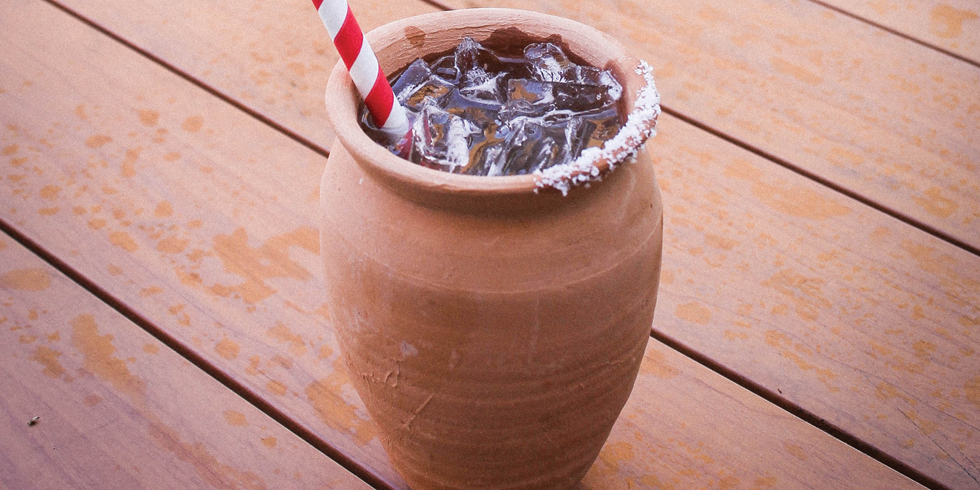 In search of the perfect Paloma
Most bartenders I polled reiterated that this town's O.G. Paloma is served in a traditional salt-rimmed clay cantarito cup at Chile Tepin (307 W. 200 South, 801-883-9255). Simple but beautiful, this classic Mexican highball is perfection in tart-sweet balance: tequila, grapefruit soda, salt and a touch of lime juice. But there are some other stellar versions about town that make fleeting appearances. Case in point: For Mother's Day, Scott Evans at East Liberty Tap House (850 E. 900 South, 801-441-2845, eastlibertytaphouse.com) shook up a particularly potent Paloma with Vida tequila and local Mountain West Hard Cider as a limited-edition perfect patio sipper. Quarters SLC (5 E. 400 South, quartersslc.com) bartendrix-about-town Arianna Hone—who also loves Chile Tepin's original and can be found slinging her own fab version by request when she has all the ingredients in stock at the arcade bar—is also a fan. "I could live off Paloma's for the rest of my life," she says. Same.
Pear Cactus Margarita at Black Sheep Café
Yes, Becky, you can get a drink in Provo. And in this case, it's pretty damned refreshing, to boot. Black Sheep Café's (19 N. University Ave., Provo, 801-607-2485, blacksheepcafe.com) signature prickly pear cactus margarita ($10) is made with Milagro tequila, Cointreau for a nice sweet orange hit, fresh lime juice and vibrantly hued hot-pink prickly pear cactus syrup. Flavor bomb: activate!
Siamese Night at The Rest
After an exhausting day battling the slings and arrows of our modern existence, sometimes the last thing we want is a sunny patio. We crave a dark, moody lair—and only a visit to the depths of The Rest (331 S. Main, 801-532-4452, bodega331.com) can satisfy our misfit souls. Once there, I'd recommend trying a new agave-forward smoky and herbal addition to their summer drinks menu: Siamese Night ($16), which includes more than a few of my favorite things—mezcal, overproof rum, cucumber, jalapeño, basil and some housemade celery and shishito pepper bitters—all shaken up to sooth the weariest pilgrim. Or, if you can't even stand the thought of pulling on actual grown-up pants, make this beaut up at home. Bar manager Adam Albro shared the recipe for the days when I'm beyond adulting. Or pantsless. You're welcome.
Siamese Night
1.5 ounces Wahaka Jóven mezcal
0.5 ounce Wray & Nephew rum
0.75 ounce fresh lime juice
0.5 ounce ginger syrup
0.5 ounce simple syrup
1 slice cucumber
1 slice jalapeño
1 sprig Thai basil
3 dashes Honest John celery & shishito bitters

Method: Muddle basil, jalapeño and cucumber in the bottom of a shaking tin. Add all remaining ingredients and shake well with ice. Strain into a large tulip glass with crushed ice. Garnish with a fresh Thai basil sprig.
One sip of the upscale agave spirits listed above, and I think you'll be sold on a spring break re-do, too.