Page 9 of 16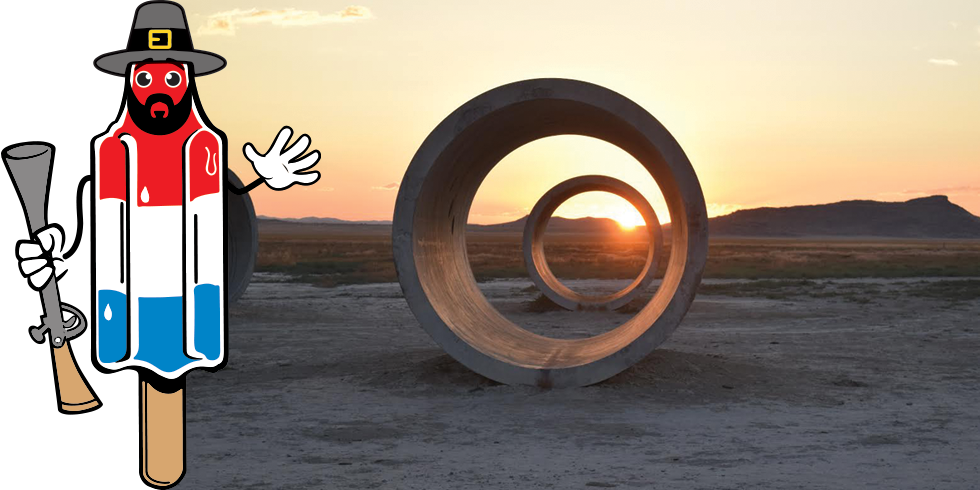 9 Steps to a Stellar Utah Summer
There's plenty to do around Salt Lake during the summer, but why don't you try to make those even better?
By Ray Howze
It's summertime. That's why you're reading this, to have fun in the sun. We've all done the garden variety summertime in SLC activities, so why not mix it up a bit? What follows is a guide to help make the best of a few usual suspects across the Wasatch Front—complete with a few twists, turns, dinks, dunks and most importantly, drinks.
As a tried-and-true local, I often get asked how to have an actual good time at these events (beer, but only sometimes) so I felt compelled to share some of those answers. After a short exile, at the ripe age of 27, I can say I've been there, done that, having learned a lot last year in my first "adult" summer in the state. It's not alI sunshine and soda pop as I've made a few mistakes along the way (stay tuned) and have suggestions on how to avoid those as well. More importantly, I learned how to make the best of those times.
Ready? Here we go.
Drum Circle
The drum circle in Liberty Park has been around since 1995 and was started by California native Sabina Sandoval. Since then, it's morphed into a well-known gathering of people enjoying some of those laid-back California beach vibes. Here, they're more likely mountain vibes.
Every Sunday during the summer, you can bring your drums or guitars or just yourself to jam and dance in the park. Would it be stereotypical to suggest loading up on some kombucha to quench your thirst? Disclaimer, never tried it but the much-healthier people than me make it seem OK. Last time I visited the drum circle was with parents. I can confirm this is not the most fun way to enjoy the drum circle but it is a place for everyone. To each their own. So, if you've got a case of the Sunday Scaries (fear of Monday), head over to Liberty Park to end your summer weekend right.
Liberty Park, 600 East 900 South, Sundays throughout summer, free
July 24
What summer isn't complete in Utah without Pioneer Day—or Pie and Beer Day for us gentiles? This holiday is great. It's pretty much July 4 2.0. It has all the great festivities of Independence Day, but ramped up with more parades and fireworks.
Just had July 4 off from work? No problem, here's another holiday for you three weeks later. The annual parade down 200 East takes place in the morning. Drink of choice? I highly suggest bottled water. No funny business here. Plus, you'll fit right in with the crowd—if you're a parade person. Afterward, reward yourself with copious amounts of brews and pies. SLC is bustling with new local breweries so grab a growler from one of them (probably the day before, in case they're closed) and take it home for a refreshing, hoppy and sweet-toothed afternoon.
I've tried to spread the Pie and Beer Day intrigue in other parts of the country. They didn't get it, but they enjoyed the pie. And really, that's all you need to look forward to, right? Pie. For the nightcap, find one of the many fireworks shows around town. By this point in the day, it's best to bike or walk. Too many people. And after all that pie and beer, what better way to work it off?
Parade: Primary route down 200 East; Fireworks: Liberty Park, Gallivan Center and Smith's Ballpark, to name just a few
Concerts and Festivals
I would love to share with you great stories about summer concerts and festivals around town, (I was there for the Modest Mouse Twilight concert that spurred the whole "free" aspect of that series to change) but there's not enough space here for that. Luckily, we have a future issue focusing on them in a few weeks.
There are some places, though, that let you whet your own whistle by allowing patrons to bring in their own food and drink. For example, the Outdoor Concert Series at Red Butte Garden lets you bring in your own cooler. How special. Sure, it might seem like a hassle lugging it around, but it can be worth it if done right. Pack some ice and if you're a mixed-drink aficionado, which I will admit I am not, bring plenty of cups so you can mix it right. Or make it simple and bring that margarita pitcher. My best times here have been with just a blanket and cooler. Chairs are too much of a hassle. Plus, no one likes chairs getting in their way.
More of a beer person? Luckily for you, City Weekly has you covered with its annual Beer Festival in August. Whether it's concerts or festivals, you won't be short on finding one that suits your fancy.
Red Butte Garden, 300 Wakara Way, May 23 through Sept. 17, redbuttegarden.org/concerts
Sun Tunnels
Didn't make it to Coachella, Stagecoach, Burning Man or some other hip festival getaway? This one is free and it's best suited for an overnight stay. Go on the summer solstice—Thursday, June 21 this year. The tunnels are four concrete tubes located west of the Great Salt Lake (pictured) and placed just right so they capture the sunrise and sunset on each solstice and equinox.
Take some camping gear, plenty of water, food and a portable toilet (or dig a hole) since there are no facilities here, and enjoy a night out in the desert with other solar revelers. On the solstice, it truly feels like a small festival in the middle of nowhere. There are no organizers except for all of you, oh, and hoards of photographers. Granted, you might want to provide your own music. Cell phone reception is minimal so you can take the chance to disconnect from your everyday life and connect with Mother Nature.
Once you're settled, take in that gorgeous sunset. The shared experience adds another level of awesome to the whole affair. After the sun goes down, the fun really begins. If you're into themes, think of something sunny—say, tequila sunrise. But remember, you're in the middle of nowhere, so choose wisely. Bring plenty, too, to share with others and make a new friend or two or 20. While you're there, say hi to Jon, the keeper of the sun tunnels, and tell him I sent you. He's probably wearing shorts and a tie with no shirt and drove his RV there. This is a desert party after all. And, it's art, dang it.
Directions: Head north in I-15/I-84 and take a left at Highway 30. Continue until a few miles from the Nevada border and signs will direct you along the dirt roads. Free.
A Lake or Reservoir Trip
We just mentioned the Great Salt Lake so let's get to it. The Lake: not that refreshing and kind of smelly. But if you want a true Utah adventure, take a day to hike on Antelope Island. Bring water. No time for other drinks. See some bison and definitely do not drink the lake water. Or do and be dehydrated. We'll hear about your rescue in the news.
For a more refreshing water experience, find a friend with a boat and get to Utah Lake. It's fresh water and can make for an electric lake day when there's no algae outbreak. If you don't have friends, find one of the many nearby reservoirs and head there instead.
Rent paddleboards, take a dip if it's permitted, and most of all, snap a picture of you holding a drink with a silly cocktail umbrella or go whole hog and aim for a sangria pitcher. Your lonely days will surely be over. In need of a hobby? I took up fly fishing last summer and had a blast. The goal for this summer is to get out on the Provo River, cool down and catch those pesky fish.
Directions for Antelope Island: Head north to Layton on I-15 and take Exit 332. Head west to Antelope Island Road. $10 per vehicle, $15 for first night of camping.
Salt Lake Bees
What's that? You actually didn't gain any new followers with your ridiculous tiki pictures? Then take yourself out to the ball game. Who says team sports are best enjoyed en masse? Local ball stars the Bees are minor league so to get butts in seats, they're big on promotional nights. Taco Tuesday? You've got it. Thirsty Thursday? Step right up. Honestly, pick any day to go to the ballpark and enjoy yourself. Wednesdays you can buy $1 hot dogs. I'd go Tuesdays through Thursdays if I could, but the temptation for sad/silly posed pictures is far too great and my boss follows me on Instagram.
Powers that be, hear this: This year, I chose The Sandlot promotion night on Friday, Aug. 10. It's the 25th anniversary of the iconic baseball movie and comes with a bobblehead. Fun fact: the movie was filmed down the street from the stadium, so this one certainly hits close to home.
Smith's Ballpark, 77 E. 1300 South, tickets starting at $9, slbees.com
Soccer
Salt Lake City is now a two-soccer-team town. Between Real Salt Lake on the men's side and Utah Royals FC on the women's, there's soccer to be watched in Sandy almost weekly during the dog days.
For all you tailgaters out there, this is where you can get your summer pre-game shenanigans on. There are numerous lots around the stadium where for $5-$10 you can park and tailgate with other people that enjoy the "beautiful game" as much as you. Drink suggestions for this summer activity? Um, beer. It's tailgating and nothing is easier to tailgate with than a koozie full of an ice-cold brew. Plus, if an errant soccer ball knocks it out of your hand, as happens to me nine out of 10 times, it's easy to replace. Last year, I purchased a ticket for July 4 because you can go on the field for fireworks afterward. I'm not a big fireworks fan myself (I have dogs) but this was the one exception I made last year and it was worth it.
Rio Tinto Stadium 9256 S. State, rsl.com
Utah Jazz Summer League
This summer marks the Utah Jazz' fourth year of its new offseason showcase. The three-day event runs from July 2-5 (with a break on July 4) and serves as a warmup to the premiere NBA Summer League six hours south in Las Vegas.
This four-team round-robin tournament let's you get a very affordable look at the hometown team's future. Last year's team featured breakout star Donovan Mitchell. Anyone there likely got an inkling he would be pretty good. I attended last year's competition at the Jon M. Huntsman Center because of construction at Vivint Smart Home Arena, but this year it will return to the Jazz home court.
Tickets for all three days are only $15. Heck, that's just more than a beer during the regular season and with a holiday falling right in the middle, this is a great chance to cure those summertime basketball blues. Get a glimpse of a future star so you can tell your friends, "I was there." And thankfully, this year get back to the adult drinks at the big kid's arena.
Vivint Smart Home Arena, 301 W. South Temple, vivintarena.com
Wendover
I know, I know. Wendover is a 90-minute drive from SLC. Why on earth would you suggest this place? Hear me out. First, it's Nevada—so gambling. Second, it's Nevada—so cheaper booze than here. Third, it's Nevada.
Wendover is small and it's certainly no Las Vegas or even Reno, but for a day trip or overnight extravaganza, it can get the job done. A few suggestions: If you're going just for the day and want to do a little gambling—to get a little taste of winning—take a few hundred dollars you don't mind losing because you'll probably lose it anyway. You might win, sure, but most likely you'll lose. Just don't forget, you can't win if you don't play. And if you play, you can drink for nearly nothing.
Like sports? Why don't you check out some futures and place a longshot bet on the upcoming football or basketball season. I placed one last year and lost. Remember that mistake I mentioned earlier? It was a measly $200, but it added a little extra incentive to cheer throughout the season. Had I won, it meant I would get to make a return trip to Wendover with that winning feeling—kind of nice when you think about it. One more note: It's not in Wendover yet, but recreational marijuana might soon be available in that city like the rest of Nevada. You know, if that's what you're into. After all, it's Nevada.
Wendover, head east on I-80, wendoverfun.com
OK, I think that wraps it up. Don't say I didn't warn you. And, as always, remember to be responsible in your summer shenanigans. That's how you can keep doing them. If you know how to win big in Wendover, though, please get in touch.