Beer, glorious beer! As anxiety over the few remaining days of summer rises, so do temperatures (thank you, China), and the need for a tall frosty one—or eight. Lucky for you, this year's Utah Beer Festival delivers double the pleasure and double the suds over two days, Aug. 19 and 20.
To celebrate, we put together this ode to all things local beer—from tasting-room tales to an exposé on the recent #FakeBeer movement and a folklorist's take on alternative drinking methods that's sure to make your sphincter clinch.
Are you more of an IPA or a stout kinda guy? We tip our glass to both. What's that? You're not a guy? Well, you're in good company, as the fairer sex is kicking some major ass in Utah's brewing scene.
Beer tastes vary, sure, but next time you find yourself reaching for that Blue Moon, try a local white instead. We've got the skinny on national vs. homegrown suds, plus the perfect soundtrack to imbibe 'em to.
Ever wonder about a beer bottle's journey from glass to bar? Check out our sweet photo essay. And, of course, no Beer Issue worth its hops could do without a brewer fashion review.
From the days of ol' Brigham (the original home-brewer) in the 1800s to The Beer Nut opening its State Street doors in the 1990s, SLC's beer roots run deep. Whip out the coasters and join us on this journey as we uncap the Beer-hive's best brews and the admirable souls who make them.

—Enrique Limón
Accounting for Taste
We chat with tasting-room employees at SLC breweries.
Story and photos by Randy Harward

Somewhat surprisingly, the craft beer choices in Utah are vast, and the selection can be difficult to navigate. Do you go with a reliable favorite or try something new? That's something you can settle in the tasting room. Not all microbreweries have them, but many at least offer the option to buy tiny tasters, so you and their highly trained staff can help determine the brew for you. Already seasoned beer drinkers, City Weekly decided to sample the people behind the samplers.
E. Robert Skloss, Ph.D.
Shades of Pale Brewing
Born and raised in San Antonio, Texas, Skloss, 82, excelled in high school, and was offered scholarships to Texas A&M and Texas University, and a baseball contract with the St. Louis Browns. He rejected all three. Instead, he told his father, "I'm gonna become a monk."
As a Marianist, Skloss obtained his teaching degree from St. Mary's University in the early '60s. He then went to East St. Louis, Mo., to teach high school math and coach baseball and football. After a couple of years, he accepted a scholarship to Notre Dame, earning a master's degree in mathematics. The school asked him to write an algebra textbook and help write another on geometry. His reward was a four-year fellowship to Harvard—he declined that, too.
Instead, he spent most of his fellowship at the University of California at Berkeley, then returned to St. Louis University to write his dissertation. He finished three months early, so the head of the math department asked Skloss to help McDonnell Douglas on a project that was giving them trouble—Project Gemini, the second human spaceflight program. Skloss helped solve the problem in less than 30 days, saving billions of dollars. The gratitude of NASA and the U.S. Air Force translated to interesting and lucrative offers from companies working on Project Apollo. Skloss chose Aerojet General in Azusa, Calif., where he was in charge of the return-flight engine and helped define the path to the Moon.
Oh, yeah—beer. After 25 years, Aerojet offered Skloss full retirement, 10 years early. Skloss continued to consult in the aerospace industry, then worked in academia as an adjunct professor. In 2006, he landed in Park City with his wife Maggie, and they met Shades of Pale founder Trent Fargher. Skloss helped him formulate a business plan, and Fargher named him CEO.
Skloss pitches in everywhere, including working the bar and bottling beer Mondays through Thursdays. Occasionally, patrons who discover his priestly past want to confess. He tells them he's no longer a monk, but is happy to listen. His advice to one troubled woman was, "Right or wrong is you—in your head, using your intelligence. No minister, no religion, no political group can tell you what's right and what's wrong. It's you! That's where the religions have gone terribly, terribly wrong. ... They're supposed to help people to decide what's right and wrong, not tell 'em."
Get it while it's hot: The octogenarian overachiever has plenty more to say, but it's probably best if you just visit him at SoP and hear it over a beer. Hurry up, though, 'cause Skloss jokes that at his age, "I don't even buy any green bananas, lemme tell ya."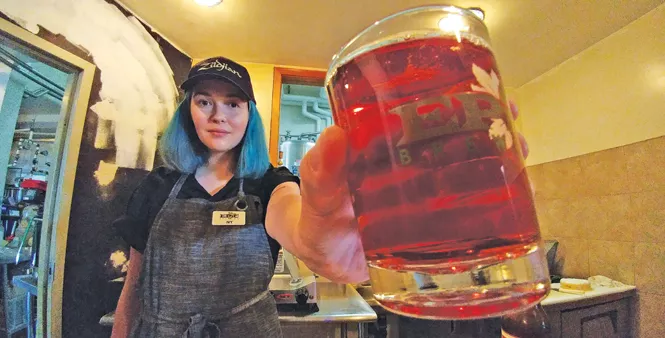 Ivy Augusta Smith
Epic Brewing Co.
Inside Epic's combination store and brewery is the smallest restaurant in Salt Lake City. It seats six: four at the main bar and two at the shorter end. On duty one hot, dry July evening is Ivy Augusta Smith—a former City Weekly intern.
Smith, whose blue hair and deadpan demeanor make her a dead ringer for Ramona Flowers in Scott Pilgrim vs. the World, has since switched majors—to music. Her Zildjian hat notwithstanding, Smith's not a drummer. She plays bass, and recently recording a guest turn on the new album by local band Creature Double Feature.
As the only employee, she does everything from cook to dishwashing to minor security. "I have to follow about a thousand rules," she says. For instance, she can't allow you to drink unless you're seated. And, of course, you have to order food, like the artisan meat-and-cheese board ($9). Otherwise, you don't get your suds.
As the empty room starts to fill up during a recent visit, Smith is friendly and chats easily with everyone. Most of the clientele is from out of town, she says, and "locals usually come in, buy beer and leave." Soon every seat is taken, and Smith gets busy, working diligently while maintaining and enjoying conversations. "I always came to Epic because you can buy beer here on Sundays—full strength," she says. "I always had a good time when I came in here, so I just applied, and figured, 'Why not?'"
Noob!: During the first month that she worked at Epic, people would ask about the namesake of Capt'n Crompton's Pale Ale. "I just told them it was a funny name," she says. "And it's, like, our brewmaster. I had no idea."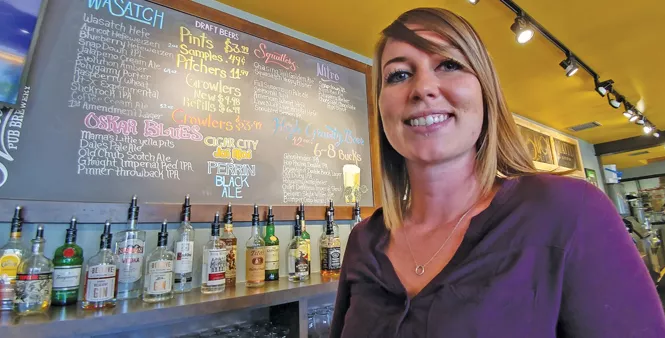 Amanda Young
The West Side Tavern & Cold Beer Store
Bright-eyed Young leads us past kegs and boxes of Squatters and Wasatch merch toward her office. On the way, she checks her freezer—it's sprung a leak. As general manager of the Utah Brewers Cooperative's tavern and store, she's got to get that handled.
Before moving here from Colorado, Young worked at Avery Brewing Co. "I got to try all different kinds of beer from all over the world, and I really got into the craft beer industry, and I loved it," she says. Wanting to stay in it, she started as a server at Squatters in Park City, then graduated to manager at Wasatch Brew Pub in Sugar House before taking this job three months ago.
She tried her hand at home-brewing but, "was never very good at it." When she brought some of her first batch to the UBC brewers to try, the response was immediate: She needed to go back to the brewing board. It was way too hoppy, sure, but Young drank the whole batch anyway, confirming the taste did, in fact, improve proportionally to the quantity consumed.
What she enjoys most about her work—aside from the beer itself—is talking about it with customers and co-workers. Her eyes twinkling, she says, "I love it when someone says, 'No, I hate that style of beer; I don't want to try that,' but I convince them to try it anyway and they say, 'Wow, I really like that!' Seeing people's excitement about it is the best part."
Teaching advice: Young says it's easy to get carried away when chatting up beer science. "You really have to read your crowd, because sometimes they get this glazed look on their faces when you get way to into it."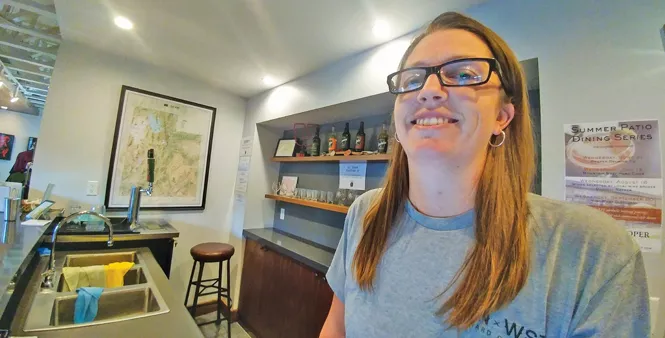 Laura Jones
Proper Brewing Co.
On a Monday evening at Proper's Main Street location, shift-lead bartender Laura Jones seems to notice I've been out in the hot summer sun (maybe due to the sweat-cascade on my forehead) and steers me toward the brewery's Guava Skittlebraü. "It's pretty refreshing," she says, smiling.
Raised in Taylorsville, Jones, 40, left an office job 17 years ago to try bartending because, she says, "I like being surrounded by people." She's been with Proper for 18 months, since the Main Street location opened. "I love it," she says. "I wouldn't change it for anything."
In order to guide patrons through Proper's offerings, all employees undergo 16 weeks of beer training, monthly meetings to learn about new brews and have to obtain first-level cicerone beer-server certifications. Some customers taste until they find a winner; others just wanna run the gamut. Occasionally, she'll tease the latter group, suggesting they order a "big-boy beer." Not that she'd ever deprive someone of experiencing beer however they like. She remembers telling a couple from Connecticut a pint would last longer, "or you can keep drinkin' these and pretend you're giants."
Supertasters: One time, a party of three ordered enough to fill their entire table with empty taster glasses in a half-hour period. "I was, like, really?," Jones says. "Alright. I'll go clear off [another] table."
Gina Varni
Mountain West Cider
Next to Red Rock Brewing Co. at 425 N. 400 West sits Mountain West Cider, the first and only cider-only establishment in Utah. Inside the cidery, it's silent. It's not unusual, says tasting room manager Gina Varni. Customers come to MWC in a random ebb-and-flow, and don't stay too long. That's because, Varni explains, by law, "You can only get five ounces in a 24-hour period."
That's a marked difference from the two-at-a-time taster policies at most other breweries. The state regards MWC as a winery instead of a brewery, and Utah law is different for vino—and, by classification, hard cider. You can distribute those five ounces among the four types of cider offered here (there's one more, but it's seasonal) and try 1.25 ounces of each or, if you have a favorite, five ounces of that. They also don't have to serve food here, so you can stop by, lay down a fiver, sip your cider and split.
So on most days, Varni, 30, gets to hang out in the cool, quiet, modern decorated tasting room, serving the ephemeral clientele. The Bay Area native got into the cider business from knowing co-owner Jennifer Carleton, and she's been with Mountain West since it opened in 2015. The gig teaching folks about cider is similar to her other, seasonal job as a golf pro at Bonneville Golf Course. It makes for a well-rounded, indoor-outdoor lifestyle. "I have two jobs that I love, and would like to do both for a very long time," she says.
Loopholes: Varni says she sees plenty of randoms and regulars at MWC, and one group in particular—construction workers—come in "three or four times a day, grab [a bottle of cider] and then leave, and come back in an hour-and-a-half and get another one."
Suds & Duds
Not known for their cutting-edge fashion, these brewers are leading the brew couture pack.
Story and photos by Mike Riedel
When delving into the many historical styles of beer, brewers occasionally look for inspiration wherever it can be found. I was granted rare access to a seldom-seen corner of Utah's secret brewing society—the Brewer's Wardrobe. Here is tiny glimpse of what helps stimulate your favorite brewer's creative juices.
Always on the go, Fisher Brewing Co.'s Colby Frazier is everywhere and nowhere all at once. No need for him to roll up his sleeves in this chic utilitarian life preserver by Steve Zissou. Frazier will only be drowning in paperwork as this occasional, non-OSHA approved vestment inspires his ever evolving portfolio of beers while keeping his head above water ... err, beer. Land ho!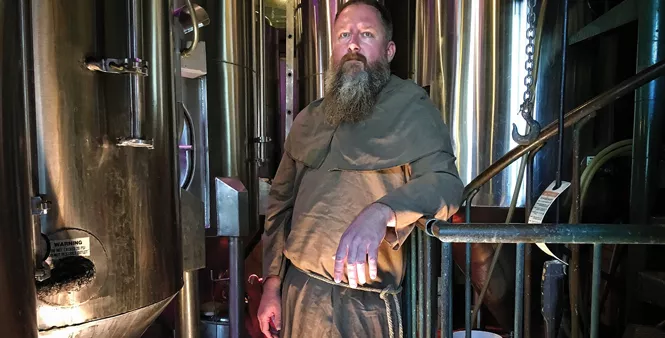 Squatters' Head Brewer, Jason Stock is shown here channeling his inner monk, seeking a revelation for his next creation. Stock is wearing this regular Thursday look, a stylish monk robe from the GUI (gwee) collection by Mr. Bernardo. This chic yet functional robe is designed for maximum breathability (no burlap chafing here) and protection from scalding water or the random demon asshole. C'est magnifique!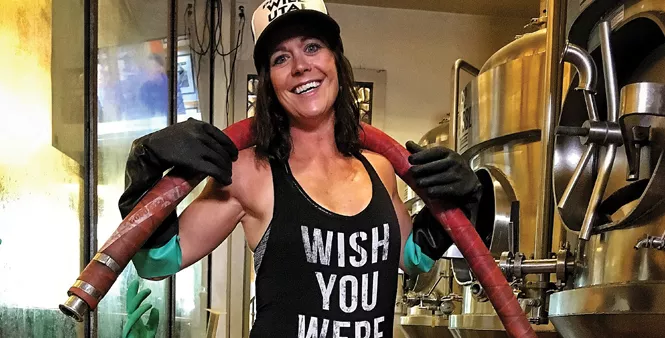 This '80s-inspired Freddie Mercury with hints of Cyndi Lauper ensemble screams Barbarella with tones of Rosie the Riveter. When crafting award-winning, feminine-influenced beers at Roosters Brewing Co., Brewer Jacquie King looks to sci-fi heroine and designer Caroline Munro for a look that's much cleaner than a hippie, but a little more polished than Tank Girl. Set phasers to fabulous!
It's Henry Kissinger meets Maximus Decimus Meridius in this stylish yet avant-garde alpen peasant frock worn by the RoHa Brewing Project's Head Brewer/Co-owner, Chris Haas. The beers from the Old World are always energized when this cotton dream hits the brew deck. "It lets everything breathe," Haas says. The bike is a mere metaphor for a restless brewing spirit, plus it really helps when delivering beer. Feel the gentle breeze.
Bohemian Brewery's Head Brewer Brian Ericksen always keeps his leather-strapped bundhosen close by to keep his mind and spirit tied to Munich and Pilsen when crafting his superior German and Czech lagers. Mr. Jürgen of Dresden has been Brian's faithful couturier since the 1940s, inspiring countless beers made the old way in both Utah and Wyoming. The rubber boots, he says, add a touch of flair and can effortlessly go from day to night. Ja wohl!
Utah's Queen Bees of Brewing
Bow down to Utah's first ladies of beer.
by Darby Doyle
Archaeologists theorize that beer-brewing started out in early hunter-gatherer societies under the watchful eyes and discerning palates of those primarily in charge of day-to-day food production: women. University of Pennsylvania biomolecular archaeologist Patrick McGovern notes that in addition to evidence of home- and hearth-based booze production, ancient cultures revered goddesses of beer such as Ninkasi, the Sumerian head brewer to the gods (and the mythical recorder of the earliest known beer recipe as a gift to humans).
As both urban populations grew and centers of production became consolidated, brewing became commercialized and the field dominated by men. The Pink Boots Society—that'd be the organization for women in beer professions—historian Tara Nurin points to purity laws like the German Reinheitsgebot for further institutionalizing the no-girls-allowed clubhouse. "Undoubtedly [it] kept at least a few drinkers from dying. But they also put higher-cost resources such as hops out of [women brewers'] reach," Nurin says. "With hops also came longer-lasting beer. Men reacted by building production breweries and forming international trade guilds. Law and custom kept women out of both."
That bro-centric turn was pretty ironic, agrees Ogden's Roosters Brewing Co. Brewer Jacquie King. As she says, "Women are beer" through much of world history, especially as home-brewers.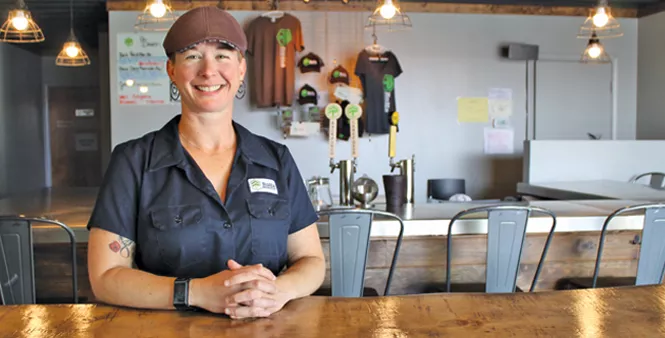 Darby Doyle
Jamie Burnham
Super-fast-forward to the craft beer renaissance of the late 1980s, when a few women beer-lovers right here in Utah started a wave of brewing badassery that is still gaining momentum. Of particular local pride, Park City home-brewer Mellie Pullman helped launch Wasatch Brewery in 1986. Nurin notes, "It took [Pullman] a while to realize that she'd become the first female brewmaster in modern American history," though she left Wasatch after a few years.
A key player in Utah beer, Jennifer Talley spent 20 years brewing at Squatters, most of them as head brewer. In 1997, Talley's Vienna Lager won a Gold Medal at Denver's Great American Beer Festival, the first of many accolades during her award-winning career. "Both Jennifer [Talley] and Erika Palmer are very respected in the field," RoHa Brewing Project Operations Manager Jamie Burnham says. "Their work at Squatters and Wasatch really broke ground for women" in the beer business (Talley moved to Washington's Redhook Brewery in 2011). Roosters' King thinks the industry, especially in the Beehive, has come a long way since the first female home-brewers were recorded in the state way back in the 19th century. A home-brewer for over a dozen years, King says that since she started seriously studying commercial brewing and eventually took over as Roosters' head brewer in 2016. "The confidence the owners have shown in me to change up the seasonal beers has been terrific." Citing continued strong sales of both their core four standard beers and seasonal offerings, she's justifiably proud of the immediate success of the original strong beer she developed at Roosters, Femination American Ale, a badass brew bottled at 7.5 percent ABV. It's a strong beer celebrating our nation's kickass female brewing heritage.
Darby Doyle
Tanael Escartin
But the profession has been far from smooth sipping for female brewers, as in the 1990s women continued to break through barriers in the international beer industry. In Venezuela, Tanael Escartin (currently brewmaster at Uinta) finished her degree in chemical engineering in 1999 and secured an administrative job at the country's largest beer producer, Polar Brewery, which she describes as "the Anheuser-Busch of Venezuela" with 85 percent of the country's market share. Fascinated by the science of beer-making, Escartin worked her way up the ranks of the company, eventually becoming Venezuela's first woman brewer. She moved to Germany to study brewing, and after four years earned a master's of biotechnology engineering with a focus on brewing science from the Technical University of Berlin. She eventually became Polar's cellar superintendent (that's the right hand of the brewing manager). In 2015, Escartin moved to the U.S., first working in Fort Collins, Colo., and then as director of brewing at Palmetto Brewing Co., South Carolina's oldest brewery. The Utah beer community is lucky to have Escartin now heading up operations at Uinta Brewing, along with a growing cadre of women along the Wasatch Front, like fellow Uinta brewer Marissa Linback. "I love to share the knowledge of what I've learned about brewing over the years and how to maintain a clean environment," Escartin says of her favorite part of her job. But, she adds with a grin, "I think every brewer's favorite thing to do is create new styles. Having the idea in your head and tasting in it your imagination long before you actually drink it is a fun process."
Via redrockbrewing.com
Crafty Beer Girls Lauren Lerch and Jenni Shafer
Currently, most Utah breweries have women on staff from brewmasters to cellarmen to certified cicerones heading up sales and beer education programs (cicerone = beer sommelier). However, King over at Roosters and Escartin at Uinta are the only women currently holding the title of brewmaster, to our knowledge. Some national industry reports put the number of female brewers at less than 5 percent of the profession as recently as 2014, although 20 percent of breweries had women founders, CEOs and owners, like Ginger Bowden of Vernal Brewing Co. Recently, Aubrey Palfreyman and Julia Shuler (brewery assistants and part-time cellarmen) of Strap Tank Brewing in Springville started Utah's inaugural Pink Boots Society chapter. "We have each other's backs," Palfreyman says of the local female brewing culture. "Everyone wants everyone else to succeed."
Instagram | @roostersbrewing
Jacquie King's influence at Roosters Brewing
RoHa's Jamie Burnham credits Utah's consistently supportive cadre of women brewers—at both the home-brew and professional levels—for increasing beer expertise in general statewide and beyond. Formerly at The Beer Nut, Burnham was one of the key people involved in changing Utah's holdout state legislation to legalize home-brewing in 2009. In 2013, Burnham and a handful of women home-brewers founded the Hop Bombshells Homebrew Club, "and those ladies are killing it," Burnham says of their consistently award-winning brews in national competition. Curious about the club? They'll be pouring in the VIP room at City Weekly's Utah Beer Festival, or hit up their monthly meeting the second Thursday of each month (7 p.m. at Shades of Pale Brewery, 154 W. Utopia Ave., Salt Lake City).
Utah's beer-loving women have also brought a big chunk of the social media and online attention to the region from all over the globe. Based in Utah County, Mikenzie Hardman's Bitches & Brews preaches the gospel of all-grain home-brewing and wild fermentation using pretty basic equipment she rigged up herself. "It's not a big scary process," she admits. "If you can cook, you can brew" and do so in very creative and delicious ways. Similarly, the Crafty Beer Girls community run by Lauren Lerch and Jenni Shafer with support from Red Rock Brewing Co. keeps an ongoing community of online beer-lovers motivated to learn more about beer and brewing. Now a bit of a Jill-of-all-trades at Red Rock—from sales to cellaring—Lerch cannot say enough great things about certified cicerone education training to increase beer knowledge across the board; "It's the best way to get started if you want to be involved" in the beer industry and understand style guidelines. Rebecca Link at Proper Brewing agrees, and with four minted experts on staff, they're backing up their beer expertise with certification cred. "There's still sometimes the assumption that women aren't expected to like beer or know much about it," Link says, but the cicerone training levels that playing field, especially for women. "You definitely know what you're talking about," she adds. "It's pretty intensive." Cheers to that, ladies!
Drink This, Not That
Championing local beers over national brands.
by Mike Riedel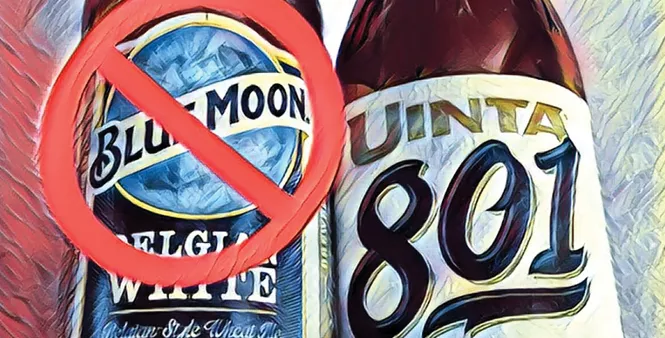 Before we get started, I think it's important to state that there's nothing wrong with nationally recognized beers—so lift your glass to some of the most respected and notable brands from around the globe. The intent here is for you to get to know—or at the very least, get re-aquainted with—some of the phenomenal beers that your friends and neighbors are brewing right in your own community. Ready to pop some bottle caps?
Guinness vs. Red Rock's Oatmeal Stout
In one corner, we have the juggernaut stout that helped define true Irish beer. In the other, one of Utah's longest continually produced stouts. Though Guinness is beloved, it's produced halfway around the world and its freshness is debatable once it makes it to your neighborhood pub. A keg of Red Rock Brewing Co.'s Oatmeal Stout packaged on the same day is generally emptied and filled again before the first Irish keg arrives in SLC. Not to mention that it's crafted on a small scale for better body and taste. Boing!
Sierra Nevada Bigfoot vs. Uinta Anniversary Barley Wine
Next up, we have two barley wines that predate many similar brews in the U.S. Both date back to the early- to mid-'90s and draw upon generous amounts of cascade hops to drive their intense malt sweetness. But the K.O. in this round comes from Uinta Brewing's original heavyweight. Produced seasonally and in limited quantities, this crafty beast's quaffability is unmatched when it's fresh from the bottle or years-old in your cellar.
Blue Moon Belgian White vs. Wasatch White Label
These beers are both pretenders! They take their recipes from famed brewer Pierre Celis, who reinvigorated the all-but-dead witbier style 40 years ago. But who gets bragging rights? Damn straight it's White Label. Coors' Blue Moon's mass-produced quantities can't touch quality of ingredients that our own Wasatch Brewery brings forth. Taste for yourself; it's like night and day.
Budweiser vs. Bohemian 1842 Czech Pilsner
Oddly enough, these beers have similar histories. Both were started by European immigrants who hailed from two of the best lagering cities in the world. First up, we have the inconceivably large Budweiser against our regional Bohemian Brewery. One brewery makes so much beer that they have to add adjuncts like rice and corn to save costs on malted barley, while the other has never used anything but the real deal. The taste discrepancy is almost mind boggling. In the immortal words of Howard Cosell, "Down goes Frazier!" Bud, you never had a chance.
Anchor Steam vs. Moab Rocket Bike
Our final matchup is the Master vs. Apprentice. Many consider Anchor to be the original "steam beer," while Rocket Bike is just another padawan upstart. The student must become the teacher at some point—and that time is now. When Moab Brewery's Rocket Bike goes in the competition dojo with Anchor Steam, the former often prevails—including four national medals in as many years in the steam beer (California common) category. You are powerful as the emperor has foreseen, RB.
The bottom line: Breweries that produce beer on huge scales like some of the above can't be as generous in terms of ingredients because they have to keep their massive budgets in check. While some smaller craft breweries are not immune to budget constraints, they have more free rein to be creative while also injecting resources back into our community. Food for thought the next time you're at the state liquor store scratching your head as to what to fill the cooler with.
IPA Is A-OK
The rise and rise of hoppy beers.
by Mike Riedel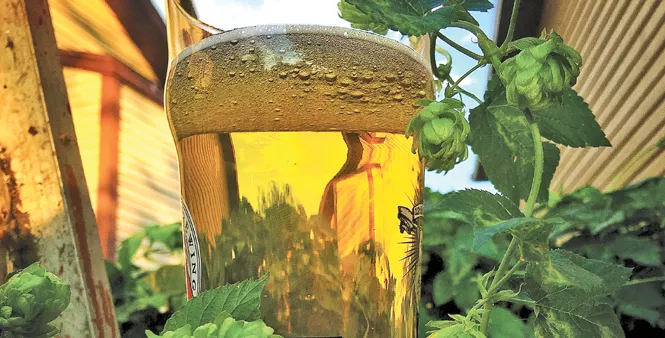 My first experience with India Pale Ales was a gazillion years ago in the early '90s. Back then, IPAs were for the most part a heavy-handed, overly hopped pale ale that was bone dry and riddled with pine and herbal bitterness. This was a time when brewers were just starting to get their shit together on this newly re-emerging beer style. The history books taught them IPAs were made overly hopped and extra boozy to survive the long unrefrigerated journeys across the seas. While those beers were made out of necessity, these new American IPAs were being made for luxury and they needed to taste like it.
So, American brewers chased new hop varietals to see what kind of flavors they could create. New hop strains coming out of the Pacific Northwest were very promising, creating bitters that were more akin to citrus than flowers. This changed the IPA game not only stateside, but around the world. IPAs could now be more than bitter bombs; they would now have a hop-driven fruitiness that would change the global beer industry forever. How are Utah's brewers utilizing these new hops? I'm glad you asked.
2 Row Brewing's Tastes Like Citrus
This beer basically looks like orange juice. The nose is a tropical fruit explosion, full of orange, mango and lime. The taste starts with creamy tangerine, orange and grapefruit and is followed by mango and malt. You even get the pith of the fruits as well. Thing is, there are zero fruits in this beer; it's all malt and hops. Make sure you dredge up all of the goodness in the bottom of the bottle before drinking.
RoHa Brewing Project's Thursday IPA
Amber and gold in color old. The nose is bright and airy with citrus peel and bready malts. The taste takes its cues from there with bread, caramel and some honey notes. The peel with light pine slides in next with a lingering bitterness that is clean without being drying. Finishes semisweet with a hint of alcohol. It's a fine textbook example of an American IPA.
Proper Brewing Co.'s Hop vs. Hop
This beer's hop profile changes periodically. This version pours an amber/orange hue with a nose that's full of orange peel, spices and pine. The taste is a well-balanced mixture of floral and citrus hops with caramel/biscuit malt. Some pine resins make themselves known toward the end. No face crushing bitterness here—which is fine with me.
Talisman Brewing Co.'s The Dagda
A nice-looking golden/amber color is happening here. The nose has caramel malts and piney hops with a touch of grapefruit rind. The flavor follows the nose with pine notes in sweet caramel malts swirled around bitter grapefruit rind and earthy hops. This is one of the more approachable IPAs in the market due to its nice balance and its semi-warm finish.
Park City Brewery's India Pale Ale
This has a very nice, clear copper/orange color with a musty nose from the hops, along with floral and citrus peel. There's a decent amount of caramel aroma, as well. The taste starts with pine and citrus, which give way to biscuit and graham crackers. This is an extremely well-balanced IPA with wonderful dank floral, pine and citrus qualities. It's easy drinking and still leaves the hop-head happy.
You'd think these are all pretty similar, but they're not. All five have unique qualities that set them apart. A couple of sips in, you'll know what I mean.
When in Stout
An ode to the dark side of Utah beer.
by Mike Riedel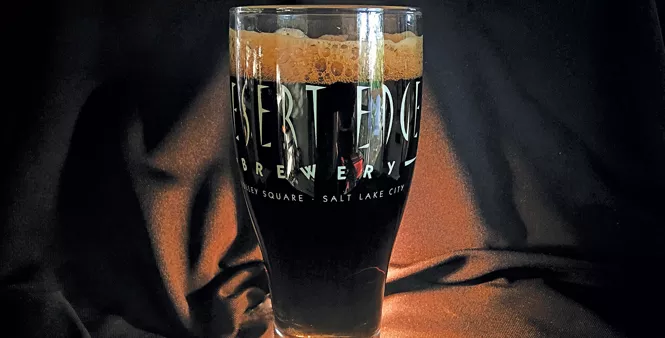 IPAs might rule the brew roost right now. This is a beer style that's come a long way in a short amount of time. Stout beers, however, have a long pedigree dating back to the early 1700s. Stouts were born from English porters that evolved to fit cultural and dietary needs. This widely popular beverage has given birth to dozens of progeny that range from the massive Russian imperial stout to the light and silky oatmeal varietal. The term "stout" tends to scare people off a bit, causing them to believe that they're extremely filling and only meant for the cold-weather months. Three-hundred years after its debut, those misconceptions are finally falling by the wayside as brewers continue to re-craft stouts into beers that are as light as a wheat beer and can be enjoyed any time of the year.
The recipes of old are now being enhanced in ways the original makers could have never imagined. Creative brewers are continuously experimenting with new ingredients to modify time-tested recipes while staying true to the style's roots. Compounds like coffee, fruit, whiskey and even oysters are finding their way into our glasses on a daily basis. Utah's craft brewers are no slouches in the stout department, especially when it comes to innovation or merely recreating the beers we've come to know and love. Here are five local examples of some truly great stouts:
Epic Brewing Co.'s Big Bad Baptist
Opaque black in color with a thick, tan head, its nose has big aromas of cocoa, coffee and molasses, with bourbon also present. It's silky on the tongue with cocoa and espresso immediately punching out. The molasses and bourbon soon take over, providing a sweet bed for the more bitter components. The ABV here clocks in at around 12 percent, but it's well hidden. There's a reason many consider this to be Utah's most-acclaimed beer.
Desert Edge Brewery's Latter Day Stout
It's pitch black with a thick and dense foamy nitrogen cap. The nose has cocoa and a hint of coffee, and the taste follows suit as vanilla, chocolate and caramel meld together in a balanced partnership that never overpowers the stout's character. I love the amount of flavor that Desert Edge managed to pack in this near-flawless 4-percent beer.
Roosters Brewing Co.'s Junction City Chocolate Stout
Blackish brown with a light tan head, this stout's nose has a touch of chocolate and a dash of smoke, and flavor aided by subtle dark cocoa with cola-and-coffee notes follows. It finishes semidry with pine bitterness. If you're not into stouts, this 4-percenter could be the one to ease you in.
Bonneville Brewery's Sir Malcolm's Stout
Ebony in color with a large, dense, foamy beige nitro head, its nose has roasted malts, oats, cocoa and coffee. The taste starts with a hearty roasted malt, toasted oats and coffee followed by chocolate, providing a good balance. At 4 percent ABV, it's a tasty and not too filling textbook example of an oatmeal stout.
2 Row Brewing's Dark Alley Imperial Stout
It appears nearly jet black and opaque with ruby highlights. The nose has big roasted coffee notes along with dark fruits, baker's chocolate and sweet roasted malts (plus a touch of booziness). There's intense chocolate, espresso and coffee off the bat. Luscious plum, raisins and dates round out the more bitter qualities. The finish is a bit boozy with some drying hops. This 13.4 percent ABV beer is a double-black-diamond, aka not for the timid stout drinker.
Most of these can be found year-round at local grocery and liquor stores along the Wasatch Front. Don't be afraid to veer from the usual, and take a walk on the dark side.
Just the Tips
We Google perfect beer pairings so you don't have to.
by Enrique Limón
Head cheese washed down with a stout? A McRib coupled with a lager? As beer ethos swells, so does every satellite aspect around it, including food culture. The original plan was to tap a local beer expert and ask for his take on what grub pairs with what sud. After several unreturned messages, I decided to take matters into my own hands aided solely by City Weekly's spotty Wi-Fi, the pressure of deadline and sheer fury. Behold the perfect beer pairings!
Almost Ales
City Weekly gets into the #FakeBeer biz with these extra hoppy, extra fruity, extra Biskupsky-y brews.
by Ryan Bradford, Jeff Terich and Enrique Limón*
Art by Carolyn Ramos and Derek Carlisle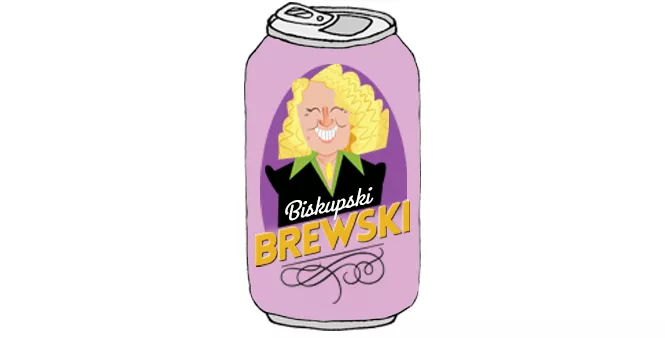 Biskupski Brewski
This politically bodied blonde with a fizzy top is sure to give you shelter (or four). Not getting enough of a buzz from its secret recipe 3.2 percent ABV? Demand your barkeep's resignation letter.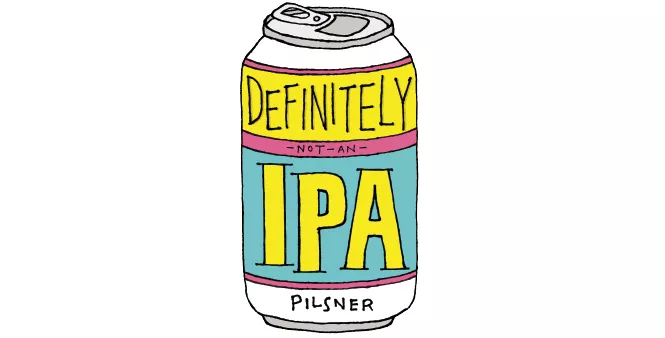 Definitely Not an IPA Pilsner
Huh? What is this? It sorta tastes like beer, and it's getting you drunk, but where's the dankness? Here's the secret, homeboy: It's not an IPA. But don't fret! It's still beer. If you don't say anything, we won't either—nobody will know that you strayed. [winky emoji]
Piña Colada Passion Fruit Watermelon Cantaloupe Ale
Grapefruit beer is pretty good. Watermelon? Sure. But why stop there?! This extra fruity, sweet and fragrant ale has just a hint of beer, and actually does the trick when you've had a long day of brewing and forgot to pick up a bar of Irish Spring.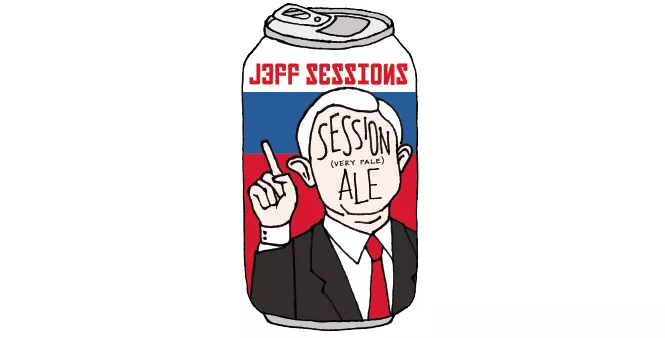 Jeff Sessions' Session IPA
When you're sitting through long confirmation hearings, you don't want to get too tipsy too early. This extremely white ... er, light, session ale is just what you need when you've gotta chill in Congress for a while. Recuse yourself from high ABVs! Time for a leak.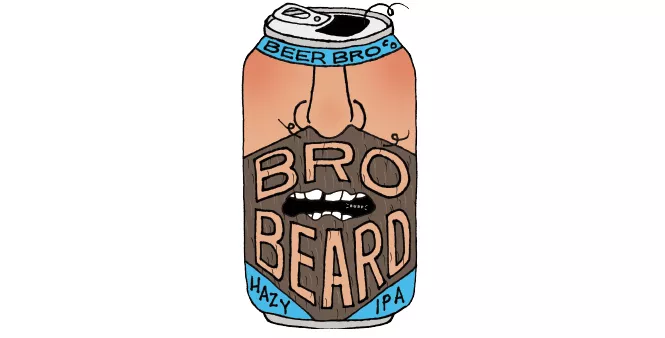 Beer Bro Bro Beard Hazy IPA
Notice your beard has gotten a pungent, hoppy aroma after all those IPAs? Well, how about reinvesting those hop-hairs into a special brew? This beer has actually been pre-bearded for an extra hazy, hairy mouthfeel. Hold on ... there's something on my tongue.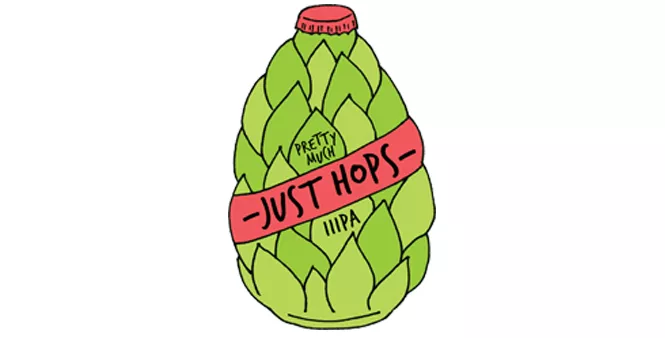 Pretty Much Just Hops Triple IPA
Sometimes you want your beer to not only punch you in the face, but also knock you the fuck out, leave you bleeding on the floor, rob you of your money, steal your wife, start a religious cult and encourage mass suicide via hoppy zeal—because life's too short for weak shit, bro.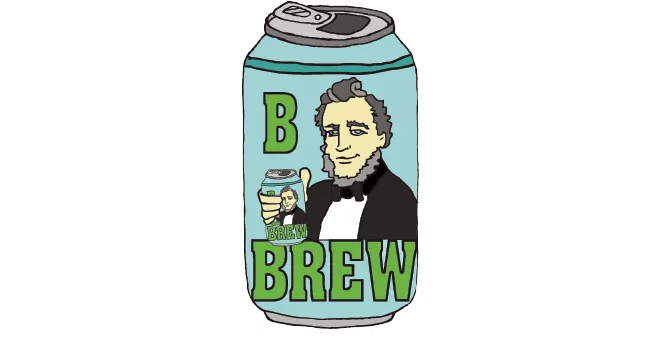 Brigham's Brew
Just canned water.
*Yes, it really took three people to come up with this.
Musical Home-brew
A little sumpin' sumpin' to drown out the sloshing in your belly.
by Randy Harward
It's only right and natural that songs about sin will proliferate in an oppressive conservative state. "They" say drinking beer is a sin; we say beer is proof that God loves us and wants us all to be happy. Those are two good reasons to write songs about that fizzy, frothy goodness, and several of our best local acts have done just that. Here are seven jams guaranteed to put you in the Utah Beer Festival mood: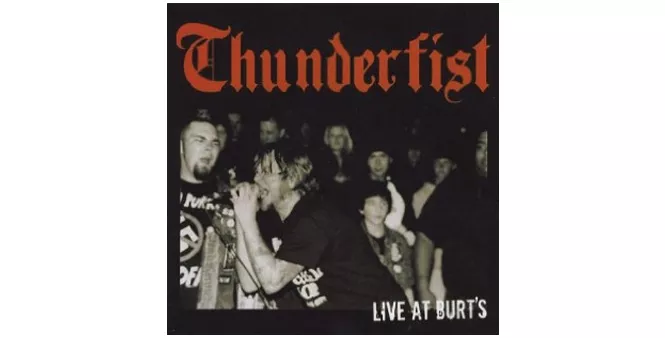 Thunderfist "PBR" from Live at Burt's (store.cdbaby.com/artist/thunderfist, 2004)
The initials, for you teetotalers, stand for Pabst Blue Ribbon, the domestic (right down to its red-white-and-blue can) pisswater the group lionizes in this song. The track was on every T-fist album until they decided tradition isn't important. The tune distills the ritual of obtaining, drinking, sharing and procuring more of the king of cheap beers in less than 90 seconds and has classic lines like "I can't even fuckin' taste it" and "that shit'll get you wasted." It is—and, for all time will be—the definitive local song about beer.
Beer Pairing: Asked to choose a brew that goes nicely with the tune, singer-guitarist Jeremy Cardenas sang a line from the chorus: "PBR!"
Colt.46 "You Owe Me a Beer" from Hang Fire (colt46.com/music, 2015)
The Ogden band's buoyant country tune is about a road trip where frontman Dale Condie randomly ran into an old friend in a bar 2,000 miles away from home. "Hallelujah and amen, sonofabitch, how have you been?/ Well, I've been all over hell/ just to see you here." He bought the guy a round, telling him he can reciprocate whenever they chance to meet again. "Yeah, this one here's on me/ but the next time that we meet/ you owe me a beer."
Beer Pairing: Whenever Condie went "north of the 'border,'" he brought back Fat Tire for the boys back home.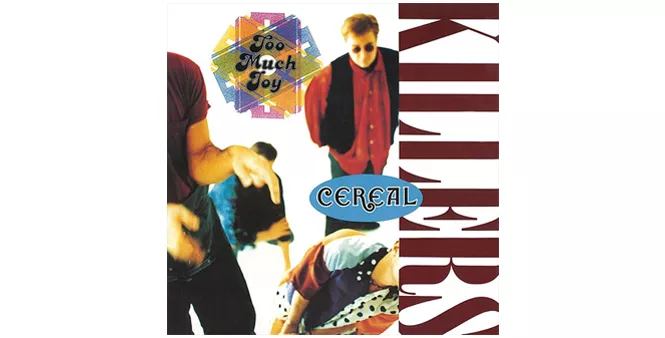 Too Much Joy "King of Beers" from Cereal Killers (Giant, 1991)
These alt-rock party animals get honorary local status, since singer Tim Quirk married an ex-Mormon. It's also the song I learned to party to, thanks to three skiers from Baltimore who helped a shy, sheltered 20-year-old loosen up before (sniff) going back home like three drunken E.T.s. "Gonna feel like hell tomorrow/ so I won't go to sleep tonight," Quirk sings at the song's outset, leading to the chorus: "I am invincible/ I have no fear/ I am benevolent/ I am the king of beers." The raucous, semi-acoustic tune describes those nights when we love/hate our friends, question our character and choices, pine for the beauty across the room, and say stoopid things we'll forget by Monday. Dave, Doug, Mark—I miss you. And thanks.
Beer Pairing: Quirk recommends, "Budweiser, for historical accuracy; Sierra Nevada, for taste."
Whiskey Fish "Beer" from Round One (imgrum.me/user/whiskeyfish801/, 2009)
If you were at the 2015 Utah Beer Festival—or at one of the band's frequent gigs at A Bar Named Sue, you heard Whiskey Fish's shitkickin' version of this tune by ska octet Reel Big Fish. It translates from ska to country rather well (credit the titular beverage and the lyrics about pondering a fresh breakup over one beer, and then another, and another).
Beer Pairing: Singer-guitarist Brandon Anderson suggests "lukewarm Coors Banquet. Or Odell's 90 Shilling—because we're all about the money."
Insatiable "GPC's" from Can't Get Enough (I-Man, 1994)
For some folks, generic brand cigarettes are an essential accessory to frosty barley pop—and you can get both at a convenience store. This song by these local ska legends is from the perspective of a 7-Eleven clerk and how he deals with the demanding "connoisseurs" who not only need a pack of smokes now, but also change for a $100 bill. "Gimme a pack o' those GPC's/ in a sack/ do you got any Coors quarts in the back?"
Beer Pairing: Singer/keyboard monkey Jeff Evans recommends Epic's Double Skull or Pinstripe Red from Ska Brewing in Durango, Colo., which isn't available in Utah, though it's "awesome and appropriate."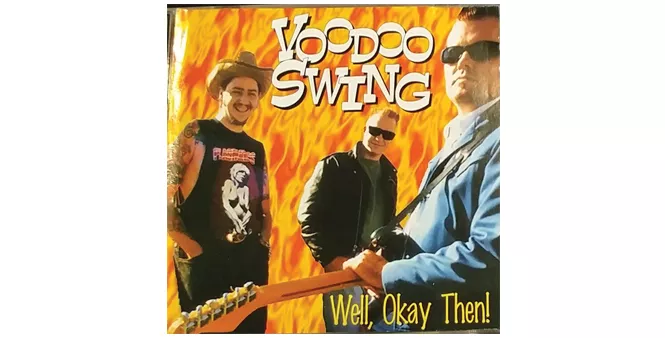 Voodoo Swing "Beer Goggle Boogie" from Well, Okay Then! (Rockhouse, 1995)
The intro line to this greasy rockabilly number, "Come on baby/ let's go drinkin' and drivin'/ tonight" sucks—but the rest of the song is about what you think it's about: Drinking enough beer that everybody looks sexy. Well, an awkward morning is certainly preferable to ensuring you or an innocent never sees another sunrise. So here's the PSA for the column, folks: If you drink and flirt, well, look both ways before crossing that street. And designated drivers and Lyfts are your friend.
Beer Pairing: Which brew gives you the best goggle-vision? Bass player and SLUG Magazine founder J.R. Ruppel says, "probably longneck Budweisers."
Spörk "You Bring the Coors, Jesus Will Bring the Light" from Spork 2.0 (sporkslc.bandcamp.com, 2014)
The two-headed, flatulent beast Spörk puts out some bitchin' noise. And since the band is fronted by City Weekly perennial contributor Bill Frost, the lyrics aren't too shabby, either. He doesn't recall exactly what he wrote about in "Coors/Jesus," but it seems to be about forced morality. You know, how government tries to run your life in the name of the Lord. Even if it's not, "Choose your own misadventure tonight/ you bring the Coors/ Jesus will bring the light" sounds killer over Frost's monolithic, Sabbath-inspired riffs.
Beer Pairing: "Certainly not Coors," Bill says. "Wasatch Evolution, because even Jesus believes in it."
Grain to Glass
Following the path of craft beer at Red Rock Brewing.
by Sarah Arnoff
While the craft-beer community in Utah is experiencing new (and welcome) growth, one of the state's originals is still going strong after more than two decades. Red Rock Brewing's hands-on attitude toward its brewing process and emphasis on people who power its assembly lines might be the secrets to its longevity. Employee loyalty abounds at the brewery and pub locations. From grinding grain to packing boxes and even helping stock state liquor store shelves, the person who is stacking pallets in the morning might be behind the bar to pour you a tall one when 5 p.m. rolls around. We followed the production of one of Red Rock's most popular brews, the 20th Anniversary IPA, tracing the steps of what it takes to make great craft beer.
1. Red Rock Brewery on bottling day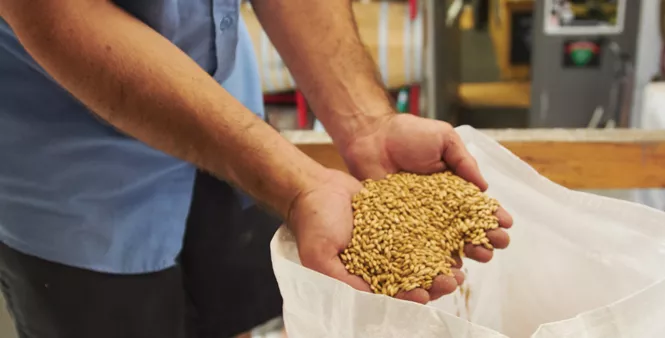 2. Brewmaster Kevin Templin sifts through grain imported to Red Rock from Germany.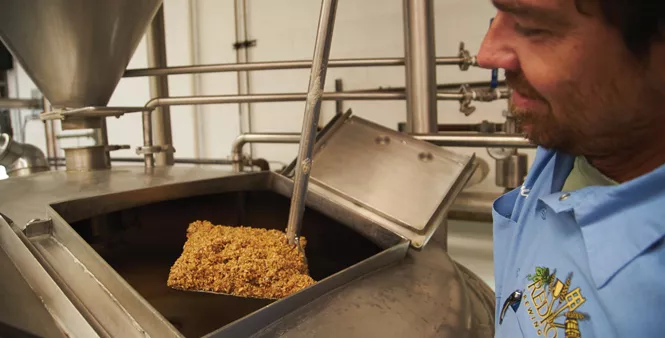 3. Templin pulls some mash from the boil.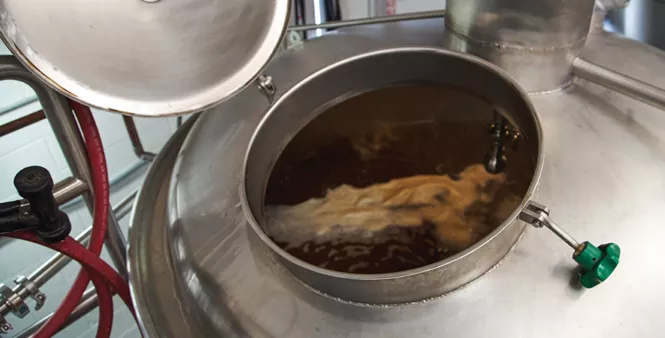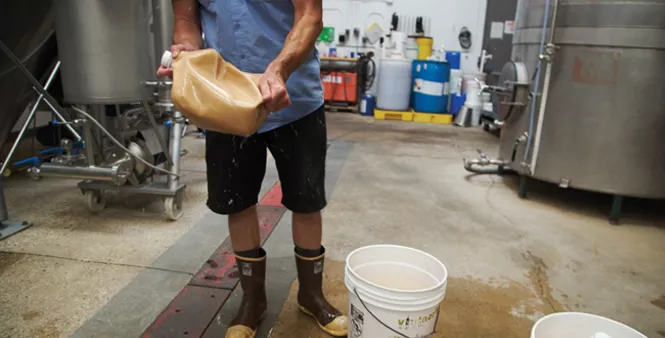 5. Brewer Andrew Rinaldo prepares yeast to be added to the fermentation tank.
6. The boiling wort is temperature controlled and cooled significantly before it's transferred to the fermentation tank.
8. Pristine bottles waiting to be filled
9. Dave Haley grabs a few bottles.
10. Adding bottles to the conveyor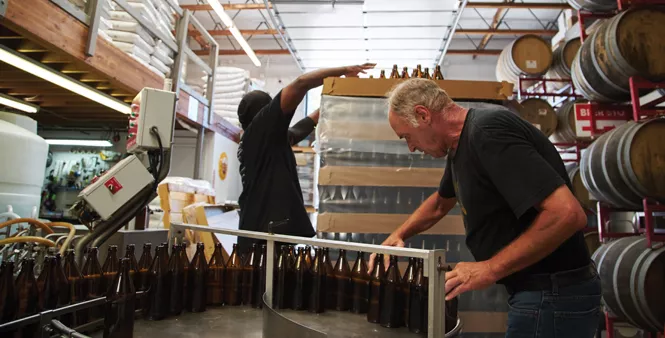 11. Greg Giles and Haley work the bottling process.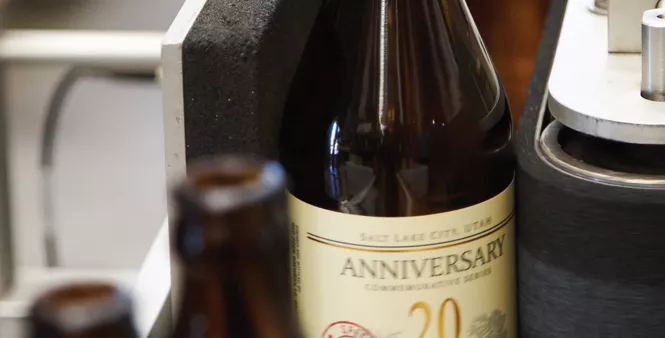 13. Freshly labeled bottle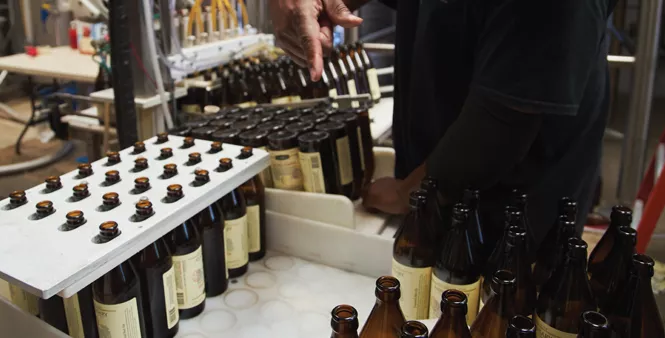 14. Giles moves newly labeled bottles to be filled and capped.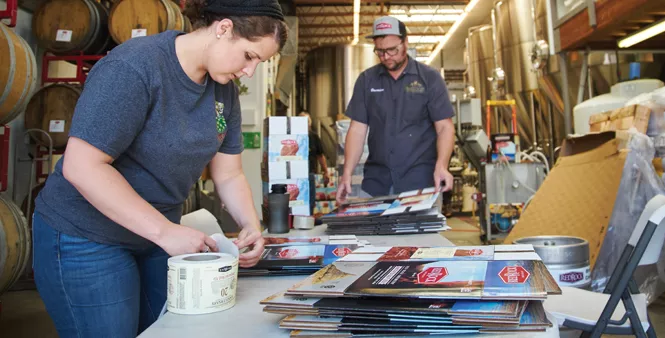 15. Alisha Telles and Brandon Smith assemble and label boxes.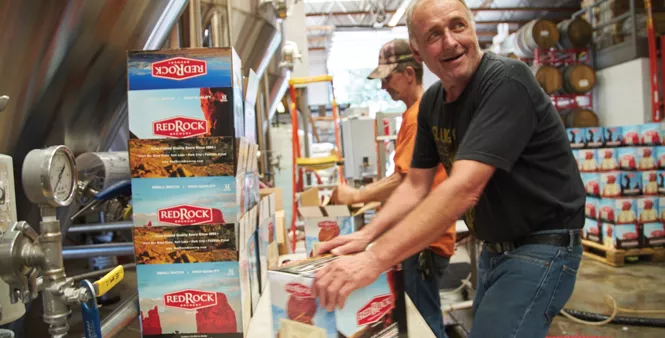 16. Haley and Ron Jones pack and seal boxes.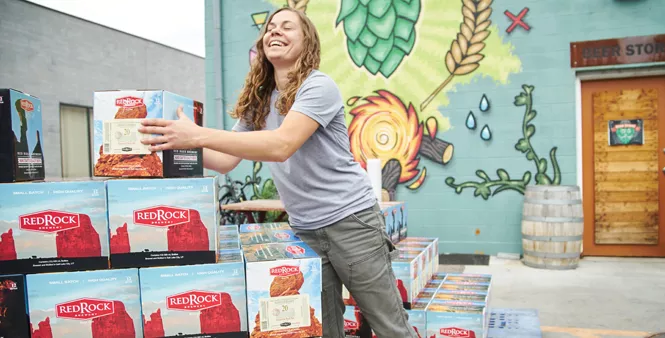 17. Brewer Lauren Lerch stacks boxes awaiting transport to fridge storage.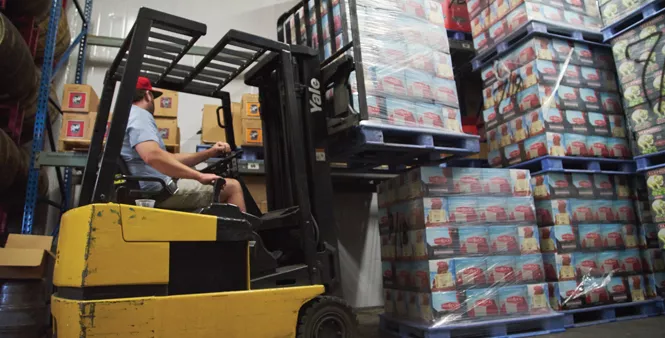 18. Smith moves pallets from cold storage to a semi ready to ship.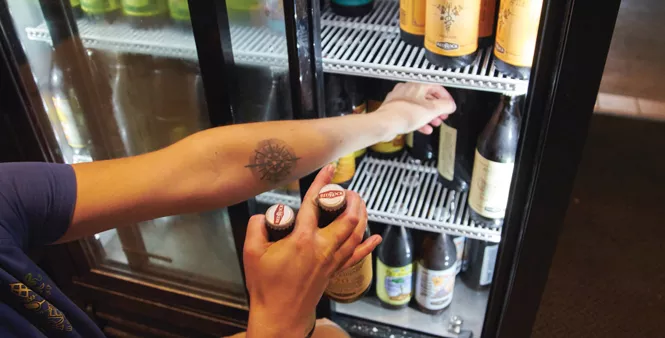 19. Lerch snags a few bottles to serve at the Downtown Red Rock Brewery location.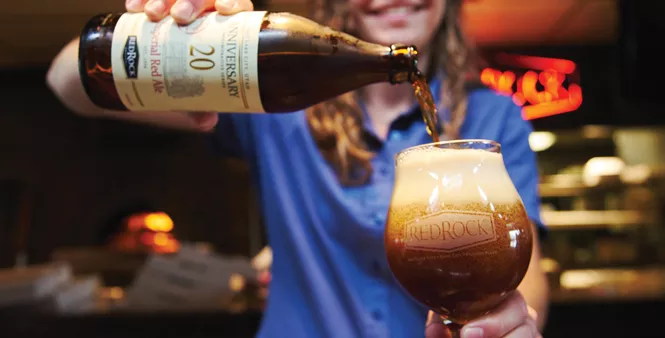 20. The final step: Lerch pours the 20th Anniversary IPA to quench the thirst of a parched patron.
Alt-Drinking
An ode to keg stands, lawn flamingos and butt-chugging.
by Jordan Floyd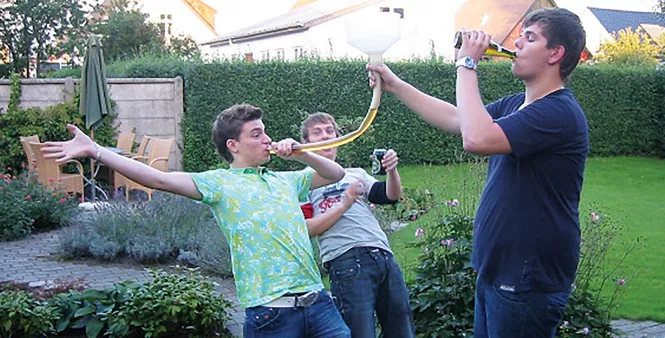 Of the myriad ways to drink beer that do not include the relatively puritanical from-the-glass or the bottle method, perhaps the most insane, why-the-fuck-would-anyone-do-that way to down a cold one is the fabled butt-chug.
When yr. corresp. began college in the fall of 2013, talk—and just that, talk—of drinking beer via the anus was en vogue. Superficially, the hallmark butt-chugging story, though it was only alleged to have happened, of the University of Tennessee Pike (Pi Kappa Alpha fraternity) was advertised on many quasi-news sites, such as the morally questionable Total Frat Move, as a laugh-and-a-half worthy happening. Groups of late-teens and 20-somethings who were molded by the likes of MTV's Jackass were sold on the grotesque humor. I mean, come on, drinking beer through your ass—it's so ridiculous that the only thinkable reaction might be a laugh.
The cold-hard butt-chugging facts, however, indicate that consuming alcohol in such a way is as dangerous and idiotic as it sounds. Sans medical jargon, butt-chugging gets the consuming party drunk extremely fast because the alcohol enters directly into their bloodstream. In the case of the Tennessee Pike, if our hero was indeed guilty of butt-chugging, he was taken to the hospital with a near-fatal blood alcohol level of .47.
Whether the alleged incident happened or didn't, the fact the concept exists is something of a phenomenon. (Note: In Thrasher magazine's current season of King of the Road, professional skateboarder Dave Gravette is filmed butt-chugging a beer atop of skateboarding quarter-pipe, displaying at least some cultural significance of the butt-chug and a confirmed instance of it happening.) Why it exists, and why other crazier, though less dangerous, ways of drinking beer like the beer bong or the Flabongo (same idea as the beer bong, but done through the body of a lawn flamingo), and games that encourage drinking en masse like beer pong or rage cage, according to Utah State University's Dr. Lynne McNeill, can best be explained by the study of folklore.
As an area of academic study, folklore encompasses exactly what its name would imply: the lore of the folk. McNeill says anything that is "an element of culture that's consistently brought up on an informal level" qualifies as folklore. Most importantly, folklore's defining quality is that it is passed on from one community member to the next.
Many are probably familiar with stories of lone babysitters hearing a raspy voice ask, "Did you check the children?" over the phone, or alligators making a home in a metropolis' sewer system. These types of stories are indeed the star players on the folklore field, but folklore encompasses so much more—including imbibing.
Historians have been studying the ways people drink beer and what each says about the drinker and their culture for quite some time. In his 1959 book American Folklore, folklorist Richard Dorson spends a fair amount of time examining drinking games. In his estimation, drinking games "mark off the men from the boys and the coeds from the bobby-soxers." Additionally, one's prowess in the area of "chug-a-lug-ing," both a game in itself and a penalty for losing in manifold other games, Dorson explains, expresses an individual's maturity and stature—hence differentiating coeds from bobby-soxers.
Just as well, muscling through two 40s of Miller High-Life and thus freeing yourself from your Tim Burton-esque, duct-taped bounds, McNeill says, can work as a way to teach individuals how a culture works. In the case of drinking games or crazy ways of consuming beer, this means teaching newcomers the ol' wax-on, wax-off of alcohol.
McNeill describes the process of prospective drinkers learning to drink as a pendulum. Most people, she says, spend a lot of time on the side that says drinking is bad. When an individual makes the decision to drink, whether pre- or post-21, they then have to swing to the other side, and doing so requires an itinerary for traveling to the other side and what to do while there.
"I think for our society—and I'm talking about the U.S. very generally—we make such a stink about alcohol being forbidden," McNeill says. "Alcohol is not neutral from a young age, but all of the sudden at 21 it's supposed to be OK. You can see why we would need cultural forms to help us swing the other way."
Understandably, learning to drink by way of watching a friend do a kegstand with the sturdiness of an Olympic gymnast can be problematic. These cultural forms, as McNeill calls them, don't singularly teach people how to drink, but can just as readily teach individuals how not to drink, or at least show over time that such drinking practices are unsustainable.
"I am in my late 30s, and while we did our fair share of drinking in our younger days, and still do, I think that at some point you learn to pace yourself," Joan Williams of Ogden's Talisman Brewing Co. says, responding by email to an inquiry about her experience with crazy drinking games and methods. "I absolutely hate when I overdo it and wake up feeling lousy the next day. When I drink, it is more about the flavor and complexity of what I am drinking—and less about getting smashed."
So what about the butt-chug? McNeill says that even dangerous means of consuming alcohol can have some value to an individual, even at the expense of their health.
"At that point we're getting into individual psychology rather than social," she says. "There's sort of this drive to stand out in a culture that's already defined by being crazy. You want to be the person who stands out the most."
But drinking games and shotgunning and its ilk aren't so much in fashion or practical in Utah's craft-dominated beer scene. Like Shades of Pale's Trent Fargher says, "The craft beer crowd doesn't really do this ... most people take their time enjoying what we put in a glass." But they are still a staple of culture, even if it's lay or folk culture, and somewhat of a rite of passage (McNeill notes that she herself felt she had "achieved a marker of American collegiate identity" when she played beer pong for the first time at 35 with a Ph.D. under her belt). All of humanity who through their teen years and 20s must weather the pains of being young and different degrees of dumb.
Perhaps, items of beer drinking folklore are something that can unite beer drinkers, especially in a state like ours where drinking is worn as a subversive banner. Sure, letting a whole can of Natty Ice waterfall across a piece of pizza and into your mouth might not be something anyone would be particularly proud of, but it could be something at which to shake your head and laugh about with your friends. So, whether you partake in a modest pint sip or a seriously stupid anal spectacular, this chug's for you.