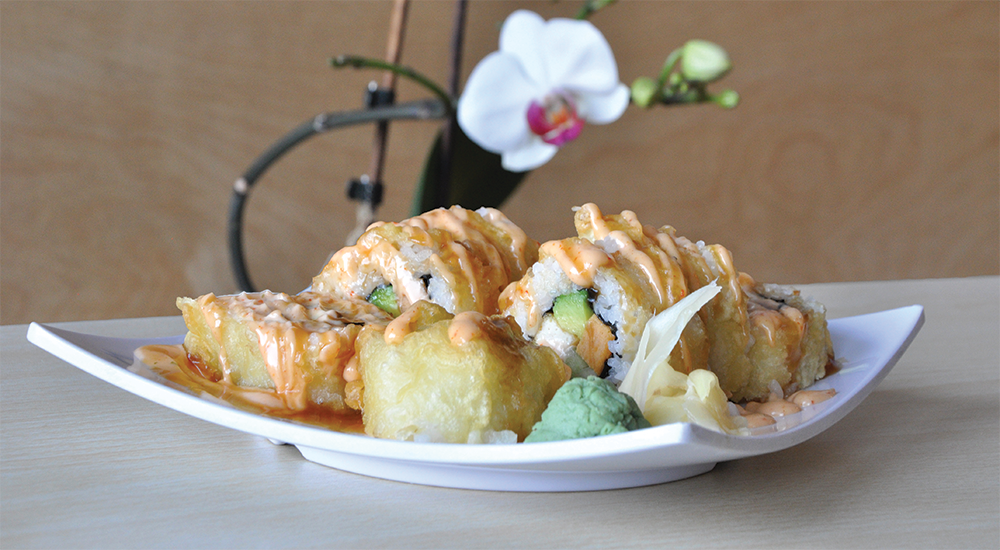 Derek Carlisle
Vegas Roll
Just because someone dislikes eating meat doesn't mean they should be deprived of the experience of watching a freshly sliced roll of sushi make its way from the kitchen to the table. It doesn't mean they should miss out on separating each delicate slice with wooden chopsticks to reveal gem-like fillings resting snugly within the pillowy embrace of sticky sushi rice. And it definitely doesn't mean they shouldn't know what it's like to have a beautifully balanced arrangement of flavor and texture dance its way across their taste buds.
In addition to offering a wide range of Asian favorites, delivering sensory experiences like this to vegans, vegetarians or those who choose to be meatless for the day is what Veggie House (52 E. 1700 South, 801-282-8686, veggiehouseutah.com) is all about.
While it's common to see vegetarian roll options at most sushi joints, their appearance on the menu can feel obligatory. The chefs behind the counter don't see them as focal points; otherwise, they wouldn't be shelling out the big bucks for that sushi-grade yellowfin tuna. Since Veggie House crafts its showpieces from cucumber, avocado, daikon, carrots and soy, they've taken great pains to create food that accentuates the freshness of such simple ingredients while dousing them with subtle notes of flavor.
The spicy tuna roll ($9.99) is a good example. Its size is the first thing that gets my attention. I'm used to seeing rolls that run the length and breadth of a candy bar, but the ones here have some meatless meat on their bones. The roll's girth comes from the rice on the outside—there's probably twice the usual amount of rice surrounding the avocado and pink, soy-based tuna substitute. The roll gets its heat from a lovely sriracha mayo that has been slathered on its inside, and it gets a sweet contrast from the soy glaze spread across its exterior. It's a vibrant, fresh-tasting blend of ingredients, and the heat steps in at precisely the right moment.
The Vegas roll ($9.99) is a popular choice at Veggie House, and my guess is that's because it's the roll that comes packed with just about everything the chefs could fit inside. After being stuffed with soy-based salmon and veggies, this monster is fried in tempura batter, which wraps the rice and fillings with a light, thin crunch. The same sriracha mayo zig-zags across the top, giving this Elvis of sushi rolls a creamy kick that perfectly complements the interior.
Although I could recommend Veggie House based on its achievements in the vegetarian sushi field alone, the place also boasts a traditional menu of Chinese, Thai and Vietnamese favorites. Each dish comes with your choice of lightly fried tofu or soy-based chicken, beef and shrimp. Although each protein is soy-based, the chefs have managed to harness convincing flavors and textures for each of their meat substitutes (I'm a bit partial to the soy beef). The traditional Chinese standout is the stir fry with mixed veggies ($8.99). Wok-fried veggies and faux beef tossed in a soy gravy and plated on a cloud of rice hit all the comfort-food notes. The rice is perfectly cooked, letting the unctuous gravy seep into every grain, the veggies still have a bit of snap to them, and that soy beef ties it all together.
In the Thai department, the pad thai ($8.99) is among the restaurant's most popular dishes, but I prefer the Thai yellow curry ($8.99). A good curry is like a warm blanket, and this one achieves a rich, savory-sweet blend. I like the traditional inclusion of onion and carrots, but the extra dose of zucchini in this dish does wonders for its overall composition.
Not content with three national cuisines, Veggie House also whips up a mean bowl of pho. Without the font of umami goodness that comes from slow-cooked beef broth, I was curious to see how they would apply their plant-based bent to this trendiest of Vietnamese soups. Shiitake mushrooms are their secret to re-creating the richness of traditional beef pho, and they also throw in sliced cauliflower and thick chunks of daikon along with the familiar mix of green onions and black pepper. I've had some veggie pho that incorporates leafy greens like bok choy, but I much prefer Veggie House's cruciferous and root veggie approach, which gives the soup a heartiness that offers a great way to warm up as the temperature drops.
For those after a meatless alternative to pan-Asian cuisine, Veggie House is a no-brainer. They take their food seriously and have developed some fascinating substitutions for dishes traditionally dominated by meat. With such a wide variety of options at diners' disposal, it should be easy to put this South Salt Lake destination on heavy rotation.