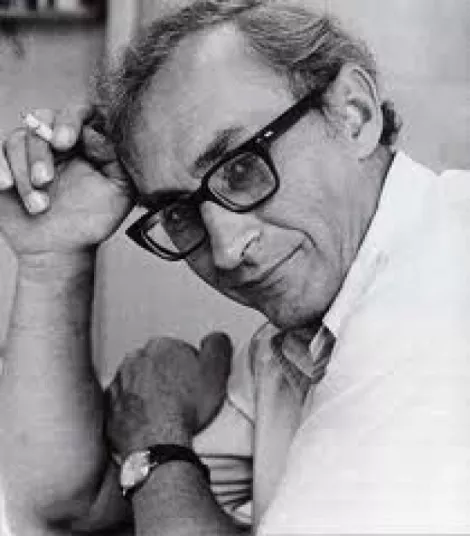 I experienced one of the highlights of my young life a couple of weeks ago. I was in Chicago's original Billy Goat Tavern, just off the Chicago River near the Tribune Tower and Wrigley Building, when I realized why fate had finally brought me there. Midway through my second Old Style beer, nature called. As I stood at the urinal releasing the beer I had merely rented for the afternoon, it suddenly struck me: I was doing my business at the very spot Mike Royko formerly did his.
And probably where John Belushi also did. And Bill Murray. And every other male celebrity, neighborhood cop and curious tourist such as I—drawn to the Billy Goat Tavern made famous on the Saturday Night Live sketches that poked fun at its colorful Greek operators. Those who remember Saturday Night Live before Adam Sandler and Will Ferrell remember Belushi and Murray taking orders in their Greek diner with the now famous "cheezeborger, cheezeborger, cheep, cheep. No fries, cheeps. Coke. No petsi" skits.
My visit was on a Monday afternoon, and the line stretched out the door onto Lower Michigan Avenue. As each diner approached the order station, the jovial Greek behind the counter shouted out, "Hey, you a beeg guy. Double cheezeborger for you." Or, "You want triple cheezeborger? OK. Two double cheezeborgers. Next." Despite a full selection of sandwiches and snacks on the menu board, everyone came away with a double cheeseburger with chips. With low inventory costs, colorful characters and minimal training required, the Billy Goat became an American success story. Even I can slap cheese on a pile of meat.
I first ventured to the Billy Goat in 1981, but I never went inside. I'd stand outside. I knew Mike Royko often frequented the place, and as a budding writer, I was very anxious to meet him. Royko was the best of the best among city columnists, writing in his smart, observant, witty, acerbic, imaginative style for decades at three Chicago newspapers. In my view, only Jimmy Breslin in New York City or Herb Caen in San Francisco can tip a pint of beer at the same writer's roundtable as Royko. All three were able in their times to capture the gritty essence of their cities in ways modern writers simply cannot or will not do. There is one man you can blame for you suffering through this column today: Mike Royko.
Even before living in Chicago, I was a Royko fan, since his column was syndicated here locally. He also authored Boss, a biography about the corrupt regime of former Chicago Mayor Richard J. Daley, whom many folks of my generation remember for his brutal tactics in unleashing the Chicago Police against protesters during the 1968 Democratic National Convention.
For years, the only reason I even read a newspaper was because there might be a Royko column inside. Living in Chicago allowed me to read Royko more than once a week, which was a bonus. There was plenty of Royko fodder when I lived there: In the neighborhood directly north of my apartment near Clark and Diversey, a plague called "gay cancer" was causing mysterious deaths in what is now called "Boys Town"; Chicago's then mayor, Jane Byrne, took up residence at Cabrini-Green, a notoriously dangerous housing project where black-on-black crime was epidemic; a new word, "yuppie," describing a certain type of Chicago resident, was becoming part of our regular vocabulary; and, citywide, Chicago was experiencing about three murders each day, two by handgun. The city was tossing Royko softballs, and he was hitting them out of the park, perhaps even softballs of his beloved 16-inch variety that he often wrote about.
I was always too timid to walk into the Billy Goat—even though it is Greek owned (the owners famously cursed and un-cursed the Chicago Cubs, by the way; a Greek thing, certainly). They would have introduced me to Royko, I'm sure, as Chicago Greeks were already helping me at every turn. I was chicken. I didn't want to be a jackass. I didn't want to become fodder for one of his columns. I let him drink and smoke in peace. One day, an anti-hand gun rally was held at Daley Plaza, and I was certain Royko, who wrote many anti-handgun screeds, would be there, so off I went. That's as close as I ever got to Royko—in the same breathing space, but not near enough to identify his cigarette brand.
Royko later modified his anti-handgun stance considerably. I think he did so on that day, because on that very same day, so did I. The featured speakers were Phil Donahue and Cloris Leachman. Donahue, with his perky wife Marlo Thomas at his side, was at his all-time imploring, exasperated, left-wing best. Leachman told the crowd that handgun deaths would drop when Americans quit eating sugar. I nearly swallowed my Skoal. She cautioned that eating Twinkies and cupcakes would cause someone to shoot another for something as mundane as leaning on their new Chevy. Some in the crowd imagined Donahue or Leachman leaning on their new Chevys.
Back at the Billy Goat, I realized something while standing at the Royko shrine—the urinal, not his many columns plastered onto the Billy Goat walls—and I thanked my lucky stars. Had I met Royko long ago, he would have pointed me to a career at Hallmark Cards, and this newspaper (and column) wouldn't exist. I know I've just tossed a softball to my critics, but that's OK. They'd merely be creeps without Royko. Thanks to him, they're creeps who have to put up with me. That's misery!