On March 28, 2009, at 1:18 a.m., Utah Highway Patrol trooper Cpl. Lisa Steed pulled over a 24-year-old driver on State Street in South Salt Lake.
When he rolled down his window, she stuck a portable breath test [PBT] device in his face. She could smell alcohol and wanted to see if it was coming from him, she told the driver.
"I would like to speak to my lawyer," he said.
Steed opened his car door and told him to get out.
In a digital video recording of his arrest which City Weekly obtained through an open-records request, the driver can be seen remaining in his car and asking repeatedly, "Excuse me, ma'am, I'd like to speak to my legal representative first."
Steed unholstered her Taser. She told him to get out of the car, "or you're going to get tased, sir, in two seconds."
Less than two minutes into the traffic stop, Steed pressed her Taser into his left shoulder, an approach called "drive-tasing," akin to using a Taser as a cattle prod. His screams are chillingly audible on the traffic-stop video, recorded by Steed's dashboard camera. (UHP policy requires that all traffic stops be recorded.) Almost before the driver had time to react, Steed drive-tased him again, his screams accompanied by the cries of his distraught passenger.
"When you're told to get out of the car, that's what you do," Steed informed the driver after he exited his vehicle.
While she did not defend the driver, when shown the video, DUI defense attorney Tara Isaacson found Steed's use of force on a driver whose conduct was respectful "truly shocking. Tasers are used as a last resort. You don't start an investigation with them."
The UHP doesn't see a problem with the method. Steed, in an e-mail, says Tasers are used "to avoid going hands-on with individuals and risk injury to the officer or subject." The driver, whom she says subsequently tested positive for alcohol and marijuana use, refused to comply with her orders, so she tased him. The only problem with the stop, says Steed's supervisor, UHP Lt. Steve Winward, "was a slight policy violation," because Steed asked the driver to blow into the PBT prior to requesting that he perform field sobriety tests, contrary to UHP policy. Another UHP official preferred the word "deviation" to "violation."
In the wake of Utah relaxing its private-club laws in July 2009, Steed's rise to fame and fortune (she earned $82,953 in 2009, according to Utah's Right to Know Website) might well represent a triumph of law and order for nondrinkers. Utah's Legislature certainly admires her. Two weeks after then-Senate Majority Leader Sheldon Killpack's Jan. 16, 2010, arrest for driving under the influence of alcohol in Salt Lake City, Utah lawmakers honored 32-year-old Steed for her work nailing drunken drivers.
In 2009, Steed racked up an extraordinary 400 DUI arrests, twice the number of any other UHP trooper. Senate President Michael Waddoups, R-Taylorsville, congratulated Steed for what was "probably a national record" and said that to average more than two DUI busts a day "was phenomenal," according to a Jan. 29 blogpost on DeseretNews.com written by Lisa Riley Roche.
Steed told the Deseret News, when reporter Geoff Liesik accompanied her on a ride-along, that the secret to her success was, "It's a lot of hard work, but you make a ton of stops, and you're going to run into [DUIs]."
Steed is also the brightest star in the UHP's firmament. Since March 2009, the seven-year UHP veteran has been a member of the DUI squad, a group of 12 troopers who, according to Capt. Mike Rapich, "identify and interdict impaired drivers." Rather than only patrolling the highways, as you might expect, UHP also has the legal jurisdiction to remove impaired drivers from the streets, often focusing on bars, convenience stores and other "hot spots." "You go fishing where the fishes are," says Winward.
"If you have followed my advice ... the police officer will only have an odor of alcohol and nothing else to convict you."
Troopers lurk in the shadows Thursday, Friday and Saturday nights and watch for a minor traffic violation—such as not indicating before changing lanes or not stopping before a sidewalk while exiting a parking lot—to stop drivers and check for signs of intoxication.Steed, Rapich proudly says, is "unbelievably effective and efficient" at removing impaired drivers from Utah's streets and represents "the best of the best."
But when Callis Sturgill heard that Utah legislators had honored Steed, he all but wept in bitterness. "She's a dishonest cop," he says. Five years after Steed arrested him for a DUI, Sturgill says her "baseless" arrest has left him in financial ruin.
Rose Park resident Rick Jackson is also angry at Steed, who arrested him during what customers say was nearly a yearlong UHP stakeout of a Rose Park convenience store particularly popular with Hispanics. Rapich says "staked-out" is incorrect, preferring the phrase "pay a lot of attention to."
Salt Lake City Justice Court Judge L.G. "Buz" Cutler, however, found the fruits of that attention, at least as far as Steed's arrest of Jackson was concerned, to be highly questionable. In the end, Cutler threw out the charge and stopped just short of calling the state's star trooper a liar. "He handed her her hat," Jackson recalls. Cutler is not the only one who has found Steed's evidence problematic: Third District Court Judge Robert Faust wrote in a ruling that her failure to follow UHP policies was "especially troubling."
To be ensnared in a first DUI, whether drunk or not, is to find yourself in quicksand. For some, the experience of getting pulled over and tested for sobriety is enough to overwhelm them. But, if it's Steed who's pulled you over, some defense attorneys and drivers argue her unshakable zeal for her job routinely leads her to violate not only internal UHP policy but potentially also the U.S. Constitution. Sturgill says in his case, his innocence did not prevent her from turning his life into a shambles.
Local criminal-defense attorney Neal Hamilton says while it's not unusual for defendants to complain about police conduct, complaints about Steed focus on "her inability to follow UHP rules, devised to protect officers, preserve evidence against the accused and protect citizens' rights." Other UHP troopers "follow these rules with great success," he says. "Why can't she?" While Hamilton acknowledges "most of the troopers whose cases I review do an excellent job, very fair and thorough," for some reason, "Steed is always in court testifying and explaining her actions."
Defense attorneys complain she routinely has drivers perform field sobriety tests off-camera so there's no record of how they did, sometimes fails to have her shoulder microphone switched on while initially questioning drivers in their cars, conducts difficult balancing tests on unlevel ground—even having one woman in high heels do them bare-footed in the snow in a blizzard—and often fails to record the results of the Intoxilyzer, a court-accepted record of blood-alcohol content in the breath (not to be confused with the inadmissable portable breath test (PBT) device). UHP's Rapich, however, says that issues such as occasionally forgetting to move the dashboard camera to record tests can happen to any trooper, not just Steed. "The trooper has to keep control of the situation, and they can lose track of the camera." To say she deliberately does it, "is, quite frankly, absurd—not a very good argument."
When defense lawyers see Steed's name as the arresting officer on a DUI arrest, it's also a red flag, some say, for possible civil-rights violations. Lt. Winward routinely reviews Steed's traffic-stop videos. "Everything I've seen as far as videos has never had issues of civil-rights violations." Nevertheless, her Terminator-like approach to DUIs, where, says DUI lawyer Jason Schatz, "she does not accept 'no' as an answer," can lead to troubling results. In one traffic-stop video, Steed's cruiser is idling by the roadside, her front lights flashing but apparently not her overheads. Two cars pass by in the next lane. In a smoothly executed move, she flanks both cars and orders them to pull over, informing the first driver that she failed to move to the next lane while passing a trooper's car, known as the "move over" law.
Don't tase me, ma'am
Defense attorney Jason Schatz gives five quick tips for when you're suspected of driving under the influence.


1. Be polite to the officer but don't try to talk your way out of a DUI because it will not happen.

2. Do not consent to a search of your person or your vehicle if asked. Be polite but say NO! and don't succumb to pressure from the officer; same goes for passengers.

3. Keep your mouth shut! Do not answer any questions other than providing your personal identifying information: name date of birth, driver license, address, etc. You do not have a 5th Amendment Right to withhold nonincriminating identifying information; same goes for passengers.

4. Be aware that everything you say or do may be videotaped so don't do or say anything you would not want a judge or jury to see or hear.

5. Contact a good DUI defense attorney immediately following your arrest before any important deadlines are missed.
She instructs the first driver to blow into a PBT device, a violation of UHP policy. The PBT is too unreliable for court and, Rapich says, it can prejudice the trooper's view of the field sobriety tests. So, "we instruct them to use that last." By having a driver blow at the beginning of a traffic stop, defense attorneys argue, Steed immediately knows if she has caught someone who has been drinking or not, which may help explain her phenomenal arrest rate.
For this driver, the PBT turns up negative for alcohol consumption. Steed also checks the driver's license and the passengers' IDs for outstanding arrest warrants—a violation of the passengers' constitutional rights, argue several defense attorneys who are shown the video. "In Utah, there's a legal bubble around passengers," Hamilton says. "Unless you have reasonable articulable suspicion that passengers are involved in some sort of criminal activity, you don't talk to them."
With the second vehicle, which she pulled over for the same minor traffic violation, she gets lucky: The driver has been drinking. Thus, she collects another DUI scalp.
The UHP declined City Weekly's request to have a reporter ride along with Steed or interview her, although she answered a number of e-mailed questions in writing (but not all). Steed, who, in several of her traffic-stop videos, sings along to country songs in her car while running driver and passengers' identities for arrest warrants, says her high-powered work ethic stems from how she was raised. "In any job I have had, I have always given 100 percent and do an honest day's work for the pay. This contributes to my self-motivation."
While Steed's supervisor Lt. Winward credits her extraordinary arrest record in part to "typing skills" that allow her to process DUI reports more quickly than other troopers, her critics in the legal community fear that corners are being cut and people's rights are being trampled in the name of more arrests. They also express fear about her aggressiveness, in sharp contrast to Rapich, who describes her as "very compassionate and likeable."
For some judges, argues Schatz, pulling a drunken driver off the road justifies a constitutional violation. For others, though, such legal concerns can put not only the innocent, but also the drunken drivers Steed catches in her high-volume trawling, back on the street.
Whatever the result, Schatz says, Steed and Utah's war against "drugs, drinking and driving is being carried too far, eroding people's rights to drive down the road."
Public Humiliation
According to a Nov. 12, 2007, story by Sam Cooper in the Ogden Standard Examiner, Steed joined the UHP after graduating from Weber State University with a criminal justice degree in 2002, and started patrolling Davis and Weber counties. One man who encountered her during her first years as a trooper was Callis Sturgill. Five years later, he has yet to get over what he sees as the injustices he suffered at her hand. Born in rural Kentucky, the 62-year-old still speaks with a slow, Kentucky drawl. In her report, Steed construed that drawl as "slurred." Sturgill says the arrest has ruined him financially.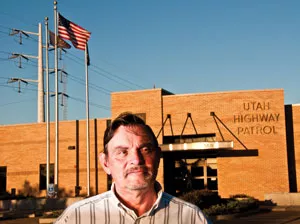 Sturgill works for the Department of Alcoholic Beverage Control and, at that time, delivered alcohol to DABC stores. At midnight on Saturday, June 26, 2005, he was returning from his second job at a Holladay 7-Eleven, where he had just completed an exhausting nine-hour shift. A few blocks from his Clearfield house, Steed pulled him over for weaving across several lanes, although the traffic stop video shows only "some drifting side to side, just like a person does when they are tired," Ogden-based DUI lawyer Glen Neeley
noted on his Website
.
Steed took Sturgill off-camera to perform field sobriety tests "so no one can see what she did or what Sturgill did," Neeley argued in a blog. In her report, she noted Sturgill's poor balance and droopy eyes and that he "seemed tired."
Steed arrested Sturgill for DUI and took him to jail, where a phlebotomist drew his blood. (According to UHP, Steed is now a licensed phlebotomist and drug-recognition expert, which means she can draw blood in the back of her cruiser). Sturgill's subsequent toxicology report revealed no alcohol, illegal drugs or prescription drugs. Nevertheless, he had to hire a lawyer to represent him at a Department of Public Safety hearing that determined the fate of his commercial driver's license. The subsequent dismissal of charges did not spare the LDS Church member the public humiliation of a DABC colleague approaching him with a copy of the Davis County Clipper, which had printed his DUI arrest.
Between legal fees, paying to get his car out of the impound lot and lost wages from time off work for his justice-court hearing—he pleaded guilty, but only to an improper lane-change violation—Sturgill fell behind on his car and mortgage payments and lost both his vehicle and his house. All this "because of a cop who was trying to make a name for herself and stoop to whatever means she possesses to get a DUI arrest," he says. Steed did not respond to a request for comment regarding Sturgill's arrest.
Cheapest Beer In Town
After Steed was named Trooper of the Year in 2007 for making 200 DUI arrests, Steed told a Standard-Examiner reporter, "For the last five years, I basically led the county in DUI arrests, physical custody arrests and traffic stops"—work she described as "hunting."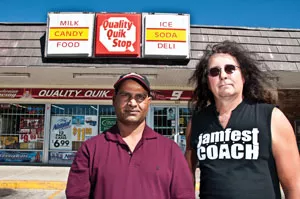 When Steed joined the UHP's DUI squad in March 2009, she says she was advised that a Rose Park convenience store called Quality Quik Stop [QQS] on 900 West and 900 North was a "hot spot" for drunken drivers. Store patrons, she says, "were driving to the store intoxicated and buying more alcohol." The store, she alleges, was selling alcohol not only to drunks but also minors. Manager Amjad "Bobby" Ditta, whose cheerful chatter considerably brightens the store, says he knows nearly all his clientele on a first-name basis, and the store's policy is to card all minors—although the shop's acceptance of a fake ID did get prosecuted and later dismissed, according to Ditta.
Still, word got around of the UHP's investigation, and Steed says it resulted in drunks walking (not driving) to the store, and neighbors being grateful "that crime had gone down in their neighborhood since we'd been working there." The QQS, famous locally for its 99 cent 24-ounce cans of beer, also saw a dramatic fall in revenue.
Rick Jackson paints Steed's lengthy presence close to the convenience store in different terms, however. A painting-system designer for utility trucks, Jackson also is a former heavy-metal vocalist—his most-recent band, Megatak, released
Save the Nations
in 2005. After working in his yard on May 26, 2009, and drinking several beers, he left for the QQS to buy frozen pizza and beer at around 9 p.m. He says he was sober and, thus, not worried about the UHP trooper who was often parked across the street from the QQS. Many were wary of the trooper with binoculars observing the interior of the convenience store from her car because they believed she routinely pulled over customers leaving with beer.
Several minutes after Jackson exited the parking lot, the red and blue lights of the UHP car flooded his Ford Taurus sedan. He pulled over, and Steed, her blond hair gathered in her normal hefty ponytail, approached his vehicle, telling him he had failed to signal properly. She had him perform field-sobriety tests. An angry Jackson refused a PBT test or to have Steed draw his blood in the back of her car. She handcuffed him and took him to jail, his wife bailing him out in the morning.
After his arrest, Jackson posted a petition in the QQS that collected more than 40 names and phone numbers of those critical of the UHP's "staking out" of the store.
Lisa Says
The UHP presence across the road from the convenience store ended only, QQS customers say, after Jackson had his day in court.
Kevin Jackson, the lawyer Rick Jackson hired to represent him [the two are not related], says typically, in a DUI, there are no witnesses, and in a battle between the arresting officer's word and the defendant, law enforcement almost always wins. But Rick Jackson had a witness to the UHP's repeated pursuit of QQS customers in store manager Ditta. And then there was Steed's highly problematic testimony.
Steed "initially testified," Judge Cutler wrote in his ruling, that Rick Jackson made two traffic violations when turning right out of the QQS parking lot. The first was not entering the right lane, the second, moving into the left lane without waiting in the right lane and signaling. But Jackson and Ditta testified that construction cones had closed off the right-hand lane for months, something Steed's DUI report failed to mention.
Steed's testimony "lacks credibility" in several "remarkable manners," Cutler wrote. Rather than making traffic stops, as Steed claimed, Cutler wrote she was pursuing "alcohol interdiction." Ditta testified that when he approached Steed, who was scaring away his customers, she told him she was investigating the illegal sale of alcohol to minors and drunks. Her "inability" to recall the road construction was "understandable," Cutler sarcastically wrote, because she wasn't there to pursue traffic enforcement. Her testimony, he concluded, was "not believable and her desire to pursue an ongoing departmental investigation creates a significant suspicion of the officer's true intent to make contact with this defendant and other patrons exiting the convenience store."
Shortly after the ruling and the case's dismissal, customers say the UHP stopped parking across the street from the store. "As soon as that case went to trial, we have never seen them back there," QQS patron Anthony Reynolds says. "If they weren't doing something wrong in the first place, then they'd still be there."
Give a Cop a Bad Name
Steed wrote in her response to City Weekly that she patrols areas "where there is a high percentage of DUIs. This includes bars, convenience stores, concerts, and party locations that city agencies have advised us of. This has proven to be quite an effective technique among the entire DUI squad."
One bar Steed has watched is The Leprechaun Inn (at 4700 S. 900 East), where, on March 10, 2010, Sheri (whose last name is withheld) had been drinking with her husband, who works in local law enforcement. As she pulled out of the parking lot, she saw the "bee" of a UHP patrol car behind her as she turned carefully onto 4700 South. "Two seconds later, Steed flipped on the overheads," Sheri says. "I didn't have a driving pattern whatsoever."
After Sheri told Steed she had been drinking but switched to water following "three or four beers," the trooper stuck a PBT in her face. Steed, she says, didn't have her uniform microphone on, which she's supposed to activate when approaching any car, and Sheri says, her dashboard camera was dismounted on the passenger seat—another policy violation—so she had not recorded the improper lane change Steed claimed was the reason for the stop.
Sheri tested positive for alcohol on the PBT, and Steed arrested her, informing her she wanted to draw her blood. Since Sheri has a tendency to faint when her blood is drawn, she said no. Steed got an electronic warrant from a judge and drew Sheri's blood in the back of her car.
The blood test revealed Sheri was .07, below the legal limit. But Sheri's refusal of the blood draw resulted in a mandatory 18-month suspension of her driver's license—a fate that befell former Utah Senate Majority Leader Killpack for refusing a breath test—three years of an interlock device, which she has to rent, and for five years, she cannot drive with a drop of alcohol in her system. All of this, she says, and the DUI charge was dropped.
Sheri and her family were forced to move close to her work, since she could no longer drive. "It's horrifying how someone like that can give officers a bad name," Sheri says.
Nipple Rings
For all of the questions about Steed's tactics, she isn't the only trooper whose DUI collars generate concern among both drivers and defense attorneys.
On Aug. 28, 2009, around 10:30 p.m., then 52-year-old Nancey Burbank was driving home after imbibing three beers and a Jagermeister shot with her father at a nearby American Legion.
When Trooper Jed Jorgenson pulled her over at 3900 South prior to 700 East for half-crossing a lane before indicating, "I was delightful to him," she says. Despite cataracts in her eyes, joint problems and poor coordination "when I'm sober," she was sure she would pass the field sobriety tests because she'd been careful to pace her drinks. Jorgenson took her off-camera to do the tests. But when he told her blow into the Intoxilyzer, she refused, and he said she was under arrest.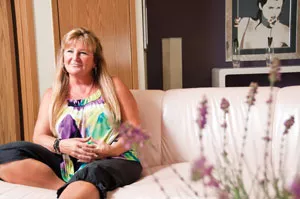 "I couldn't breathe, I stood there in shock," she says. He ordered her twice to put her hands behind her back, then abruptly grabbed her arm with a twist-lock so painful, it left her arm in a sling for a month and slammed her on the hood of his patrol car.
In handcuffs, Jorgenson led Burbank into a dark room in the UHP offices. Three troopers were waiting for her, including Steed, who Burbank says told her, "We can do this the easy way or the hard way," Burbank recalls. Phobic of needles and blood, Burbank says she hyperventilated and begged for a minute to get her bearings. Steed then drew her blood.
"I remember all of this because I wasn't drunk," Burbank says angrily.
Worse was to come. After Jorgenson booked her into the county jail, two female jail guards took her into a side room and had her remove her bra. Burbank, who had her nipples pierced five years ago in an expensive, painful procedure she calls "a present for myself," endured the women "cutting and ripping" the rings off first one breast, then the other.
Because she refused the alcohol-breath test, Burbank lost her driver's license for 18 months at a driver-license-division hearing. Burbank's blood test showed she was .08, which is a legal DUI, but "because the trooper lacked reasonable suspicion to make a traffic stop," Schatz says, the DUI charge was tossed. Burbank was out $8,000 in lawyer and impound fees and, for the past year, has been effectively a "prisoner in my home. I can't drive, and I'm in debt up to my eyeballs."
To Err Is Human, To Arrest Divine
At 2 a.m. one Sunday morning in early August, Lt. Winward pulls over a black Range Rover that made multiple lane changes without signaling. While the driver's "right there on the legal limit [of a DUI]," Winward thought it unlikely he would get a conviction and sent the driver home. "You should err on the side of caution, don't you think?" Winward says.
It might well be argued Steed's version of caution, at least if her voluminous arrest record is anything to go by, is arrest first and let the judges sort it out later.
Just how many UHP DUI arrests result in convictions isn't clear. Steed estimates she has a 95 percent conviction rate, "knowing that a blood-alcohol content and/or positive result on a toxicology screen has a direct correlation to convictions." Her high conviction rate is even more disturbing given judicial concerns over how she gathers her evidence.
Third District Court Judge Robert Faust, in a ruling on one Steed DUI arrest, found that her failure to visually record the defendant's tests per UHP policy did not warrant a dismissal of the DUI charge. However, he wrote that Steed's failure to follow UHP policies "is especially troubling in light of evidence that [she] has made this error in the past."
Such judicial chastisements do not appear to tarnish Steed's reputation: She recently received a career achievement award at a law-enforcement conference on alcohol. She is also, Rapich says, once more out in front of the rest of the squad with her arrest numbers, no doubt spurred on by the UHP's request that its troopers achieve a 10 percent increase in DUI arrest numbers this year.
Schatz says that Steed and other troopers "are only making piddly traffic stops in the hopes of finding someone else drinking," which is why they "hunt" at midnight—and not at 2 in the afternoon. Apart from defense lawyers crying about constitutional violations, Schatz says, "who cares if an officer makes an iffy traffic stop, and gets a driver off the road who blew twice the legal limit? If an officer wants to stop you, it's their word against yours, and they are going to win every time."