Page 3 of 3
Cheapest Beer In Town
After Steed was named Trooper of the Year in 2007 for making 200 DUI arrests, Steed told a Standard-Examiner reporter, "For the last five years, I basically led the county in DUI arrests, physical custody arrests and traffic stops"—work she described as "hunting."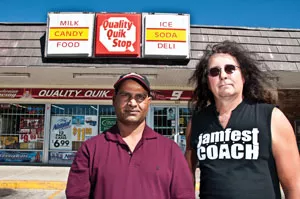 When Steed joined the UHP's DUI squad in March 2009, she says she was advised that a Rose Park convenience store called Quality Quik Stop [QQS] on 900 West and 900 North was a "hot spot" for drunken drivers. Store patrons, she says, "were driving to the store intoxicated and buying more alcohol." The store, she alleges, was selling alcohol not only to drunks but also minors. Manager Amjad "Bobby" Ditta, whose cheerful chatter considerably brightens the store, says he knows nearly all his clientele on a first-name basis, and the store's policy is to card all minors—although the shop's acceptance of a fake ID did get prosecuted and later dismissed, according to Ditta.
Still, word got around of the UHP's investigation, and Steed says it resulted in drunks walking (not driving) to the store, and neighbors being grateful "that crime had gone down in their neighborhood since we'd been working there." The QQS, famous locally for its 99 cent 24-ounce cans of beer, also saw a dramatic fall in revenue.
Rick Jackson paints Steed's lengthy presence close to the convenience store in different terms, however. A painting-system designer for utility trucks, Jackson also is a former heavy-metal vocalist—his most-recent band, Megatak, released
Save the Nations
in 2005. After working in his yard on May 26, 2009, and drinking several beers, he left for the QQS to buy frozen pizza and beer at around 9 p.m. He says he was sober and, thus, not worried about the UHP trooper who was often parked across the street from the QQS. Many were wary of the trooper with binoculars observing the interior of the convenience store from her car because they believed she routinely pulled over customers leaving with beer.
Several minutes after Jackson exited the parking lot, the red and blue lights of the UHP car flooded his Ford Taurus sedan. He pulled over, and Steed, her blond hair gathered in her normal hefty ponytail, approached his vehicle, telling him he had failed to signal properly. She had him perform field-sobriety tests. An angry Jackson refused a PBT test or to have Steed draw his blood in the back of her car. She handcuffed him and took him to jail, his wife bailing him out in the morning.
After his arrest, Jackson posted a petition in the QQS that collected more than 40 names and phone numbers of those critical of the UHP's "staking out" of the store.
Lisa Says
The UHP presence across the road from the convenience store ended only, QQS customers say, after Jackson had his day in court.
Kevin Jackson, the lawyer Rick Jackson hired to represent him [the two are not related], says typically, in a DUI, there are no witnesses, and in a battle between the arresting officer's word and the defendant, law enforcement almost always wins. But Rick Jackson had a witness to the UHP's repeated pursuit of QQS customers in store manager Ditta. And then there was Steed's highly problematic testimony.
Steed "initially testified," Judge Cutler wrote in his ruling, that Rick Jackson made two traffic violations when turning right out of the QQS parking lot. The first was not entering the right lane, the second, moving into the left lane without waiting in the right lane and signaling. But Jackson and Ditta testified that construction cones had closed off the right-hand lane for months, something Steed's DUI report failed to mention.
Steed's testimony "lacks credibility" in several "remarkable manners," Cutler wrote. Rather than making traffic stops, as Steed claimed, Cutler wrote she was pursuing "alcohol interdiction." Ditta testified that when he approached Steed, who was scaring away his customers, she told him she was investigating the illegal sale of alcohol to minors and drunks. Her "inability" to recall the road construction was "understandable," Cutler sarcastically wrote, because she wasn't there to pursue traffic enforcement. Her testimony, he concluded, was "not believable and her desire to pursue an ongoing departmental investigation creates a significant suspicion of the officer's true intent to make contact with this defendant and other patrons exiting the convenience store."
Shortly after the ruling and the case's dismissal, customers say the UHP stopped parking across the street from the store. "As soon as that case went to trial, we have never seen them back there," QQS patron Anthony Reynolds says. "If they weren't doing something wrong in the first place, then they'd still be there."
Give a Cop a Bad Name
Steed wrote in her response to City Weekly that she patrols areas "where there is a high percentage of DUIs. This includes bars, convenience stores, concerts, and party locations that city agencies have advised us of. This has proven to be quite an effective technique among the entire DUI squad."
One bar Steed has watched is The Leprechaun Inn (at 4700 S. 900 East), where, on March 10, 2010, Sheri (whose last name is withheld) had been drinking with her husband, who works in local law enforcement. As she pulled out of the parking lot, she saw the "bee" of a UHP patrol car behind her as she turned carefully onto 4700 South. "Two seconds later, Steed flipped on the overheads," Sheri says. "I didn't have a driving pattern whatsoever."
After Sheri told Steed she had been drinking but switched to water following "three or four beers," the trooper stuck a PBT in her face. Steed, she says, didn't have her uniform microphone on, which she's supposed to activate when approaching any car, and Sheri says, her dashboard camera was dismounted on the passenger seat—another policy violation—so she had not recorded the improper lane change Steed claimed was the reason for the stop.
Sheri tested positive for alcohol on the PBT, and Steed arrested her, informing her she wanted to draw her blood. Since Sheri has a tendency to faint when her blood is drawn, she said no. Steed got an electronic warrant from a judge and drew Sheri's blood in the back of her car.
The blood test revealed Sheri was .07, below the legal limit. But Sheri's refusal of the blood draw resulted in a mandatory 18-month suspension of her driver's license—a fate that befell former Utah Senate Majority Leader Killpack for refusing a breath test—three years of an interlock device, which she has to rent, and for five years, she cannot drive with a drop of alcohol in her system. All of this, she says, and the DUI charge was dropped.
Sheri and her family were forced to move close to her work, since she could no longer drive. "It's horrifying how someone like that can give officers a bad name," Sheri says.
Nipple Rings
For all of the questions about Steed's tactics, she isn't the only trooper whose DUI collars generate concern among both drivers and defense attorneys.
On Aug. 28, 2009, around 10:30 p.m., then 52-year-old Nancey Burbank was driving home after imbibing three beers and a Jagermeister shot with her father at a nearby American Legion.
When Trooper Jed Jorgenson pulled her over at 3900 South prior to 700 East for half-crossing a lane before indicating, "I was delightful to him," she says. Despite cataracts in her eyes, joint problems and poor coordination "when I'm sober," she was sure she would pass the field sobriety tests because she'd been careful to pace her drinks. Jorgenson took her off-camera to do the tests. But when he told her blow into the Intoxilyzer, she refused, and he said she was under arrest.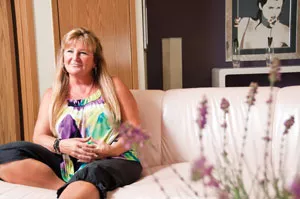 "I couldn't breathe, I stood there in shock," she says. He ordered her twice to put her hands behind her back, then abruptly grabbed her arm with a twist-lock so painful, it left her arm in a sling for a month and slammed her on the hood of his patrol car.
In handcuffs, Jorgenson led Burbank into a dark room in the UHP offices. Three troopers were waiting for her, including Steed, who Burbank says told her, "We can do this the easy way or the hard way," Burbank recalls. Phobic of needles and blood, Burbank says she hyperventilated and begged for a minute to get her bearings. Steed then drew her blood.
"I remember all of this because I wasn't drunk," Burbank says angrily.
Worse was to come. After Jorgenson booked her into the county jail, two female jail guards took her into a side room and had her remove her bra. Burbank, who had her nipples pierced five years ago in an expensive, painful procedure she calls "a present for myself," endured the women "cutting and ripping" the rings off first one breast, then the other.
Because she refused the alcohol-breath test, Burbank lost her driver's license for 18 months at a driver-license-division hearing. Burbank's blood test showed she was .08, which is a legal DUI, but "because the trooper lacked reasonable suspicion to make a traffic stop," Schatz says, the DUI charge was tossed. Burbank was out $8,000 in lawyer and impound fees and, for the past year, has been effectively a "prisoner in my home. I can't drive, and I'm in debt up to my eyeballs."
To Err Is Human, To Arrest Divine
At 2 a.m. one Sunday morning in early August, Lt. Winward pulls over a black Range Rover that made multiple lane changes without signaling. While the driver's "right there on the legal limit [of a DUI]," Winward thought it unlikely he would get a conviction and sent the driver home. "You should err on the side of caution, don't you think?" Winward says.
It might well be argued Steed's version of caution, at least if her voluminous arrest record is anything to go by, is arrest first and let the judges sort it out later.
Just how many UHP DUI arrests result in convictions isn't clear. Steed estimates she has a 95 percent conviction rate, "knowing that a blood-alcohol content and/or positive result on a toxicology screen has a direct correlation to convictions." Her high conviction rate is even more disturbing given judicial concerns over how she gathers her evidence.
Third District Court Judge Robert Faust, in a ruling on one Steed DUI arrest, found that her failure to visually record the defendant's tests per UHP policy did not warrant a dismissal of the DUI charge. However, he wrote that Steed's failure to follow UHP policies "is especially troubling in light of evidence that [she] has made this error in the past."
Such judicial chastisements do not appear to tarnish Steed's reputation: She recently received a career achievement award at a law-enforcement conference on alcohol. She is also, Rapich says, once more out in front of the rest of the squad with her arrest numbers, no doubt spurred on by the UHP's request that its troopers achieve a 10 percent increase in DUI arrest numbers this year.
Schatz says that Steed and other troopers "are only making piddly traffic stops in the hopes of finding someone else drinking," which is why they "hunt" at midnight—and not at 2 in the afternoon. Apart from defense lawyers crying about constitutional violations, Schatz says, "who cares if an officer makes an iffy traffic stop, and gets a driver off the road who blew twice the legal limit? If an officer wants to stop you, it's their word against yours, and they are going to win every time."