Approaching the end of the month and still more local albums coming out of the woodwork. We got three move over the next few days, so let's dive in. --- Starting off with the debut release from metal group Seventking. From what I've gotten from previews its just one pure metal record. No flashy gimmicks, no massive production, not even the standard pissy attitude that seems to be the "thing to do". Mat's screeching vocals will bring you straight back to the height of the 80's metal movement, which honestly, is not a bad thing at all considering some of the other metal junk floating around. You can join them for their release show tomorrow night at Club Vegas along with Brute Force, Toxic Dose and Killbot! $8 at 8PM.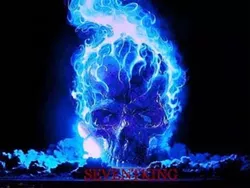 Then on Sunday the 25th we're supposedly going to see the new release from the band Passive. I'd be more than happy to tell you about it, trouble is, I can't. I have no information for this thing. My emails went unanswered, album art is non-existent, and their music on MySpace is made up of sample clips. (Which incidentally, all bands reading this, this practice is dumb. A sample of your chorus is not the full song, and it makes me NOT want to buy the album.) So I can't really give you any info other than to tell you they're playing tomorrow at Bar Deluxe as a release show for an unknown album, and apparently are playing by themselves. $5 at 9PM.


And then for a very different change of pace, this coming Wednesday at Kilby Court will see the debut release from Bicycle Voice. The one woman band with occasional members, headed up by Megan Webb, have become a quiet favorite at Kilby. Very simple guitar melodies composed to sound more like singalong tunes with a hint of tropical flavor. Some very beautiful music that's worth checking out. Go grab yourself a copy of the debut EP, Tis The Ghost Of Martinellis, and support the group as they go out on tour with Mermaid Baby (also playing that night), as well as Dook Kelsall. $6 at 6PM.


For a brief sample of what you'll see tomorrow night, here's a clip of Seventking at Club Vegas last year. Head out, love music, buy local!