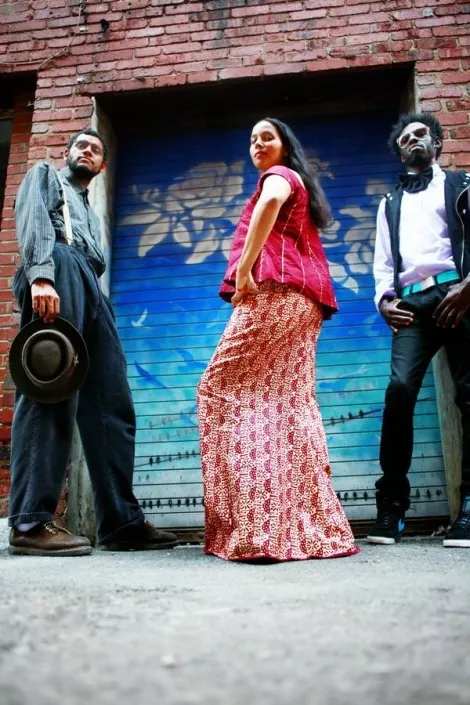 About the only thing that could keep the cold Sunday night rain from spoiling the end of the Living Traditions festival was this North Carolina trio capable of generating plenty of heat.---
Hailing from the Piedmont region of the Tarheel State, the Carolina Chocolate Drops trade in a mix of traditional acoustic music of that region, as well as string-band versions of more modern fare. In other words, they offer a perfect musical blend for Living Traditions, which earlier in the weekend showcased the Irish vocals of Solas, West African rhythms of Sierra Leone's Refugee All Stars and Mexican dance-pop of Nortec Collective—all of them having to dodge inclement weather at one point or another.
The Chocolate Drops time slot at 5:30 Sunday afternoon started out dry, but by the end of their set a downpour had weeded out the crowd considerably, leaving behind only the heartiest of fans. Count me among them, because the Carolina Chocolate Drops music—captured on the band's excellent album Genuine Negro Jig—is truly mesmerizing stuff, whether you're a fan of old-timey mountain music (and I am), or simply of excellent musicianship.
All three members are multi-instrumentalists. Don Flemons sat for most of the set, playing banjos, a whiskey jug and various percussive instruments. Rhiannon Giddens sat in the middle, playing banjo and fiddle and singing, not to mention jumping up for some traditional folk dancing from the Piedmont region at one point. And main fiddler Justin Robinson stood for the most part, also playing some banjo and jug along the way.
Together, the trio create a joyful sound that makes it virtually impossible to stay in one's seat, even with the rain pouring down. The front of the stage at the City & County Building become an impromptu, soaked dance party, and there were plenty of folks dancing in the back of the crowd where I was lurking.
"Trouble in Your Mind" was a rapid-fire singalong, "Cindy Gal" and "Your Baby Ain't Sweet Like Mine" were both excellent, and "Cornbread and Butterbeans" was clearly familiar to many on hand. "Snowden's Jig (Genuine Negro Jig)" was an excellent showcase of the trio's instrumental skills, its slightly gothic vibe fitting the dark skies.
Here's hoping the band returns for a show again soon, because anyone who skipped it or left early due to the rain truly missed something special.