Run for the hills! Home Depot is exposing the children! The children! ---

Are you alarmed yet? If so, you may want to visit the website of the American Family Association, a right-wing reactionary organization that has been entertaining us for years with its outrageous claims against public libraries, the National Endowment for the Arts, premarital sex, the right to choose, the National Education Association and, of course, gays and lesbians .
This time, the AFA is concerned about a summer gay pride festival in Maine -- an orgiastic bacchanal of naked lobsters frolicking with, OMG, Carson Kressley!!!!!!! Shocking, indeed. Children -- the children!!!! -- were present, and evidently the event was sponsored in part by Home Depot.

Write in, write in now, to protest Home Depot's nefarious program to brainwash little kids into becoming liberal, satanic, socialist non-homophobes. Your AFA-approved, pre-written e-mail to nice-guy Home Depot CEO Frank Blake will read thus:
Dear Chairman Blake:

Your company's financial support of gay pride parades is disappointing to me.

However, Home Depot's decision to also include children's activities at these events is irresponsible, at best.

Gay pride events are known for their frequent and offensive public displays of homosexual conduct. By offering craft workshops specifically designed for children, Home Depot is encouraging their attendance.

Thus, they will likely be exposed to unhealthy and risky environments.

I'm imploring you to put the safety and well-being of children first by not sponsoring or participating in homosexual events.

Of course, Dave and I love Home Depot. Our own backyard is not only filled with plants and hardware purchased from that wonderland of home- and garden-improvement products, but was also the site of a very successful Pioneer Day weekend barbecue.
The party was attended by my dear friend Gwen, accompanied by her exceptionally well-behaved 8-year-old son Oliver. Oliver survived the evening very well despite exposure to what the AFA might regard as our "unhealthy and risky" homosexual tomato garden. After he got bored with all the adults' grown-up talk, he went into the house where he ate a slice of Dave's sister's apricot-apple pie, played video games and watched Cartoon Network. Afterward he said, "Thank you very much. I had a nice time." (So polite and adorable! What a great kid!)

So if, like us, your Home Depot-based parties have resulted in child survival, you may wish to follow the lead of local writer/director Laurie Mecham, who altered the prescribed AFA e-mail thus: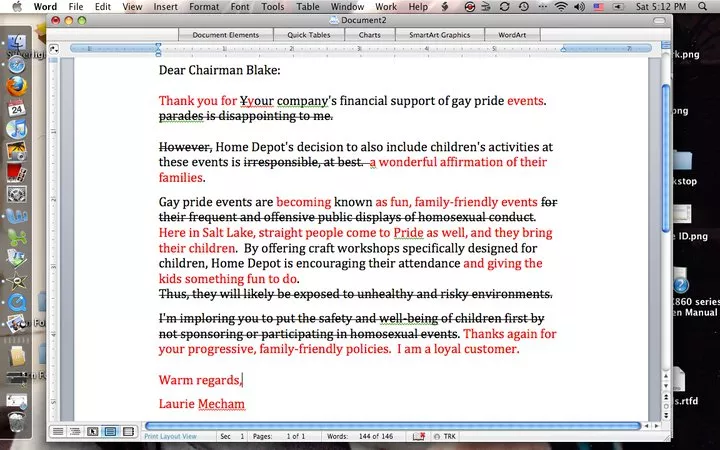 Enjoy your teabagging!