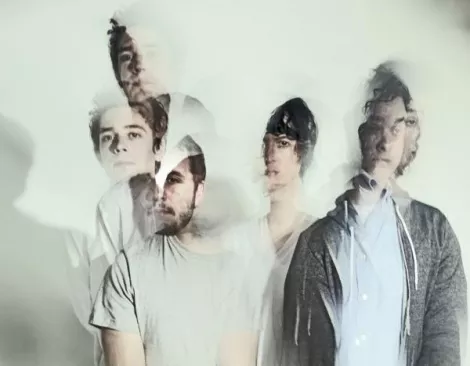 The Urban Lounge audience for Monday's Born Ruffians was small, however everyone was on board to dance, dance, dance. ---A floor full of 20-or-so ruffians-in-their-own-right cut a rug to the catchy pop meets roughshod indie rock of Toronto's Born Ruffians. Along with mediocre wine, a '90s baseball legacy and a less-bastardized view of Niagara Falls, add these boys to the list of just above par Ontario exports.
The band's touring in support of their second studio album, 2010's Say It (Warp Records), which has tracks that at once are playful and compositionally tight. They were also selling an EP to be release online on November 2. However, with stripped down drums, sometimes edgy guitar work and onstage fervor almost matching the Urban crowd last night, Born Ruffians are a live band.
The set started with "Oh Man" off of Say It and quickly launched through several quick tracks including the 2008 single "Sole Brother." The show highlight was lead singer/ guitarist Luke LaLonde singing "I just want to set the world on fire" on "Retard Canard" with everyone dancing spazmatically in addition to the bouncy "Higher and Higher." Most of these songs can be checked out on their quality Daytrotter sessions (where I found out about them some time ago). The Canadian foursome has opened for the likes of Franz Ferdinand and Hot Chip and I think seeing them on a Friday night as an opener would have been more befitting despite the die-hard few that made it out tonight.