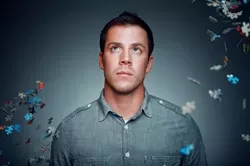 Delving into May we've got three local releases with shows for each, including one very special show being set up as a fundraiser. --- That show is tonight over at Bar Deluxe where we'll see the latest from The Suicycles. I know what you're thinking... "Wait, didn't they come out with one three months ago?" Yep. And now they've got a second one. Why they didn't combined the two into one full-length... that's the mystery. Word leaked out from members earlier in the week, with Experiments In Being Awake officially becoming available Tuesday morning on their Bandcamp website as a "pay what you wish" release. A damn fine follow-up to the last EP, and if anything, a companion piece with both dark melodies and jolting lyrics. Not to mention another brilliant piece of cover art from Sri Whipple. You can grab a physical copy tonight at their "A Wish To Walk Benefit" show. A little detail on this, lead singer Camden Chamberlain's youngest daughter Elodie has had spinal problems since birth and has not been able to walk. The family found a program by the name of Now I Can, helping her with therapy and exercises to gain the ability to stand on her own two feet. However, the program is not cheap, and in order to help with the costs the group are throwing this fundraiser with all proceeds going toward helping Elodie. Playing in support for this show will be Muscle Hawk, Long Distance Operator and The Plastic Furs. Head over, but a ticket, buy a CD, and help out a good cause. $5 starting at 9PM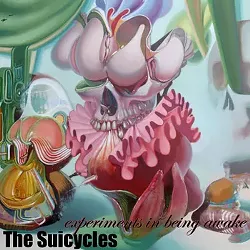 If you're down in Provo and unable to make it to this show, there's a two-night event in your area as
Allred
releases their brand new EP. The last time we heard from John Allred (pictured above) and company was back in October last year with the release of
All We Are
. For this brand new release John went up north to Portland, recording a series of acoustic tracks with Stephen & Andrew Brittell from the group
Brightwood
. Allred quickly commented on the album that it's "A
concept record based on personal experiences. It's the most personal thing I've ever done...so much I almost didn't release it." The six track EP titled
Come Back
is truly that, personal. These tracks seem to flow and echo with emotion at a level that some people dare not tap into, pure honesty. Definitely worth a buy for you acoustic lovers. You can catch Allred as a full band as they take over Velour two nights in a row, tonight and Saturday, and by themselves throwing a musical extravaganza. $8 starting at 8PM both nights.
Speaking of Saturday, the last release of the week comes from a band we briefly mentioned already. Indie rockers
Long Distance Operator
finally release their first full-length album after nearly two years of anticipation. The last official release from the group came in June of '09 in the form of a self-titled EP. It showed a lot of promise and for a short period was considered a measuring stick for what local rock should be, but became quickly forgotten when the band dropped off the radar and only did a handful of live shows to finish out that year. The group came roaring back late last year making their presence known as a fine live act playing from St. George to Logan, and to cap off that resurgence they're putting out their sophomore recording,
Sweet Lucy Devine
. The album itself is pretty damn powerful, not to much into the heavy rock, not too much into the indie, just the right balance of pure rock without taking themselves too seriously. Some may not entirely like it as it does go toward a anthem-pop mentality at times, but its worth at least checking out. You can check out a more in-depth write up about the group by Julianna Clay in
this article from last week's issue
, and you can catch the group at their release show tomorrow night up at The Canyons Inn along with
King Niko
and
The Bloop
. We don't have a ticket price, but the show kicks off at 9PM.
Head out, love music, buy local!