With all the festivals happening this summer, you knew a couple of film fests were bound to pop up. --- But unless you're entering the 48 Hour this year or waiting for the Tower's Open Screen nights, there's not a lot of room for festivals centered around shorts or featurettes. In fact a lot of those films end up never getting seen because most don't know those types of festivals exist here. Good thing there's a brand new festival on the block.
The "Who Likes Short Shorts?" Film Festival got it start last year over at The Post Theatre as a way for local filmmakers to bring their shortened features out, and give audiences interested in the work a chance to talk to the directors and help give away awards for their efforts. The latest edition of this series will again take place at The Post, tomorrow night at 8PM, with tickets going for just $10. But before hand we briefly chat with co-creator Jack Diamond about the festival itself and some thoughts on local film.
Jack Diamond
Gavin: Hey Jack, first thing, tell us a little bit about yourself.
Jack: I've been working in the arts and entertainment industry for the last ten years and, in order to make a living at it, I've worked at every kind of job that I could get paid to do; stand-up, comedy improv, theatre, film, emcee, etc. Since most people through the years have been wise enough not to hire me, I've also had to produce my own events, simply so I could generate more work for myself. Through this experience I've found that the two things I gravitate towards the most are comedy improv and short film; either in front of or behind the camera.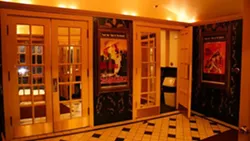 Gavin: What got you interested in film, and what were some of your early influences?
Jack: I've been interested in film since I was a teenager when my friends and I would create improvised short films, which, looking back was serendipitous. Since I've not had any formal film study, this guerrilla style filmmaking was the only training I'd had.
Gavin: Did you seek out any college for film, and if so, what was that experience like for you?
Jack: A few years ago, in an ongoing effort to supplement my film education, I was part of a loose confederation of independent filmmakers that would get together to learn from each others areas of expertise. This group, called Salt Lake Independent Productions (SLIP), bore unexpected fruit. I met several talented people through that group, and continue to collaborate with many of them today, including Chase Weston.
Gavin: How did the idea come about for the "Who Like Short Shorts" Film Festival?
Jack: During this time I was also associate producing the 48 Hour Film Project with Brian Higgins, who is an inimitable producer. As SLIP and the 48 HFP wound down and we all started turning back to our own projects, Chase and I were commiserating about how difficult it can be to have our work shown. From these conversations, the ideal of the Who Likes Short Shorts? Film Festival was born.
Gavin: What was it like planning out the event, and what made you choose the Post Theater for the main location?
Jack: In between thought and deed was a marathon of logistics to solve. We chose to screen at the Post Theatre for its superior A/V equipment and a classic look that dovetails with the Short Shorts branding; and we had also decided to do a spring and fall festival rather than a once a year event so that filmmakers are never more than six months away from a distribution resource for their films.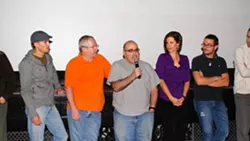 Gavin: What was the very first event like for you, and did you know you'd be back for a second festival or was it kinda in the air at that point?
Jack: What sets our festival apart is the focus of what we're doing. We have a year long submission process that is free to everyone who lives in Utah, but we also have judges who are very critical of what films make it to the festival. In this way we can assure everyone has a chance to submit, and, only the best of what is submitted will be shown. On top of that, we work with other distribution resources, such as Comcast on Demand, to give those films chosen an opportunity to be viewed by a much larger audience.
Gavin: For those who aren't aware, what kind of films do you take for submissions, and what kind of criteria do they have to meet to be accepted?
Jack: Chase and I do have some say over the films, but to remove bias and ensure a fair screening process, all of the films submitted are reviewed by an anonymous panel consisting of local filmmakers. We are often asked what types of films get screened. My short answer is; good ones. The nature of our film festival is a submission based clearinghouse designed to create an additional path for distribution. Films can be any genre or rating. A long as the short film is under ten minutes (though we do occasionally make exceptions) and has a high enough production quality, it stands a great chance of being chosen. Last fall's screening had horror, comedy, foreign, documentary, and animated shorts, as well as a few that defied description. This years line-up includes four premiers and several national and international selections.
Gavin: Moving onto local stuff, what's your opinion of the local film scene, both good and bad? And is there anything you think could be done to make it more prominent?
Jack: There are several key elements to producing our film festival, not the least of which is access to superior quality films. Good films are good for Utah, and we need more of them and that class of filmmaker that produces them.
Gavin: Are there any local directors you feel are at the top of their game?
Jack: There are too many filmmakers whose work I admire to list here, but an abbreviated list would be: James Cawley, Randin Graves, Kevin Lacey, and Chris Larsen and Eric Fisher. Their combined body of work never ceases to surprise and delight me, while at the same time forces me to work that much harder to raise the bar on my own material. They and many more unsung and as equally diligent filmmakers are what encourage me to continue to toil year long for a couple of night's worth of entertainment and recognition.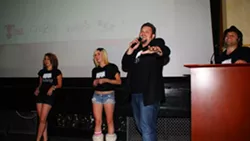 Gavin: What's your take on other film festivals and competitions in Utah and what they do for the film community?
Jack: Since creating the Who Likes Short Shorts? Film Festival, we've had a great response from filmmakers as well as other festival producers, which I believe is due in part to the collaborative nature of our festival and the personalities of the folks we've been fortunate enough to work with. Brian Higgins from the 48 HFP, Mario DeAngelis from the Salty Horror International film festival, Jason Falasco from Night of Shorts, Matt Whittaker from the Salt Lake City film festival, and Jim Faulkner and Amy Beth Leber from the Salt Lake Film Society's Open Screen Night have been approachable and communicative; and also have a shared vision in regards to challenging and encouraging filmmakers while giving them a place where they can show their work. A rising tide lifts all ships and it folks like these as well as organizations like the Salt Lake City Film Center among others that work hard to make the film scene in Utah more sustainable for everyone.
Gavin: What's your opinion on local film organizations and the work they do to bring films to town?
Jack: When Chase and I produced our inaugural event last fall, it was in the spirit of, "Let's try it out and see what happens." Since then, because of the overwhelming support of the local film community, other film festivals, and the Utah Film Commission, as well as strong support from our sponsors, we've felt compelled to carry on and are hopeful that, as we move forward, new opportunities to collaborate will continue to open up for us and the local independent film community.
| | | | |
| --- | --- | --- | --- |
| Follow Gavin's Underground: | | | |