While I could beat my own chest over the Web becoming a bigger source for local news and entertainment, I'll hold back on that speech until it seems more prudent. --- But you can't escape the fact that the talent of today, who at one point would have jumped right into TV and radio, have seen the coming tide and started to self-produce their own material immediately. In fact, Utah itself currently has local podcasts and vlogs that boast higher views per week than material on regional stations.
The Webshow Couch Time was started up by Raggle Rock blogger Ashlee Mason back in July. Simply put: Mason grabs a guests, sits on the couch with beers and topics and films it, posting a new episode almost every week with various guests including local comedians, musicians and even her ex-boyfriend. I got a chance to chat with Ashlee about her blog and the show, along with her thoughts on the growth of online media.
Ashlee Mason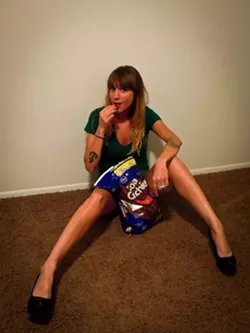 http://ragglerock.blogspot.com/
Gavin: Hey, Ashlee. First thing, tell us a little bit about yourself.
Ashlee: I'm a former kiddie model that drinks and smokes enough to never qualify for health insurance again. A number of people really don't like me, but it's something I'm getting more comfortable with. During the days, I'm a paralegal for a criminal-defense firm. During the nights, I'm a wedding date for hire.
Gavin: How did you first take an interest in online media and what kind of stuff do you check out daily?
Ashlee: Well, I'm typically seven years behind the curve in just about everything, so my interest in online media has rivaled that of my great-grandparents. However, now that I've put my walker away and have gotten over my technophobia, I regularly check out blogs like fourfour, Thighs Wide Shut, Gawker, Jezebel, Dlisted, Everything is Terrible, and, of course, Gavin's Underground.
Gavin: You recently started up a new blog called Raggle Rock. Was it meant to be personal or more observational, and how do you usually decide what to write about?
Ashlee: The blog wasn't meant to be too personal, but I fucking never wanted this blog to read like a "dear diary, today sucked so bad," kind of thing. To be honest, I started it out as my reaction to several unsavory rumors spread about me. I've been such a private, private, private person throughout my life, and really intended to continue being that way. However, one day when I was having a rough time with getting shit all over by former friends, someone close to me suggested that I start writing. I got this idea to start a blog to have something to do besides write "legalese" and drink all the time, and to also address rumors about me on my own terms. I thought, "You wanna call me a slut and an asshole? Well, I'm gonna beat you to the punch, and just admit to everybody that I am one." While over-sharing scares me sometimes, the blog has been extremely cathartic in a sense. My writing process is like this: When something's on my mind, I try to express it as best I can through my love of '80s movies.
Gavin: How did the idea come about for Couch Time?
Ashlee: I know interviewing people on a couch isn't revolutionary, by any stretch whatsoever. That said, my favorite thing on the planet is bullshitting with people, so Couch Time sprung up out of the shadows, and now exists for the greatness of mankind.
Gavin: As opposed to other shows, you haven't aimed at bringing on "names" but kept it more to people you personally know. How do you pick who to bring on?
Ashlee: This may be a simplistic answer, but my friends genuinely entertain me, so I wanted to have something that documents how fucking wacky they are.
Gavin: What was it like for you filming the first one, and what lessons did you learn from the first recording?
Ashlee: The first taping was a disaster. I was embarrassed to air it, but then I figured ... what the hell, this is a process, and it'll be fun to watch a year from now. The many lessons I learned included discovering my dinky camera only films for 20-minute stretches; it's a good idea not to leave the air-conditioning on while filming; and whether you actually stay on topic or not, it's good to actually pick one beforehand.
Gavin: You've earned a lot of attention from viewers in a short span of time. To what do you attribute that?
Ashlee: I don't know. I've kind of put myself out there, and maybe that's what people like, but I really don't know. The blog has received something of a reaction, but I can't tell if that's good or bad right now because the blog is so young. Maybe in two months, people will totally stop giving a shit. However, I'm extremely flattered if I get even 10 hits on one of my posts, and whatever happens, I plan on keeping with it.
Gavin: What do you believe separates your show from some of the local Web material?
Ashlee: This may not separate me from the pack, but the only thing I really try to do with the blog, and Couch Time by extension, is to be honest. I want people to see that it's okay to be awkward in front of camera with your ex-boyfriend. I want women to see that it's okay to admit to embarrassing sexual experiences involving the Big Red.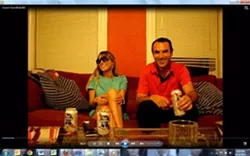 Gavin: Are there any plans to bring on bigger names to chat or are you sticking just to those you want on for now?
Ashlee: Yes, I'd like bigger names on the blog. I had no idea Couch Time would go in this direction at all, but the more I thought about it, the more I thought I could use my couch to promote artists, musicians, and comedians in town that I really care about. I mean, yeah, Couch Time is a poorly produced piece of shit, but if my blog could get at least two more people to go to see a band, comedian or art show here in Salt Lake, then I'd be pretty fucking pumped about it.
Gavin: Moving onto local stuff, what's your take on the Utah-based Web shows we currently have now, both good and bad?
Ashlee: There's a few podcasts I've heard and enjoyed, but like I said before, I've been pretty behind the curve with Internet media. However, please don't let that suggest that I don't want to see what else is out there. Remember, I'm new to this shit. I've been so out of touch for so many reasons, so if you have a blog, please let me know because I'd love to check it out. Obviously, I want people to follow and comment on my blog, but definitely want to do the same with others.
Gavin: Is there anything you believe could be done to make everything more prominent for a medium that changes so frequently?
Ashlee: I'm having a hard time with the question, so I'm gonna twiddle my thumbs for a while. My blog is very basic, and I talk about '80s movies a lot, so there's really nothing I can do to hold people's attentions besides taking random shots of my cleavage from time to time. Tits live forever. On a greater scale, I think the best thing the local blogging community can do for themselves is to actually network with each other. Salt Lake is cool, and I don't think we do enough to celebrate that.
Gavin: What are some of the shows and blogs you check out daily?
Ashlee: The blogs I listed above are typically blogs that are as obsessed with pop culture and movies as I am. I usually try to stay away from political blogs because I can figure that shit out for myself without having to tally how many times Matt Frei uses the word "pusillanimity" in each of his posts.
Gavin: What can we expect to see from you and the show over the rest of the year?
Ashlee: Couch Time will continue to be drunken banter that paints me in the worst possible light. As for the rest of the blog, I keep adding on features like it's going out of style. That may be good or bad, but I'm definitely discovering a rhythm that seems to be working for what I like to write about. You'll always see '80s movie references, recollections of horrible sexual escapades, and talk about my current obsessions. I'm gonna keep on doing what I'm doing, so for those of you that like my blog, friend request me on Facebook or Google Plus – I post links regularly. Also, let me know if you would like to be a guest on Couch Time (and tell me why).
Gavin: Aside from the obvious, is there anything you'd like to promote or plug?
Ashlee: Music shows are fine and dandy for dancing the hipster shuffle on a Friday night, but try supporting some local comedians every once in a while, too.



| | | | |
| --- | --- | --- | --- |
| Follow Gavin's Underground: | | | |