Frontman Garrett Williams opens the door to the band's upcoming debut album
To Death in Delta
.---
Lady & Gent won Velour's 2011 Summer Battle of the Bands just months after forming; in fact, the night they won was only their second gig. Garret Williams, his brother Ben, Caleb Loveless and Dana Sorensen realized this little indie-folk/country-fusion project had some traction.
To Death in Delta was recorded February 2012 with producer Ben Sorensen. The CD release show will be at Velour in Provo on April 27.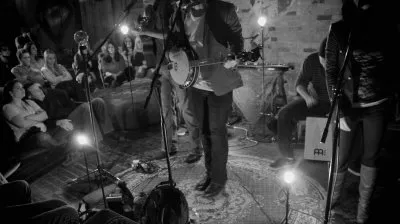 While Williams says the overall theme is "acceptance of real life ... and not hiding from its beauty or ugliness," he gives some, at times surprising, additional insight into these four tracks:
"By the Ocean":
I was sitting in my basement looking at some photos that were taken of my girlfriend and me. I was reflecting on the past few months of our lives together and wondering where did I go wrong. At what point did I stop loving her appropriately? I then started writing "By the Ocean" … from her perspective. In some ways, I was predicting the things she would one day say to me. It compares the fake happiness portrayed in most photographs to what some would call fake love in a dying relationship. The album version of this song is much quicker than we have ever played it live. I think initially it will surprise those familiar with the slow version … but then it will grow on them.

Four songs from Lady & Gent's To Death in Delta
"Hope to Hold":
This song kind of came out of nowhere. It's a song I never thought I would write. My mother unexpectedly passed away when I was in high school. It greatly affected me and, for whatever reason, I had always been very private about her death. It wasn't because I was OK or because I didn't like talking about it; I guess the experience felt sacred to me -- not in the religious kind of way, I just didn't want it cheapened with public familiarity. As time passed, though, I started to feel like I was hiding her. I didn't want to do that anymore. I want people to know about her and remember her. The song is about the hope to remember, and the fear to forget.
"Rome":
This was the last song to make the album. When I sat down with Ben Sorensen (producer) to decide which songs would be on the album, this one was his favorite. Strangely enough, it was my least favorite. I listened to him, though, and decided to go ahead and record it. I rewrote a lot of the lyrics the day we recorded it and it has ended up being one of my favorite songs on the album.
"Let it Go":
We have closed most of our live shows with this song. I knew going into the studio that it would be hard to portray the energy of this song in a studio recording. We tried keeping it pretty raw and added some stomps and yells at the end of the song to make it feel like you were in a revival. It kind of goes with the overall theme of the song, which basically is to free yourself from demons and loose women.