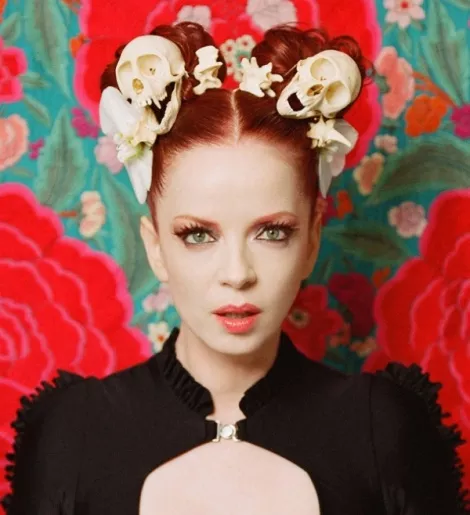 Holy shit, Shirley Manson.---
The Garbage singer was on fire last night at their show at In the Venue, belting out songs from the band's history with as much vigor as she did new material like "Control" from the band's 2012 release, Not Your Kind of People.
In between putting on a high-energy show, Manson paused several times for a bit of reflection. She'd been having a bad day Friday but said she knew that coming onstage would cheer her up, and encouraged audience members to take up music as an escape from the bullshit of everyday life.
Later, she gave several extended shoutouts to the band's crew (one of whom brought her a bottle of whiskey to take a shot from mid-show) and to her fellow bandmates, expressing her gratitude to their often-underappreciated talent and how they put up with her antics while staying on an even keel themselves. It seemed a departure from the usual Garbage show—Duke Erikson, Steve Marker and Butch Vig seemed rather nonplussed, and Shirley herself said she couldn't understand why she was saying all of these things.
But, any opportunity to hear Manson's Scottish accent is a good one. It was surreal to see the singer, who seems so cool and remote in the band's music videos, just feet away and being a little goofy. The fans were plenty appreciative, oftentimes cutting off Manson's words with screams of excitement. One fan near the front went too far and Manson pulled him onstage, taking a few minutes to kindly scold the man for ruining her moment and telling him to shut up ("I'll do anything for you, Shirley" was his slurred response) before security took him away.
Between these moments, the music was great, some of the old material remixed for the live show—"I'm Only Happy When it Rains" was given a slow, haunting, new intro, set I think to the tune of "Sugar" from Not Your Kind of People, before Manson launched full-throatedly into "I'm only happy when it rraaaaains."
"Hammering in My Head" and "Push It" were both standouts, with excellent guitar work from Steve Marker and Duke Erikson bringing the electronica feel. "I Think I'm Paranoid" and "Queer" got a huge response from the audience, as did "Blood for Poppies," the first single off the new album.
Manson has great showmanship, swaggering around the stage in a black floaty dress, breaking from serious moments to give huge grins to the audience. It wasn't until the encore, which saw several false starts into "The Trick Is to Keep Breathing" and "Man on a Wire," that it became clear that Manson was pretty drunk. Her band gamely kept re-starting the songs but eventually gave "Vow" a try, before which Manson complained to the audience that she doesn't think everything needs to be perfect.
It's true that whatever missteps in cues or key were happening weren't as apparent to the audience as to those onstage, but it did make for a slightly deflated ending to an otherwise amazing show. Still, who hasn't gotten day drunk at least once on a Friday in Salt Lake City? No one I want to know.
After the show, Manson tweeted, "Oy vey what a night! I don't think I've been that wasted since our first tour in 1996!!! Yikes.....I guess I needed to let off some steam!"
I missed that first tour in 1996, so I can't tell how the two shows stacked up. But this was no stolid trotting-out of a past-its-prime band with lackluster new songs to cushion the hits. The band's energy is addictive, Manson's voice is the real deal, and the new songs are simultaneously frenetic, intense and catchy, meshing well with the material on old albums.
In an e-mail interview with Butch Vig, he said that the band is talking about recording some songs in January, and that they also have "a bunch of material we recorded during NYKOP that need to be finished and mixed. I think there will be another album. We've got a lot of new ideas floating around!"
If they do release another album, I hope they float back to Salt Lake City.