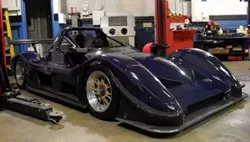 One of my favorite things about hip-hop culture is "braggadocio" or boast rapping. Basically, it's where an emcee goes on and on about how they're the greatest rapper to ever grip a microphone. Besides lyrical prowess, braggadocio usually includes how much material wealth a rapper may have. You know, gold chains, shoes and, of course, cars.---

If anything, Mannie Fresh should be pushing a Prius.
This type of rap has been around forever and I think it's great. The only problem is that 90 percent of rappers are fakin' the funk. Very few are as wealthy as they look, and most, if not all, rent or lease everything you see in their music videos. Of course, there are exceptions. When your rap game is as strong as say, Dr Dre, you can afford to not only buy a Ferrari 360 Medona for your next video, you can afford to buy one and do this with it:
This clip is a behind-the-scenes look at Dr. Dre's 2011 video "I Need A Doctor." Full video
here
.
Man, watching a car I'll never own get tossed aside like a half-eaten Hot Pocket always makes me shed a little tear. But I didn't show you that clip to make you cry. No, I showed it to you because that particular $160,000 car you see somersaulting down the Pacific Coast Highway was actually purchased here in Salt Lake City from a little shop called Ararat European Motorsports. Besides selling exotic cars to high-end clients like Dr. Dre, Ararat also specializes in something slightly unorthodox: flooding rap videos with shiny new rentals.
The shop is owned and operated by Tony Ouzounian, who's been in the exotic car business since 1987. His nephew Jason Moore moved here a year ago from Las Vegas and now runs the marketing and advertising wing of the operation. Moore's time in Vegas was spent promoting and marketing various events and concerts, and through that experience he made some interesting connections -- so much, in fact, that over the past year Ararat has rented out cars to rappers like Waka Flocka, Damon Dash and a slew of local artists.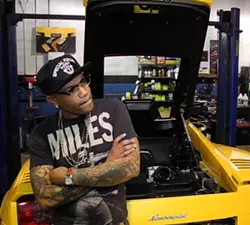 Jason Moore leans on a $125,000 yellow thingy.
It should be clear that I'm not a huge car guy. What I mean is, I don't know shit about cars. For all I know, this guy could be a Lamborghini. But when I discovered that one of the nation's best rap car-rental spots is right here in the Beehive State, my inner wannabe rapper started to surface. You see, I've always wanted to go "H.A.M." on an expensive car but I've never had the means to make this happen. So, when Ararat invited me down to drive their European rocket sleds, all I could think of was this:
The afternoon was spent test driving cars I can't pronounce and, most importantly, defining what it means to be a rental-car rapper. Here's what happened:

Unfortunately, the yellow Lambo was getting a new muffler, so driving that beast was a no-go.
Now, renting a car from Ararat can range anywhere from $150 to $1,000 a day. With that being said, I can't even afford to breathe on one for five minutes. So, it should come as no surprise that I overdrafted my checking account buying all those damned burgers. But, hell, it was worth it. You're not a true rapper unless you spend beyond your means. Am I right? Or am I right?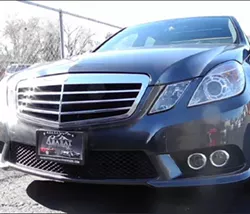 For more info on Ararat European Motorsports, check 'em out right here.
Video shot and edited by Mike Fuchs