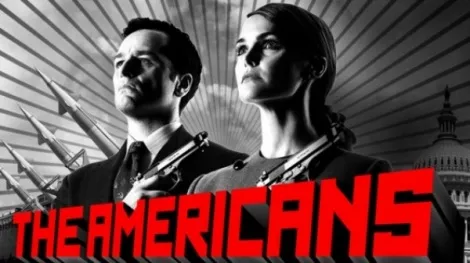 What's new on the lookie-box tonight:
The Americans (FX) Series Debut: It's 1981; Ronald Reagan has just been elected president, as America is under siege from the Cold War and an onslaught of terrible, terrible music. ---In suburban Washington, D.C., long-embedded Russian KGB spies Elizabeth and Philip Jennings (Keri Russell and Matthew Rhys) are settling into their fake marriage—with real, unaware kids—in diverging ways: He's now enjoying the American Way of Life and dreaming of a million-dollar U.S. paycheck for defecting; she's still dedicated to the mission and Mother Russia. To complicate matters (more), an FBI agent (Noah Emmerich) who's part of a new counterintelligence division charged with finding Spies Like Them, just moved in next door. The Americans powerfully combines the sexy espionage tension of Homeland with the hiding-in-plain-sight vibe of FX's late, great The Riches, and Russell's steely performance is easily a lock for future Claire Danes-ish accolades. The only possible knock against the series would be the period music—a chase scene set to Fleetwood Mac's "Tusk"? Come on …
Supernatural (The CW) Sam and Dean's suspiciously young grandfather (Friday Night Lights' Gil McKinney) shows up via time travel (can't have old folks on The CW, after all) looking for some Winchester help in battling a suspiciously hot demon (Stargate Universe's Alaina Huffman). Can't relatives just stop by for a nice visit?
Also new tonight:
The Neighbors, Suburgatory, Nashville (ABC); Whitney, Guys With Kids, Law & Order: SVU, Chicago Fire (NBC); American Idol (Fox); Arrow (The CW); WWE Main Event (Ion); Hot in Cleveland, Happily Divorced (TV Land); Moonshiners (Discovery); Shipping Wars, Barter Kings (A&E); Ghost Hunters, Ghost Mine (Syfy); Auction Hunters (Spike); Top Chef (Bravo); Necessary Roughness (USA); Workaholics, The Kroll Show (Comedy Central); The Soup, Love You Mean It With Whitney Cummings (E!)