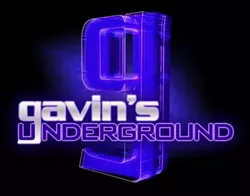 If you've watched the Utah music scene for any period of time, you know that everything here comes in waves. --- There's no real rhyme nor reason to it, but every few years, a piece of the scene dies off or fades away, some time passes since we've thought about it and then it returns in some new form. It comes in bands, it comes in studios, it comes in venues, and now, the most recent wave that looks to be coming in are local labels.
While some do exist, we don't have a grand plethora of independently run record labels in town supporting acts to help produce and promote records. In the past six months, if you've been hitting the venues regularly, you may have heard talk of some people trying to start up some new labels. One of the first to rise from the ground is Salt Lick Records, headed up by writer, filmmaker and musician Josh Madsen. Today, I chat with Madsen about his career and the new label, plus his thoughts on the Utah music scene today. (All pictures courtesy of Salt Lick Records.)
Josh Madsen
Gavin: Hey, Josh. First off, tell us a little bit about yourself.
Josh: Hello, all. I'm a 30-something, obsessed as well as entertained by three things: music, motion and freedom.
Gavin: What first got you interested in entertainment in general, and what were some early influences on you?
Josh: I'm not sure it was entertainment I was interested in. However, I was always interested in creating something and then figuring out how to get a bunch of people into a room to look at it. When I was about 13 years old, I started listening to music by Dinosaur Jr., PJ Harvey and Teenage Fanclub — then the Ramones found their way into my life. That was shortly followed by some old Two Tone ska bands, like English Beat, as well as one of the bands that truly changed the direction of things for me: Operation Ivy. It was that music cocktail that led me to create a band myself and start putting on shows. I couldn't play an instrument, but I was good at organizing things and so I took over vocal duties and making sure the shows happened.
Gavin: I'm not sure quite where to start with your career, so let's just begin with action sports. What got you into the industry?
Josh: Music and telemark skiing were always things I enjoyed doing. When I was 21 years old, I had a band I was trying to get on the road to tour, but they weren't as interested as I was in that. I was washing dishes at a ski lodge at Alta that year and met a few photographers who asked me to take some ski shots with them. Over the next few years, I realized I could travel through my skiing by being shot in photos and video, competing, and the like. For me, that was the element of traveling and touring I was looking for at that point. All of the projects I did with skiing led to other opportunities, such as being the editor of Telemark Skier Magazine, a ski filmmaker, a magazine owner and a publisher; It has been a crazy ride. I feel very fortunate with all the fun things I've been able to see and do through my ski career.
Gavin: What has it been like working with Telemark, both as a skier and a behind-the-scenes guy?
Josh: Telemark skiing is a family around the globe. Most people don't even know what it is. But the people who do it are bound by a passion that I've never really seen anywhere else. As an athlete, I've skied in some amazing places, like the Dolomites in Italy and the Chugach in Alaska. As a filmmaker and writer, I've been able to interview 90-year-old ski makers in Norway and some of the first telemark skiers in America. Every opportunity has been rad, so it's hard to say which one is better than the other. I love them all equally.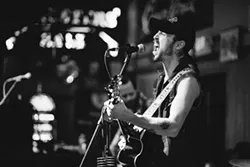 Gavin: You've earned a ton of credibility in the field, especially with your videos. What got you interested in the media side of the sport, and what was it like making videos for them?
Josh: First off, thank you for the kind words. Honestly, the media and the video side of things came to be out of a necessity. When another company I was filming with bailed on a project we were collaborating on, I started my first movie company, Lipstick Films, with my best friend, Cody Smith. Neither Cody nor myself had any experience cutting movies or producing that kind of thing. Hell, we didn't even own any equipment; we just jumped in and figured it all out. Making videos isn't glamorous, by any means. For me, the travel and the people were what it was all about -- that's why I kept doing it.
Gavin: You also write a lot, mostly poetry, and have been published in a number of areas, as well as your own website. What turned you onto poetry and how is it for you using it as a form of expression?
Josh: I've kept journals and notebooks since I was about 8 years old. I moved around a lot as a kid. My surroundings were always changing and writing was always a good way to check in about my day and what happened. I use the word poetry loosely. Most of what I call poetry is my way of vomiting up words onto a page. There is a lot of freedom in how I can shape the words and flow of things on a page. I enjoy that.
Gavin: On the music end of things, how did you get involved with local music, and what was it like working with bands in the area?
Josh: My first taste of the local music scene was when I was a teenager going to shows at local SLC venues, like the basement of DV8 (RIP), Phaser Fun and house shows. There are so many good memories from those days. Later, when I started making ski movies, I needed music for the flicks. It was the perfect chance to get to know some new bands in Utah and collaborate by using their music and helping it reach another type of audience outside of Utah.
Gavin: How did the idea come about to start up a label, and why Salt Lick Records for the name?
Josh: I've been kicking the label idea around for about 10 years, but it never seemed to be the right time to bite something like that off. A few months ago, I came to the conclusion that it was now or probably never. I reached out to my younger brother Lorin, who is a touring musician, with the idea of starting a label to put out his upcoming full-length record. He loved the idea, so we partnered up and decided to launch the label together. We both wanted a label name that was a little gritty, didn't represent only one genre of music and represented where we came from. Salt Lick seemed to fit the bill.
Gavin: What was it like putting it together and forming a stable company prior to bringing people in?
Josh: To be honest, it really has been a family project. The two bands we are putting out right now both Lorin and I play in, so the logistics were pretty basic.
Gavin: I know your brother Lorin Madsen is on board, as well as Riva Rebels. What made you approach both of them and what was it like getting them to join?
Josh: Both bands have a need to get records out, so the opportunity to start the label really spawned out of us playing music and wanting to take the next step. If anything, it was a me-myself-and-I conversation about Riva Rebels and then talking to my brother about putting the Lorin Walker Madsen stuff out.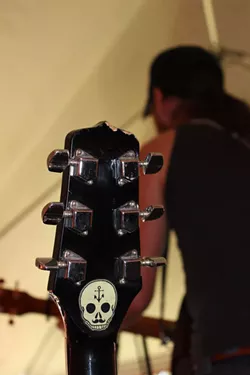 Gavin: You're currently in the process of recording Lorin's latest album, slated for October. What's the recording process been like so far?
Josh: Lorin decided to head into Secret Sidewalk Studios, with his friend Matt Winegar, to record his debut full-length. He is super-excited with what they accomplished and I just heard the tracks for the first time last week — it's amazing. The Lorin Walker Madsen record will drop on October 8.
Gavin: Being a new label, what kind of bands are you looking to bring on and sign?
Josh: Right now, we aren't even thinking about bringing other artists on until we dial everything in with our own two projects. I'd really like to use us as guinea pigs to figure out our distribution model, touring and everything else. Once we are confident we can do a great job, we'll be eager to take on other bands that we like and want to work with.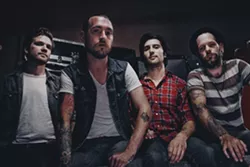 Gavin: For those interested in joining, what kind of services and attention can you bring to them that they couldn't get from others or doing everything DIY?
Josh: What we've strived to create are several small businesses that work together to help get the music and art out to people. Lorin just opened up High Desert Studios in Salt Lake City. I just set up all my booking and management under the name Desert Rat and we launched Salt Lick. We all wear quite a few hats to get it all done, but we hope to continue to grow it in the direction where we can offer a great all around package to the people we work with: booking, production, distribution, public relations and management.
Gavin: Going local, what are your thoughts on the music scene, both good and bad?
Josh: Music and art are the lifeblood of any city or town. If art is happening, it is great. If people were to stop creating and sharing — that would be bad. We aren't into politics, good scenes and bad scenes. We just want people to have the freedom to do whatever the fuck they want.
Gavin: Is there anything you believe could be done to make it more prominent?
Josh: Play more music. Make more art. Share with more people.
Gavin: Not including anyone on your label, who are your favorite acts in the scene right now?
Josh: Some of my favorites right now would be Problem Daughter, The Devil Whale and Baby Ghosts.
Gavin: What's your opinion on the current airplay on community radio and how it affects local musicians?
Josh: I'm personally a big fan of KRCL and always dig when they play local artists. I think radio play is great if you get it, but I don't think it makes or breaks a band in this day and age. There are so many ways to digest your music these days; bands shouldn't feel like they have failed if they aren't getting on the radio waves.
Gavin: What do you think about current local labels and the work they do to promote local music in Utah?
Josh: Anyone who has started a label or any similar project we respect. There is an enormous amount of time and love you have to put into something like this, so my hat is off to all of them. People like Exigent Records working on things like Crucial Fest are amazing. Hopefully, we'll get to know some more people around town through doing our own thing.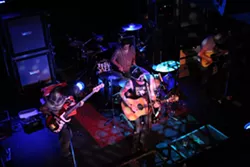 Gavin: What can we expect from you and the label over the rest of the year?
Josh: This will be an exciting first year. As I mentioned, we are going to be dropping the Lorin Walker Madsen full-length in October, followed by two seven-inch records from Riva Rebels. Lorin and his band, The Hustlers, will be headed out on a 200-show U.S. tour, starting in September, to support that first release.
Gavin: Aside from the obvious, is there anything you'd like to promote or plug?
Josh: We would love to have you come along for the ride this year. Sign up for our mailing list or connect with us online to keep up with the madness on our Website, Facebook and Twitter.



| | | | |
| --- | --- | --- | --- |
| Follow Gavin's Underground: | | | |