At Red Butte Garden Amphitheater on Tuesday night, Pink Martini, the Portland, Ore.-based self-described "little orchestra," introduced new leading lady, Storm Large, to Salt Lake City, who impressed with her vocal versatility. ---Also making her Salt Lake City debut was Jessica Sindell, the newly appointed principal flute of the Oregon Symphony, and touring flutist with Pink Martini.
The band began playing as the sun was setting and the temperature began to fall. The sunlight trickling through the trees and glittering on the stage was the perfect accoutrement to Large's larger-than-life vocals.
Large was more than gracious gracing the stage, continually thanking all who attended, and her gratitude showed in her performance of every song, as she quickly won the hearts of the audience.
Early in the set, the band played "Perhaps, Perhaps, Perhaps," but because they are "traditionalists," as Large aptly described, sang instead "Quizas, Quizas, Quizas." From the moment the music started, the audience began a global adventure via a truly diverse repertoire of lounge to Latin, classical to contemporary, and jazz to jive.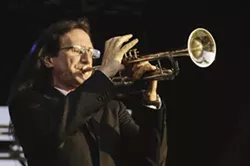 Never complacent, Pink Martini drew the audience away from the fickle lovers of "Quizas, Quizas, Quizas" to more of the mature miscellany for which they are so well-known. Not knowing where the music would take them next, at one moment, the audience seemed to be in a speakeasy, sipping champagne with a fedora-wearing gangster; next, on the Champs Elysees, mingling with the Parisian populace; then in Spain, dancing a tango with a star-crossed lover.
Although the itinerary was uncertain, the objective was certainly fun. Invited onto the stage were those brave enough to join the band. Welcomed to dance to an East Coast swing, people of all shapes, sizes and dancing abilities joined Pink Martini in an onstage impromptu dance floor, which all attendees, young and old, sober and tipsy, enjoyed.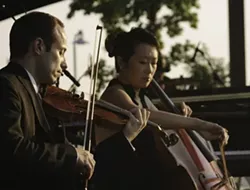 The music, so inspirational and easy to love, at times fell secondary to the oh-so-affectionate couples adorning the walkways and grassy areas, tangoing and two-stepping their way to bliss. Joining those couples were ever-charming children with their mothers and fathers, who, as it can only be assumed, were wishing they had gotten that babysitter.
Pink Martini is the only band I can imagine capable of ending the evening with a conga line spanning the entire amphitheater, and span it they did. From "Hang on Little Tomato" to "Brazil," throngs of fans wished the evening could go on, delighted in the always-pleasing musical stylings of Pink Martini.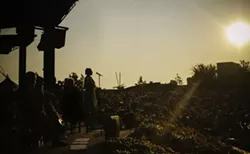 Photos by Audrey Rotermund